Serving Our Communities
We're proud of the meaningful impact we have on the lives we serve, from our customers and candidates, to our community. With our focus on Empowering People Through Knowledge SharingSM, we partner with organizations aligned with our stewardship pillars of education, community development and human services.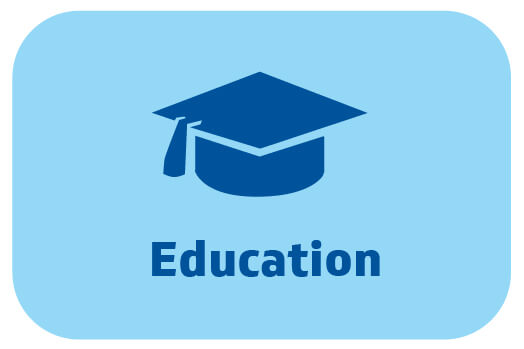 Early childhood programs and services; education programs, policies and reforms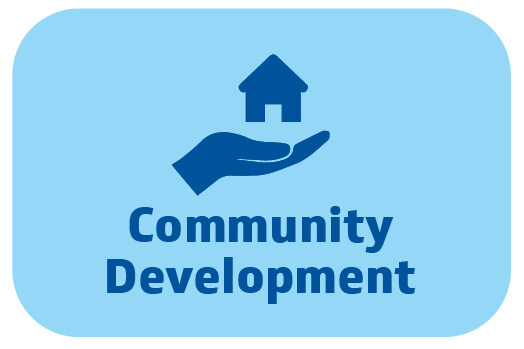 Community foundations, housing and neighborhood development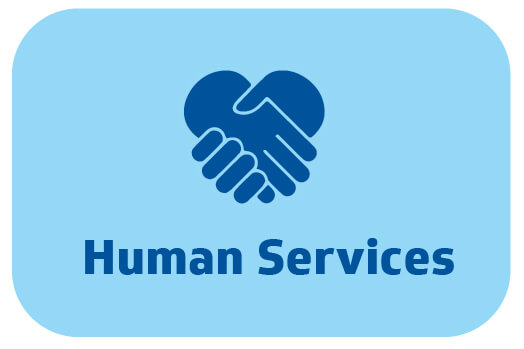 Family and children's services, food banks, homelessness services and social services
A nationwide impact
As one of our Core Values established in 2002, Stewardship and Community is at the heart of who we are at Kforce. In addition to the organizations we support, our people have built lasting relationships with a variety of charitable organizations that they are passionate about. Through nationwide initiatives such as our Day of Giving and disaster relief efforts, our Kforce family is steadfast in making a lasting impact together.
Day of Giving
Through our annual Day of Giving event, our employees throughout the country volunteer with the causes they are most passionate about. We encourage all Kforcers to get out, give back and leave an incredible impact by partnering with organizations nationwide to transform our communities.
On December 6, 2019, Kforce held its fourth annual Day of Giving. A total of 1,406 Kforcers across the United States answered the call to serve their local communities through events ranging from handing out meals to the homeless to preparing a scavenger hunt about post-graduate and college prep. This one day of making an impact resulted in 3,953 hours volunteered across 65 events.
To learn about our contribution to the community and what went into making this event possible, we spoke to Stewardship and Community co-chair and founder of Day of Giving, Crystal Early.
How one employee's idea sparks a firmwide movement
Q&A with Crystal Early
Manager of Recognition and Consultant Care, Kforce
Disaster relief efforts
With several offices throughout the southeastern United States, we understand what it takes to rebuild after hurricanes. As a firm, we are committed to providing long-term relief to those in need after a storm. Over the years, we have rallied together to assist in community development after natural disasters like Hurricane Dorian in 2019.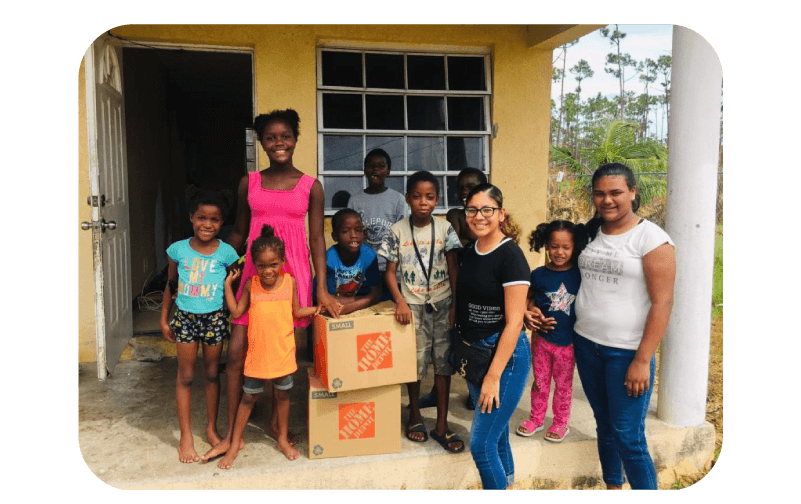 Through Flights of Hope: Bahamas, our Kforce family, donors and community partners were able to raise $110,000, fund 31 planes, send over 68,000 pounds of life-saving supplies, volunteer more than 1,000 hours and deliver 950 family packs. As a community, we were able to help those impacted by this disastrous storm start their journey toward recovery.

Additionally, we came together for Hurricane Michael, which devastated the Florida Panhandle in 2018. In partnership with Kids Against Hunger, we packed 10,368 meals and hand-delivered food, water, clothes, pet supplies and more to the areas affected by this catastrophic natural disaster.
During Hurricanes Maria, Irma and Harvey in 2017, we also met our goal of $1 million donated for the American Red Cross hurricane recovery.
Learn more about our impact by the numbers:
Stewardship and community through the years
We aim to enrich lives and strengthen the communities we serve. Giving back to the community has always been a part of life at Kforce, but in 2008, our Stewardship and Community Committee (SCC) was organized to make it easier for our Kforce family to help people in need. The SCC allows Kforcers to have a platform where they could speak up about the causes they are most passionate about and inspire others to get involved.
To learn more about how our great people have been making a difference in their communities, check out our events spanning over a decade below.
2020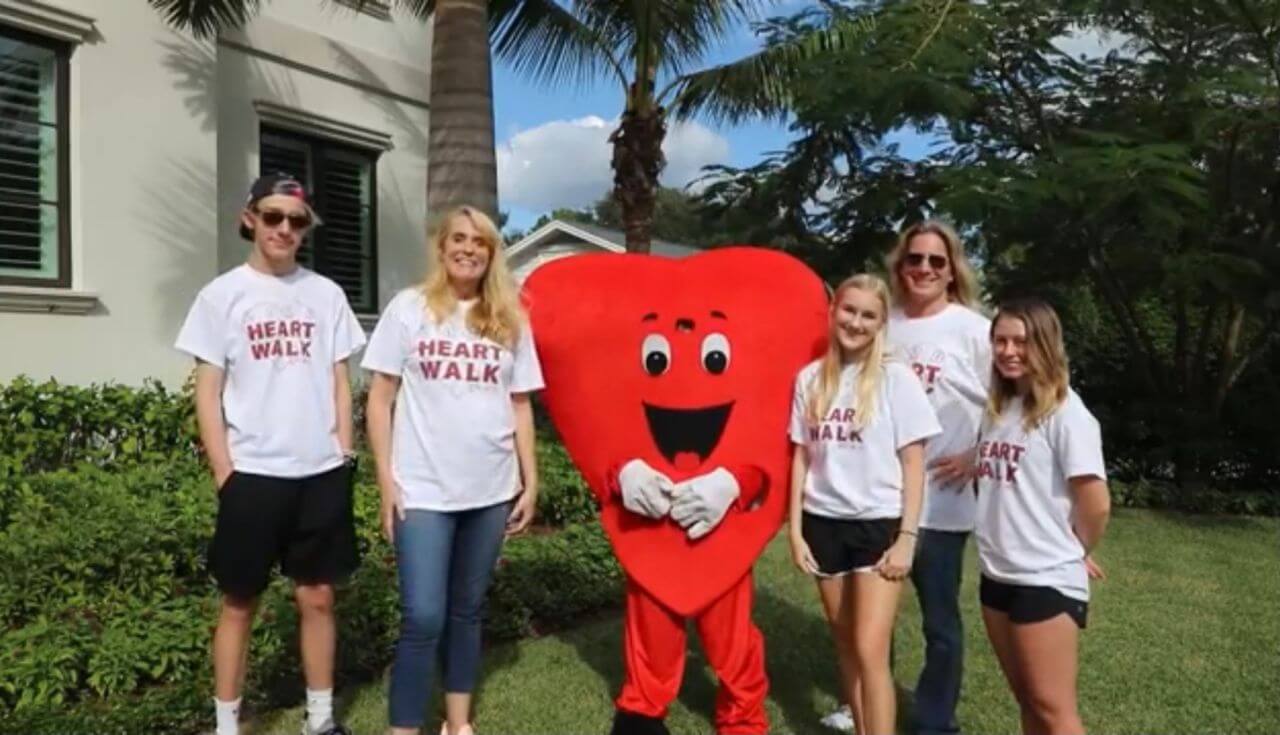 Heart Walk Digital Experience
As Chairwoman of the American Heart Association's 2020 Heart Walk Digital Experience, Kforce COO Kye Mitchell led the firm's giving back efforts raising $302,230.  Kforce had 19 teams and 413 walkers supporting the work of the American Heart Association. The Tampa Bay Heart Walk raised more than $2.35 million to fund research, policy change and community initiatives in the fight against heart disease and stroke.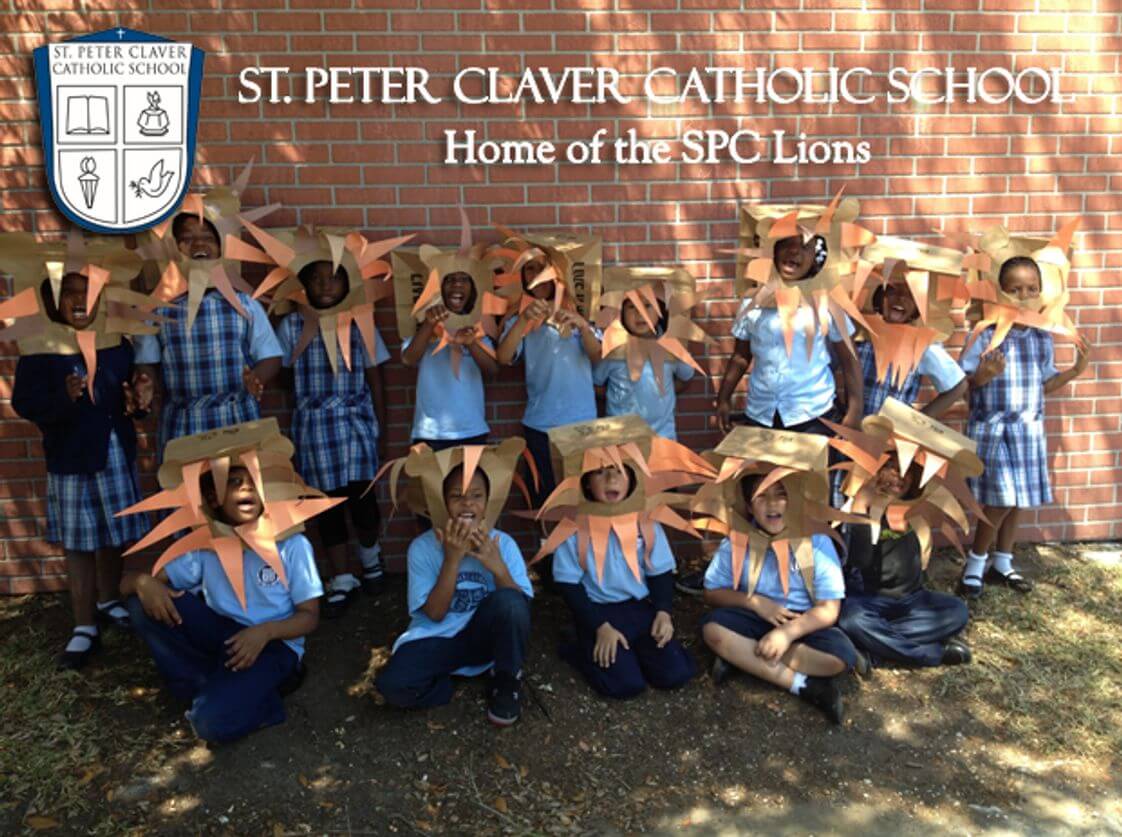 St. Peter Claver, Tampa, FL
Kforce has partnered with FEZZIWIG WWJD Foundation and a local community partner to donate $45,000 to St. Peter Claver in support of the education and tuition of 10 students for the 2020-21 school year, with a commitment to an ongoing match.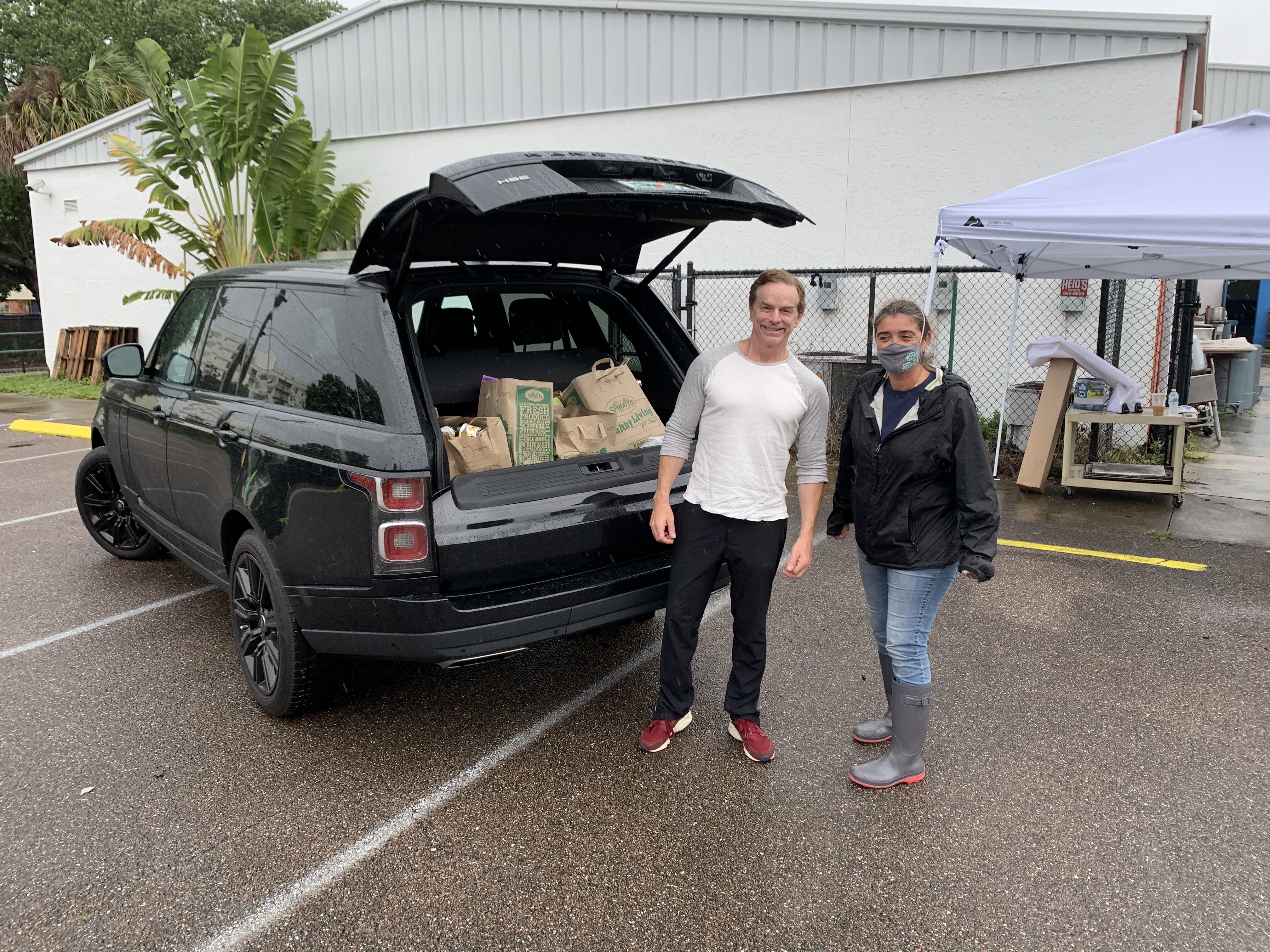 St. Peter Claver Food Drive, Tampa, FL
As a part of our CSR mission, Kforce employees helped give back during this challenging time by participating in St. Peter Claver's contactless food drive, organizing food distribution for students and their families.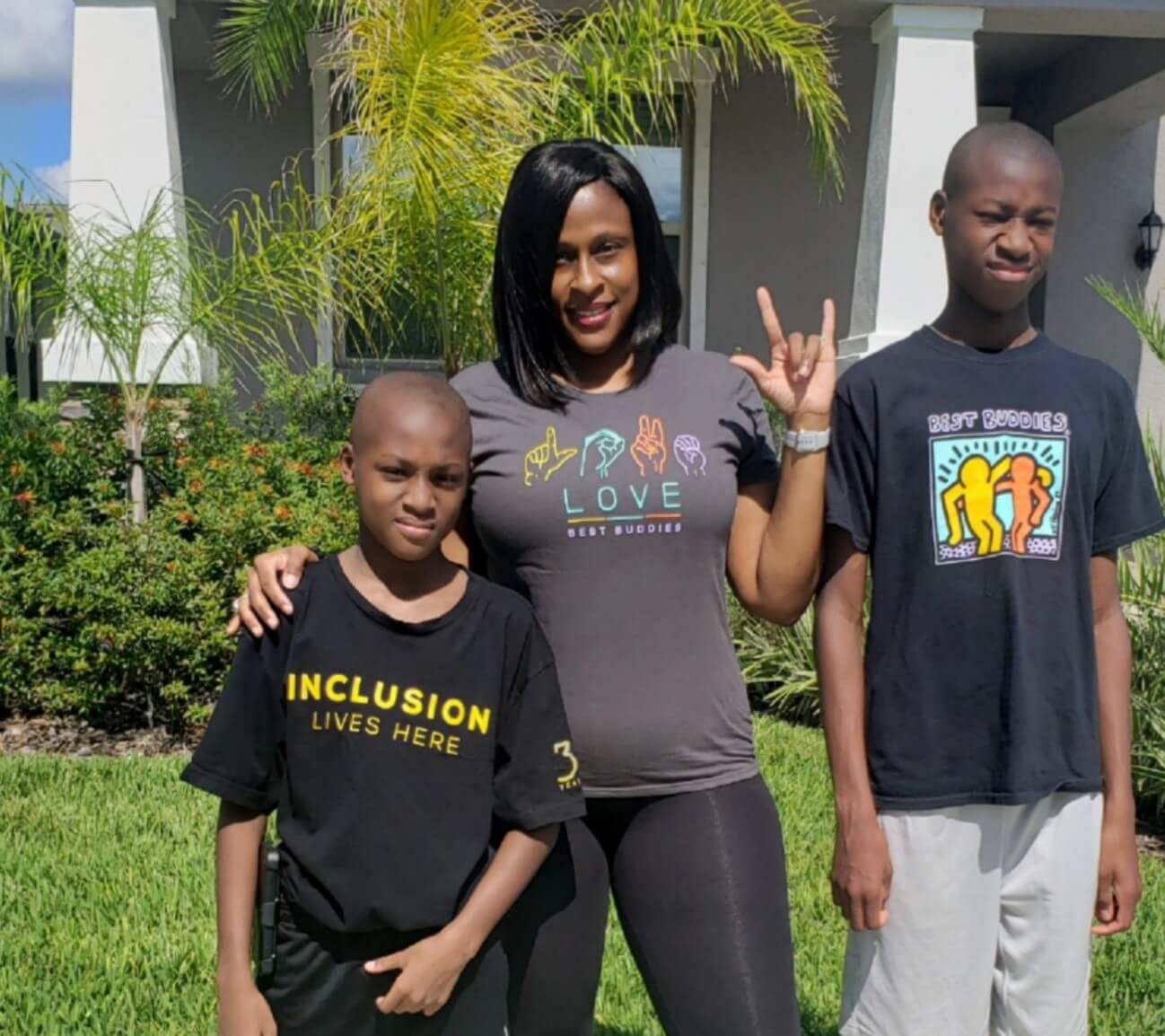 Best Buddies Virtual Walk, Tampa, FL
Kforcers rallied together to participate in the virtual Best Buddies Friendship Walk. We surpassed our fundraising goal, raising $10,200 for the local Tampabay chapter to support those with intellectual and developmental disabilities.
2019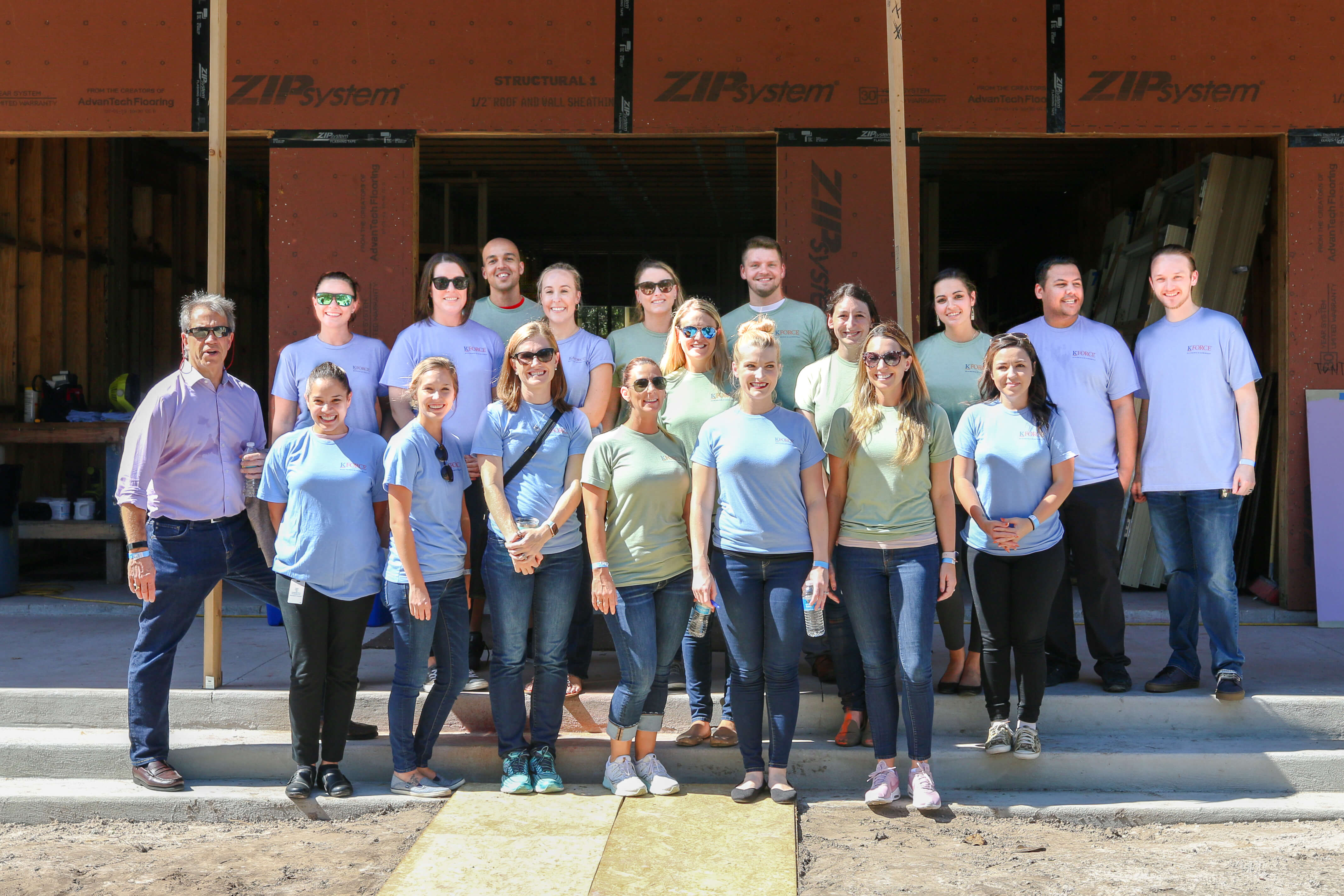 Hope Children's Home, Tampa, FL
Hope has built three cottages on their property and are in the process of building three more, one is being sponsored by Kforce. Kforce employees wanted to leave their mark, literally, on the Kforce Cottage of Hope. Volunteers went to see the cottage progress and wrote positive messages on the studs of the home before it is drywalled.
Wonder Run, Fort Worth, TX
Our Fort Worth Team partnered with Galderma, maker of Cetaphil, to participate in the Wonder Run benefiting the Children's Skin Disease Foundation and Camp Wonder. The Wonder Run greatly increases public awareness of skin disease, thus promoting and uniting us all for this worthy cause.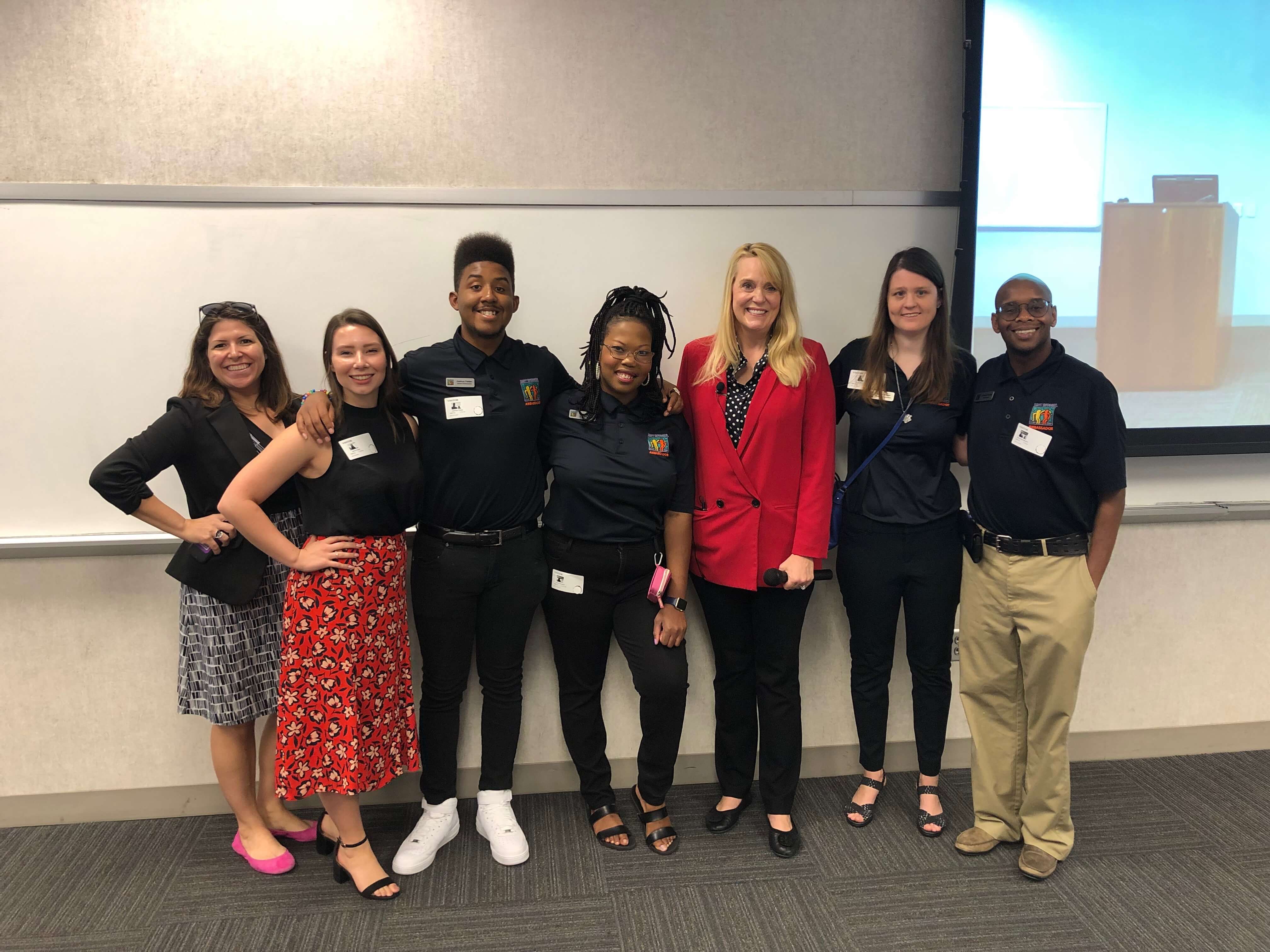 Best Buddies, Tampa, FL
Best Buddies is a wonderful organization that supports individuals with intellectual and developmental disabilities by fostering friendships, independent living and workplace readiness programs. Throughout the month of October we'll be hosting various fundraisers at our corporate headquarters to support Best Buddies.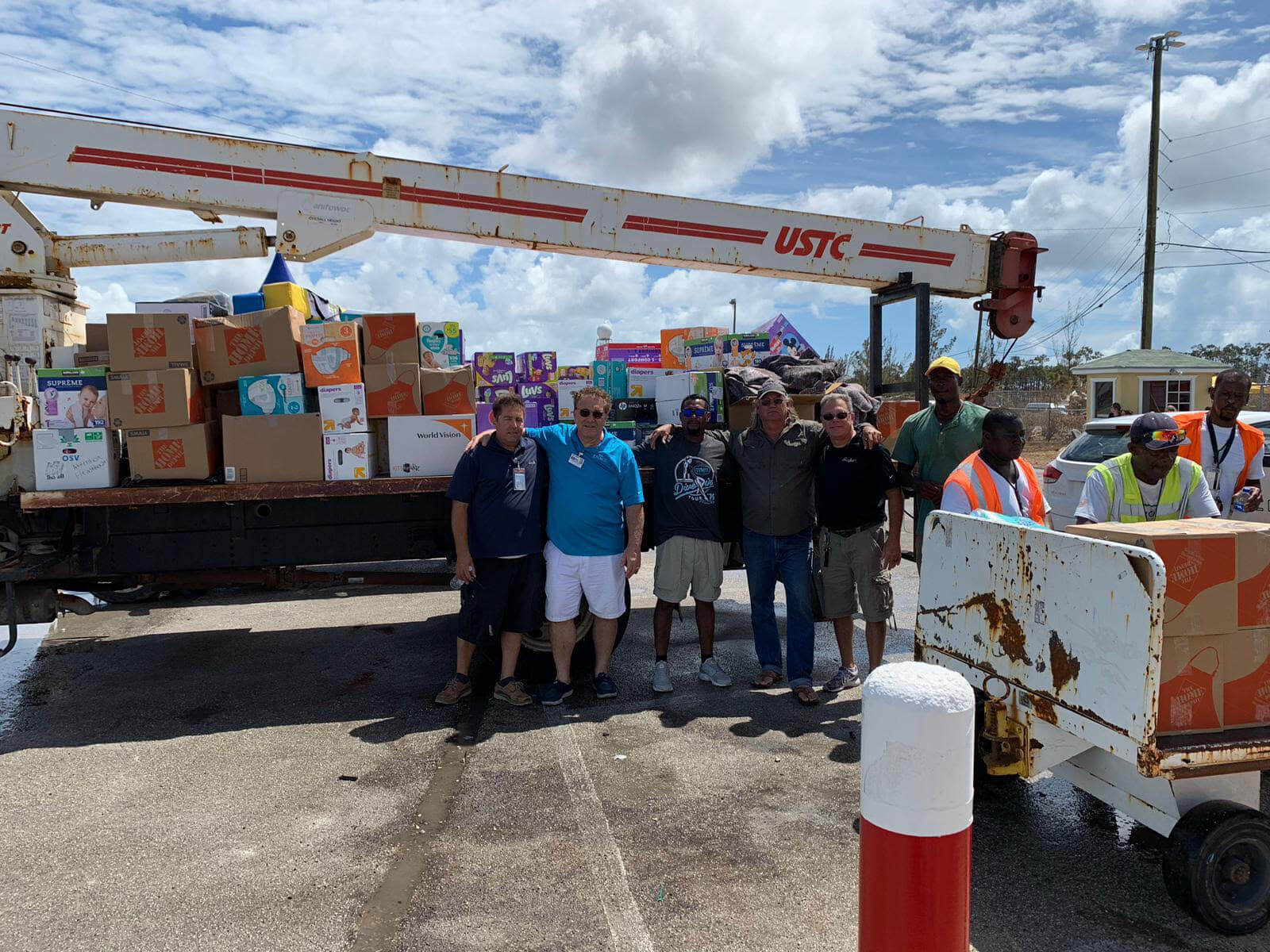 Flights of Hope, Tampa, FL
Kforce along with their partners volunteered to organize, pack boxes and load planes filled with supplies for our neighbors in the Bahamas. So far, Kforce employees along with their partners have volunteered over 430 hours, raised over $60,000 and delivered over 25,000 pounds of supplies on 8 Flights of Hope.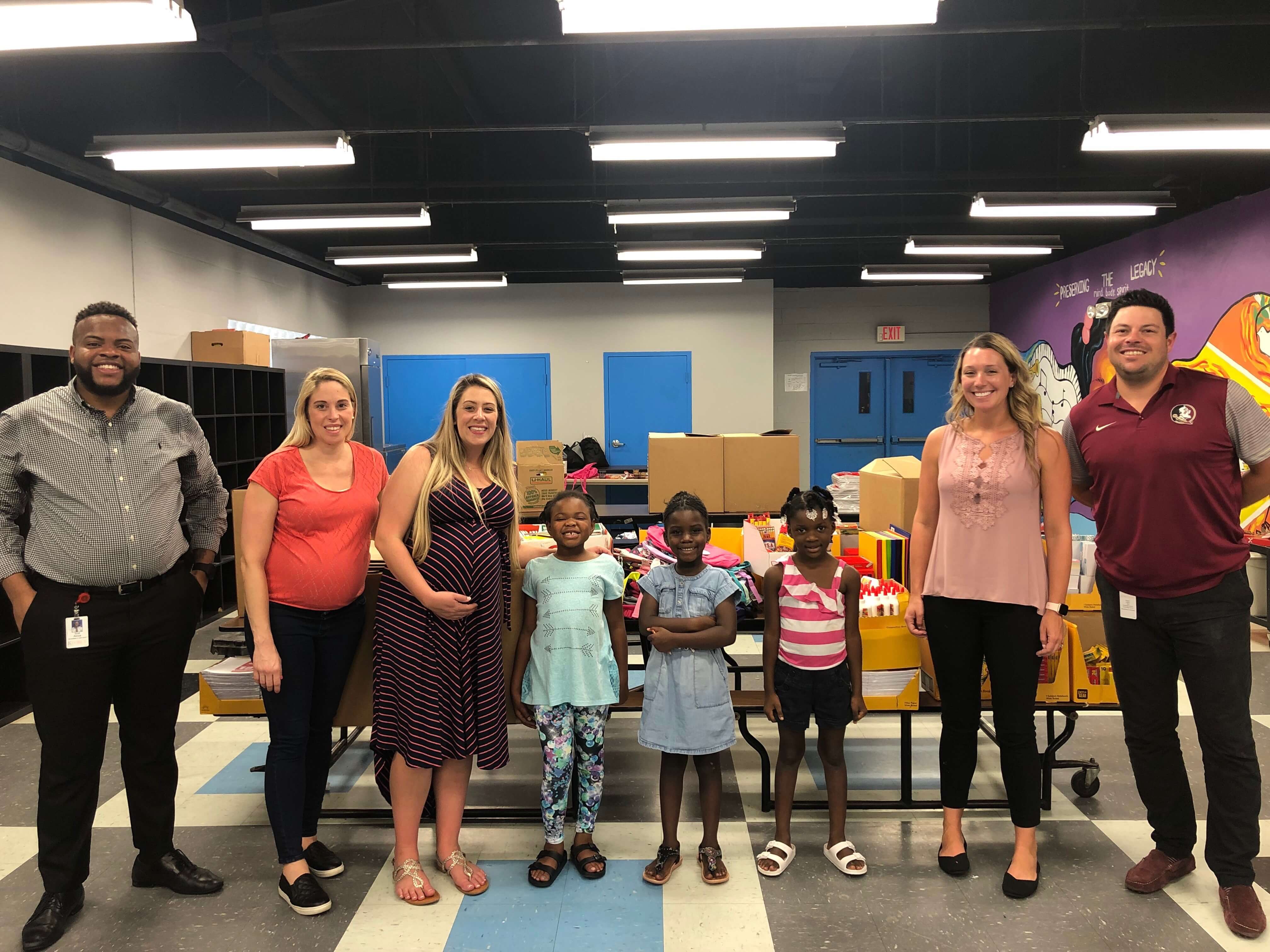 School Supply Drive, Tampa, FL
Kforce employees collected and packed up 3,766 school supplies, and delivered it to Hope Children's Home, LaVoy, Metro Min, St Peter Claver, The Spring and the YMCA.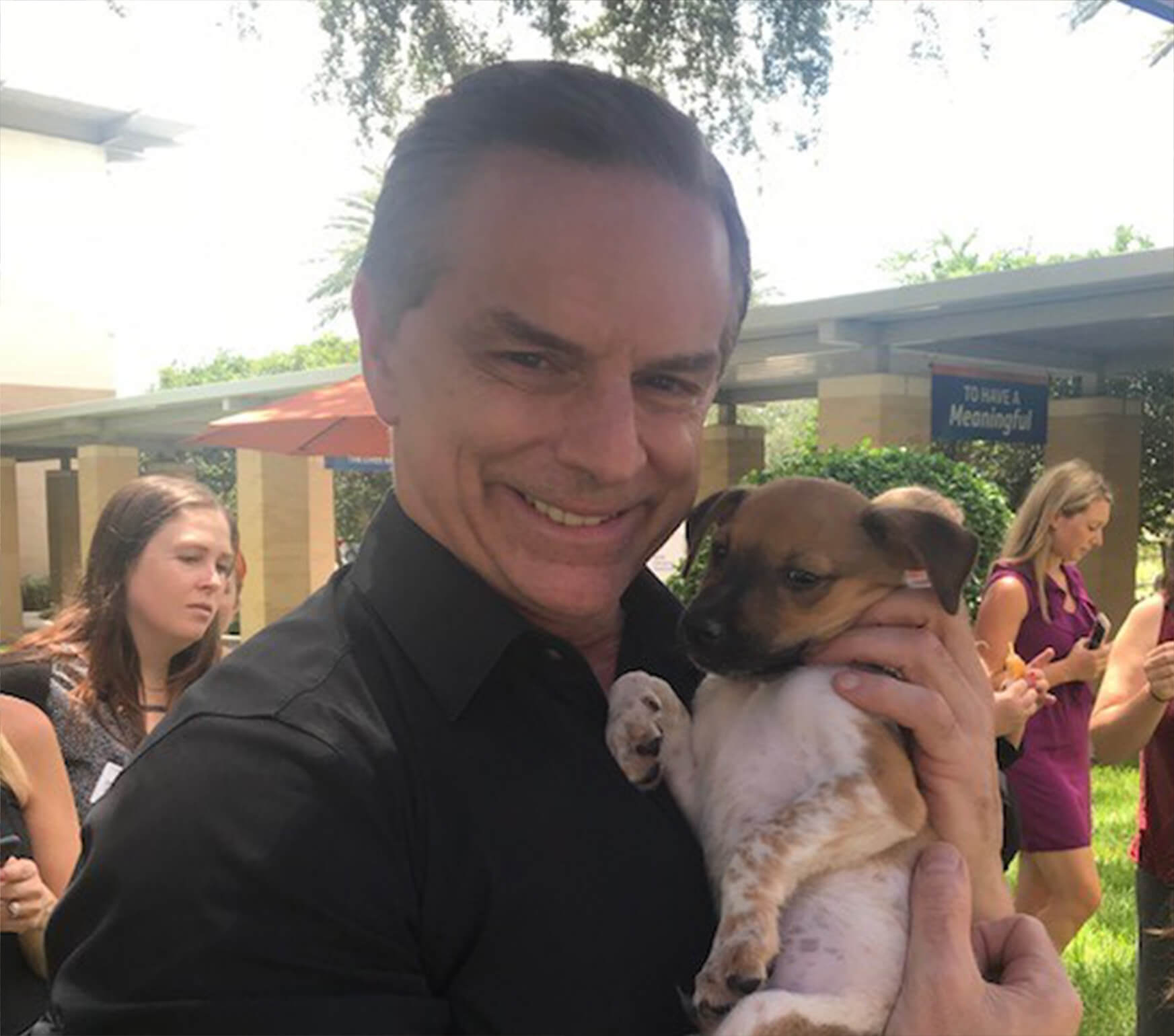 The Humane Society, Tampa, FL
The Humane Society of Tampa Bay visited our corporate headquarters where members of the Kforce family adopted eight puppies. Our firm also donated $1,000 to support the life-saving services this organization provides for animals in need.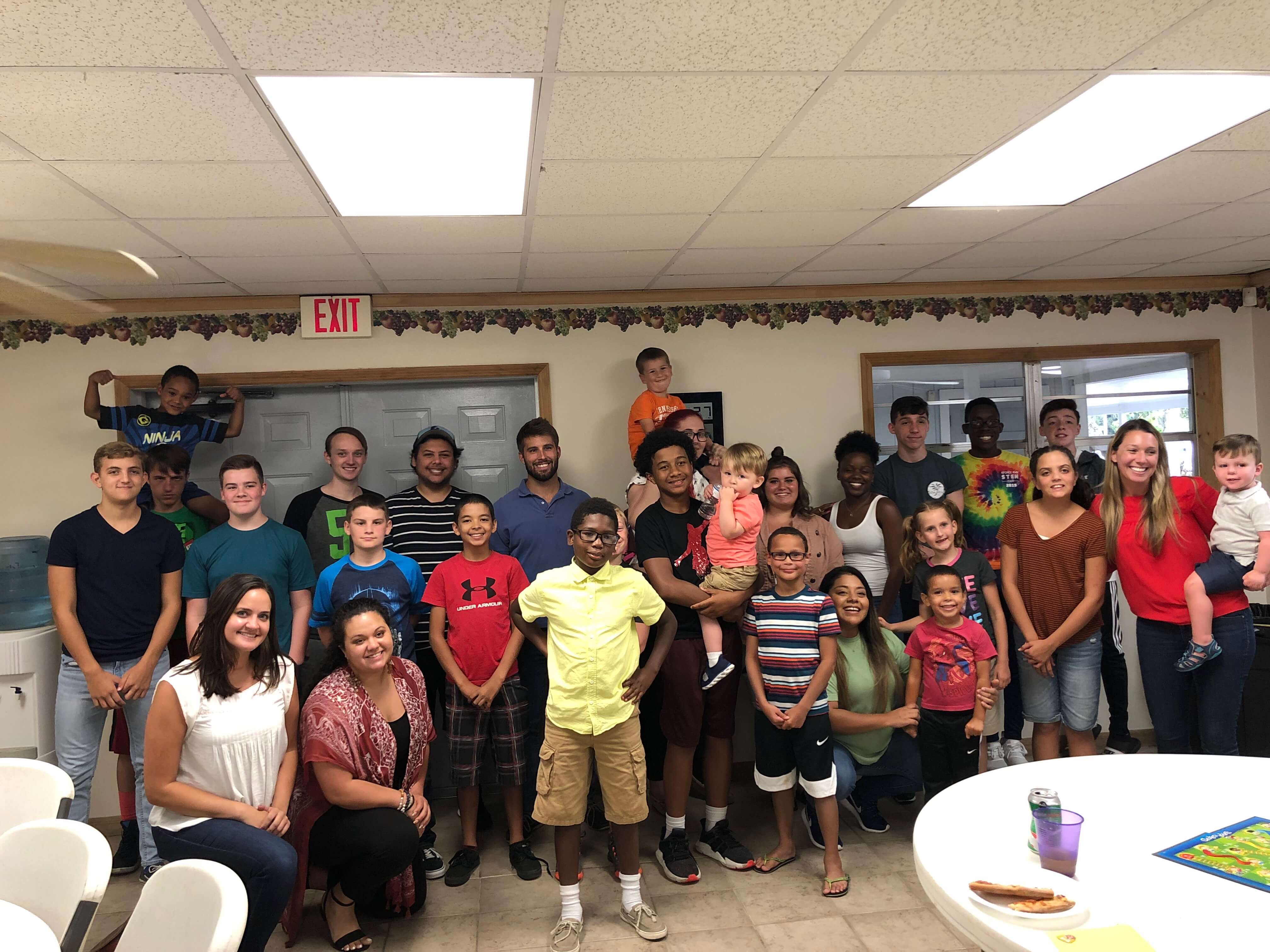 Hope Children's Home, Tampa, FL
Kforce employees in Tampa volunteered and helped host our quarterly birthday celebration at Hope Children's Home! About 30 children attended, ranging in age from 1 to 18, and enjoyed the pizza, cake and games!
American Cancer Society's Relay for Life Event, Tampa, FL
Our Kforce family and COO Kye Mitchell came together to fundraise and create luminarias for American Cancer Society's Relay for Life event to help communities remember those we've lost and help those affected today.
Hope Children's Home Senior Prom Shopping Trip, Tampa, FL
Our Kforce family volunteered to take the high school seniors at Hope Children's Home shopping for their senior prom. All four students were given the funds, donated by Kforcers, to pick out an outfit and accessories of their choice at the Citrus Park Mall, followed by dinner.
Luncheon with Graduating Seniors from Hope Children's Home, Tampa, FL
Kforce executives treated graduating seniors from Hope Children's to a nice lunch in our Tampa office and awarded laptops to each senior to help them jump start their journey post-graduation.
Operation Kindness, Dallas & Ft Worth, TX
Our Dallas and Fort Worth team got together to love on some animals at Operation Kindness, one of the largest no kill animal shelters. They have over 300 animals there and we got to walk the dogs, bathe them, do some landscaping around the premises, wash dishes, work in the food pantry and so much more! 
Mercy Housing Office Renovation, Denver, CO
The Denver office paired up with one of our clients, Mercy Housing—an organization that transforms lives through affordable housing. Our Kforce family partnered with Mercy Housing to redo an office for an incoming team member.
Day of Giving, Various Locations Nationwide
This was the first year Day of Giving went nationwide! There were 71 volunteer events, 1,656 Kforcers that participated across the nation, and a total of 5,402 hours spent helping give back to our communities. We made stewardship our top priority, gave back and made an incredible impact! 
Hurricane Michael Relief, Tampa, FL
Numerous members from our Tampa office donated supplies that was delivered to different areas in the Panhandle and Panama City with the help of Kforce employees and Compassion Kind Foundation volunteers. Together we are making many efforts to be a part of this hurricane relief mission!
Mabel H. Bexley Gift of Peace Luncheon, Tampa, FL
Our Tampa office attended the 28th annual Mabel H. Bexley Gift of Peace Luncheon, which raised over $3.5 million since 1990 to prevent domestic violence, protect victims and promote change.
Westport Humane Society, Stamford, CT
Four members of the Stamford office celebrated Day of Giving by volunteering at the Westport Humane Society, which is dedicated to ending animal homelessness in Connecticut. Our team members spent seven hours volunteering and built a new fenced-in play area for the dogs.
Mission Arlington, Dallas & Ft Worth, TX
Our Dallas and Ft Worth team gets excited to serve in our community because of each life that is truly impacted. They were able to get food and clothes sorted for family Thanksgiving boxes. Mission Arlington has its hands in all corners of DFW and because of our Kforce commitment to serving our community, so do we!
Misericordia Home, Chicago, IL
The Chicago office volunteered for Misericordia to help with their annual Candy Days. Misericordia Home is a not-for-profit developmental home for people with mild to profound developmental disabilities in Chicago. It currently supports more than 600 children and adults with developmental disabilities. 
Defenders of Animal Rights, Phoenix, MD
Kforce joined forces with Defender's of Animal Rights, Inc. in Phoenix, Maryland, a no-kill animal shelter for dogs and cats. They take in many animals from shelters and keep them for as long as it takes until they are adopted. Kforce went there to provide socialization and play time for those animals. 
Oregon Food Bank, Portland, OR
The Portland team volunteered at the Oregon Food Bank last week where they packed 12,040 pounds of chicken broth into emergency food boxes.  
Afternoon of Giving, Tampa, FL
This year, 450 Kforcers from Tampa HQ participated in the Afternoon of Giving event, where we packed 1,000 bags of supplies for veterans, set up the Holiday Tent for Metropolitan Ministries and trained 22 new volunteers for the Humane Society. 
Flight of Hope, Tampa, FL
To aid Hurricane Maria recovery, the Kforce family and Tampa Bay partners united together to deliver over 200 generators, 5,000 pounds of medical supplies, 200 water filtration systems, 2,000 bottles of oil, 200 gas cans and 100 packs of household items via airplane to the residents of Aguadilla, Puerto Rico.
United Way, Milwaukee, WI
The Milwaukee office participated in the United Way's Workplace Campaign Week. They raised $4,000 and participated in numerous onsite and offsite events to raise awareness for the United Way.
Hope Children's Home Event, Tampa, FL
Kforce supported Hope Children's Home in hosting a mock Shark Tank competition. Children in need of adoption showcased and sold two different business products, including custom screen-printed shirts and bath supplies. Employees heard the future entrepreneurs' pitches and fundraised for the local non-profit.
Race to Wrigley, Chicago, IL
Chicago Kforce associates participated in the 12th annual Race to Wrigley charity run. Proceeds from the event went to Cubs Charities, which provides increased access to sports opportunities and promotes improvements in health.
Chicago Food Bank, Chicago, IL
The Chicago and Schaumburg teams packed a total of 14,025 pounds of cabbage and almost 8,000 pounds of sweet potatoes during their stewardship event at the Chicago Food Bank.
Wear Red for Women, Various Locations Nationwide
The Kforce family nationwide wore red for National Wear Red Day to raise awareness about women's heart disease.
North Texas Food Bank, Dallas, TX
Our Dallas office volunteered at the North Texas Food Bank, packaging 500 boxes equivalent to 12,000 meals for seniors in the Dallas-Fort Worth community.
2016
Holiday Tent, Tampa, FL
Nearly 100 Kforce associates assisted Metropolitan Ministries in their annual Holiday Tent event. The Tampa office helped provide food, toys, gifts and holiday joy to local families in need.
Afternoon of Giving, Tampa, FL
Over 450 of our Kforce family went into the Tampa Bay community for our first-ever Afternoon of Giving, helping over 15 organizations.
Toy Drive, Dallas, TX
In the holiday spirit, the Dallas team gathered together and ran a successful toy drive for the St. Phillips Community Center.
Cardz for Kids, Dallas, TX
Our Dallas family conducted a hot chocolate bar and Cardz for Kidz party to create special greetings to be delivered to children in hospitals across the U.S.
Wear Pink, Dallas & Fort Worth, TX
Kforce members from the Dallas & Fort Worth offices wore Pink in solidarity for a client associate undergoing cancer treatment.
Animal Shelter, Dallas, TX
In the fall spirit of giving, the Dallas team donated pet treats and toys, made sweaters for kittens, cuddled with animals, and decorated a local animal shelter with festive decorations.
Thanksgiving Basket Brigade, Ft. Lauderdale, FL
The Ft. Lauderdale team volunteered a Sunday at the Children's Diagnostic & Treatment Center (CDTC) Thanksgiving Basket Brigade by sorting and packing Thanksgiving meals for families in need.
Back to School Drive, Reston, VA
The Reston Finance & Accounting team partnered with Northern Virginia Family Service to help support their back to school drive for the start of the upcoming school year. While volunteering, Kforce associates assisted in packing nearly 2,000 backpacks for children across the Northern Virginia region.
Mary's Kitchen, Irvine, CA
The Irvine Finance & Accounting team represented the spirit of Kforce by volunteering with Mary's Kitchen in serving meals for the less fortunate. Mary's Kitchen is a volunteer organization whose purpose is to provide compassionate care for residents struggling in Orange County, California.
AT&T Golf Tournament, Seattle, WA
Kforce associates in Seattle got their golf swing on for an AT&T golf tournament for a good cause with United Way. While some associates participated in the main sports event, other Kforce family members hosted a table with fun games and golf freebies.
Alameda County Community Food Bank, East Bay, CA
The East Bay Office volunteered at the Alameda County Community Food Bank, filling eight to ten bins of bagged apples. This effort helped achieve the food bank's mission to pursue a hunger free community by the year 2018.
Cardz for Kidz, Tampa, FL
There's nothing better than making a child smile! The Kforce NRC team in Tampa contributed over 1,000 cards to Cardz for Kidz, an organization dedicated to uplifting the spirits of hospitalized and traumatized children across the globe by delivering inspiring homemade cards.
Water Drive, Detroit, MI
The Kforce Southfield, MI team collaborated to run a water drive for those impacted in Flint during its water crisis. During this national state of emergency, thousands of Flint residents were plagued with unhealthy drinking water containing high levels of lead.
DC Central Soup Kitchen, Reston, VA
Kforce's Reston office volunteered at DC Central Soup Kitchen preparing 5,000 meals for people all over the DC Metro Area.
Feed the Homeless, Orlando, FL
The Kforce family in Orlando, FL volunteered their services at the Christian Service Center by serving meals to the homeless in their Daily Bread program. The Daily Bread program was established at the Christian Service Center in 1975 with a goal that no person in Central Florida would struggle with hunger.
San Francisco Food Bank, San Francisco, CA
The San Francisco office loves to give back no matter the day. Kforce associates spent a Friday afternoon packing 1,000 pounds of rice at the San Francisco – Marin Food Bank to help end hunger in San Francisco and Marin, CA. In the Marin county alone, more than 49,000 residents are in need of food assistance.
Walk to End Alzheimers, San Diego, CA
The San Diego office raised over $1,500 for Alzheimer's research at the Walk to End Alzheimer's in Balboa Park. The event is the world's largest event to raise awareness and funds for Alzheimer's disease research and support. More than 600 communities nationwide participate in this event every year.
Captain Hope's Kids, Dallas & Fort Worth, CA
Dallas Fort Worth associates gave back to their community by volunteering time with Captain Hope's Kids, an organization that meets the critical needs of homeless children across North Texas. 
Primary Colors Day, Phoenix, AZ
The Phoenix office participated in Primary Colors Day to help promote a back to school supply drive for a local low income school.
Project Night Night, San Francisco, CA
The office participated in a fundraiser for Project Night Night to fill "night time bags" for homeless children. 15 bags filled with a blanket, stuffed animal and children's book were delivered to a local homeless shelter. This project aims to promote literacy and provide a predictable source of security for youth during time of upheaval.
Hunger Task Force, Milwaukee, WI
The Kforce Milwaukee team joined together at a volunteer event with the Hunger Task Force Farm, an organization that grows fresh fruit and vegetables for the hungry in their community. As a united team, associates picked and washed 800 lbs. of spinach to be distributed to food banks and food shelters across Milwaukee.
Wounded Warrior Project, Various locations
14 Kforce employees from various offices joined the Wounded Warrior Project's TRACK program in providing resume and interview tips to veterans transitioning into civilian life. During a Kforce Mock Interview day, warriors experienced the full interview process from interviewing with a recruiter to receiving constructive feedback.  
Feeding Children Everywhere, Tampa, FL
Tampa employees, clients, vendors and guests helped pack 254,592 meals for Feeding Children Everywhere that were sent to Tanzania, Africa.
StarKid 5K Heart Walk, Tampa, FL
With the help of Kforce associates, COO Kye Mitchell raised a total of $22,221 for StarKid 5K Heart Walk in support of her two children.
2014
Jeans Day, Reston, VA
Kforce's Reston Office held Jeans Days and raised more than $15,000 for the Alie Reichling Support Fund.
Metropolitan Ministries Employment Boot Camp, Tampa, FL
Kforce hosted Metropolitan Ministries' annual Employment Boot Camp to lend their expertise on resume writing, mock interviews and classroom presentation workshops.
2013
Feeding Children Everywhere, Kaua'i, HI
250 Kforce employees and their guests joined Feeding Children Everywhere to pack 100,000 meals for those less fortunate in Kaua'i.
Food Bank of the Rockies, Denver, CO
Over two days, Kforce's Denver office volunteered at Food Bank of the Rockies. They sorted and boxed 13,700 pounds of food to be distributed to homeless shelters.
2012
Cottages of Hope Project, Tampa, FL
Former Kforce president's family and employees donated over $600,000 to the new cottage for Hope Children's Home, allowing abused and orphaned siblings to live together in a family setting.
Base of Operations for Officers and Their Dogs, Tampa, FL
Kforce employees designed and implemented a base of operations for 15 federal, state and local agencies in Tampa to provide a safe environment for 50 officers and their K-9 dogs.
2011
Feeding Children Everywhere, Tampa, FL
Kforce raised $93,852.83 for Feeding Children Everywhere in Kenya and packed over 251,000 meals to feed over 500 children for the next two years.
Leukemia and Lymphoma Society, Tampa, FL
Kforce associates joined forces with Team in Training over two years, raising $186,000 for the Leukemia and Lymphoma Society and receiving the "Top Campaign Recognition Award."
2010
Hope Children's Home, Tampa, FL
Kforce started the planning for the cottage at Hope Children's Home and helped clear the land, resulting in around 300 volunteer hours.
Marine Corps Scholarship Foundation, Tampa, FL
Kforce awarded $100,000 to the Marine Corps Scholarship Foundation in over five years to provide need-based scholarships to children of U.S. Marines and Navy Corpsmen.
2009
Boy's and Girl's Club, Tampa, FL
Kforce raised $60,000 for a Boy's and Girl's Club computer lab and employees installed hardware and software for Garry & Mavis Smith Salesian Club at Mary Help Teen Center.
St. Peter Claver Catholic School, Tampa, FL
Kforce installed and supported all technology within the St. Peter Claver Catholic School, amounting to 40 new computers throughout eight classrooms and one computer lab.
2008
Jeans Day, Tampa, FL
Kforce started a weekly Jeans Day, where employees donated $5 a week to charities, resulting in around $45,000 in donations yearly.
Stewardship and Community Committee
The SCC, or Stewardship and Community Committee was organized.