What is STEM?
STEM is a widely-known acronym for the disciplines of science, technology, engineering and mathematics. It is also associated with STEM education, a curriculum that involves the interdisciplinary, hands-on approach to learning based on real-world applications. The term is generally used to encourage interest in STEM education and improve the current talent demand for skilled professionals. The acronym embodies the continuous mission to spread awareness of the skills and support needed by students and the workforce to succeed in a global market and economy.
Why is STEM Important?
In this age of the 4th Industrial Revolution, the boundaries surrounding the digital, physical and biological domains are blurring. Coincidentally, technology is accelerating the rate of modern advancements at an alarming speed.
Historically, it took 50 years for 50 million people to gain access to the telephone. Fast forward to 2016, the gaming app Pokémon Go reached that many users in 19 days. Undeniably, modernization begets new advancements, allowing technology to evolve faster. At the same rate, the world of STEM is exacerbated by this phenomenon and will continue to do so for the foreseeable future.
STEM is important because it promotes the advancement of our society. Science, technology, engineering and mathematics are the cornerstones of innovation. A focus on careers within these disciplines supports the continuous need for transformation.
Now, more than ever, the core fields of STEM fuel the United States' long-term prosperity in the global marketplace. Increasingly, youth are encouraged to pursue this burgeoning domain to ensure economic competition, sustainable development and global citizenship for the future.
In our nation, there is also a growing STEM talent gap pervading multiple industries amid an aging workforce and competitive global market that commands innovation. Despite the growing demand, the U.S. struggles to fill STEM jobs. Gender and demographic disparities alongside belief gaps all add to this dilemma.
STEM is vital to everyone, including our country, world and generations to come. Technology and science affect our daily lives, and it's in our best interest to understand it. As a society, we must encourage STEM learning and attract professionals to this exciting and expanding field—our future depends on it.
The STEM Talent Landscape
In today's talent landscape, there is a STEM skills crisis. Employers across various industries face a tremendous talent shortage, causing business and innovation delays. And matters are projected to continue.
The current talent gap is driven by several interrelated factors that perpetuate the demand for quality STEM professionals. These drivers include:
Skills: Labor needs for continuous innovation continue to rise, creating more STEM jobs. Despite the growth, there are unfilled jobs due to a shortage of available STEM professionals, creating additional business challenges.
Geography: Economics, policy and location domestically influence concentrations of job seekers and STEM jobs, while the national supply of resources lacks in quantity compared to STEM professionals outside the U.S.
Education: Current enrollment rates in post-secondary institutions fall short in producing STEM graduates alongside the widening STEM skills gap. Disinterest in STEM subjects among youth in secondary schools also perpetuates the current talent shortage.
For an in-depth perspective on each driver of the STEM talent landscape, click the button below.
Benefits of Working in STEM 
With all the buzz surrounding STEM jobs, it's advantageous for job seekers to pursue this growing field.  The world of STEM resides within the large sector of jobs encompassing the science, technology, engineering and math domains. Working in this arena has never been more attractive. Not only are STEM jobs changing our future, but they're also highly available, in-demand, promising and compensated.
 Shape our future
Many job seekers pursue meaningful work to gather a higher sense of purpose. STEM jobs help drive innovation in our modern world, and the STEM workforce plays a big part in that change. From technological advances that make medical breakthroughs to software developments that create the next big mobile app, STEM influences our world and will continue to do so for years to come.
 Low unemployment

As the STEM skills gap persists, there is a growing, insatiable need for STEM professionals. With 74 percent of STEM college graduates not working in STEM occupations, post-secondary institutions have yet to provide enough professionals for the workforce. The talent pool is scarce for employers looking to fill STEM roles, which means jobs are in surplus for job seekers.
Suggested Reading: The STEM Talent Landscape
 More career opportunities
The possibilities are endless with STEM jobs available across every industry. Have a knack for analyzing data, but also have an affinity for sports? Imagine being a data analyst for ESPN. Love coding, but also have a passion for fashion? Become an app developer for the next fashion app. In STEM, there are alternative career paths made just for you.
 Higher salary
Did you know STEM roles are some of the highest paying careers? In fact, STEM jobs often lead the pack when it comes to national averages. The average salary of a STEM occupation is $87,570, nearly double the average wage of all jobs at $45,700, according to the Bureau of Labor Statistics. If pay is a deciding factor in your job search, you might want to consider an arguably lucrative career in STEM.
Choosing a STEM career is by no means an ordinary desk job. STEM professionals have a pivotal role in creating our future and redefining our daily lives. Some undeniable perks include better job availability, higher compensation and additional career paths. The possibilities in STEM are endless, and they're all waiting for you to take hold.
Ready to learn more about this fulfilling career field? Check out these in-demand STEM jobs below.
The Top 5 STEM Careers Most In-Demand in 2019

STEM Careers Across All Industries
Q&A with Adam Lombardi
Delivery Transformation Senior Director, Kforce
Whether or not you have a formal STEM background, by learning basic STEM principles, you can transition into any field. With many general skills overlapping into different industries, anyone looking to jump into STEM can do so by identifying the needs available for the industry and upskilling accordingly.
To learn about the skills necessary to secure a role in STEM, why these skills are applicable across all industries and the positions that are currently universal throughout the STEM world, we talked to Kforce Delivery Transformation Senior Director Adam Lombardi.
More than anything, soft skills are essential to be successful in a STEM career today. In fact, among the eight most important qualities of Google's top STEM employees, the first seven are all soft skills, with STEM expertise coming in last. To meet the growing demand of the field, STEM industries are looking for professionals with the following skill set:
Communication skills. Being understood is imperative. However, it's more about how to communicate the technical problems a STEM candidate works on and the overall impact that it has on the business. Technical acumen without being able to influence business decisions can be a barrier to success.
Interpersonal skills. The ability to work cross-functionally is critical in the STEM space. The days of a technologist being isolated to a dark corner of the room are no more. A business mindset is required.
Problem-solving skills. Much of the work that STEM candidates focus on has never been done or attempted before. As technology evolves, new situations will present themselves without a previous case to fall back on.
The ability to draw from experience, then apply it to a new scenario in a different industry is paramount. Industry alignment and subject matter expertise is vital, but the skills learned in another industry can provide a different perspective that allows a problem to be solved in just about any occupation.
Job Seeker Resource Center
Are you trying to break into a STEM career, but not sure where to start? At Kforce, we have the resources to guide you through that journey. We're not just in the business of staffing; we're in the business of making a difference in the lives we serve, and that means helping you land your dream role in STEM.  
We put together a comprehensive job seeker resource center to provide candidates like you the latest information about all things STEM, from highlighting your STEM experience on your resume to tips on breaking into the STEM field without a traditional background. Explore our resources below to get started.

3 Ways to Highlight Your STEM Experience on Your Resume
How can you stand out from the STEM competition? The simple answer—highlight your experience through 3 easy steps.
Learn More
How to Get into a STEM Career Without a Formal Background
Don't have a STEM education? No worries! Follow the three steps outlined in this article to excel in STEM without a formal background.
Learn More

Begin Your Career Journey with Our 2019 Job Search Guide
Conquering your journey requires a modern job search strategy. Coming out victorious is no easy feat—but we've got you covered!
Learn More
>
Employer Resource Center
Is employee turnover high at your firm? Are you having trouble securing STEM professionals that can take your company to the next level? At Kforce, we can help you solidify your talent acquisition strategy to conquer the STEM world.
We have a variety of resources to help your firm stay ahead of the competition. Check out our employer resource center below to learn about our solutions and what it takes to identify, attract and retain top STEM talent in 2019.

5 Ways to Attract & Retain Top STEM Talent
Talent is often the deciding factor when trying to innovate and achieve business objectives. Learn 5 tips to attract and retain talent.
Learn More

Leveraging International Talent to Fill the STEM Gap
With the STEM skills gap expanding, leveraging international talent can be an impactful strategy in keeping your firm ahead of the competition.
Learn More

How to Identify, Attract & Retain Top Talent in 2019
The talent acquisition landscape continues to evolve in 2019. Learn the latest tips on sourcing, attracting and retaining talent in this digital age. 
Learn More
>
It's no secret that STEM is expected to grow exponentially in the years to come. However, education in the U.S. has a long way to go in preparing the next generations that will comprise our future workforce. There is also much work to be done in eliminating the gender and belief gaps that continue to pervade the field of STEM.

In this section of The Ultimate STEM Career Guide, we've provided helpful resources about the need for better education and awareness in the current STEM landscape, from a Q&A with a teacher on the front lines to data urging a call to action for societal change.
Learn more about the future of STEM below.

How to Encourage STEM Education at Home and School
Q&A with Janet Webb, MEd, NBCT
7th Grade Math Teacher, Holly Ridge Middle School
"In a world that's becoming increasingly complex, where success is driven not only by what you know but by what you can do with what you know, it's more important than ever for our youth to be equipped with the knowledge and skills to solve tough problems, gather and evaluate evidence and make sense of information," reports the US Department of Education.
"These are the types of skills that students learn by studying science, technology, engineering and math—subjects collectively known as STEM."
With technology advancing faster than ever and the talent gap continuously widening, it's critical that we begin to prepare our children early for the evolving workforce. We spoke with 7th-grade math teacher Janet Webb to get her take on how STEM education can be encouraged and applied not only in school but at home as well.
STEM Resource Center Grades K-12
At Kforce, many of us are recruiters, and some of us are also parents. Our profession allows us to see the importance of STEM daily. However, we're also aware that the "STEM gap" is a very real problem and growing every year.
Within the next ten years, the number of STEM jobs will grow by 13 percent. However, research shows a declining interest in STEM careers from teenage kids.
Fortunately, there are so many fun and engaging ways in which we can introduce our kids to STEM at a very early age. One of our favorite ways to get our kids excited about STEM-related concepts is through game play, specifically apps that they can download on mobile devices. 
We researched hundreds of apps, then downloaded them and tested our favorites to come up with our Top 5 Kforce Picks. Check them out below.
Top STEM Apps: Grades K-5
Check out these top 5 STEM apps for kids in grades K-5.
Learn More

Top STEM Apps: Grades 6-8
Check out these top 5 STEM apps for kids in grades 6-8.
Learn More

Top STEM Apps: Grades 9-12
Check out these top 5 STEM apps for kids in grades 9-12.
Learn More
>
Spotlight: Women in STEM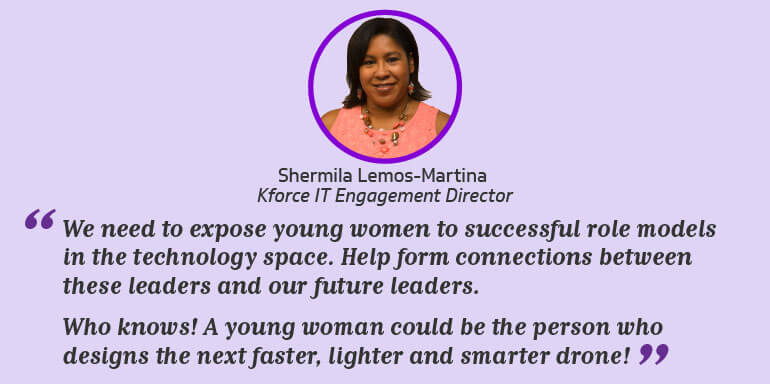 Despite a growing talent demand, women are severely underrepresented throughout the STEM field today. Women make up 47 percent of the entire workforce yet constitute only 28 percent of the science and engineering domain. Other STEM areas also continue to experience sparse numbers, including information technology and physical science.
Factors that contribute to this disparity include:
Lack of interest among youth in STEM subjects
Inadequate STEM education
Internalized beliefs
Gender bias
Absence of female role models
In recent years, there's been a culture shift to empower more women to enter the STEM workforce. STEM programs for girls have risen in popularity. Mainstream media has begun to prominently feature women in STEM careers from children's TV shows like "Doctor McStuffins" featuring a young girl caring for stuffed toys in her playhouse clinic to award-winning films like "Hidden Figures" showcasing women mathematicians who helped NASA reach the moon.
Women in STEM have also become an international celebration with the proclamation of Ada Lovelace Day. On the second Tuesday of every October, the achievements of STEM women are celebrated across the globe, and young girls are encouraged to break into the STEM arena.
While the movement has grown, there is still much work to be done. Only 3 in 5 girls today understand how STEM subjects are relevant to their lives and are aware of their career opportunities. There are many ways society can combat this dilemma by continuing to motivate women and youth alike.
"We can start by providing role models as soon as possible to girls in school and women in post-secondary programs to pursue STEM degrees and positions," said Kforce Principle Business Analyst Karen Flora. "Encourage talent. Make sure we are compensating equally. Provide a support network, including child care options for young parents."
Kforce Director of IT Engagement Shermila Lemos-Martina agreed, highlighting the potential footprint women can leave on society. "I often witness the misconception that STEM jobs are not for women," said Lemos-Martina. "Through education, perseverance and hard work, women can make a fantastic contribution to our world!"