Reworking Your Resume? Here Are Three Quick Steps to Stand Out 
Resumes. Whether you love them or loathe them, they are oftentimes a hiring manager's first impression of you, your skill set and your potential value. Experienced recruiters, hiring managers and their applicant tracking system (ATS) counterparts scan resumes at lightning speed in the hopes of finding the right match— a decision that can be made in as fast as six seconds, according to LinkedIn.  
With mere moments to captivate your audience, how can you ensure the viewer slows their scanning speed, picks up the phone and extends an invitation for an interview? For most involved in the hiring process, the decision comes down to data. 
For example: if you are a Project Manager, there is a difference between claiming you have experience "managing multiple projects from start to finish" and another to say you "successfully managed seven projects from start to finish, generating a total of $750,000 over the course of six years." The first takes a general approach to your job duties and most closely reflects language that would be found in a job description, while the second is accomplishment-based and shows how you have been a successful contributor to your employer.  
For the most part, hiring managers and recruiters know the day-to-day duties of someone in your role—what they're looking for is the edge you have over other candidates in your field. So how can you highlight your experience, communicate your skill set and give yourself the best chance at landing your dream job?  
By building accomplishments into your resume. Ready to get started? Here's how to do it: 
1. Take Note of Your Big (and small) Wins 
Start by making a list of your previous roles, day-to-day job duties and any subsequent details. Think numbers—how many tasks or projects did you handle per day or per week? If you were a manager, how big was your team? If you managed a budget, how big was it? What deadlines did you meet and were there times you exceeded them? How did the successful completion of your projects, or the functions within your role, contribute to the company's revenue growth? Focus on KPIs and the quantifiable aspects of your roles, no matter how small. 
Also, don't forget to include any awards, recognitions or certifications earned and the timeframes for each.      
2. Take Stock 
Place your list next to your current resume. Are there any opportunities to add detail to what's already on the page?  
For example, if you have: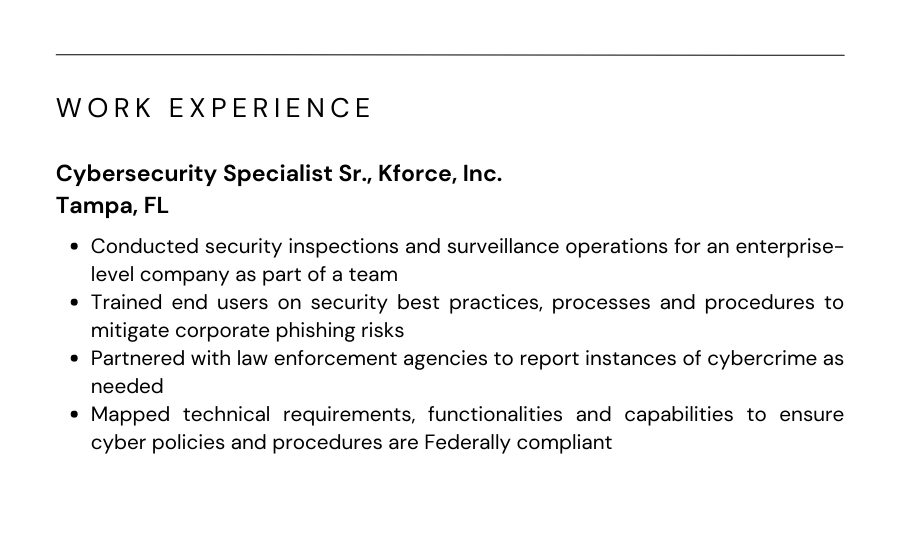 Your accomplishments could transform it into this: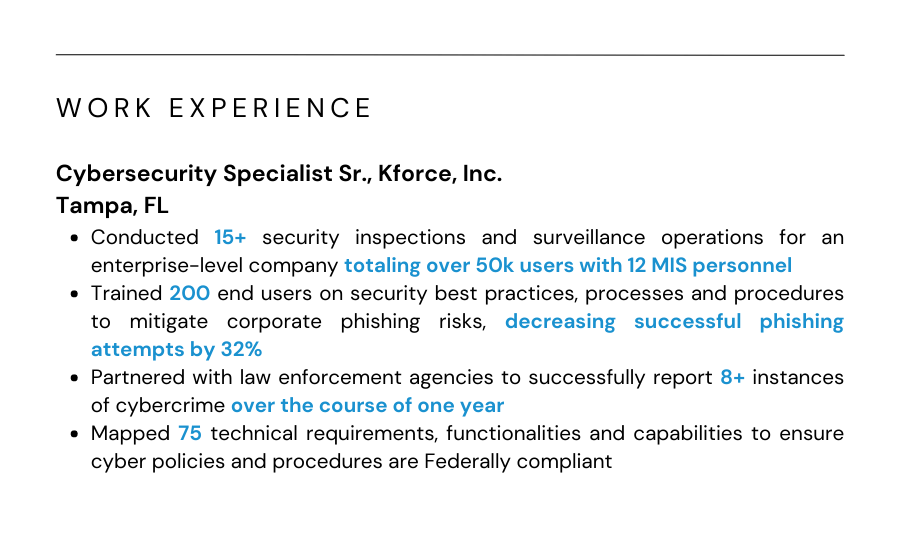 3. Be Consistent  
Once you have finished adding the items on your list to your roles, it's time to assess the big picture. What opportunities are there to weave your accomplishments throughout other sections of your resume? 
One section that stands out as a possible option is your professional or executive summary. Since this section is the first thing the hiring manager sees aside from your name and other personal details, including a few of your strongest accomplishments here could garner interest in your experience quickly.  
Here's a sample summary without key accomplishments: 

And here is the same sample with accomplishments highlighted: 

Another area to consider including accomplishments is your Certifications/Recognitions section—which typically can be found after educational experience.  
Here's a sample Certifications/Recognition section: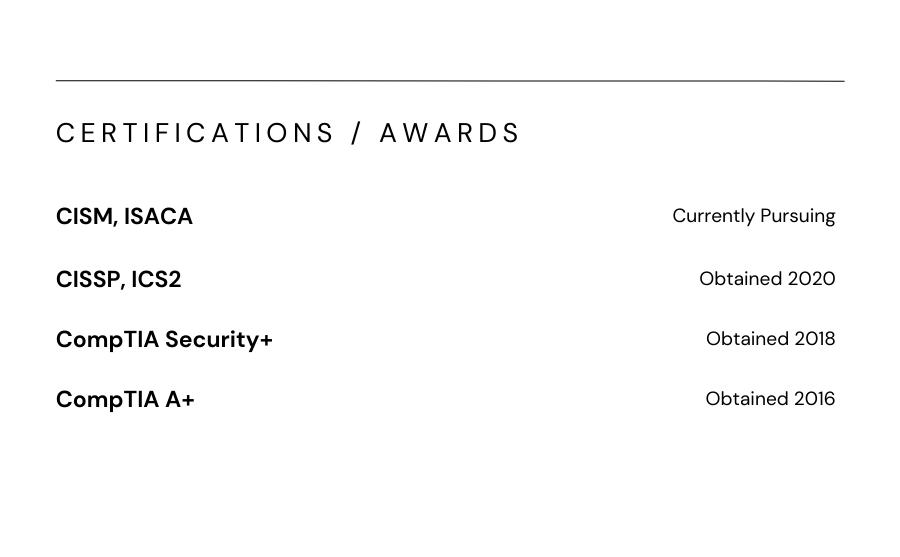 And here it is reworked: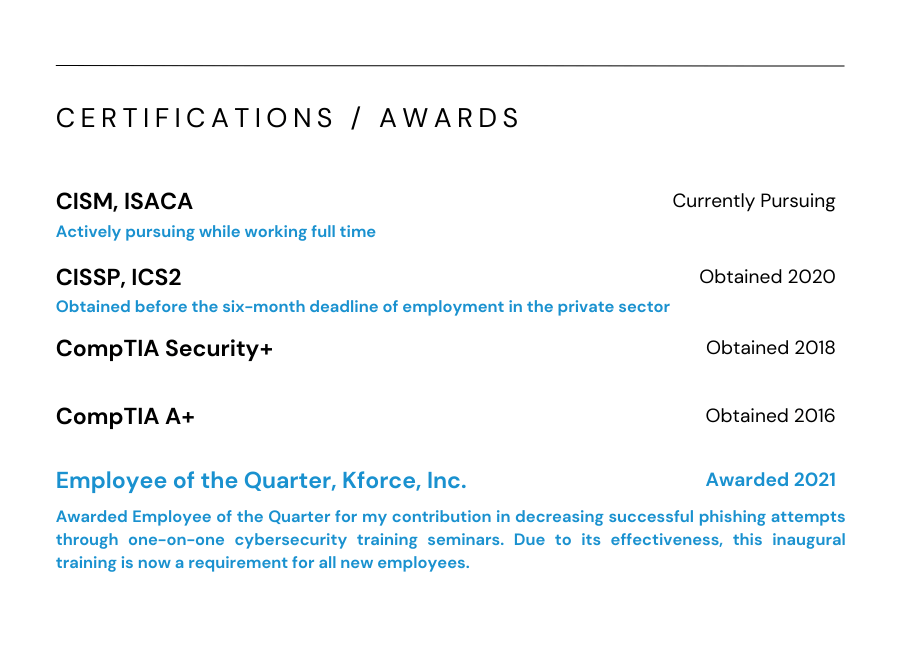 Need More Inspiration? 
Check out a few more examples below, which cover different roles within IT and Finance & Accounting. 
Business Intelligence Analyst 
Led and fostered a change management initiative to improve billing workflow system, resulting in an 8% decrease in outstanding accounts receivable claims and a 4% increase in revenue over a two-year period 

Collaborated with the business transformation team to gather, create and propose 24 testing plans for four departments in two months 
Project Manager 
Simultaneously developed and led two enterprise-scale projects with a combined budget of $6.5M, ensuring both were completed on time and under budget by $320k. 

Improved team functionality by streamlining steps and managing deliverables, resulting in the elimination of three redundant processes and two resources totaling $140k 
Software Engineer 
Built and maintained an application for an enterprise-level company to support 3M users daily while eliminating the need for a third-party application, saving $225K in annual costs 

Communicated with a cross-functional team of three project managers, five quality assurance analysts and numerous field stakeholders on a weekly basis to develop the overall product and design of the application, ensuring the application met users' requirements 
Sr. Accountant 
Completed bank reconciliations and GL account analysis for assets totaling $12M+ on a monthly basis 

Reduced month-end close by an average of two days through collaboration with the audit department to redesign and improve internal control processes and reporting 
Financial Analyst 
Collaborated with stakeholders to complete due diligence on a $23M joint venture, providing data forecasting highlighting key risk factors and potential ROI 

Further improved the existing forecasting tracking and management reporting system to improve accessibility and accuracy of reporting data, leading to a 11% increase in accuracy 
Don't Forget LinkedIn 
Now that you've given your resume a cutting-edge update, do the same for your LinkedIn profile. In today's technology-centric world, hiring managers and recruiters often check your professional profiles and networks during the hiring process—so ensure it makes as strong of an impression as your new resume.