About Kforce
Kforce is an award-winning professional staffing and solutions firm that provides strategic partnership in the areas of Technology and Finance & Accounting services.
Founded in 1962, our name stands for KnowledgeForce® which describes our customer-centric Kforce Knowledge Process that delivers high-touch, relationship-driven results backed by progressive technologies. Kforce consistently ranks in the top five U.S. search firms. In fact, Kforce is one of Forbes' Top 5 Search Firms across the U.S., a title we wear with pride.
Each year, our network of more than 50 offices and two national recruiting centers provide opportunities to 36,000 highly skilled professionals who work with over 4,000 clients, including 70% of the Fortune 100.
Who We Are
Mission: Uniting professionals to achieve success through lasting personal relationships®.
Vision: To have a meaningful impact on all the lives we serve®.
Brand Promise: Great results through strategic partnership and knowledge sharing®.
Tagline: We Love What We Do. We Love Who We Serve.®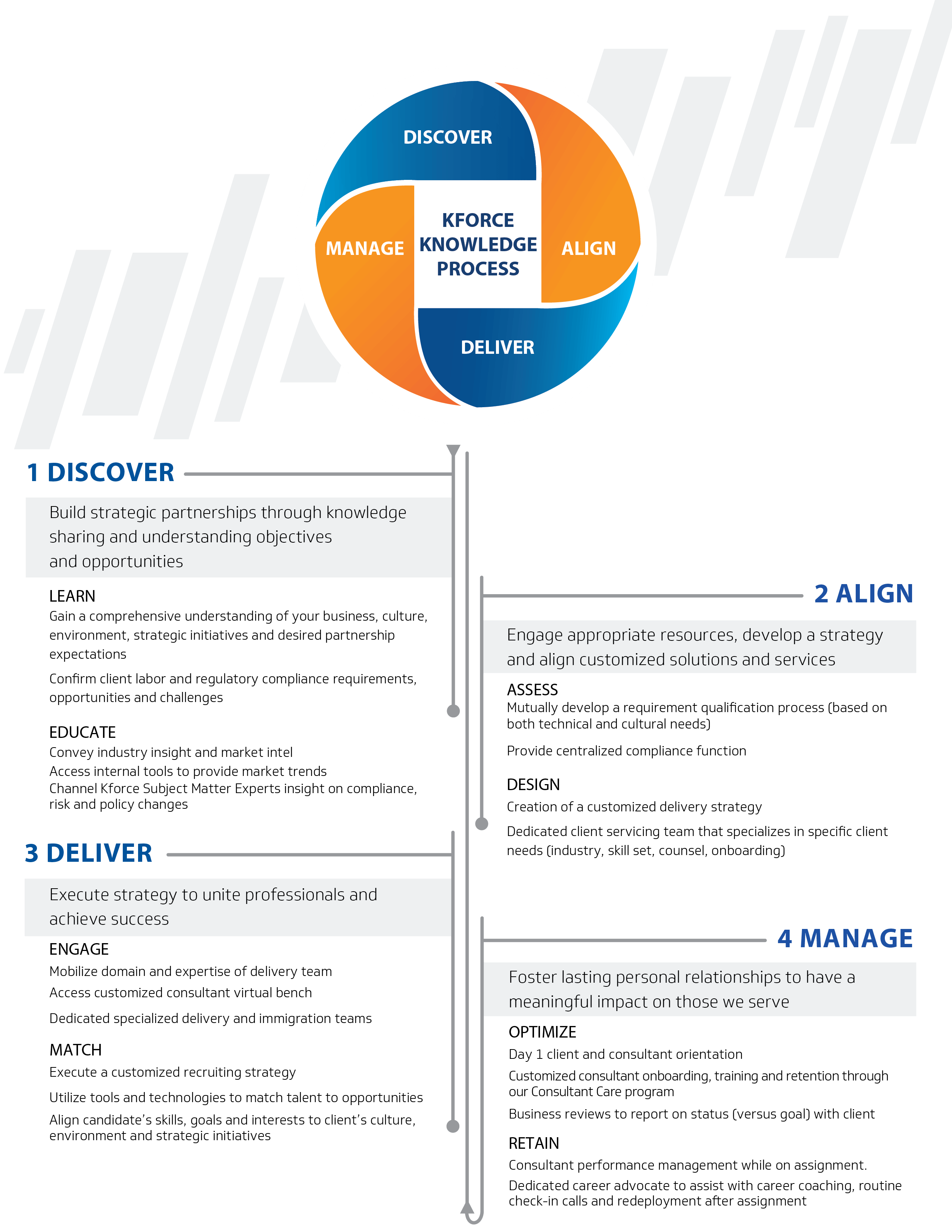 Kforce Core Values
in the words of our Great People
Respect
Kasey Roberts
Market & Data Analyst, Kforce
"I strive to treat everyone with the same level of respect that I hope people offer me. No one is any less important than someone else, and everyone deserves to be respected to the fullest!"
Integrity
Dale Russell
Director of Planning & Processing IT Services, Kforce
"Integrity means sticking to your core values. Integrity is defined as the quality of being honest and having strong moral principles. Kforce's core values align with my personal core values which is a key reason I find Kforce a great place to work."
Stewardship & Community
Ellycia Colon
Talent Strategy Manager, Kforce
"Stewardship makes me feel like I am improving my community and giving back to those who may be less fortunate. Helping those in need is my top priority and I am thankful to be a part of a firm who puts it first as well."
Exceptional Service
Manish Mohan
GP, International Talent Solutions, Kforce
"One of the things that excites me about Kforce is our entrepreneurial culture. We're constantly innovating and improving our business practices so we can better service our customers."
Commitment & Fun
Chelsi Owen
Paralegal, Kforce
"One thing I really love about Kforce is how much FUN we have here. From throwing pies at executives, to bagging lunches for people in need- there is always something going on that engages employees to take a break from the daily grind and have a little fun."
Trust
Jennifer Siler
Director, Proposal Services, Kforce 
"Trust takes time to establish. I rely on Kforce's core values to help me make my decisions. I believe it's the little actions we take every day that build trusting relationships with our partners."