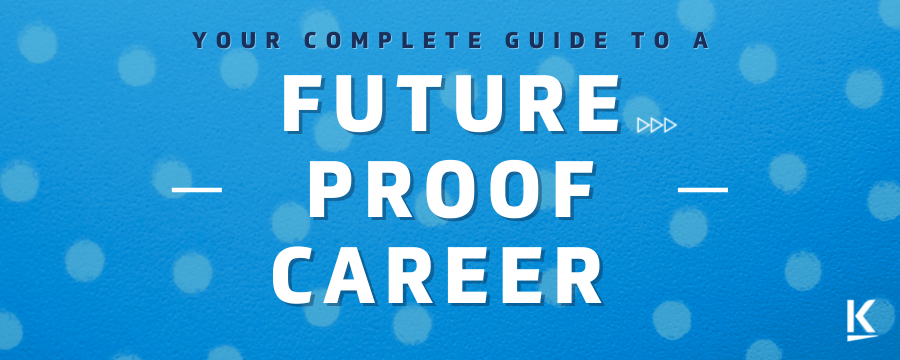 9 Strategies to Future-Proof Your Career
What will your job, industry and organization look like five years from now? And how do you fit into that picture? We may not know what the future holds, but we do know we live in a world of rapid change. Business transformations that were predicted to unfold over the next ten years have occurred within a matter of months. Professionals who want to remain relevant in today's evolving workforce must take responsibility for preparing for tomorrow's workplace.
Here are nine strategies to help you future-proof your career:
Keep your career path open 
Embracing flexibility is key to success in the future of work. According to data from the Bureau of Labor Statistics (BLS), today's workers stay with an employer 4.1 years on average, often working in various roles throughout their careers. It's still important to have a career plan, but it doesn't have to be set in stone.  
Use the following tips to keep your career path open: 
Think of your career plan as a living document —crafted around a clear long-term vision yet flexible enough to adapt to changes in economic factors, personal interests and emerging opportunities. 

Conduct a personal SWOT analysis at least once a year to assess which goals need to evolve and which skills you need to develop to achieve them. 

New opportunities will arise in various ways throughout your career. Always be ready and willing to consider and adapt to new possibilities with an open mind.

Use emerging technologies 
Artificial intelligence, automation and digitization are rapidly expanding into every aspect of our lives. However, more technology in the workplace doesn't necessarily mean you will be replaced. Knowing the best ways to use technology will help improve your work in your current role and ensure you remain employable in the future. 
Use the following tips to protect your career in the technological workplace: 
Be proactive and stay on top of technological trends as they emerge. 

Pay attention to your company's goals for digital transformation. 

Learn how to use new technologies you think your organization will likely adopt in the future. 

Be an advocate for adopting new technologies when your organization rolls out new transformation initiatives. 

Prioritize learning & development 
As organizations embrace new technologies, their needs change. This is leading to an increasing gap between the skills of today's workers and the ones needed for the future. Seek new opportunities for learning and development throughout your career to align your skill set with those future employers will desire. 
Use the following tips to continuously prioritize your career development: 
Conduct an analysis of your current skill set. Determine your strengths and create a learning plan for gaps that may impact your future employability. 

Be proactive in seeking out learning opportunities. Volunteer to take on new responsibilities and participate in training and certification courses. Focus on specific competencies you need to succeed and grow in your field. 

Diversify your transferable skills. Developing hard skills, such as coding and data analytics, will help you prepare for future roles and responsibilities. Soft skills, such as emotional intelligence, communication and adaptability, will continue to be highly sought after by all employers. 

Track your accomplishments 
When you are searching for a new job, potential employers want to know what you will bring to the table. It's important to know what you have achieved throughout your career. Keeping and regularly updating an accomplishments journal makes it easy to quickly recall your successes when you need to reference them. 
Use the following tips to build a strong accomplishments journal: 
Begin by conducting an accomplishments analysis to identify prior achievements. 

Most people wait until they are actively searching for a job before creating a portfolio of accomplishments. A better approach is to keep an ongoing journal, recording achievements as they occur. 

Include your contributions to major projects and their results, volunteer work and professional development training or certifications you complete. 

Store copies of performance review notes and other communications that acknowledge your contributions and success. 

Maintain a strong professional network 
Your professional network is crucial to establishing long-term career stability. With up to 85% of all jobs being filled through personal connections and referrals, a strong professional network is a powerful factor when searching for a job. The key is not the size of your network, but rather the strength of your relationships with each connection. 
Use the following tips to build and maintain strong professional connections: 
Find a mentor who can help you develop and achieve your goals. Your mentor can also help boost your exposure by introducing you to their network and advocating on your behalf. 

Join and actively participate in professional groups, associations and online discussion forums related to your industry. Attend events these groups are hosting or contributing to and network with other professionals at these events. 

Participate in relationship and team building events at work, even if they are optional. Dedicate time to maintaining the relationships you have built with former colleagues. Look for opportunities to offer your help and support to your connections. 

Expand your connections beyond your direct colleagues by reaching out to people in various roles and industries. It's important to develop professional relationships both within and outside of your current organization. 

Forge personal relationships with your professional connections on LinkedIn and Twitter so you are more comfortable reaching out to ask for help or advice when you need it. 
Learn More:  

Build your personal brand 
Carefully crafting and maintaining your personal brand is necessary in today's virtual world. Your digital reputation influences the decisions and judgments others make about you. A strong personal brand differentiates you as a professional and gives you the ability to leverage your reputation to collaborate across various networks. 
Use the following tips to develop a future-proof personal brand: 
Begin with a Google search of your name to identify what your current digital footprint says about who you are. If you have a common name or the same name as a celebrity, include additional identifying factors, such as your location, to narrow the search results. 

Ensure all your online profiles portray you in a manner consistent with the reputation you want your professional network to associate with you. This includes your private social media accounts. 

Register a domain name and create your own website. Having a personal website gives you creative liberty to share and communicate things without the layout and character limitations and restrictions of social media sites. 
Learn More:  

Become an industry expert 
Everything that happens in your industry has an impact on your current role and the company you work for. You can't future-proof your career without a clear understanding of the current state of your industry and where it is heading. Being an industry expert will help ensure you remain competitive in future job markets. 
Use the following tips to demonstrate your industry expertise: 
Expand your knowledge beyond your current role by reading high quality industry publications and asking your colleagues about their skills and responsibilities. 

Research current industry trends and changes. Determine the impact they are having on your role, company and other organizations. 

Follow reliable news outlets to stay informed about the social, economic, political and technological factors impacting the world. 

Follow inspiring leaders on social media and use what they share to learn from their experiences, knowledge and thoughts. 

Curate and share your own industry insights and predictions from your social media profiles. Use this content to start discussions with others in your network. 

Think globally 
Empowered by today's technology, the world is more connected than ever before. As businesses embrace digital transformation, organizations are breaking geographical barriers and becoming more culturally diverse. Applying a global perspective to the way you think and make decisions at work is a desirable skill for employers. 
Use the following tips to cultivate a global mindset: 
Learn about various methods other cultures use to approach the same work you do. Research the trends, techniques and technologies other cultures are adopting within your industry. 

Build connections with colleagues, clients and stakeholders throughout the world and ask them to share their perspectives with you. 

Always keep an open mind when working with others. Learn about unconscious bias and challenge your own perceptions and beliefs. 

Develop the skills and capabilities you need for success in an international market. Volunteer to work on projects that offer global exposure, study a new language and learn about diverse cultures and backgrounds. 

Be resilient 
The most successful people are resilient. They work with purpose, overcome setbacks and view mistakes as learning experiences. Remaining resilient, adaptable and open to change will set you up for success regardless of what the future may bring. 
Use the following tips to strengthen your resiliency in the workplace: 
Evaluate the current state and future outlook of your industry. Have a plan for how you will respond to changes in your role and industry as they occur. 

When searching for a new job, choose an employer that also has a future-proof mindset. Look at an organization's history to determine how well they have adapted to changes in the past and evaluate what they are doing to ensure the company's long-term sustainability. 

Cultivate your ability to approach change and turbulence with a positive and flexible mindset. This will empower you to identify and embrace opportunities when challenges arise. 

Foster the strength of your personal and professional relationships. By doing so, you will have a powerful team available to offer support and encouragement any time you need it.