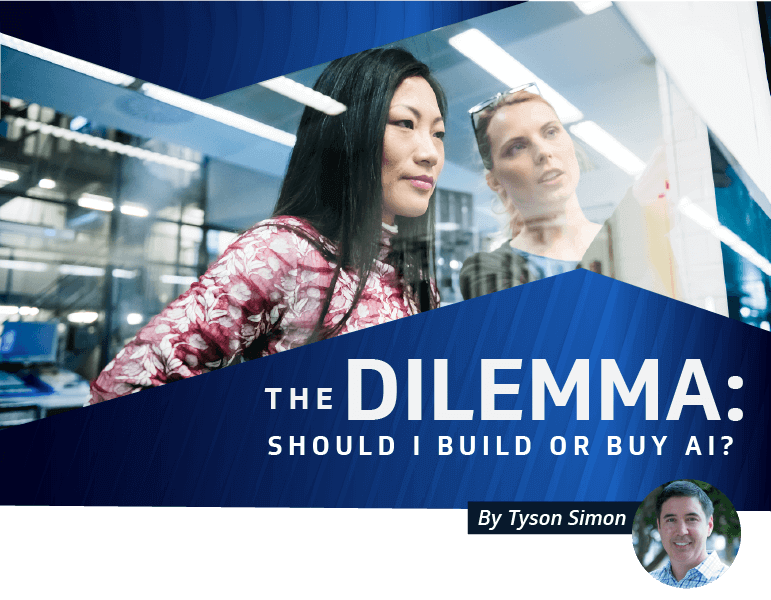 Discovery Steps to Help You Choose to Build or Buy AI
From personal assistants like Alexa and Siri to the emergence of self-driving cars, the rise of AI has taken the world by storm. As consumers crave more intelligent products, companies across all industries are exploring opportunities within this burgeoning field with rightful reason. Artificial intelligence is on track to become one of the world's most disruptive technologies.
In 2018, Gartner projected global business value from AI to total $1.2 trillion, a significant increase of 70 percent in 2017. By 2022, that number is forecasted to triple to $3.9 trillion.
As companies seek the ultimate advantage that lies within AI, many organizations find themselves in the timeless debate:
Should we buy or build?
The dilemma of whether to develop AI technologies in-house or purchase commercial software perplexes most enterprises, from the smallest companies to the largest industry leaders.
Making the wrong choice can be costly in dollars, speed to market, innovation, market share and more.
If you're deciding whether to build or buy AI solutions for your organization, you may find the following steps useful:
Step 1: Identify the need
Use these guiding questions to help determine if AI is needed for your solution:
What problem is being solved?
What are the inputs/outputs?
What solution or algorithm would solve this?
Does a solution already exist today?
Step 2. Define your decision criteria
Defining your decision criteria can serve as a navigational compass for your decision-making process and help you prioritize your desirable outcomes for an AI solution. The key areas listed below are some factors to consider when implementing AI. Use each factor to evaluate whether building or buying AI is the right choice for your initiative.
Competitive Advantage

—

Does the technology provide an asset or intellectual property (IP) that is proprietary? Does this IP offer increased value to shareholders?
Requirements Alignment

—

How well does the commercial product meet your needs? Are your objectives met with the product? Are customizations required? Are data security requirements met?
Financial

—

Is there a specific net present value (NPV) or return on investment (ROI) that must be achieved? What is the total cost of ownership including human capital, software and hardware?
Time to Implement

—

What is the speed to develop and deploy?
Maintenance

—

What is the effort and cost of support for human capital, hardware and software?
Once you've considered the criteria above, weigh each factor as defined in the scoring system like the conceptual example below and compare your results for building and buying AI.
Step 3: Consider the pros and cons
When you choose to build or buy your AI solution, there are advantages and disadvantages to consider. To get a greater sense of these perspectives, here are some general pros and cons for each situation:
Pros of building AI in-house
Customization
Leveraging in-house AI solutions enables companies to potentially reduce overhead by building what they need rather than packaged solutions with unnecessary features or requiring heavy customizations.
Flexibility
With customization, organizations can also expect increased flexibility when developing their own AI solution. Going "in-house" offers the opportunity to plug and play functionality that aligns with future needs or ad-hoc requests. If freedom to modify is a top priority for your business, consider building an ideal platform to ensure maximum flexibility over product design.
Intellectual property (IP) ownership
It's no secret that investing in a maturing area of technology can create value through IP and patents. The possibility of owning IP can be a competitive advantage, providing an asset to your company. If you're building a potentially competitive AI solution, consider IP ownership when deciding whether building or buying is best for your business.
Cons of building AI in-house
Time commitment
Even with the support of open-source software, the duration to build can extend far beyond desired outcomes. The challenges in training, reducing false positives and quality production, may take years to overcome. For example, facial recognition started in the '60s and took arguably until the 2000s to become acceptable for production and commercial use. With time, there is always a cost to delayed innovation, including human capital and opportunity.
Lack of expertise
While employing existing talent to build software may seem like a good idea, it may not be the best route. Employees who have relevant academic experience should be evaluated carefully. While they may have completed fascinating projects or covered concepts in the classroom, this doesn't necessarily mean employees can provide you with results to meet commercial production.
With an increasing demand for AI talent, maintenance of AI solutions can become a concern for organizations, putting knowledge retention and product intimacy at risk.

Lack of training data
Many AI solutions require tremendous amounts of data that must be trained and revised. For instance, training software to identify objects in an image such as a cat or dog could take thousands of pictures. The need to acquire those images and process them is another massive undertaking.
Although problems can be solved with open source tools (i.e., CAFFE and a deep learning framework is open sourced under a BSD license), the more complex a problem, the more data that is required for AI.
Furthermore, ownership and restrictions on data may become additional roadblocks to gathering training data.
Pros of buying AI
Cost savings
Software vendors pay for research and development costs by spreading expenses over many clients as opposed to incurring them with in-house solutions.
Quality assurance
Rigors in quality assurance are often more thorough in commercial packages, which leads to higher quality and more stable code for businesses.
Compatibility
The vendor handles the cumbersome task of ensuring compatibility with other software systems, allowing the customer to focus on other demanding priorities.
Security
Information security is usually built-in with vendor options and continuously upgraded to safeguard data.
Knowledge share
Using purchased AI solutions enables enterprises to leverage the learnings of other clients, including upgrades and enhancements to improve performance.
Incentives
Because AI commercial packages are so new, many vendors are willing to provide additional services for a discount to acquire new business. 
Cons of buying AI
AI is still very new
Many vendors are quick to add AI or machine learning to their product name or description. Finding a vendor to substantiate their claims is very difficult and may result in multiple proofs of concept and tremendous testing.
Lack of compatibility
Evaluating compatibility is critical to ensuring AI solutions will work successfully within your current ecosystem. Compatibility issues can lead to cost overruns and decreased business continuity.
Learning curves
Vendors often use clients as part of their research and development. Consequently, the lack of product optimization can result in many unnecessary installations, costing time and money.
Canned solutions
While packaged offerings are ubiquitous, many businesses need unique solutions. The need for custom solutions requires additional cost and time for implementation.
Step 4: Make the right decision for your organization
With any strategic decision making, it's important to carefully evaluate how a decision will affect your enterprise's objectives. In the case of building or buying AI, ensure first that AI competency fits into your organization's strategy.
Additionally, don't forget to convene with key stakeholders to review decision criteria and determine the pros and cons. It's essential to include your leadership and sales team to gather consensus and feedback for effective change management.  
Lastly, talk to vendors as you weigh your options. Be transparent with them and get their honest opinion about your choices and situation.
Whether you choose to build or buy AI, you can achieve results through either path. Use the results of the previous discovery steps to help dictate the right solution for your organization's unique needs.
At Kforce, we understand the decision to build vs. buy AI can be daunting. Our Advanced Services team is standing by to help.