How to Build Your Personal Brand on Instagram During the Job Search
Many people regard Instagram as a hub for foodie photos and endless selfies. But if you are searching for a new job, Instagram can do more for you than you might think.
When you apply to a job, recruiters and hiring managers analyze your entire online persona—not just your resume. Recruiters tend to be excellent researchers and are likely to study your presence on social media—including Instagram—to get a sense of who you are.  
If you're seeking new career opportunities, it's in your best interest to boost your professional presence on Instagram during the job hunt by following these tips.
Step 1: Define your brand and mission
What do you want potential employers to know about you? A huge part of building your personal brand is solidifying how you want to be perceived and deciding what you have to offer this world.
It's imperative to do some soul searching when figuring out your brand and mission. Consider your individual purpose, passions, values, beliefs, skills and differentiators. Unearthing these things will help you describe and share the brand called YOU. Once you lay this groundwork, you'll be ready to post content.
Step 2: Decide your privacy settings
Remember, there will be hiring managers and recruiters looking at the content you post. A public profile is a great way to get your content seen and show your industry expertise. But, take caution! It could come back to bite you if you're not careful about what you share.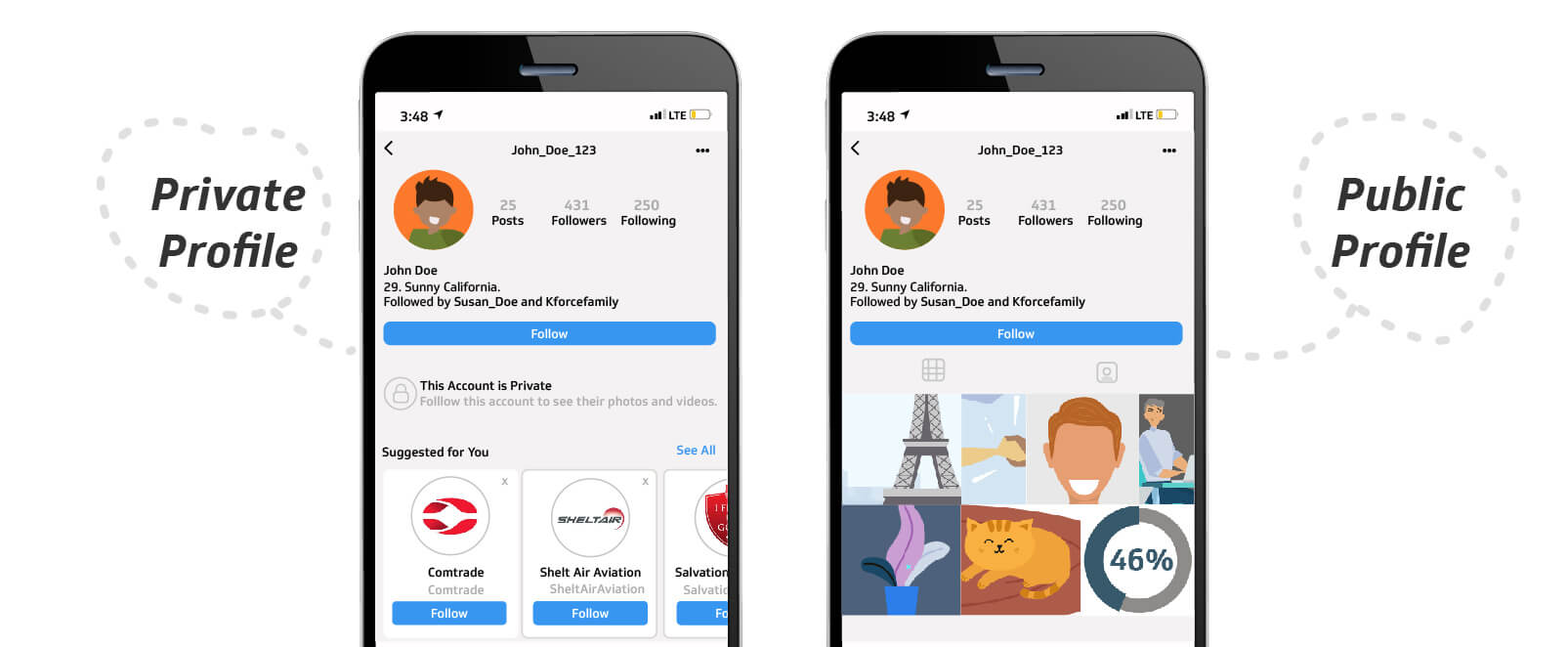 If you choose to have a public account, be mindful of who may see your photos and captions. If you desire personal privacy, keep your profile private.
Step 3: Follow brands, companies and organizations
Follow your inspirations. If you're going to be online and marketing your professional brand, make it as productive as possible. Curating your newsfeed with people who inspire you will give you content ideas to post on your own Instagram.
It's also a great way to give others insight into your interests. Have you ever been asked during a job interview, "What publications do you read?" Employers want to know if your pastimes align with their company, industry or role. Who you follow on Instagram can be a great of indicator of your interests and passions for businesses scanning your profile.
Step 4: Post quality content
One of the biggest mistakes a job seeker can make when portraying their brand online is sharing sub-par content. It's critical that you offer value to your audience and brand. You can easily do so by sharing things your followers care about.
Is there a latest development disrupting your industry? What about an exciting project at work? If so, post it and share why the content is meaningful to you. Try posing a question to engage your audience and keep the conversation going.
If you're struggling to find quality content, get inspired by online influencers and publications that relate to your industry and interest you. This is great opportunity to find topics you can share with your followers.
Also, don't forget when posting quality content to consider the imagery in which you choose to upload. If an image is blurry, don't post it. Make sure your images are always vivid and clear. Think about a past work project. Would you hand in something with mistakes or imperfections?
Probably not.
Treat Instagram with the same respect you would any other project. This includes spelling and grammar too. When you post quality content, it shows your effort. Your followers will notice, and so will prospective employers.
Step 5: Be professional when sharing content
People are watching you on Instagram, and that includes employers. That's why during the job search, it's pivotal that you maintain your professionalism on social media.
Think of your Instagram account as a soft introduction to your brand before employers invite you to an interview. Organizations are not solely interested in hiring someone with the right technical skills. They also want to hire the right fit for their business.
Your social media activity is indicative to who you are and a glimpse into how you may conduct yourself on the job. Job seekers should avoid behavior online that can be easily frowned upon by an employer. Remember to be the candidate that companies want to work with.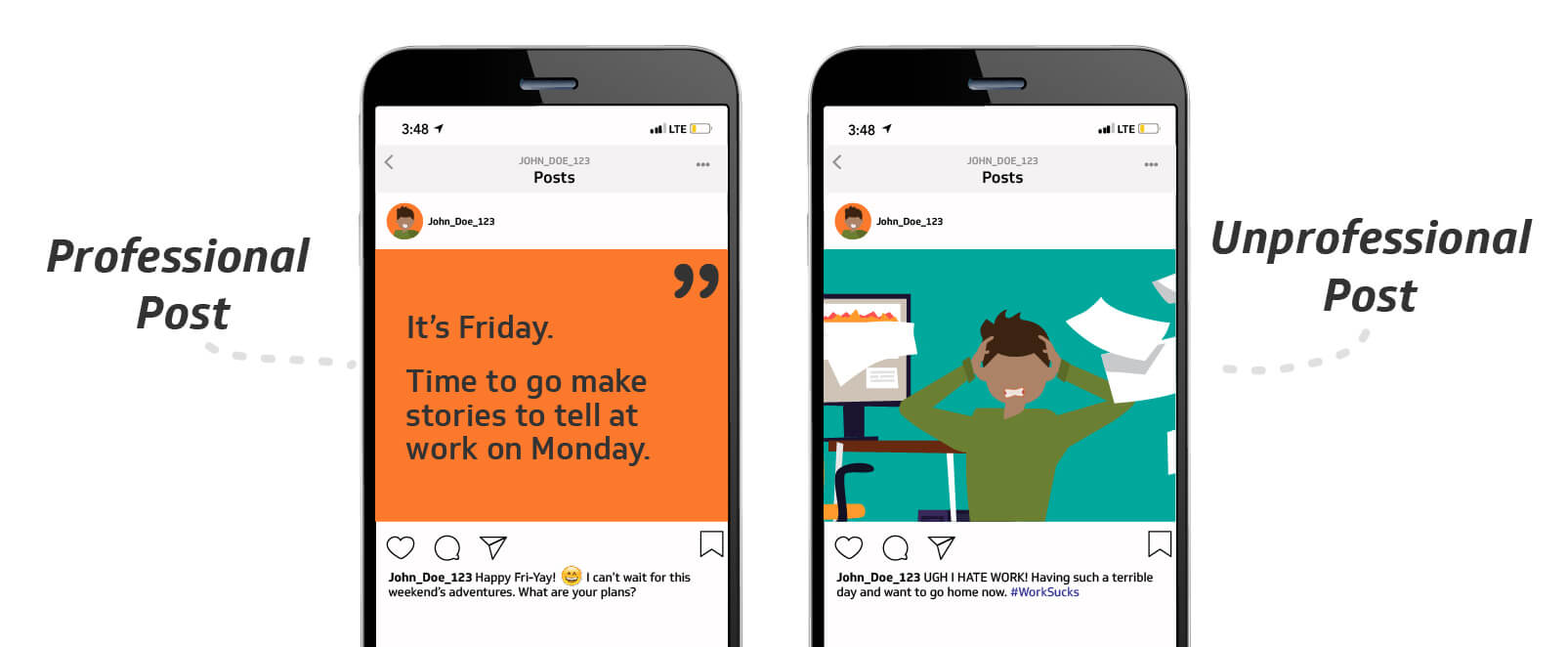 Pro Tip: Don't be afraid to show your personality. Keep in mind that you don't have to be all business, all the time. Chances are you have photos that showcase the things that make up your personal life outside of work—so post it! Give visitors a sense of who you are and what you're like to be around.
Step 6: Use hashtags to build Instagram followers
Hashtags allow other Instagram users to view your content and connect—building your professional brand and network. Now more than ever, companies see the value in posting human and emotionally-driven content rather than cookie-cutter, carefully curated content that doesn't move people to act. Strive for that in your personal branding, too.
If you share content associated with a personal or passion project, use appropriate hashtags to build your Instagram followers. This strategy will expand your reach to people who have common interests, expanding your network around the world.
Step 7: Use content to build rapport
Think about your closest friends. You probably have something in common with them, whether a shared love of dogs or dancing. When you disclose little tidbits about your personal life, people get a sense of who you are, what your passions are and what's important to you. This comes in handy when reaching out to individuals or companies via Instagram.
Take this scenario for example:
Imagine that you direct message your dream company you've been following for years. A social media manager forwards your social media handle to a hiring manager. They visit your profile and notice your recent Ireland trip.
Well, guess what? The hiring manger studied abroad there in college, and it was the best trip of his life. By sharing quality content, you've established a commonality with a prospective employer.
Ultimately, making someone feel like they can relate to you will allow you to have one shoe in the door. 
Step 8: Create a sense of community
Posting frequently, anywhere between 3 to 5 times a week, shows that you're active, involved and serious about putting your best foot forward. Networking on Instagram includes liking and commenting on other people's posts, and those who interact with you.
Also, be aware of when your followers are most active. This will help you determine what times of the day you'll likely get the most interaction.
If someone comments on your photo or likes it, reply! If you don't reply, you could be missing out on the opportunity to make a new connection.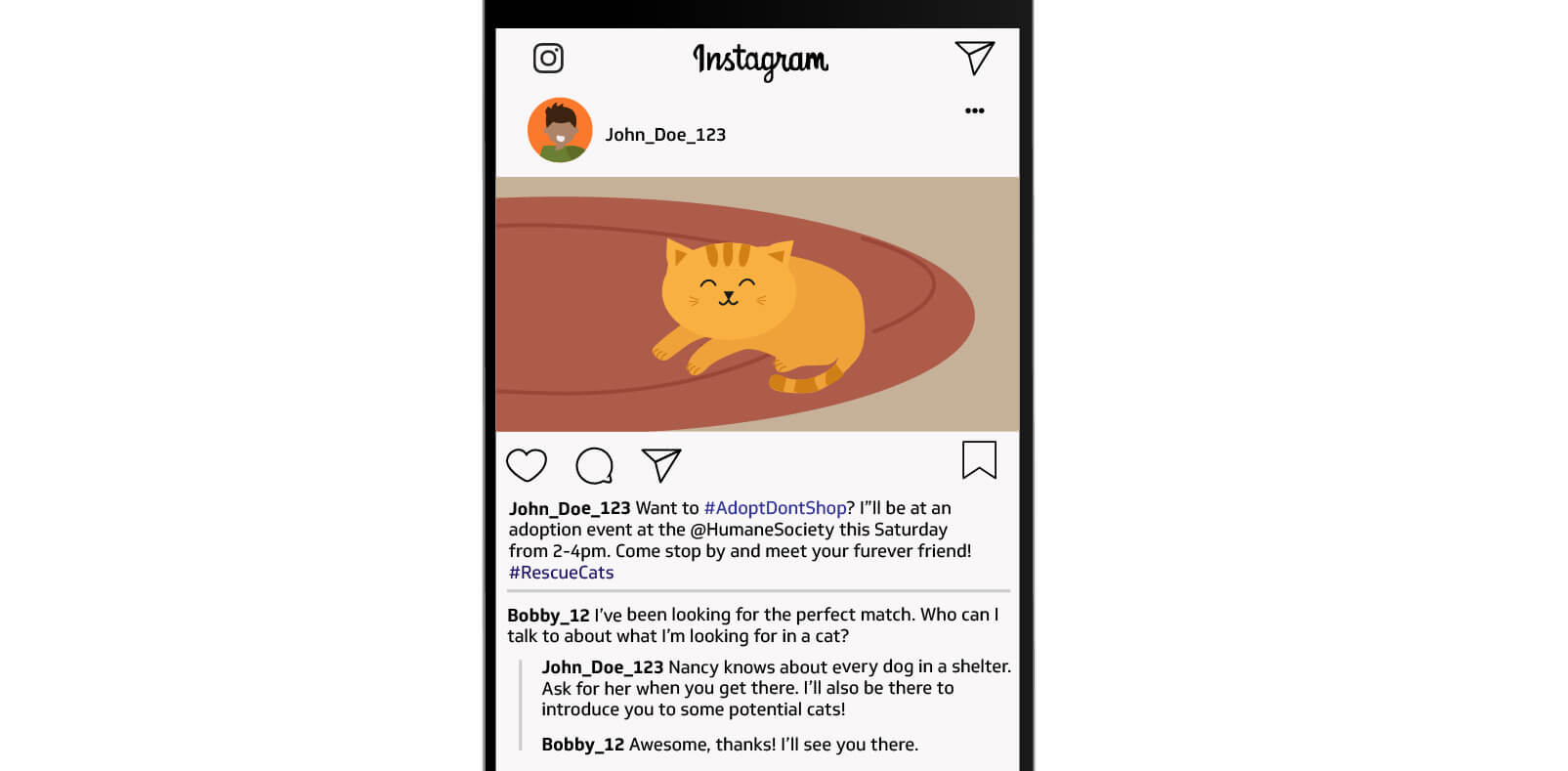 You can also share someone's post that fits with your brand using the Repost App. Tagging the person who originally posted the content is an effective way to attribute credit and show your appreciation for the content.
Step 9: Tag people, brands and companies
In addition to tagging others to give them credit for the content you're resharing, tagging is a great way to build connections. By tagging associated parties, you're making them aware of your professional brand and showing others you're associated with reputable brands and people.
For example, you and a colleague are working on a cool project. You can post something like the following caption:
"My co-worker @CoWorkerHandle and I are working on an exciting project! We can't wait to share the details with you! #Data #KforceFamily"
You should also geotag your location, and tag your company's Instagram directly in the post. Be sure to also use relevant topic hashtags in the caption. If it were a data analytics project, hashtag #data. Use the most relevant hashtags possible and ensure the hashtags you use are commonly used within the context that you're using them. Hashtags are a modern way to network and exponentially expand your reach.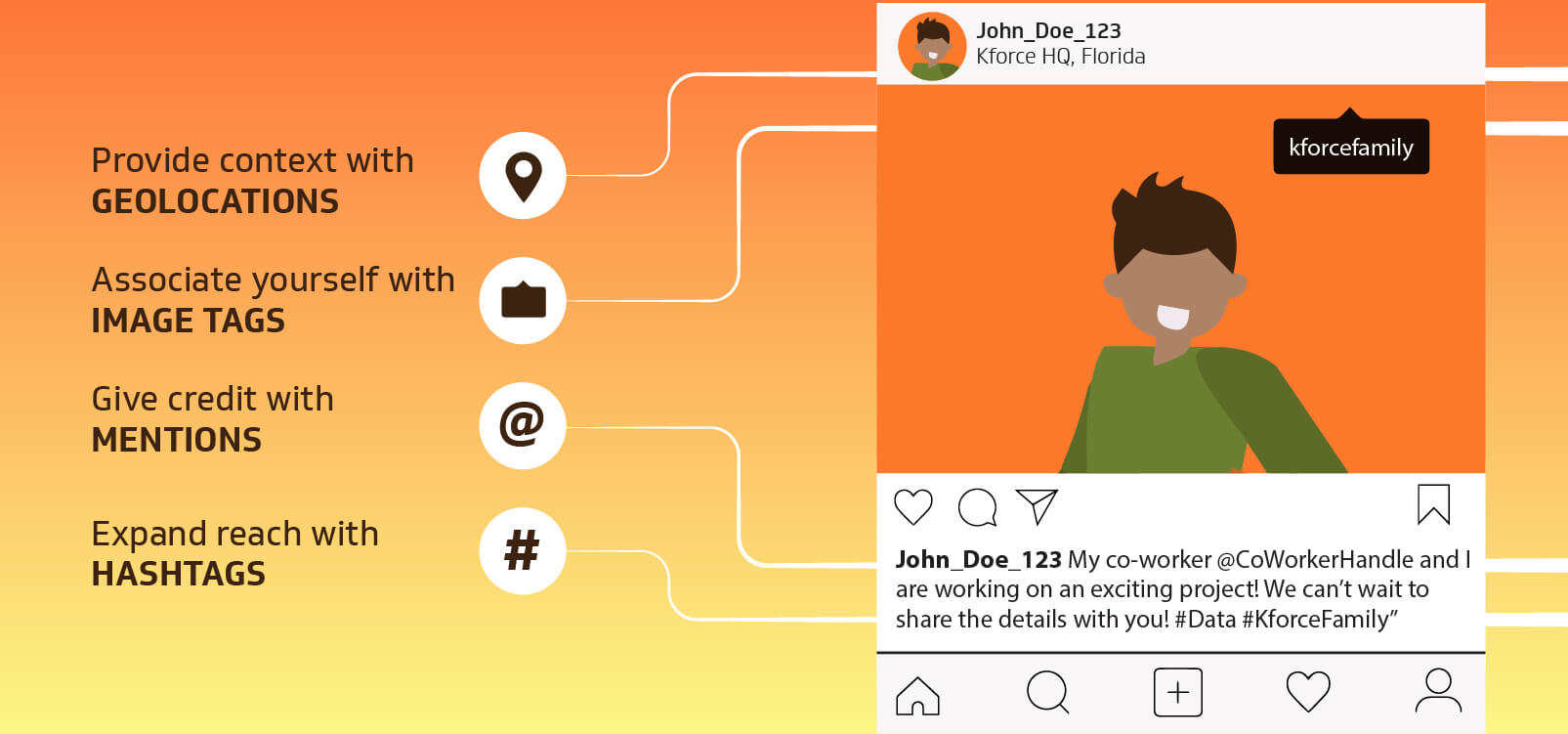 Step 10: Post to your story
Because algorithms are always changing, adding your post to an Instagram story will get additional eyes on your content and let your followers know you've shared something new.
Besides sharing a post in your story, you can also upload or create content directly in this feature. Utilizing Boomerang, Rewind, fun filters and gifs make posting daily content a breeze. While you may not post to your grid every day, the story feature allows you to post more intimate details of your daily activities that you wouldn't do otherwise. Examples of this include a picture of your morning coffee or a video wishing your followers a "Happy Monday."
How to connect on Instagram
Follow
Most companies have active Instagram accounts. By following companies you're interested in working at, you can learn about their mission, culture, current projects and more. Not only can you follow potential employers on Instagram—you can introduce yourself by direct messaging them too!
Following hashtags is a great way to stay "in the know." For example, if you're passionate about career advice, go to your search tab, type in "CareerAdvice" and click "Tags." From there, click #CareerAdvice and click the "Follow" button. Now, you'll receive content in your feed with posts that utilize that hashtag.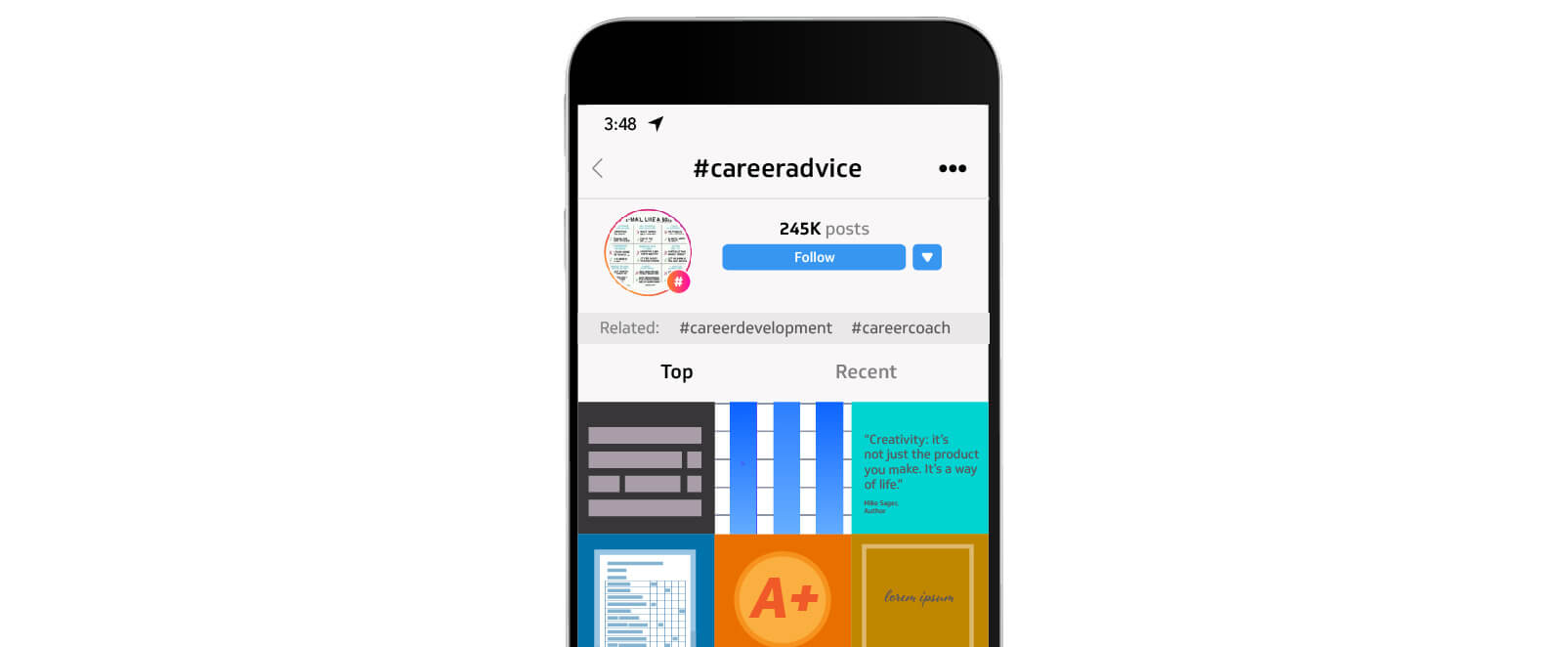 This can expand your networking to new groups, organizations and individuals. You can follow hashtags for any topic that falls in line with your interests. There are hashtags out there for everyone.
Send a message
Don't be afraid to direct message a person or company! If you have any questions or want to learn more about job opportunities, this is a great way to reach out and get a quick response.
There is a "Message" option under each account's bio section. Clicking this will bring you to a screen for messaging. Introduce yourself and explain why you're reaching out.
Sample message:

Starting a conversation is the first step in the journey to getting your foot in the door.
Remember, your brand is what you do—even online!
Interested in more career advice related to social media? Check out these articles below.
Suggested Reading:
Twitter: How to Stay Up-to-Date on Industry Trends 
How to Optimize your Professional Brand on LinkedIn
Now that you've learned all things professional branding on Instagram, gather more insight about what else it takes to land a job in our 2020 Job Search Guide. From creating a compelling resume to mastering the interview, get the latest tips from our industry experts.