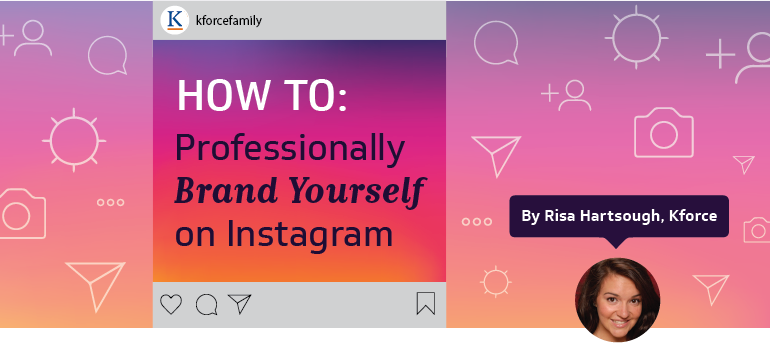 Build Your Professional Brand on Instagram
When you think of Instagram, what do you associate it with? Do you think of foodie photos and selfies? Probably. How about career opportunities? If your answer is no, it's okay—you are not alone.
Many people don't consider Instagram branding during their job search. However, using this popular photo-sharing app during the job hunt is on the rise.
Instagram is an important channel to represent your online professional brand. Check out these steps below to boost your Instagram brand:
Step 1: Decide your privacy settings
Remember, there will be people looking at the content you post. If you choose to be public, follow this simple rule: if you wouldn't want your grandma to see it, you probably shouldn't post it. 
Step 2: Define your brand and mission
What do you want people and potential employers to know about you? Keep in mind that you don't have to be all business, all the time. Do you like to hike? Are you a sommelier? Do you volunteer at a local animal shelter? Chances are you have photos that showcase the things that make up your personal life outside of work—so post it! Give visitors a sense of your brand and who you are.
Step 3: Use hashtags to build Instagram followers
Using relevant and strategic hashtags doesn't make you desperate for Instagram followers. It expands your reach to people who may have interest in what you're posting. For instance, if you share a photo associated with a project you're working on, use the appropriate hashtags to help build your Instagram followers. Hashtags allow other Instagram users to view your content and connect—building your professional brand and network!
Step 4: Create a sense of community
Posting frequently, anywhere between 3-5 times a week, shows that you're active, involved and serious about putting your best foot forward. Creating a networking forum on Instagram includes liking and commenting on other people's posts, and those who interact with you.
. If someone comments on your photo or likes it, reply! You can also share someone's post that fits with your brand using the Repost App.

Step 5: Post quality images
If an image is blurry or out of focus, don't post it. Make sure your images are vivid and clear. Think about a past work project. Would you hand it in with mistakes or imperfections? Probably not. Treat Instagram with the same respect you would with any other project. When you post quality content, it shows that you put effort and thought into every aspect of what you do.
Step 6: Tag people, brands and companies
Again, interact with them! Tagging is an extra step in your posting process that speaks to your diligence and effort to make your photo the best it can be. It's also super effective. By tagging associated parties, you're making them aware of your professional brand and showing anyone who views your photo that you're associated with brands and people.
For example, my co-worker and I are working on an exciting project. Maybe, I'd post a photo and say something like:
"My co-worker @CoWorkerHandle and I are working on an exciting project! We can't wait to share the details with you! #Data #KforceFamily"
I would geotag my location to Kforce headquarters, and tag Kforce's Instagram directly in the photo. If it were a data project, I'd hashtag #Data. If it were a volunteer project, I'd hashtag #Volunteer.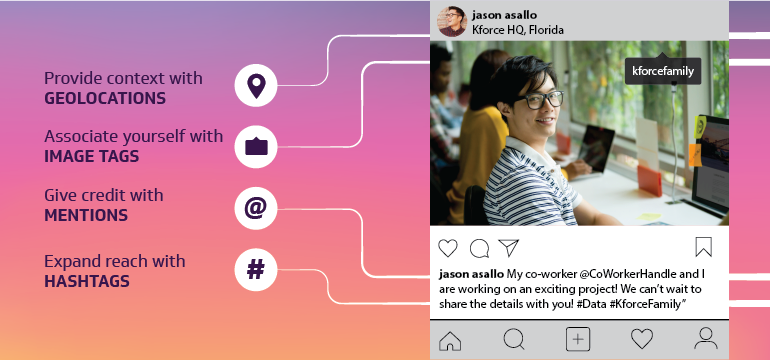 When you put thought into your Instagram brand, people notice. And if you're searching for opportunities, your potential employer will notice, too. Think of it as the modern way to network.
Step 7: Follow brands, companies and organizations you admire
Furthermore, you should follow your inspirations. If you're going to be online and marketing your professional brand, make it as productive as possible! Being able to curate your newsfeed with people who inspire you will help build your professional brand. In addition, it may also give you content ideas about what you should or could be posting on your own Instagram.
Instagram is a forum where it's okay to have deeper relationships with your followers and those who interact with you. This channel features photos, which are very personal and telling about a person; it's visual and tells job seekers a little bit more about who you are outside of the office, and in it, too!
How to connect on Instagram
Most importantly, don't be afraid to direct message (DM) a person or company! If you have any questions or want to learn more about job opportunities, this is a great way to reach out and get a quick response.
Follow
If your passion is digital marketing and you would love to work with a company like Kforce, search "Kforce" and follow the handle @kforcefamily. Don't just follow a company and leave it at that—DM them and show them who you are!
Send a message
There are three dots in the upper right-hand corner once you get to a profile; click that, followed by "Send Message." This brings you to a DM. Introduce yourself and explain why you're reaching out. Maybe, say something along the lines of:
Starting a conversation is the first step in the journey to getting your foot in the door.
Remember, you are who you associate with—even online!