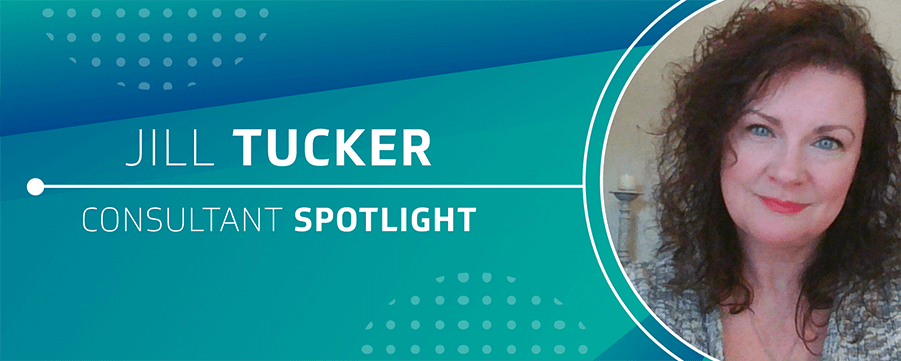 Looking to step into a leadership role for the first time, or are you building a team from scratch? Kforce Consultant Jill Tucker shares how she's built a successful team, when she recommends taking risks and how Kforce has helped grow her skills.
Can you describe your current role as a Project Management Office (PMO) Transformation Lead?
I have been a PMO Transformation Lead for the past six months, and I would say these last five months have been about wearing many hats and keeping balls up in the air. I hope the balls are soaring, but at minimum, I ensure none are dropping.
My role has been kind of like the Fast and Furious movie version of Program Management—my team started very small. I was the second consultant and after some intense growth, we are 32 strong now. It's been a wild ride so far, but it's been a lot of fun.
What does your day-to-day look like?
Mostly, my day-to-day focuses on problem solving, relationship building, scaling the team and team coordination. I lead oversight and setting direction of the PMO operating model, address gaps in processes, roles and responsibilities, and risk management.
Aside from this, my primary focus is to take care of our client. By understanding what's going on with the program, focusing on the goals and how everyone fits into the picture, I can ensure I take some problem solving off the client's plate and they trust me to follow through.
What drives your passion for your craft?
I really like people! I like to find common threads, share experiences and build friendships or at least strong working relationships. I enjoy finding creative ways to problem solve that drive improvements. 
Do you have any advice to share with employees stepping into leadership roles for the first time, or with those building out a team from scratch?
Take the leap! You'll learn more about yourself than expected. Define what type of leader you want to be, what impacts are most important to the role (which includes the client, the team and you) and keep these as your North star. 
I have found the team building process exciting and very rewarding in itself, but have three takeaways:
Trust your instincts.

Keep diversity as a core consideration to create powerful opportunities for brainstorming, interactions, experiences and perspectives.

Don't rush your hiring decisions even when you are in a time crunch. Even if you think "I needed this person two weeks ago," take your time and be thoughtful about who you hire.
How does your experience with Kforce differ from other opportunities you've had?
I am enjoying the opportunity to see a business I grew up with from a new lens. I was working for this client for 31 years before returning as a consultant with Kforce, and now as a consultant, I not only get to use the experience I have from when I was working with them before, but can explore new skills that I probably would not have tapped into.
What advice would you give to Kforce consultants just starting their assignment?
Be yourself—that's why they hired you! And be a sponge! Take in as much information as you can and learn from the people who are here to mentor you. I feel very blessed to have met the people I have at Kforce, who believe in me, support me and help me. Finally, ensuring you have very strong communication and organization skills will save you, but I tell everyone that!
Can you describe your overall experience as a consultant with Kforce?
So far, I am loving the people I have come into contact with, the supportive and honest culture, the mentoring and the nudge to grow outside of previous boundaries. I am amazed at how skilled and intelligent, yet humble and welcoming, Kforce employees have been. I thought I worked with amazing people before, so imagine how lucky I am feeling to be with a new company that rivals what I had. You probably can't tell, but I am having a great time! 
What is the best piece of career advice you've ever received?
Go for it!  If for some reason you don't like 'it' or you fail, who cares?!  Just pick yourself up and go do something else!
What do you like to do after work?
I love to spend family time with my hubby and our 7-year-old Aussie, Skye. I enjoy hiking with my college-aged son and Zoom calls with my college-aged daughter! We're looking forward to being able to entertain again, as well as spend time pedal boating and kayaking this summer.
What is a fun or interesting fact about you?
I am an amateur photographer. I love when I can capture a person's essence in a moment that can be felt over and over into the years ahead. 
Eight months ago, I also took a leap of faith with my husband and we moved from a suburb of Seattle, WA to a suburb of Boise, ID without knowing anyone in this area. We are currently building a new home to be completed in June. I love the entire design, building and decorating process!