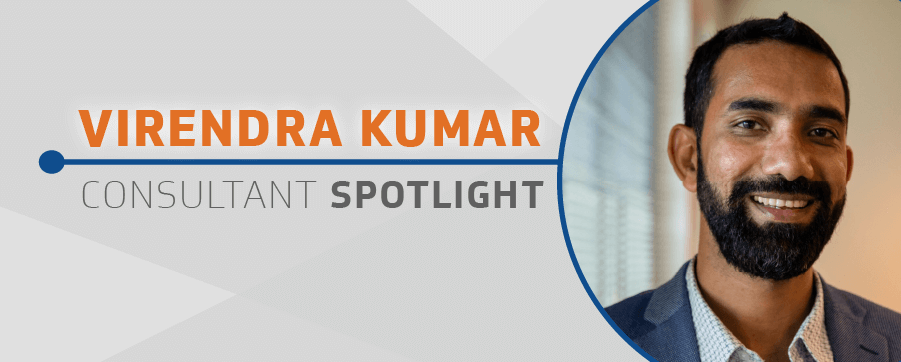 Consultant Spotlight: Virendra Kumar
Looking to break into different industries? Hear from Kforce Consultant Virendra Kumar on his tips for building a successful career as a contractor, how he diversified his experience and the support system that's helped him along the way.
A day in the life of a consultant
What drew you to Kforce?
My friend told me about Kforce being one of the best consulting companies for competitive pay, transparency and openness. I had been working with one domain-specific client for almost a decade. To diversify my experience, I looked for an employer who could offer me opportunities within different domains. Kforce was able to find me an assignment that fit my criteria seamlessly.
At Kforce, you're not stuck with one client for a long time. When a project is completed, the team works to find you a new assignment. You can also move based on your interests and skills. That's why I chose Kforce. They helped me diversify my profile and gain exposure to managing different domain teams.
I love being a part of an organization that provides the best resources. 
Can you describe your current role as a Kforce consultant?
As a Scrum Master, I mentor team members and help them to meet and exceed client expectations. I ensure the project scope will be delivered within the deadline specified and report metrics to the senior leadership.
What does your day look like as a Scrum Master?
I follow the scrum methodology, which helps stakeholders get more visibility into what we build for them. We begin each morning with a "daily stand up" ceremony. It is a 15-minute meeting where my team has the opportunity to share their voice, an overview of their progress and their plan for the day. I help remove any impediments my team faces and assist them with getting support from external teams.
At the end of each sprint, we perform a retrospective ceremony to discuss what worked well and how we can improve. As a Scrum Master, I create an open and transparent culture for my team. Getting new thoughts and ideas from the team is invaluable because it brings a new value-add to your clients and employer.
A partner like no other
How does your experience with Kforce differ from other opportunities you've had?
In my 15 years of IT experience, I've worked with five employers and ten clients. Most of the time, people hire you, place you at the client location and assign you the work. Then, they typically drop off their engagement.
My experience partnering with Kforce was exceptional. There was always somebody to answer questions regarding my visa, work, onboarding and benefits. They were also very supportive of my family during the transition.
The Kforce team, including the director, project manager and International Specialty Solutions (ISS) recruiter, was with me the entire time when we were on-site with the client. I never felt alone, and they made me feel so comfortable throughout the whole process.
People typically think of the job search as a solo venture. How has Kforce shifted that mindset?
At Kforce, I have an excellent relationship with the ISS team. They're honest about client requirements, experts in skills matching and diligent when providing opportunity updates.
My ISS recruiter Conor McElhearn understood my needs and profile, giving me confidence throughout the search. He found my perfect match and outlined my path for the next three to five years, which was a major differentiator for me.
I love knowing what my long-term career plan looks like as a consultant. 
What are the top benefits of partnering with Kforce's ISS team for global professionals?
It is one of the best teams across the industry. I know my career is in good hands. They are highly skilled in the visa approval process and know exactly what it takes to present your case to the U.S. Citizenship and Immigration Services (USCIS) team. 
What is unique about your relationship with your recruiter?
Companies will typically pass you on to HR to finalize paperwork before your assignment. At Kforce, my recruiter Conor took care of everything. It was amazing that he wasn't limited to organization-specific processes. He handled visa-related queries, onboarding and benefits. Conor has been a great mentor to help me overcome any challenges.
Getting to know Virendra
What do you love to do when you're not working?
I love playing cricket, riding motorcycles and bicycling on weekends. I'm a big coffee fan and never say no to a coffee break or meeting. Also, I love to read blogs and articles about project and wealth management.
Can you describe a fun fact about yourself?
I love exploring natural beauty and adventure riding in the Himalayan mountains. I used to ride my motorcycle for over 15 hours a day. I am also a member of the Iron Butt Association, a motorcyclist group known as the "World's Toughest Riders."
What do you like most about your team culture?
My team is an extension of my family. The client I work with treats consultants like members of the organization.
I love their culture because they believe everyone is working toward the same goal. We have a positive work environment and know each other's families very well. It's a friendly, tight-knit culture. We work and have fun together.
The key to success
What tips would you give consultants on diversifying their experience?
Always be ready to accept new challenges and find an employer who can help you break into different domains. Also, do at least one certification a year. This will help you gain more knowledge to achieve your goals and work more efficiently.
What three insights would you give to Kforce consultants before starting an assignment?
Be honest with your work. There is no point in investing your time and effort if you are not honest with your work. Honesty makes your life easy and helps you meet your organization's objectives.
Never stop exploring. Always be ready to learn something new. We are in a time where things are changing overnight, so we must learn to stay ahead.
Give and receive feedback. Being retrospective is very important to achieve success in life. It helps identify strengths, weaknesses and improvement opportunities.