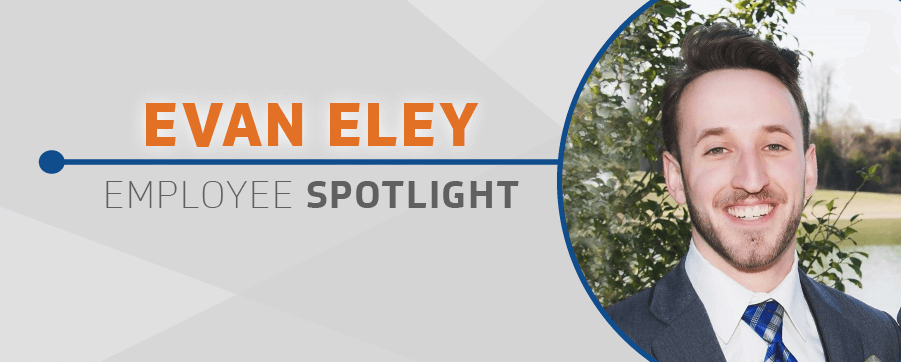 Employee Spotlight: Evan Eley
What fueled your desire to join your current company? For Talent Associate Even Eley, it was the investment in our employees' success. Learn about Evan's transition from an intern to a full-time role, his passion for guiding candidates through the job search and what advice he has for future employees.
What sparked your interest in applying to Kforce?
Per my degree requirements at the University of Louisville, I had to take another internship. I attended a career fair, where I met many of my current colleagues who suggested I call Kforce and apply. The Kforce employees I met described recruiting and what they did, which was completely foreign to me. It seemed like an exciting opportunity to pursue, so I applied to a role as a talent associate intern.
How was Kforce unique from your other internships?
The position aligned well with my projected career path and was different from other internships, where I would be simply answering emails and coordinating meetings. Instead, Kforce allowed me to participate in daily activities that were core to the role of a full-time associate.
Kforce's internship put me in a position to learn the role of an associate. I was exposed to the tasks required of a recruiter before allowing me to put them all together and practice being a full-time associate.
Something I became aware of as I got further into the internship was how Kforce invested in its employees' success through continual training. In comparison to some of the other internships I had, this was a real differentiator.
 

Kforce gives interns true professional experience to ensure their success post-graduation.

 
What do you value most about interning at Kforce?
I value my team members' trust in me to work around my school schedule. My coworkers not only allowed me to gain professional experience, but were also confident in my ability to fulfill my requirements as an intern. I was able to prove myself, landing me a full-time offer as a talent associate.
How did your responsibilities as an intern differ from your full-time role as a talent associate?
There were different phases during my internship. The first one was gaining knowledge about our industry and market, so I was putting together competitive analyses and looking closely at where our competitors were doing business. From there, I transitioned to sourcing, recruiting and landing placements, which helped me learn a lot about the industry.
My current role encompasses all the elements of my internship. Instead of doing all these activities in phases over six months, I now do them daily. I am required to stay up-to-date on trends impacting the IT industry and the Louisville Market, as well as full lifecycle recruiting. My success in my current role was significantly influenced by my training on fundamentals during my internship.
What fueled your decision to work for Kforce as a full-time employee?
Kforce's approach to recruiting informed me about the importance of building relationships and taking care of people who I have the honor of working with. When I saw the impact I could have as a partner to IT professionals in their careers, I knew this was something I wanted to do long term. Kforce was the right place to do it.
The office culture also plays a big role. If someone places a hire or brings in a job order, we celebrate by honking bicycle horns and hitting a gong.
 

We're always lifting up one another and cheering each other on.

 
Can you describe your biggest professional accomplishment in 2019?
In 2019, I was able to assist three of my consultants in transitioning off of their contracts into other roles that resulted in full-time employment, all with companies we had not previously worked with. I always do my best to ensure I have another position lined up for consultants. You can't beat showing what a true partner in staffing can offer candidates, consultants and clients.
What is your recipe for success?
Have a plan outlined for each day. Although my Outlook calendar looks like a Christmas tree, having a strategy to tackle the day allows me to achieve the goals I have set.
Why are you passionate about your role at Kforce?
My role as a talent associate is continuously challenging, and for every obstacle, there is a creative solution out there that will solve the problem. It allows me to collaborate with top industry professionals and create solutions to problems not only with hiring, but with technology that affects people nationwide.
 

How could you not be passionate about a position that throws something new at you every day?

 
What is the most rewarding part of your current role at Kforce?
The most rewarding aspect is the expertise I bring to conversations with someone in the job market. People who are searching for a role often look for guidance in the best ways to approach their job search and need coaching to achieve their career goals. Being able to provide guidance to candidates gives me a sense of fulfillment daily.
What three insights would you give an entry-level Kforce employee before starting, and why?
Keep an open mind and smile. You may be coming into Kforce with no knowledge of IT or Finance and Accounting just as I did. This firm will challenge you to learn new things so you can better understand the people you'll be partnering with. It can be overwhelming! Come in ready to accept new ideas with a positive attitude.
Always be willing to learn. Kforce empowers employees to learn through training. This gives you the chance to serve as a better partner in the market. If you take time to build strong relationships with the people you work with, they'll give you the chance to learn from them as well. Also, if someone tells you to read a book, READ IT.
Practice setting goals. How well you do in your role is up to you. Your leadership will give you the knowledge and tools to succeed, but it's your responsibility to make it happen. So, set goals and come with an understanding of your motivators and how you work to be successful in your professional development.