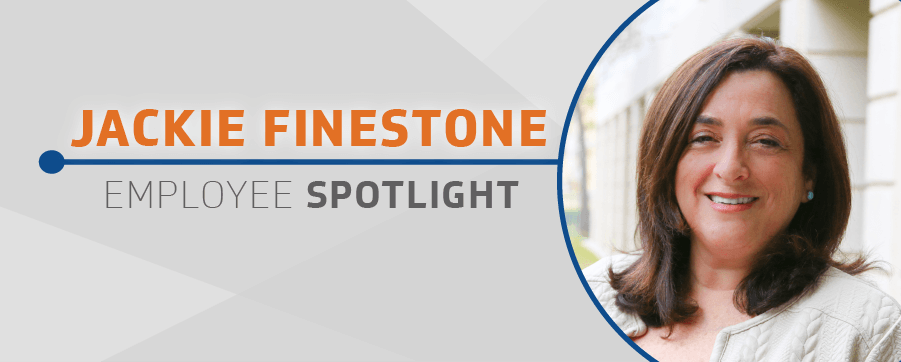 Employee Spotlight: Jackie Finestone
What's the secret to building a long-standing career at a company? Ask Learning and Development, System and Operations Director Jackie Finestone. With over 25 years at Kforce, Jackie has made life-long connections and helped shape the direction of our firm. Learn about her exceptional career journey and advice for building employee longevity.
What drew you to Kforce?
I'd already been in the staffing industry for nine years. I was recruited by local leadership in the New York metropolitan area for an opportunity to advance to a larger company. During the interview process, I got the sense of an entrepreneurial spirit. The person recruiting me just triggered this concept of how it can be my business.
I had an opportunity to create and start up a division in New Jersey, which was the finance and accounting flex practice. This allowed me to get out of my comfort zone of being in a small family business and acknowledge that I wanted more. I saw it as a chance to prove myself and be a part of something where I had a say in the direction of where we were going.
Can you describe the opportunities you have had at Kforce?
I was tapped when we were developing a proprietary ATS/CRM software. My boss at the time asked me to be one of the people who learned about the system at our corporate headquarters. I then took my knowledge and trained associates in New York, New Jersey, Pennsylvania and Connecticut.
From there, my opportunities in the company grew tremendously. Even though I never said anything about my desire to grow, leaders within the company saw I had a natural inclination toward systems and understood the operational and staffing component of the business.
 

The leadership at Kforce saw something valuable in me that I didn't even see myself.

 
What has been the highlight throughout your career?
One of the biggest highlights that led me to where I am today was when I was first asked to go to a few offices and train our associates on our software. That allowed me to transition to a full-time trainer role. I certainly didn't anticipate it would bring me to Tampa, Florida today.
Can you describe the training team culture in the Tampa office?
We're an upbeat, fun team that juggles many projects. Things happen so rapidly, and a lot of our projects overlap each other, so we have to work together. Each of us has a lane where we specialize. Still, we collaborate wherever possible and look at tools that allow multiple people to elevate their skills and participate in things that aren't their specialty. We all have very different backgrounds and personalities, but we gel and laugh. We know when it's heads down and when it can be fun.
What was your secret to acclimating to a new environment?
Sit back, try to listen more and mimic the pace. Relocating to Tampa made me more introspective about how I approached people. In the long run, it helped my training because I became a subject matter expert versus an experienced trainer. It allowed me to transition into a training role because I learned that I had to adapt no matter the environment. You have to bring your style and recognize that there are differences everywhere in the country that you have to adjust to.
How do you describe the flexibility you've experienced at Kforce?
I'm actually relocating again in the near future. I have elderly parents in West Palm Beach that I consistently visit. After multiple one-on-ones, the leadership team here saw the challenge that I was facing and told me I could work from home full-time without me asking. It's just incredible how the leadership here is so in tune with their employees. They recognize that if associates have balance within their personal life, they're going to give you more at work.
What will you miss the most being remote?
I will miss seeing and laughing with my team every day. From a business perspective, I'll miss the ability to collaborate and roll up a chair to someone's desk to bounce ideas off one another. Although I'm relocating, I plan to visit a few times a month to see my business partners and stay connected.
Can you describe the most meaningful part of your current role?
People know that if they need help or don't understand something, they can come to me for the answer. It's empowering that people view me as someone who provides assistance because we're a company that believes in leading with a servant's heart.
I'm there for people. I try to get back to everybody the same day. Even if I can't speak to them directly, I acknowledge that I received a voicemail or email, and follow up.
You've been at Kforce for over 25 years now. What's the secret to building a long-standing career at a company?
 

Never turn down the opportunity to learn something new.

 
If I had said "no" to assisting with the roll out for our first software program, I probably wouldn't be in my role today. That experience changed the trajectory of my career. I continue to take on new opportunities.
What would you say are some of your fondest memories?
I've been given so many opportunities to travel for work and see parts of the country that I never imagined. Whenever I travel, I make sure to do at least one touristy thing, even if it's only for a short period.
I've also been fortunate to receive multiple performance incentive awards. I've gone on many recognition trips, including Hawaii, Mexico and Aruba. The firm rewards success and dedication. We all work hard and have a common goal. To be recognized by your peers and acknowledged is an amazing feeling.
How do you spend your free time outside of Kforce?
I enjoy going to the theater. In Tampa, I'm a season ticket holder at the Straz Center for the Performing Arts. The shows and talent are so great. My favorite show is Wicked. I get something different out of it every time I see it. There's just so many layers to it. When I move, I'll keep my season tickets here. It gives me even more of a reason to visit often.
What was the worst advice you've ever received?
When I started interviewing candidates early in my career, one of the people who was training me told me it looks bad on a resume to be at a company for very long. They said it means the candidate is too static and not willing to change.
However, I believe there is value in people who stay at the same company or job for a long time. They are happy, understand the organization and have work-life balance. There's nothing wrong with people who are not always looking for upward mobility or find an opportunity to advance within their own company.
What insights do you have for companies looking to build employee longevity?
1. Recognize what motivates people. Be in tune with what your employees need. Some people may want recognition, and others may be more focused on what gives them personal satisfaction. To retain employees, you must understand what makes each individual excited and happy.

2. Stay in touch and be connected. Often, companies think if no one says anything, they're happy. You have to remember to ask, because some people will never tell you what they're thinking and will leave when they're unhappy. It's important to have multiple touchpoints regularly and build that into your company's culture. Regardless of whether you're in a small or large company, you need to know what's important to your people.

3. Provide opportunities for growth. Just because an employee isn't looking to be promoted to a leadership role doesn't mean you can't help them grow. Growth in their current position adds value to the company and increases self-worth. Consider asking an employee to represent their team or provide input on a new project, giving them a voice. Also, offer opportunities for them to attend training sessions or take online courses to help hone their skills.
Can you describe what Kforce mean to you on a personal level?
 

I feel like I grew up at Kforce. It's like home to me.

 
I have been at Kforce for almost half of my life. The people here are family and have given me security like my own family does. They have allowed me to spread my wings and become confident in everything I do. Home is my safe place, and I feel that same way at Kforce.