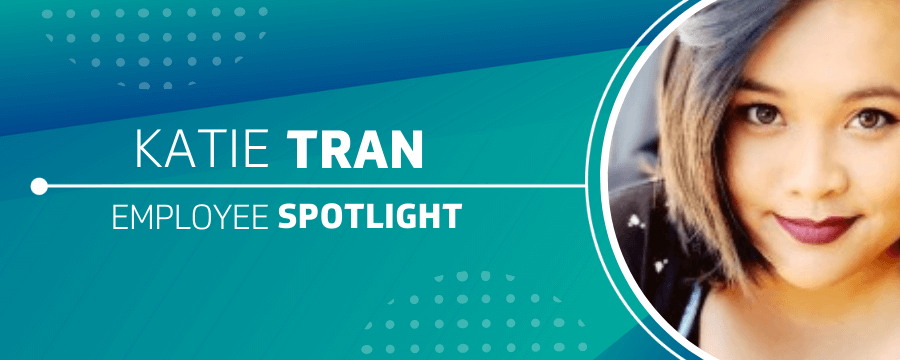 What characteristics of a potential employer are most attractive to you? For Talent Director, Katie Tran, it was our dynamic culture. Learn about how Katie's journey in the staffing industry led her to Kforce. 
What sparked your interest in applying to Kforce?
I was working for a competitor for about two years and was unhappy with the culture. I couldn't put my resume on job boards because everyone I knew utilizes them. So, I had to reach out to my personal network privately to let them know I was looking for work. One of the people I messaged was an internal recruiter for Kforce. We had previously worked together at another firm, so they knew my experience and understood what I was looking for. They sent me a response explaining how great Kforce's culture is and asked if I was interested in applying. 
What fueled your decision to join Kforce?
After my first interview with my Senior Director, Adam Sandilands, I knew Kforce had the culture and team dynamic I was looking for. Although it was an interview, it felt more like a discussion about what I wanted and where I wanted to grow. I liked that his team had a foundation of strong relationships with strong tenure and a lot of opportunities for growth. Adam addressed each of my needs in a way that made me feel heard and specifically outlined how those needs would be met at Kforce. 
What was it like transitioning to Kforce during a pandemic?
This is the first job I have ever started fully remote, but my team made the transition easy. Everyone made me feel completely welcome and integrated immediately. They sent me messages on LinkedIn and scheduled time for introductory calls. Those things helped me come in with a positive attitude and get excited about the team I was joining. 
I asked everyone what their favorite thing about working at Kforce is and their responses were consistently that the leadership and culture here is unparalleled.
Kforce's structured onboarding process also helped make the transition easy. My first few weeks were dedicated to integrating with my team and working my way through virtual training. I was impressed with the training because unlike other firms I have worked with, these sessions were fun and offered real value by providing scenarios that get you to think about things from unique perspectives. 
What makes your experience with Kforce unique from other companies?
There are three big differentiators for me:
Everyone's voice matters
Even if you are new to the Firm, when you offer feedback, your voice is heard and has a real impact. Shortly after joining Kforce, various members of my team were giving me feedback about some system issues they were having. I went to my senior leaders to voice these concerns and they invited me to share my suggestions in a meeting with the business analysts who were responsible for improving the system. I saw an immediate response and implementation of my recommendations when new releases of the system were rolled out a few weeks later.
The Firm is invested in your success
At Kforce, the Firm is also fully investing in the tools and resources we need to be successful. For example, we have access to numerous job boards and are equipped with the mobile technologies we need for this hybrid world. Beyond that, they also invest in your professional development. Your leader will work with you to develop a plan that aligns with your long-term career goals. They help you thrive and grow in areas that interest you, and partner you with mentors who are successful in the space you want to explore. 
At Kforce, I know I am more than just a metric. They care about me as a person, not just as an employee.
Leadership is easily accessible at all levels
Kforce's senior leadership team is so accessible. At other companies, especially when you are working with larger companies, they have senior leaders, but it is rare to be able to connect with them directly. My second month here, I posted an article on LinkedIn recognizing my networking group for our contributions to the AAPI (Asian Americans and Pacific Islanders) community. Our COO, Kye Mitchell, sent me a message to thank me for my work and for being part of the team. Then, she shared my story. It was so cool that this one thing I was a part of had such great visibility and led to so many new connections throughout the Firm.
I attribute my success to the fact we are all so connected - even though we are all remote, it never feels that way.
What advice would you give to someone who is considering joining Kforce?
"Just do it! What are you waiting for?" The advice I would give to someone who is unsure about joining us would be to talk to people within Kforce; because hearing their experiences first-hand gives you a true perspective and will ease any hesitation.