Kforce Employee Spotlight: Sean Anthony
Sales Operations Director Sean Anthony has been a Columbus office-based Kforcer for nearly four years. When presented a chance of a lifetime—to design his own role—Sean jumped at the opportunity. Learn more about Sean's exciting career journey to staffing, and what he loves most about our culture and leadership.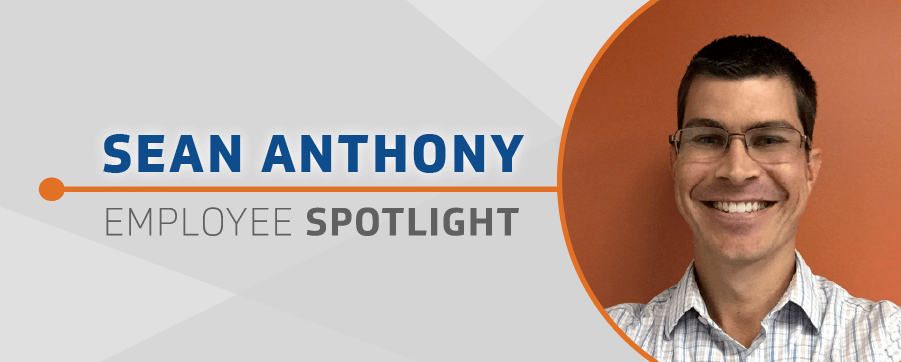 Tell us a little bit about yourself?
I'm guilty of being a passionate guy. I try to devote myself and be committed to the things I do. My wife and I just celebrated our four-year anniversary, and I spend a lot of time with her and family. I grew up in upstate New York.
I also spend time volunteering, especially in the educational space. I mentor and work with members of my fraternity SigEp at Ohio State and at my alma mater. For instance, I'll go to Chicago and teach a group of 100 to 200 graduates about sales and recruiting.
If I'm not doing that, I'm probably at the gym or outdoors. I'm a huge believer in the power of living a healthy life.
What brought you to the world of recruiting?
In school, I studied psychology. I loved learning about people, how they think and why they behave the way they do. I took almost every psychology course offered at my school.
How did you get your start at Kforce?
I worked at Abercrombie and Fitch, a retail company, as a leader for their corporate recruiting team. One of my former colleagues is the wife of one of our salespeople here in the Columbus office. She told her husband Ryan Lynch that I was looking, and he linked up with me.
I fortuitously met the Kforce A-team. I interviewed with Brandon Lewis, who is one of Virgil Palumbo's MVPs, and with Virgil himself, who happened to be in town. It was a big move for me in terms of risk, but I knew it was one that was going to pay off for several different reasons.
Why did you choose to work for the firm?
The quality of Kforce's leadership was a big driver. I haven't done the math, but if you look at Brandon Lewis, Virgil Palumbo, Kye Mitchell, Joe Liberatore and David Dunkel, the average tenure is north of 10 years easily. When I see tenure like this, I know people are growing and developing alongside the company.
I also joined because it's growing in an industry that has tremendous long-term growth potential. I don't think technology is going away any time soon.
Lastly, I think our company does a great job at training and developing talent internally. I'm always looking to learn and improve.
What kind of training and development opportunities have you experienced?
At my previous employer, I felt from a personal learning and growth perspective that I wasn't growing. When I joined Kforce, it became immediately clear to me that there was more training and development than I was going to ever have time for.
You have Kforce University, great leaders, formal onboarding and on-the-job training. It was a big adjustment. The first six months were challenging. I had to learn a lot, and that was exactly what I was looking for.
What are your responsibilities as a sales operations director?
I support regional initiatives, operations and processes in the Big 10. As our company has a broader initiative, I partner with leaders to transition those initiatives to the field. At the same time, I work with leadership to bubble things up the organization as we see things in the field and opportunities for growth, evolution and new processes.
What was your career journey to your current position?
When I arrived here, they told me, "Look we want you to learn from the ground up. We're going to invest in you, and we're going to allow you to develop even though you've managed a team before."
I supported several accounts in Columbus from a delivery perspective, and at the end of my first year, I was offered the chance to lead the Columbus IT recruiting team. Later, I was approached by Virgil for a new role where I would have the opportunity to work alongside him and mold my focus as his needs and the firm evolved.
I realized it was a unique circumstance, but it's a powerful testament that goes to show how great this company is at developing people and finding ways to challenge them, even when that means creating an entirely new position.

I'm in this position that I love, and now other people are doing the same job across our organization and we can learn from one another.
What do you enjoy the most about your role?
I love helping new people acclimate to our firm. I help train new leaders in the Big 10, whether they're promoted internally or hired from the outside. I also enjoy partnering with our internal staffing team. I help draft strategy and make sure we're bringing the right people and talent into our organization.
Additionally, I get to play in areas where I didn't have a lot of experience before. It's tough and challenging. I have a lot to learn but it's nice because I get to do things that I love, while also constantly being challenged to learn and develop new skills.
What is the number one challenge you face at your job?
One of the biggest challenges is that we operate in the technology space, which is constantly changing and evolving. Because of that, we're also constantly changing and evolving. The pace and rate of change in our industry is super high.
It's a big challenge to make sure that our culture and core values don't change materially, while also being nimble and agile to change and develop as we see new trends in technology or the industry.
Do you have any role models at the firm? 
I sit here in the Columbus office, so I work a lot with Brandon Lewis and I report to Virgil. They both are major reasons I joined the firm. I also think Kye is probably one of the most powerful, smart, caring and thoughtful women I've ever met in the business. I had the opportunity to meet both Joe and Dave. They're just great human beings that care a lot about people and their jobs—that whole crew of people, Brandon, Joe, Kye, Virgil and David. I've spent more time with some than others, but I think they're a powerful team, one I'm blessed to work with. 
What growth opportunities can job seekers expect at our organization?
Let's say someone starts as a recruiter. They can become a long-term recruiter, an individual contributor gaining mastery. If they're doing things right, they can have a great life from a compensation perspective. They could move into sales. They could also become a market manager in recruiting. They could even move off books and move into a leadership position. 

There are not only growth opportunities in job titles, but there's a lot of opportunity to grow from a compensation perspective. There's opportunity for growth in learning how to be a professional. That's what I love about Kforce. Learning and development opportunities come in multiple forms.
What's unique about the Kforce family and culture?
It's super-goal oriented. Kforcers are super collaborative and team-oriented. There are a lot of super smart people from an IQ perspective, very curious. But also, from an EQ perspective, they're good relationship builders. They're eager to learn about other people. Then, you have a lot of people who aren't afraid to work hard when the time calls for it.
What's your favorite book that you would recommend and why?
Alright, I can't just give you one. My favorite non-business book is definitely "Enders' Game." There are so many cool things embedded into that book from a history, military, leadership development and training perspective.
From a business or development perspective, I read the same two books every single year. The first is Dale Carnegie's "How to Win Friends & Influence People." It's an oldie, but a goodie. I also read Jim Collins' "Good to Great" every year.
To me, "How to Win Friends & Influence People" is all about my personal development and growth. "Good to Great" is all about how I can help us build an even better organization.
What advice would you give to others looking to pursue a career at Kforce?

There's so much out there to learn about yourself, others and the world. Curiosity is huge, and when you are willing to put in the time and work hard, you're able to open doors you wouldn't have been able to otherwise.
There's a lot of things that are worthy of prioritizing in life. From a work and personal perspective, I'm a big fan of working toward goals. If something is important to you, set a tangible goal and leverage your company, friends and family to hold you accountable.