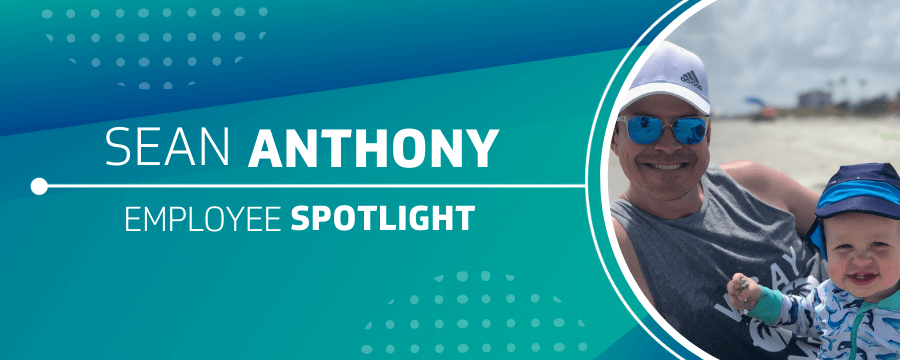 Kforce Employee Spotlight: Sean Anthony
Advanced Services Resource Leader, Sean Anthony, has been involved in several initiatives related to the Firm's evolution and expansion throughout his 6½ years tenure. When presented with a chance of a lifetime—to design his own role—Sean jumped at the opportunity. Learn more about his exciting career journey with Kforce, and what he loves most about our culture and leadership.
Tell us a little about yourself
I'm guilty of being a passionate guy. I take pride in devoting and committing myself to the things I do. I spend a lot of time with my wife and our son, Noah, who is 17 months old and the center of our universe. In many ways, he influences my work and my work influences him, so it's important that my responsibilities for both co-exist in harmony.
I also spend time volunteering, especially in the educational space. I am mentoring the Vice President of Recruitment for my fraternity at my alma mater, Dartmouth College, and helping them prepare to re-open the chapter by coaching them in areas related to recruiting. I'm also involved with interviewing potential undergraduate candidates who apply to Dartmouth.
It's important for my volunteer efforts and career interests to have overlap and crossover—it's very intentional for me.
What do you love most about working for Kforce?
I'm a big fan of how our Firm has approached all things hybrid/remote work. Everyone has their own opinions as to whether they prefer to work in-office, at home or a combination of the two, and irrespective of one's opinion, Kforce has taken a stance of flexibility and is moving in a direction that offers everyone the opportunity to create the life they want.
If you look at how Kforce has responded in the face of significant adversity—seeking first to understand the needs, thoughts and feelings of our employees and then responding in a very conscientious and methodical manner—it is a pivotal demonstration of how our Firm approaches everything.
You would be hard pressed to not see the values we espouse really coming to light. Kforce has continued to reinvest in people—and look at the results—we have not only weathered the storm but are performing phenomenally.
What is unique about Kforce's culture?
I'm a huge believer in the power of a healthy lifestyle; and Kforce's flexible, hybrid culture enables you to embody that in many ways. The fact that Kforce gives me the flexibility to maximize my time with my son is invaluable. Then, as an extension of that, is the trust they give you to get your work done within the time that best suits your personal schedule.
Kforce has committed themselves to a flexible mentality that lets me choose to work when I want to, get workouts in throughout my day and maximize the time I spend with my family.
The technology-enablement is also important. Kforce is rigorously seeking and investing in new technologies to make it an enjoyable, flexible environment. They're making major investments across the Firm—from innovative collaboration tools to modern, upgraded offices—to give our teams the best hybrid work experience possible.
What advice would you give to others looking to pursue a career at Kforce?
There's so much out there to learn about yourself, others and the world. Curiosity is huge, and when you are willing to put in the time and work hard, you're able to open doors that otherwise may not have existed.
If you combine curiosity, strong work ethic and goal-orientation, you are likely to find yourself in a good place in life.
There's a lot of things that are worthy of prioritizing in life. From a work and personal perspective, I'm a big fan of working toward goals. If something is important to you, set a tangible goal and leverage your company, friends and family to hold you accountable.