Here's How to Highlight STEM Experience on a Resume
You've only got six seconds to make an impression when your resume reaches a recruiter's desk. But, how can you stand out from the competition as a STEM professional?
The simple answer—highlight your STEM experience effectively.
Time and time again, candidates ineffectively communicate their experience, skills and potential in resumes. If you want to land a STEM job successfully, it's critical to ensure that your knowledge and professional background stand out.
Check out these three simple tips on how to highlight STEM experience on a resume:
1. Focus on technical skills
Often, job seekers think of resumes as a chronology of their job experiences. However, a resume is the opposite—it's a written, formatted elevator pitch about why you're the perfect person for a job.
Your STEM resume should be a tailored document showcasing your skills for a specific position. When time is of the essence, recruiters must quickly decide whether you're the candidate they need. For STEM roles, you should especially focus on your technological proficiencies or certifications that are relevant to your position.
 

In STEM, it's important to portray sustainable skills in the ever-changing job market.

— Kforce Talent Manager Zac Cordova
When showcasing your technical skills, consider the following:
Distinguish different skill areas in a simple list.Remember less is more. When noting your qualifications, include skills that you are highly knowledgeable in, especially those that are relevant to the role.
Avoid listing the expected skills required of you.This is a common taboo. With limited space for listing your skillset, don't waste time listing basic proficiencies like Microsoft Office, Windows, Mac, Linux and more. Instead, focus on your technical specializations that set you apart from the competition.
Illustrate your ability level. Give employers a clear idea of your proficiencies. Use language like master, expert, proficient or experienced alongside your skillsets to show your knowledge. However, be sure to avoid chart visualizations. Your resume should have a simple layout to reduce issues when submitting your STEM resume through an Applicant Tracking System (ATS).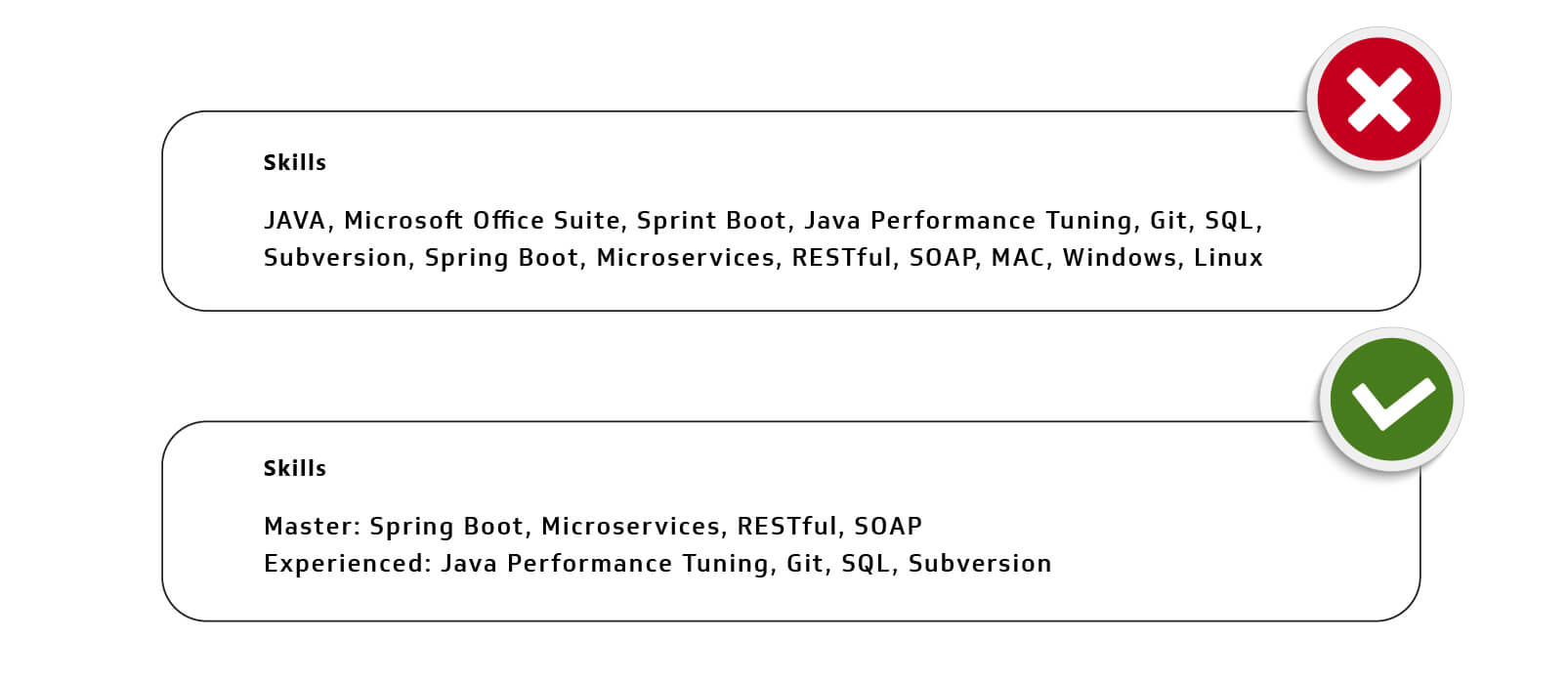 It's also important to note that you should only list skills you can speak to with experience during an interview. The last thing you want is an employer asking you about your familiarity with a skillset listed on your resume that you've only actually dabbled in once.
2. Detail your experiences
In the hiring world, skills mean nothing without context. According to Cordova, it's vital to provide supplemental information in the experience or employment section of your STEM resume to show your skills in action.
"Emphasize any technologies you've utilized in your past roles and show how you've used them. Be detailed in the types of projects you took part in, whether it was a civil engineering project in land development or a science group project in college," Cordova said.
When providing details about your job experience for STEM, show proof that you know the skillsets needed for the job. If you're applying for an information security analyst role, it would be preferable to describe related projects you've worked on and highlight the achievements you've made in previous positions with quantifiable data.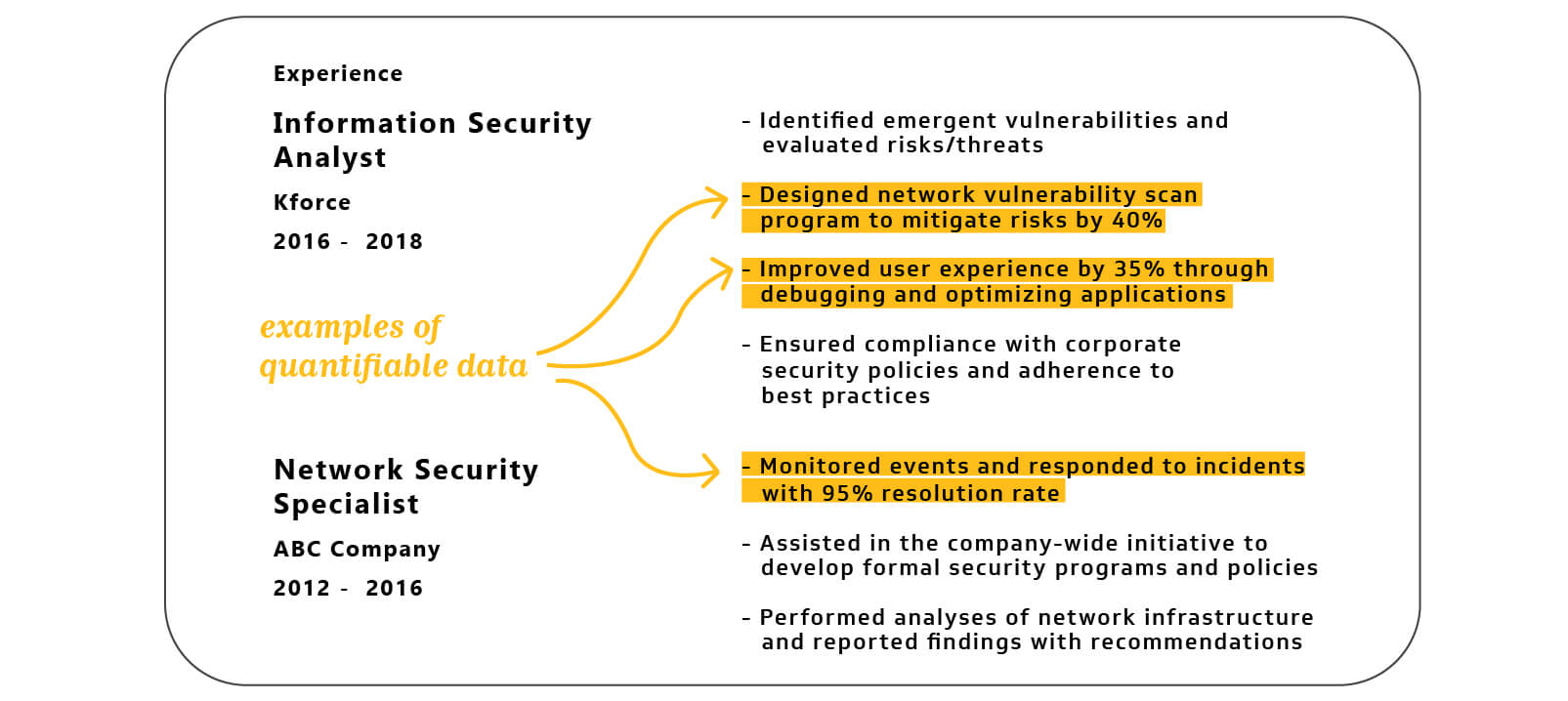 Alongside providing details about your experience, it's equally as advantageous to show your work by providing links to relevant resources such as a professional website, your LinkedIn profile or an online portfolio.
3. Show your experience across multiple disciplines
In this Fourth Industrial Revolution, the disciplines of STEM are constantly blurring due to technology advancements and innovation. The gap between science, technology, engineering and math are shrinking, and the job market reflects that.
For instance, fintech recently took the financial world by storm with the emergence of mobile banking, blockchain, bitcoin and robot advisors. Now, more than ever, the finance industry desires STEM professionals to help integrate technology to make financial services efficient and accessible. Proficiencies in these areas focus not only on math, but also the application of technology.
 

Now, positions often don't just focus on one aspect of STEM; it combines multiple aspects. It's important to relate two or more STEM concepts on your resume.

— Zac Cordova
When highlighting your STEM experience on your resume, be sure to emphasize your familiarity with various disciplines together when applicable.
If you're an app developer applying for a blockchain developer role, for example, show your knowledge of ledger accounting technologies and databasing together with programming.

Undeniably, resume writing requires work and tremendous effort. STEM job seekers who want their resume noticed by hiring managers should take the necessary precautions to highlight their potential. Doing so will make all the difference in illustrating how you will add value to a prospective employer, ultimately setting you apart from other applicants.
For more information about the growing STEM demand and how you can jumpstart your career, check out The Ultimate STEM Career Guide below: