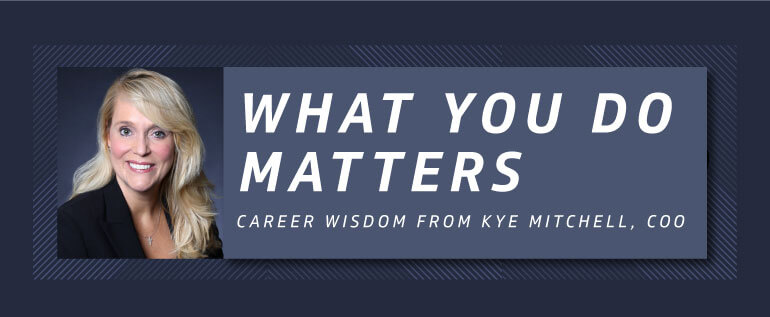 How to Make a Positive Impact on Customers
While preparing to speak at an internal training summit for our sales team, I was reminded of a wonderful experience my family had on a recent Disney cruise. I kicked off the summit with this story – and I hope it inspires you as much as it has inspired me.
Cruising had never been my thing, but for my daughter's 12th birthday, that was what she wanted to do.  So, my husband and I took our daughter, our ten-year-old son Michael and my two nieces on our first ever Disney cruise.
My son Michael has had many health challenges over the years. He's had heart surgery and tested positive for 90 food allergies out of 110 foods. At the time of our cruise, he was very limited in what he could eat, which makes traveling a huge challenge. For Michael, feeling left out was his norm. We would try to research or bring things, but it was never the same as the other kids.  On the cruise, the girls were enjoying ice cream sundaes with Oreo Mickey Mouse ears, and he was left with eating plain, boring apples.
A customer for life
That all changed when we met Rexson, our head waiter. We told him the first night about Michael's food allergies, and Rexson made it his mission over those next four days to make my son happy. Michael can have watermelon and apples, so Rexson carved a watermelon into a basket and filled it up with amazing works of art carved out of apples and carrots, two of his safe foods. He found a special brand of donuts Michael could eat and loved. So, Rexson gave him a whole box to take back to the room.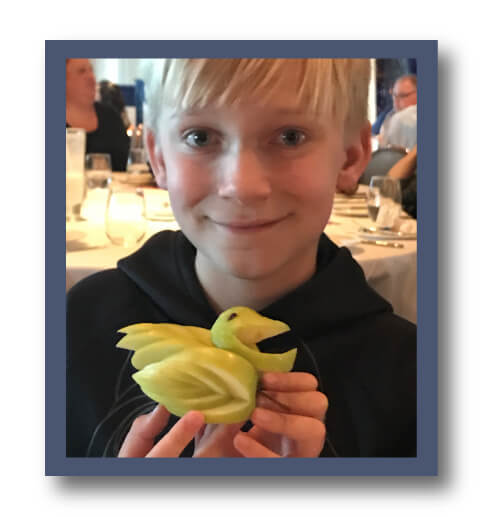 Whenever we'd walk into the dining hall, Rexson made a beeline to Michael to give him a high five. My son felt like a rock star! Rexson went above and beyond to make a little boy feel special instead of different.  He won me over. He won a customer for life.
At the end of the trip, Michael wrote Rexson a note. (How many 10-year-old boys write a note?) Whenever I ask him to write thank you letters for birthday presents, he is reluctant, saying he doesn't know what to write. But the impact Rexon made on him was significant. Michael wrote: "Rexson, thank you for making me feel special, instead of different."
I don't know if Rexson went to work that week thinking, "I'm going to make a difference in this boy's life." But that's exactly what he did for Michael and my whole family, and we'll never forget it. The experience reminds me of a favorite quote:
 

I've learned that people will forget what you said, people will forget what you did, but people will never forget how you made them feel.

— Maya Angelou

 
This is so true! What we do matters, regardless of what kind of job you have.
Back to the training week. This story was significant to the trainees because I wanted every Kforce employee to understand that what we do matters. We often measure success in our profession based on KPIs and benchmarks.  We seldom take the time to consider how our interpersonal interactions impact not only the employee experience, but the customer experience as well.  What we do matters.
Making a lasting impression in the staffing industry
Many of us are drawn to our industry because we have an intrinsic desire to help others. The opportunity to make a difference in others' lives has kept me in this industry for decades.
The North Star is a way Kforce describes how we will drive sustainable, long-term value to our customers. It defines our company's unique value proposition and serves as both a reference point and a guiding light for all employees.
At Kforce, our North Star guides the way we operate, treat others and deliver long-term, sustainable value for our customers. At the core of our four pillars is the incredible opportunity to have authentic, meaningful experiences with others.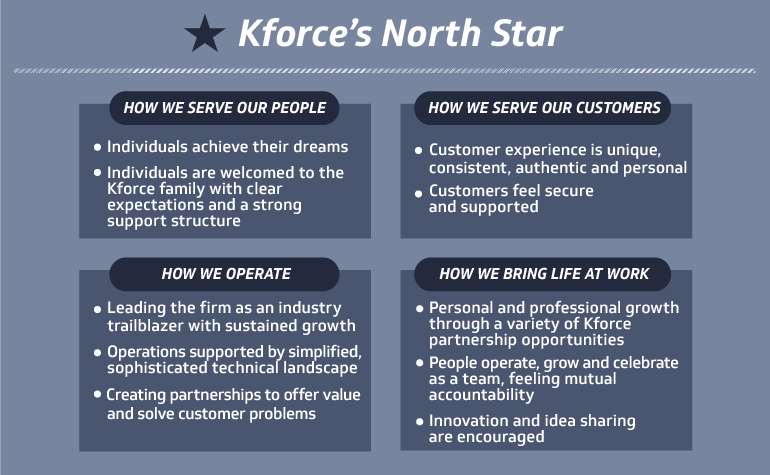 We all focus on how we can best serve our customers, ensuring each experience is consistent, authentic and personal. I continuously ask our employees, "What is your role in supporting our North Star?" Depending on the employee's role in our firm, the response will vary. But if you boil it down, we each contribute our North Star via our day-to-day interactions with others.  This applies to all employees in an organization, but let's focus on recruiters and sales professionals.
Recruiters
Our recruiters have a front-row seat to how businesses are run, where technology is driving us and why having the right people on board can make or break a business's success. As recruiters serve our clients as strategic partners through successful delivery, they are also serving job seekers and candidates. What an incredible impact they have on people's careers! 
To have relationships built on trust with candidates, recruiters must have integrity. We need to say what we are going to do, and do what we say. I'm a big believer in that. The most successful people I have ever seen in our business have incredible follow through. No matter if the news is good or bad, they are calling candidates and talking it through. This is a courtesy we owe everyone. I've seen new recruiters avoid making a phone call out of fear of delivering bad news. We are career coaches and it's not fair to have poor communication and drop the ball.
 

Follow up is the number one thing that can distinguish recruiters from their peers.

 
Sales
Just like our recruiters, our salespeople are on the front lines with our customers every day. A successful sales professional navigates our customers' various needs, goals, styles of working and communicating – and adapts. Establishing trust with our customers can't be accomplished via a single transaction. It's done through understanding the big picture and working with a long-term strategy. Salespeople need to constantly ask, "What can I do to help our customers realize their dreams?"
Of course, it's not enough to simply ask this question. Listening is a critical skill a successful salesperson must possess. We train our new salespeople on how to effectively listen. When I watch new trainees during role play, you can see the motor turning – they are thinking about how they're going to respond, instead of listening and processing the information. They may be too focused on their "pitch" instead of doing what they should be doing: gaining a deep understanding of the individual needs of the clients. Without this understanding, they can't tailor our services to the customer's needs.
A note to managers
As a manager, you have a tremendous opportunity to inspire your employees to go the extra mile for people. Often, we get so wrapped up in meeting KPIs, but we need to take a step back and take the time to celebrate those moments that are building lasting relationships with others.
For example, we receive feedback from our clients and consultants in real-time via our partnership with ClearlyRated. Managers should celebrate positive feedback with their team. Feedback provides a powerful opportunity for us to learn how we can improve and get better, and should be discussed on a regular basis between employees and managers.
Imagine if you started the workday by asking your employees, "How did you make a difference yesterday?" And I don't mean how they hit their numbers or completed a task. How did your employees make an impact on each other, your customers, clients, candidates, consultants, etc.? How did they make this world a better place?
 

Make treating others well a core facet of your company culture. As a leader, you have the power to keep this mentality at the forefront of all you do.

 
What you do matters
We often get wrapped up in the day-to-day, working hard to solve business challenges. And sometimes we lose sight of our individual impact. My vision is that every employee, no matter his or her role, understands the way they treat others matters.
You can sharpen your interpersonal skills and elevate your ability to make a positive impact on others. It takes effort and discipline, but you can do it!
Three things to do today
Follow through. Say what you're going to do, and do what you say.
Apply the new Golden Rule. Treat others the way they want to be treated.
Be aware of your impact. Ask yourself what you did today to make a difference in someone else's life.
You can change someone's day with a simple smile. Going the extra mile for someone can earn a customer for life.