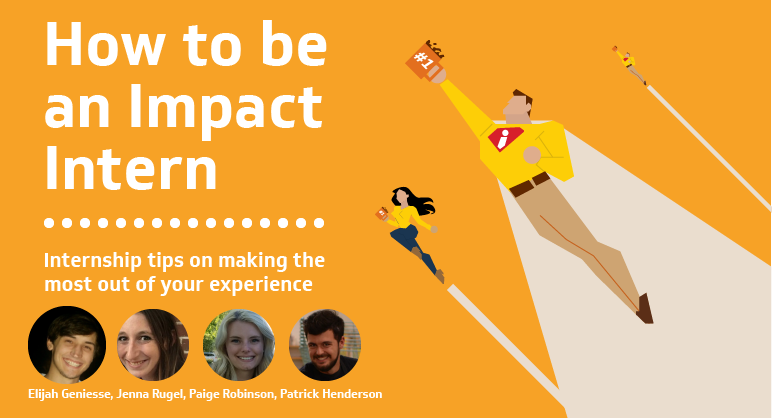 How to Make the Most Out of Your Internship
College students and recent graduates apply for internships every year, each with their own goals in mind. Some seek out just the title and a chance to add another line to their resume. Others seek to do more, to be more, to leave an impact.
To leave a lasting impact, you need to be an Impact Intern.
We have created this article for you – because, as interns, we understand the pressure that comes with not only getting an internship but also wanting to make the most out of it. Making sure you take full advantage of everything your new position offers can seem overwhelming, but there are so many ways you can leave your footprint on a company. Drawing on our experiences, we've come up with internship tips that can put you on your way to becoming the best intern your company has seen.

Through their contributions, Impact Interns leave a legacy and make a noticeable difference. It's about contributing to an internship so that it is beneficial to both the professional and personal growth of the intern and the success of the company.
As current interns, we looked for internships where we wouldn't spend our days making copies and running to the nearest Starbucks to fulfill the office's coffee requests.
Fortunately, each of us has witnessed the advantages of Impactful Internships first-hand. We've inherited new skills that range from Photoshop and other graphic design programs to event planning and content writing.
We've noticed the effect we've had on Kforce too. By contributing fresh ideas, working on key projects and offering additional insight during brainstorming sessions, we know the value we bring by being Impact Interns.
Want to be an Impact Intern? We've got a few internship tips:

Getting an internship presents your first chance to step into the shoes of a businessman or businesswoman. It's the real deal, and you should want to experience all you can.
Jump in with an open mind and be willing to grow. Personal growth is just as important as professional growth when it comes to your career. Take this time to challenge yourself. Tackle projects that you never imagined yourself taking on and have conversations with coworkers outside your department. Don't hesitate to ask questions or speak up if you don't have all the answers right away.
It's okay not to know everything.
An internship is one, big learning experience anyway, and you just might find yourself gaining interest in things you never thought you'd want to do in your career.
Although we each have specific titles, we don't stick with projects solely assigned to our position. Working in Social Media isn't defined to writing status updates and snapping pictures for the next crafty Instagram post, just as the Digital Marketing team isn't only focused on running campaigns and spitting out competitive research. Being a part of Communications isn't limited to company-wide emails and internal announcements, either being a Graphic Designer doesn't require being glued to Photoshop 24/7.
Those all may be aspects of our jobs, but our roles are so much more than what may be considered typical responsibilities. We are constantly working on cross functional projects that require multiple departments and promote collaboration within the firm.
As an intern, make sure to venture outside your work comfort zone to discover new opportunities and gain additional skills. Doing so can add to your capabilities and enhance your overall experience as an intern.

Communication is crucial for a successful Impact Internship and asking questions is a necessity. Asking "why" allows for additional insight into the vision, goals, and challenges of your company. Understanding the drivers behind initiatives gives you the opportunity to help drive those goals, as well as propose new solutions to the challenges your company is facing. Most of all, it opens the door for meaningful contributions. 
Lauren Kowal, Kforce's Public Relations Specialist, says, "Being transparent about goals, priorities, and timelines is imperative in an internship program. It's important to me that my interns understand the drivers behind what they are being asked to do so they have the freedom to be creative in how we can meet those expectations."
Don't be afraid to express your thoughts and ideas in meetings and brainstorming sessions. We know speaking up can be daunting, but you never know the difference you can make. You just might be the missing piece and perspective your team is looking for. Most managers will value your opinion and want your input. Your professional and personal growth are important to them too. That's part of the reason you are in brainstorming meetings in the first place.
"My intern is a great source of fresh ideas and new ways to attack a project," said Kowal. "Recently, she drew on her experience planning events at her university to suggest a new twist on how we host events. By tying in a theme of stewardship, the event was aimed at giving back to the causes our clients care about most."
Offering to assist with different tasks and projects doesn't hurt either. Being proactive shows your managers you can take initiative. Speaking up also strengthens your communication skills and promotes your individual voice. Your co-workers have also been in your shoes. They have all experienced what it is like to be the new kid in the office and the pressure to find their voice.
Kforce's Social Media Specialist Kerri Potter said, "My first internship was at a small marketing firm. Although we worked in a tiny office, I never really talked to anyone aside from my manager. I felt like no one knew I existed. One morning, after working there a few weeks, I went right up to the president of the company and introduced myself. He told me he was impressed that I took the initiative to do that. And from that day on, he remembered my name! That experience gave me the confidence to speak up and make myself noticed."

As an Impact Intern, embrace all that the internship will throw at you. Take this time to learn from everyone – your managers, coworkers, customers and even your fellow interns.
Allison Kruse, Kforce's Senior Manager of Social Media and Talent Acquisition, spoke about her intern's ability to respond to and implement feedback into her work.
"Not only is she open to receiving feedback, she embraces it because she knows it is helping her develop skills and making her a stronger professional."

Kruse said, "I love seeing our interns learn from feedback. They're learning new skills that they will take with them throughout their careers. In addition, their work makes a significant impact on our team's output and what we accomplish together."
Receiving feedback might seem nerve-wracking, but don't be discouraged. Your managers are providing their two cents so that you can learn from it. Constructive feedback is a great way to become a better professional!

You've poured your heart and soul into this internship, so what's the next step?
As an Impact Intern, you want the company you work for to realize that the work place would not be the same without you and that the company is better because of your contributions. 
If you've made a noticeable difference, the company may want to hire you as a full-time employee.
Kforce employees, Lisa Papagoda and Kristan McCants, left a legacy as Impact Interns so much that they continued their story at the firm as full-time staff.
Papagoda, a former Communications major at the University of Tampa, found Kforce two months before she graduated and said, "It was the best thing that could have happened."  
She was a perfect fit for the Communications team, as she had spent her years at college with a broad range of experience in the field. Her initiative, creative mind and fresh perspective allowed her to make an impact on the firm.
"I am eager to learn, so I was always interested in getting my hands on something new."

One of the big projects that allowed Papagoda to solidify her place at Kforce was Employee Appreciation Week. She produced sleek, new designs for digital and physical signage, sent out numerous emails and even filmed promotional videos. Her ability to step up and juggle the project allowed her team to focus on other initiatives and successfully execute a separate event that was happening at the same time.
McCants knew she wanted to continue her career at Kforce because she loved contributing to meaningful projects and "making an impact on something bigger" than herself.
As an Impact Intern, she brought her exceptional writing abilities to the table as Kforce went through a major website overhaul. She dedicated her efforts to drafting copy ideas and providing feedback on content pieces. Before she knew it, she became a trusted point of contact for multiple writing initiatives.
"When Kristan came to Kforce," said Kforce's Digital Strategy Manager, Rebecca Brown, "she didn't know anything about the staffing industry. She educated herself and worked with leadership teams across the company to better understand their business. That's a lot for an intern to take on but she did so with confidence, and it showed in her writing!"
Both Papagoda and McCants fit perfectly with the teams they interned with, and their abilities only made their teams stronger. Make sure your contributions make a lasting impression.

Today, internships are essential for recent graduates entering the job market. Ninety-five percent of employers say that experience is a major factor in hiring decisions, per a national survey by the National Association of Colleges and Employers. It's a no-brainer why students are participating in multiple internships and advertising them on their resumes.
However, not every internship is impactful and not every intern leaves a legacy.
Because of this, it's crucial for interns to be impactful even if an ideal situation doesn't present itself. Not all aspects of the internship will chalk up to your potentially high expectations. You might need to be flexible and adjust your expectations to make the most out of your experience.
For example, some companies are more relaxed compared to others that adhere to traditional, formal behaviors, or you might not report to the manager of your dreams. And yes, there might be a day or two that you're asked to do mindless grunt work. These could be considered negative aspects to getting an internship, but take the driver's seat and approach each day with an open, positive mind.
Only you have the power to become an Impact Intern.
Take initiative, openly communicate, ask questions, accept feedback and don't be afraid to provide a fresh perspective. Use these internship tips to help put yourself on a path to becoming the best intern you can be.
So, how will you leave your impact?