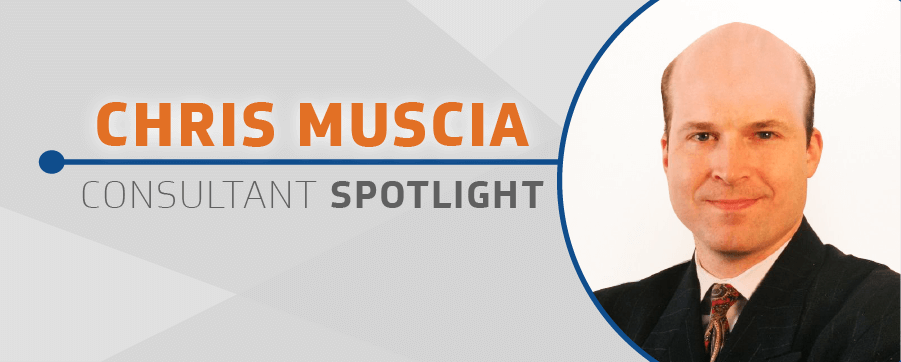 Consultant Spotlight: Chris Muscia
What's the key to staying marketable in the professional world? Evolving and embracing change, according to Kforce Consultant Chris Muscia. With over a decade of contingent work experience, Chris shares lessons learned, advice for future consultants and how reskilling can catapult your career in our first-ever consultant spotlight.
How did you become a contractor?
I wasn't looking for contracting work. It found me.
10 years ago, a recruiter called me for a technical writer role here in Chicago at Northern Trust, which was my first taste of contracting. I loved the work and was called back four times after that because of the great relationships I built throughout my time at the company.
I was also hired by places like Walgreens, JP Morgan and United Airlines. As a Kforce consultant, my current job is working as a project specialist for a leading retail automotive technology company.
You recently said online, "Make Kforce your first and last stop." What drives your passion for Kforce?
My career is a huge part of my life. I don't see it as work. To me, it's a lot of fun. I've been with Kforce since March 2018, and I can't emphasize enough how much I love being a Kforce consultant. I will never leave.
I'm grateful for the account managers that I have—Jon Perrin and Mike Cummins. They're there for me at the drop of a hat. I still get a call monthly from Kforce Consultant Care Liaison Teresita Cruz-Gray to check in on how things are going. It's really about the people I've worked with and the positive relationships I've formed.
 

I've made lifelong friends with the people I work with.
Can you describe your current responsibilities as a project specialist?
The client I work with is one of the two largest players in the retail automotive industry. Our job is to provide the software and solutions that make a dealership work, whether selling, buying a new car, making appointments or taking inventory.
I support a team of client managers and salespeople in the western region of the United States. As the point person between client and teams, I ensure all members are in sync and that work is completed on time for go-live.
What is the most rewarding part about your role?
I love the total autonomy I have in making sure that a project gets done. I have the backing and authority I need to ensure that a client is serviced and satisfied so they will continue their partnership with us.
In February, you were recognized as Kforce's Consultant of the Month. Congrats! What attributed to this accomplishment?
I would attribute it to my attitude and day-to-day happiness. Mike told me, "You're not known as Chris here in the Chicago office. Everybody refers to you as the happiest guy in the world." I've always been a happy person with a positive outlook, but an incident I had reinforced this in my life even more so.
When I was jogging around the lakefront of Lake Michigan a year ago, I tripped and fell between the cement slabs on the sidewalk. My foot just caught it perfectly, and I snapped my leg in two. I can't tell you how critical a work from home job was because I would have been out of work for six months if it wasn't for Kforce.
A very renowned surgeon worked on me who has traveled with Olympic teams across seas. I am incredibly thankful that I can walk. Now, I don't get bogged down by trivial issues as much. Every day, I realize how blessed I am and share my outlook with others.
You recently wrote an article for SIA Staffing Review and said, "My career as a consultant has been like the Enterprise at warp speed! Each position built upon another, becoming stepping stones that added new skills and experiences." Can you touch on the importance of reskilling, evolving and being open to change in the consultant space?
Sometimes a contracting company will call you with a different title role than you have had in the past. I'm very upfront about what I can do. I don't turn down a role because it's a position that I've never done before. If I have transferable skills, I will let them know.
 

It's better to take risks and fail than to live with regrets.
Your growth comes from your daily experiences when you learn something new. If you run and hide every time something's thrown at you, you'll never grow.
During an interview, how do you approach your variety of experiences?
When a hiring manager tells me, "Your resume is all over the board," I let them know it's a strength. I reply, "Yes, it most certainly is. And I'm very proud of it." I can step into several different roles because I've done them successfully. It makes me more employable and marketable.
What do you like to do outside of work?
I love getting together with friends and acquaintances. I truly capitalize on every single opportunity I can to get together with people. Coming from a financial background, one of my biggest passions has also been trading stocks and following the financial markets. Another hobby of mine is designing and building minimalistic furniture. I believe having less is more. It makes my life feel so free.
Can you describe the worst career advice you've ever received?
"Stay in your job. You don't know what's going to happen." I've been advised not to try a new opportunity because if it fails, I would be out of a job. You won't know if it'll work out unless you try.
Never say, "That's not my job." Don't be afraid of a position, responsibility or task that's presented to you. Look it over and give it a chance. That's your stepping stone to your next role—an opportunity to learn something new to catapult your career.
Is there a life lesson you live by?
 

It takes a long time to build your reputation, but just a minute to ruin it.
Stay honest about what you can do. Just because you don't have all the skills, it doesn't mean that you won't get the job. Expound on the abilities that you do have. There's a lot of soft skills that an employer wants as well, such as how you work with others and overcome obstacles.
What three insights would you share with future Kforce consultants?
Don't live in self-denial. It is probably humanity's worst enemy and draws us into an illusion that we're beyond reproach. So, be truthful with yourself, who you are and your shortcomings. Once you've done that, there is nowhere else to go but up.
Build upon your strengths. Some weaknesses might stay with you forever. Focus on building upon the strengths you already have. You'll eventually find out that they'll overshadow your minor flaws. That's the best way to conquer weakness.
Treat others how you want to be treated.

So many people have their own set of rules, and then a set of rules for everyone else. Before blaming others, ask yourself whether you've made a similar blunder. The answer might surprise you. If someone has made a mistake, approach them respectfully, responsibly and thoughtfully to remedy the situation—just the way you would want to be approached.