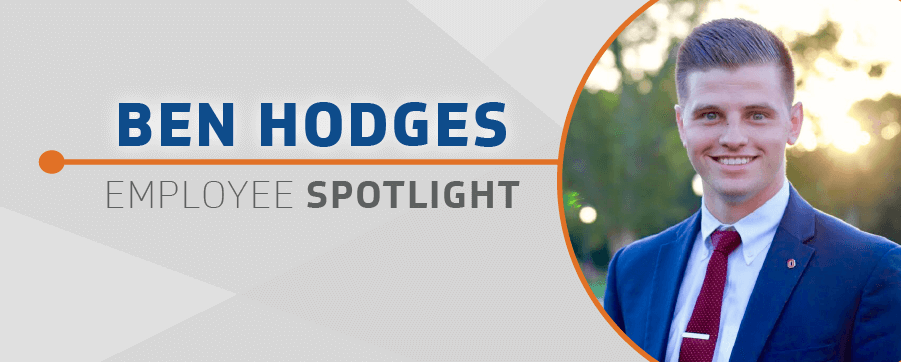 Employee Spotlight: Ben Hodges
What was your defining moment that carved your career path after college? For Client Relationship Associate Ben Hodges, it was his Kforce internship. Learn about Ben's journey as a Kforce intern, his goal to lead future employees and the key to securing a full-time offer.
What attracted you to work at Kforce?
I interned at Kforce after my sophomore year of college as a talent representative intern and again after my junior year as a client relationship associate intern. In both roles, I was drawn to Kforce's vision To Have A Meaningful Impact On All The Lives We Serve®. I helped people going through a tough time land a job and get back on their feet. I also loved that my team and the leadership at Kforce held me to the same standards as an employee. They coached and helped me succeed.

How did you come across your internships?
I'm from Pittsburgh and so is Virg Palumbo—Kforce Region President. Virg was one of my football coaches when I was 11 and in high school. At The Ohio State University, I wasn't sure what I wanted to do for an internship, so I reached out to Virg to help me find a job. He offered me an internship at Kforce's Columbus office and has continued to coach me throughout my professional career.
What do you like the most about working with Virg?
He always takes care of his associates. Whether coaching me in football or at Kforce, he always has high expectations of me. If I make a mistake, he helps me figure out how I can improve to make sure it doesn't happen again.
Is there any advice that you would give to a Kforce intern on their first day?
It's easy to be in a shell and get nervous. Make sure to put yourself out there, ask questions and be yourself. On my first day, I committed to meeting everyone so they got to know me a little bit better. When I came back the next day, everyone knew who I was, and I made lasting connections.
Can you describe the key to turning your internship into a full-time offer?
Prove to others that you have the ability, the will and the drive to be a great employee. Also, be coachable and take feedback from your managers. That way, when it's time to evaluate you at the end of your internship, you might be considered for a full-time offer. 

When did you get the news you landed a full-time job with Kforce?
In August of 2016, I had concluded my internship on the sales side, and Virg had told me that they wanted me to come on full time. Kforce reviewed my performance during both internships and extended me an offer for a full-time position as a client relationship associate in the Dallas office.
Why are internships important to securing a job after college?
An internship with Kforce sets you up for life after college and helps you develop as a person and leader. For students searching for their career path, the professional experience at Kforce is second to none. You get exposed to so many facets of the business that prepares you for any industry.
Can you describe the secret to success?
Your day starts when the previous day ends. It's how you plan for the next day that makes you successful. When you come in, know what jobs you're working on, so you don't waste time figuring out what your day will look like.

Are there any career goals you're looking to accomplish as a client relationship associate?
My biggest career goal is to be a leader within Kforce and help teach others in the future. I want to make an impact not only on the careers of our consultants and clients, but also on every new intern that comes to the company looking to be a full-time employee with Kforce. It fits into what attracted me to Kforce in the first place—seeing the ability in people and bringing out the best in them.
You volunteered as a manager for The Ohio State University football team in college. Did that influence your desire for a leadership role?
Definitely! I always loved sports, and I still do. The manager role was just as critical in preparing me for the professional world as my internship was. That was a grind every single day. I got a taste of a busy work schedule while working 50 hours per week on top of being a full-time student.
During my four years with The Ohio State University football team, I worked my way up to coach freshmen and sophomores. It fueled my interest to get into a leadership position, so I could be a role model and have a positive impact on others.  
What are your hobbies outside of work?
I love spending time with my family. That's something you learn after you grow up and move away—you'll really cherish the time with them. I love to read as well. My personal goal this year is to read 35 books. I think I'm one-third of the way through.
Being such a book advocate, is there anything you'd like to recommend?
From a professional development standpoint, a book that had an impact on me was Urban Meyer's book "Above the Line." He has an equation called E+R=O. What it boils down to is you can't control the E, the event, or the O, the outcome. The only thing you can control is the R—your response.