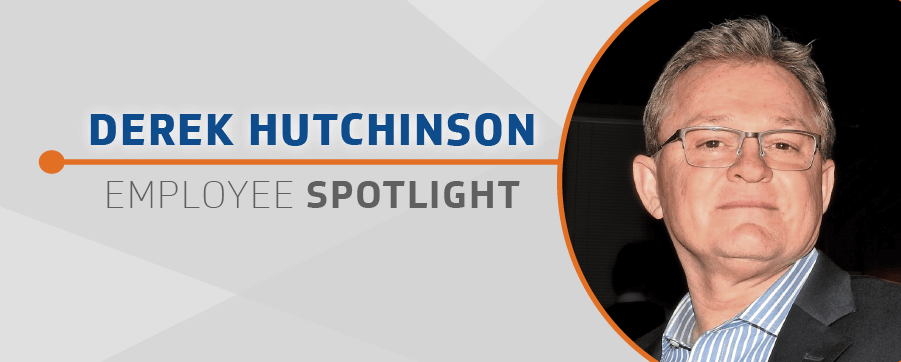 Employee Spotlight: Derek Hutchinson
Do you love a challenge? Kforce Business Partner VP Derek Hutchinson found a home with Kforce to channel his competitive spirit. Learn about how time, effort and hustle helped Derek achieve his tenured career at Kforce and the fearless women that inspired him along the way.
What brought you to Kforce?
I started at Vista RMS as an account manager 21 years ago and was responsible for helping customers reach their business goals. When Kforce purchased Vista RMS in 2004, I transitioned over to an AE3 (account executive three) role to help new clients with their evolving needs. I have been at Kforce ever since.
Can you describe your role as a business partner VP?
Since Kforce acquired Vista RMS, my job has been to develop business opportunities with companies. I cultivate relationships, get us engaged, get our agreements in place and get us on board with different projects that are coming down the pipeline.
How would you describe the opportunities you've had at Kforce?
Kforce provides tremendous opportunities for people who want to work hard, hustle and understand our business. It's been a wonderful career.

What achievement are you most proud of during your time at Kforce?
Winning the Dick Maddock Award because it was an award that my peers voted on. Dick Maddock was someone within the firm that people aspired to be like. Receiving that award shows you're a team player and that you're dedicated to helping others. On top of that, I was also in the Kforce Diamond Club 11 times, and our Reston office won Market of the Year last year.
With all the awards you've won at Kforce, what do you contribute your success to?
It has a lot to do with the opportunity to work as a team. In this industry, you can go out and get all the business you want. If you don't put people to work, it's not going to be successful. Kforce is one gigantic team within each market. Everyone plays a part in our firm's overall success.
How did you choose to get into the staffing industry?
It chose me, which was a blessing in disguise. I was a manager of a gym until I was 32 years old when I realized I wanted to have a career instead of hanging around a gym. I liked talking to people and networking, so a former Vista RMS employee set me up with an interview.
I was drawn to the competitiveness of the staffing industry where the more work you put in, the more you grow throughout the company. I believe in my heart that no one is going to out-hustle me. It was perfect. God put me in this position to have a career that fits who I am as a person.
It's Women's History Month. Is there a specific female leader at Kforce that has inspired you?
Kye Mitchell is the best leader I've ever had. She is a great friend and mentor to me. Kye started at Vista RMS three days after I did, and you could tell there was something different about her. She was professional, driven and wanted to be the best. I'm competitive by nature, and when I met her, I was like, "This isn't right. She can't be the best. I have to be the best."
We had a good, healthy competition, and she was tremendous at it. She did things a lot differently, so I was able to sit back and learn from how she accomplished her goals and try to implement that into some of the things I did. I've worked with Kye for 21 years, and she is the main reason why I've remained at Kforce for so long. I look up to Kye as I looked up to my head football coach in college, Dick Strahm, and he's in the College Football Hall of Fame. She's at that level to me.
Have there been any women outside of Kforce that have also motivated you?
My wife. She has the toughest job of all. We have four children and she homeschooled all of them for quite a while. She's the sweetest person I've ever met. Having four teenagers is a tough gig to handle, and she has her hands full. She does it all and motivates me every day.
What do you love to do when you're not at Kforce?
I love to spend time with my family going to national parks. It's so educational and a great bonding experience with my wife and children. We go to Yellowstone every other year, and it's my favorite place in the United States.

What is the most valuable lesson you learned at Kforce?
If you know your strengths and weaknesses, don't be someone you're not. I'll be the first guy to admit that I'm not technical. So, either I'll find someone who is, or I'll find out the answers. No one person can do it all. It's about that team environment, just like in sports. In most sports, you're out on the field with the team, and you're going to have someone to rely on to help you out.
What is your favorite Kforce memory?
I have a bittersweet memory. We lost Angie Coleman a couple of years ago, and she was the heart and soul of Kforce in Reston. What hit me hard was the amount of people she touched within the office that were there to support her and showed up to her funeral.
She was our front desk receptionist and whenever anyone came in that was in a bad mood, Angie could immediately turn it around. She was always happy. I loved her, and I still do. 
Using only three words, how do you attribute your long-standing career at Kforce and why?
Hustle. In this industry, you have to make a lot of phone calls, contacts and meetings to get that one client you need. The hustle is part of that. It's a numbers game. You have to put in the time to be successful, work hard and be a value to your customer by doing your homework and understanding their needs.
Ethics. I always believe in being upfront and doing the right thing for my client and consultant. If you do the right thing, it comes around. It's important to be a value add and a true partner by helping your customers out when they need something. If I help my partner win business, they're going to look at me a lot differently than just as a staffing professional.
Competitiveness. I look at my career at Kforce as a competitive landscape. To succeed in the staffing world, you need the drive and competitive nature to keep going. My favorite quote is, "If winning isn't everything, why do they keep score?"