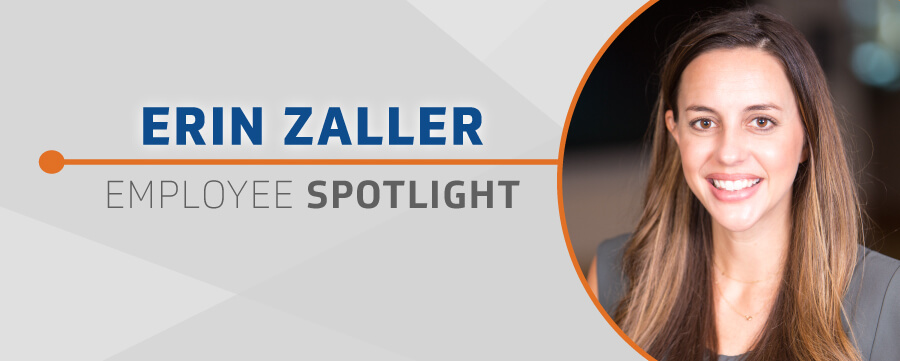 Kforce Employee Spotlight: Erin Zaller
After graduating from college, Erin Zaller was presented with the opportunity to begin her professional career at Kforce, and she has never looked back since. Learn about Erin's growth within Kforce, what she loves most about our company culture and her advice for those in the job hunt.
What drove you to begin your professional career at Kforce?
The most obvious selling point for me was Kforce's environment. In one of my interviews, I spent almost eight hours here where I met with every single leader and team. I saw from a leader perspective what recruiters were responsible for and the practical application of what they did. That's when I knew that it was the right path for me. My time as a recruiter helped me get a lot of exposure to different clients and built partnerships that I still leverage.

Since joining the Kforce family 11 years ago, you have held multiple positions. How has Kforce fostered your career growth?
Kforce has given me access to all the tools necessary but also the lifelines of peers, mentors and leaders that have helped me get to where I am today. Whether it was a formal program or access to mentors, I have always felt like my individual growth was a priority if I was willing to put in the hard work.
So, you started as a recruiter only two days after graduating from college. What advice do you have for recent graduates looking for their first job?
Take the time to figure out what you want to do, so an employer could support what you're interested in. When you graduate from college, you may not have everything figured out. I would look for an employer that can help you on that journey by investing in your passion and aspirations.
Can you touch on what your day-to-day activities involve?
I help my teams and clients solve problems like alignment, prioritization, discovery meetings with customers and delivery strategy. I also spend time deskside with the team to help them in their pursuits.
On a daily basis, I plan certain delivery activities whether sourcing, candidate calls, interview preparations or locking down offers. I want to make sure that I'm always keeping my skills sharp and helping my teams in all aspects of the delivery lifecycle.
As a senior director of delivery, what do you consider most rewarding about your role?
Watching my people win both on and off the field. I've watched people hit some major milestones like paying off student loans, getting married and having kids. I've even officiated the wedding of one of our recruiters. Watching them win at work is hands down the best part of my job. But, to also invest in them as a person and watch them win in their personal life is just as incredible.
Why do you think it's important to build a personal relationship with your team?
These are the people that you spend a majority of your time with so the way we communicate, interact and support each other is important. This is essentially your extended family.

What are some of the biggest challenges that you have experienced in your role?
The shifts of our business concerning demand are always challenging. It's hard to keep up with new technology and keep everyone going at times. You must be diligent and prioritize what initiatives make the most sense for yourself and your team.
What is your favorite part about working at Kforce?
I enjoy watching the people that I work with grow and develop. Also, I love being a part of our customer's journey and doing things that aren't being done today.
For example, our delivery team and consultants are putting together groups that are developing autonomous vehicle products and delivering new technology that will change the way we view and digest content and advertising.
I work with a team I care about that helps solve problems and deliver innovative products and solutions.
How would you describe your team's culture?
My team is passionate, competitive and humble. We all hold each other accountable, lift each other up when we're down and embrace advice from each other because we recognize we all win that way. We're spread out in several offices across the nation, so fostering a good culture is a top priority for everyone.
Congratulations for being named a 2018 Stevie Awards Women in Business finalist! What does this nomination mean to you?
I was honestly shocked. This year has been challenging and a first as a new vertical team, so I was honored to be nominated. It helped me appreciate all the great things my team did this year and validates how much our work really impacts our consultants and clients.
To be recognized by the Stevie Awards among a large category of other females empowers me and makes me feel more confident to stand beside my team and help lead the charge.
You were recently featured in a Glassdoor blog where you mentioned that recruiters look for a confident, passionate person who asks the right questions. How can these attributes help a candidate stand out?

It's important always to ask the right questions and be engaged. As someone who watches my clients hire and helps them make hiring decisions, that's what they look for. If candidates aren't passionate or don't show that they are adaptable to change, my clients aren't going to spend their time teaching them about the industry.
As 2018 comes to an end, what was your biggest accomplishment this year?
We put together a new vertical team integrating several offices and new customers. After that, I went on maternity leave, and I'm back now watching our operation grow to the level it's at today. Our specialty team hit a major milestone goal as a $5 million market. Seeing that evolve from a 10-person delivery team that started in 2012 was huge.
So, you have a son and a newborn daughter. What is your favorite activity to do together as a family?
Anything that gets us out and that we can do together is fun. Both my kids like to swim. My family also likes to bass fish, and now my son is six, so it's exciting that he can reel in his own fish. We're lucky to live in the Sarasota area, so there is always something to do with the family.
What are key takeaways you have learned from your time at Kforce?
Never settle, have an entrepreneurial spirit within our industry and business, always be curious and never stop on the pursuit of knowledge. That is something no one can be better at than you.
What is one motto you always live by?

It's written on the top of our activity board, and when people tell me they are having a hard time finding something, our approach is always to be solution-oriented and solve it. It just starts with having the right attitude and a no excuse mentality.