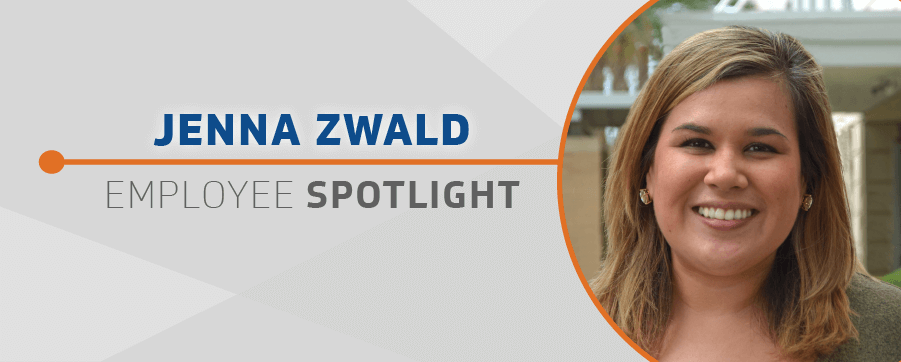 Kforce Employee Spotlight: Jenna Zwald
Since childhood, Jenna Zwald has always had a passion for lending a helping hand to others. Learn how Jenna channels stewardship in her current role as an HR employment specialist and what advice she has for young professionals in the workforce.
Jenna, how did you get started at Kforce?
I started at Kforce more than 8 years ago. I was referred by my friend's husband who let me know Kforce was looking for more recruiters. At the time, I was a year out of college and working at The Disney Store. I wasn't sure what I wanted to do yet, and I thought this was a great opportunity for me to start my professional career.
Why did you decide to join Kforce?
It was the people. When I first interviewed at Kforce, I went on a tour of the building where I saw the National Recruiting Center. There was something so magnetic about the environment. People were throwing volleyballs around and shooting nerf guns.

What kind of growth opportunities has Kforce provided you with?
I've been fortunate in my career to have had many cheerleaders in my corner, both with coworkers and those around me. My leaders encouraged me to branch out and have conversations with other teams when I was evaluating if I wanted to transition into operations. With their support, I was able to transition from market delivery to business operations, so I could know what was happening full circle, from finding candidates to placing them in positions.
Who inspires you at Kforce?
My current manager Erin Mulligan inspires me both personally and professionally. When I first started in onboarding compliance, Erin and I were peers in different roles. I've watched her grow into an HR onboarding compliance manager where she is well respected across the organization. I realized that if she could do it, I could do it too.
Can you describe your day to day as an HR employment specialist?
My role encompasses three major buckets—background escalations, I-9 compliance and document management. Between those three things, my team's end goal is to ensure that we are compliant, so we are protecting the firm and client relationships.
What do you love most about working at Kforce?
I love the relationships that I have built and grown over the last 8 years. At the end of the day, our team is a family. My team is the reason why I come to work. My leaders also make sure that I have everything I need to get through the day.

How do you build great work relationships?
Respect is huge. I love getting to know the people that I am talking to. It's interesting to work closely with people that you've never met. We've gotten into the habit of video conferencing, so now it's not just a voice, it's a face on the other side of the screen. It's a great opportunity to make communication more personable when building great relationships.
What is your favorite Kforce memory?
Recently, I won Employee of the Quarter for the first time. When I found out, I started crying because I take a lot of pride in my work. I was humbled to know that my team values my work. It was a great way to kick-start this new year with a success.
Can you describe your career goals for 2019?
I would like to think my opportunities are endless, and I am still planting the seeds to figure out where I can grow—whether building out our team, taking on more responsibilities or being more visible in projects.     

What does our tagline "We Love What We Do. We Love Who We Serve.®" mean to you?
It means that we truly are practicing what we preach. At Kforce, we do such a great job vocalizing the needs in the community and giving back. For a lot of organizations, it's so easy to write a check or donate supplies. However, here at Kforce, we go the extra mile. For instance, our firm collected and delivered supplies by plane to Puerto Rico after Hurricane Maria.  
Service is our culture at Kforce, and it trickles down. When our leaders are bought in, our teams are bought in and from there it branches out to families. For me, that passion for giving back to the community is so contagious. Stewardship has always been instilled into my values, whether as an internal champion for Metropolitan Ministries or helping people in my current role.
Can you describe your duties as a Metropolitan Ministries champion?
My role is to bridge the gap between Kforce and Metropolitan Ministries to find out what their need is and then deliver that message back to Kforce. The people you see at Metropolitan Ministries are from all walks of life. By donating our time, we help service those who are financially in need and homeless, all with the goal of giving them the tools to become self-sufficient.
In addition to helping people find jobs at Kforce, Metropolitan Ministries also allows us to channel our expertise with their clients. We help put their skills to use and give them the confidence to find a job through resume and interview advice. It's the best way to give back.

When you are not at Kforce, what do you like to do in your spare time?
I am really close with my family, and they mean everything to me. My parents live here in Tampa, and my sister is in Atlanta, so we do find multiple times throughout the year to spend time with each other. I also love to travel with my family.
Where is your favorite place to travel?
Growing up, we spent every summer in Sanibel Island for a week. It has a special place in my heart and even as adults, my family and I go there. It's our opportunity to regroup and reconnect. It's a peaceful island where you just ride your bike around, sit on a beach and read a book. We go there to forget about our worries and enjoy quality time with the people that we love. It brings you back to what's important.
Do you have a favorite book you would like to recommend?
I love the book "Rising Strong" by Brené Brown. People go through different ups and downs in their home life and professional life. This book was great to read during a time where I needed a different perspective. It helped me realize the importance of owning your story, even during challenging times.  
If you could give one piece of advice to yourself when you first started here at Kforce, what would it be?
Early on in your career, it's easy to be stuck in the mindset that you must be perfect to make a great impression. However, it's understandable to make a mistake.

How you handle a shortcoming speaks volumes to the type of person you are. If something doesn't go your way, figure out how you can do it right the next time. People will respect you for that.