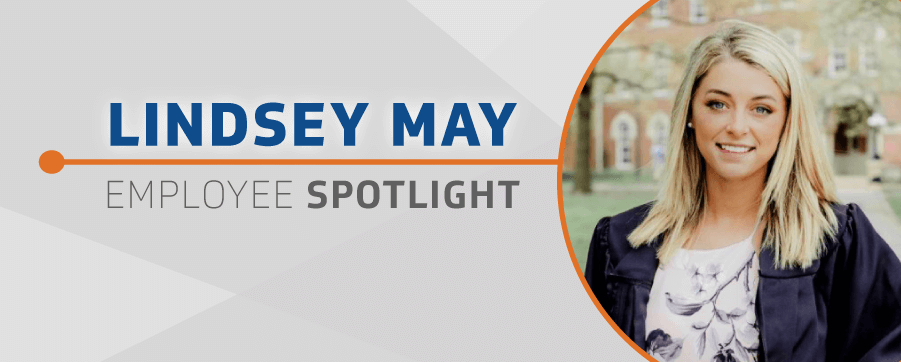 Employee Spotlight: Lindsey May
What characteristics of a potential employer attract you? For Internal Recruiter Lindsey May, it was our dynamic team culture. Learn about Lindsey's journey from intern to corporate recruiting, her aspirations for leadership and what fuels her success at Kforce.
What was your first impression when joining Kforce?
The biggest thing that stood out to me was the positivity and how welcoming everyone was in the office. People introduced themselves, told me they were glad to have me and offered their help whenever I needed it. I was a part of the team instantly and the energy has never stopped.
Since my first day, I've built many friendships that I still have today, which has made my Kforce career unforgettable.
You first joined Kforce as an intern. What are the advantages of our internship program?
One of the biggest advantages of the internship program is learning how to build relationships, networking and selling while being in an open and collaborative environment. I loved that everything I was learning in my internship was useful for not only my professional career but also my personal life.
Can you describe your transition from being a Kforce intern to a full-time corporate recruiter?
My internship set me up for success. My boss Cassandra Ladika spent a lot of time training me so that when I started full time, I could get going right away. Since I focused on the foundations during my internship, I was able to build my strengths and learn new subjects in more detail throughout my full-time role.
How would you describe the team culture in Columbus, Ohio?
The team dynamic here is what attracted me to Kforce. We work in an extremely collaborative environment and call ourselves the "Kforce family."
Our team here in Columbus is also close-knit. We spend time together outside of work, which makes the weekdays exciting. Some of my best friends work at the office. We like to keep a fun and competitive environment to keep the energy up in the office.
We take our goals seriously and care about each other's personal success on the team.
Would you say your team is your support system at Kforce?
Definitely. If something goes awry, you always have someone here to support you. Everyone's willing to help in any way possible. Something that I love about Kforce is that the leaders also sit right by us. They're not sitting in a different corner. You're always able to reach out.
Is there anyone at Kforce who has left an impact on you?
Sean Anthony in our Columbus office is someone I gravitated toward early in my Kforce career. As a former mentor, he played a big part in my professional growth and pushing me out of my comfort zone.
When I first started, I would get frustrated because I didn't have much confidence at the time. But Sean encouraged me weekly to learn something that I didn't know or something I was curious about. His advice strengthened my skills here at Kforce and continues to help me grow in my role. I still seek out learning opportunities today in my career.
What are your future career goals?
Being a corporate recruiter was my dream job, and I successfully achieved that goal. As for what's next—growing within Kforce is something that I've thought about for quite some time. I'm very interested in potentially pursuing a leadership path.
My long-term goal is to help expand the internship program and help teach others. I want to continue to grow our culture and recruiting efforts. There's a lot of misconceptions about staffing. I'm passionate about informing people about the staffing industry and why Kforce is a great place to work.
Can you name three ingredients for success at Kforce?
Take on as much as you can. There's going to be a lot of different opportunities and projects that'll be offered to you. You never know what's going to get you excited and what's going to make that lightbulb turn on in your head to figure out your long-term goals.
A good attitude doesn't go unnoticed. Our culture here thrives on positivity. We all have our ups and downs, but being able to keep a smiling face and roll with the punches is what makes every day more enjoyable. Nothing is permanent, and a positive attitude is always infectious. Optimism goes a long way here.
Confidence is key. There's always going to be situations where you don't know everything, but faith in your ability to learn will take you a long way. You'll not only get better results but also feel better at the end of the day because you believe in yourself. And, when you believe in yourself, others will too.
At Kforce, you have all the training, leadership and support to achieve your professional goals.
If you could travel anywhere in the world, where would you go?
I would love to visit Cappadocia, Turkey. I've always wanted to ride in a hot air balloon, and that city is known for them. I'm a huge pasta fan too. I want to go somewhere with a great culture and fantastic food, and I think Italy would be awesome.
Do you have any tips for those unsure about their next career move?
Act on your curiosity. Don't be afraid or timid about exploring your interests. Networks are probably the fastest way you can figure out what you want to do for your career. You can begin networking by reaching out to peers, even in different industries, to learn about their experiences. The most significant mistake you can make is not making connections and not asking questions.
What advice would you give to new graduates joining our Kforce family?
Your first year after graduation in any job creates a foundation for the rest of your career. The best thing you can focus on is your level of effort and activity in your new role. Not only will you learn faster, but you will also grow quicker in your career.
You'll be surprised at how much you can achieve by simply pushing yourself a little harder each week.