Is Your Outdated LinkedIn Profile Affecting Your Professional Brand?
Your professional brand plays a pivotal role in your career. Regardless of if you are currently looking for a new job or not, it is important to strategically design and actively manage your digital persona.
Not sure what that even means? Keep reading…
Over recent years, your resume has taken a back seat to your LinkedIn profile – and has become widely recognized as the very center of your professional brand. LinkedIn is the social media channel of choice for recruiters; they seem to be on the site more than any other occupation. The professional networking site is often the first place they go when looking up job candidates online. Take advantage of this busy beehive of recruiters.
In this article, we'll cover the following:
How to leverage content to your competitive advantage
How to tailor your presence to your target audience (i.e., your target employers and recruiters)
How to step-by-step optimize your LinkedIn profile
Demonstrating your traits most desired by employers
To stand out from your peers, your LinkedIn presence must establish you as a respected and recognized leader in your industry.
Nearly half of businesses surveyed by Accenture reported a skills gap, meaning they don't have the skills they need to compete effectively in the coming years. Many companies are responding by increasing their commitment to training and are placing more emphasis on hiring for potential.
Respondents to this survey explained that it is no longer helpful to screen candidates based only on keywords on resumes; they, instead, are hiring for potential.
It's become a more sustainable approach for companies to hire based on "potential fit" and certain characteristics as predictors of success.
Top traits employers are looking for in 2019:
Curiosity
Resiliency
Problem solving
Social media competency
Ability to align strategic vision with execution
Thrives in ambiguity
Highly skilled in inspiring others and engaging them to act
Interpret and build strategy with data analytics
Content: your competitive advantage
Here are two ways to demonstrate that you have these traits on LinkedIn: by optimizing your profile and by sharing and discussing industry-relevant content.
LinkedIn is king when it comes to recruiting on social media, and it's typically a recruiter's first stop to look up candidates after receiving their application. If you email a recruiter, what she sees (or doesn't see) on your LinkedIn profile may be a deciding factor on whether you get a response. When you apply to a job, your recruiter may spend very little time reviewing your resume, but will carefully review your LinkedIn activity.
Every moment counts when a recruiter or hiring manager is sizing up your skills, experience and approach to work, and comparing you with dozens – if not hundreds – of other candidates.
A stellar LinkedIn profile isn't enough to show recruiters that you are the best person for the job. The way you interact with content on LinkedIn could be why you get the interview and beat out those other guys.
Use LinkedIn to communicate:
Who you are
What you have accomplished
Why you care about your work
What others say and feel about what you have accomplished
Where you are going from here
What's in it for people who connect with you
This is accomplished by telling your story via your LinkedIn profile (which we will dive into later in this article), and the content that you share, like and comment on.
To get targeted content directly in your LinkedIn feed:
Take advantage of LinkedIn's suggested stories and follow trending topics in your industry
Add topics, thought leaders and company content into your feed
Grow your network by either inviting people to connect, or if you don't know the person, follow them instead
If you have an employee advocacy program at your company, in which you are sent suggested content to share with your networks, take advantage of it! It can be time-consuming to find your own high-quality, targeted content – let alone write social media posts, include the best hashtags, and attach attention-grabbing images.
When you share content, add why this content is meaningful to you in your own words. Simply clicking the Share button without adding your two cents doesn't demonstrate your expertise or curiosity.
If you're openly looking for a new job
It's no secret. You are looking for a job and not concerned about who knows. There are special considerations for active job seekers to optimize your professional brand and get noticed by recruiters.
Privately signify to recruiters that you are looking. Click here for how to do that.
Mention networking events and job fairs you are attending. It's a subtler way of saying "I'm looking for a job."
Follow your target employers on LinkedIn, and pay attention to the topics discussed on their LinkedIn company page. Join the conversations by asking thoughtful questions and leaving comments that reveal your passion for your industry and your focus on continuous learning.
Use content to start conversations with recruiters. As they post content that interests you, like, comment and share. You never know where a conversation with a recruiter can lead! Network with the networkers, and reap the benefits.
Using your LinkedIn profile to promote your professional brand
Optimizing your LinkedIn profile is an important step to develop your online presence and professional brand. Demonstrate throughout your profile that you are the best candidate for the job (even if you are not actively looking for a new job right now). Tell your story. You never know when a recruiter is looking for people with your skills and experience. That recruiter may have your dream job open, but they must find you first.
Let's go step-by-step through your profile.
1. Cover photo: Upload a photo that represents your interests, passions, hobbies, etc. Use an original photo, or download free images on sites like Pixabay.
2. Profile photo: You do not need a professional headshot if you don't have one. Choose one that includes only you (not your significant other, kids, or pets).
3. Name: Use your full name, and leave out email addresses and phone numbers. Leave the extra clutter out and just keep your name.
4. Headline: LinkedIn's new user interface makes a strong headline more important than ever. It should not be just your current job title. Think about search engine optimization (SEO) – what words might recruiters use to search for people like you?
As a prime real estate, your summary sits at the top of your profile. I suggest the following:
Speak in the first person, and in full sentences.
Tailor your Summary for your target audience. Think "what's in it for them" if they connect with you.
Tell your story. This section helps paint a full picture of what you currently do, what you have done in the past, and what you will do in the future.
Use as many keywords as possible. Remember, think SEO – what words do you think recruiters would use to search for people like you?
Add a few details about your responsibilities at your current job, your business impact and what you enjoy most about your job.
Include a short paragraph about what your company does – but this information should take a backseat to the information about you.
Your profile is not your resume or your job description. Remember, you are telling your story.
Mention your interests and hobbies outside of work so that people can get a sense of who you are.
Consider adding your contact information.
If you run out of space to include all your specialties, feel free to list them at the bottom.
Include multimedia (pictures, files, links, etc.) that represent your work (show, don't just tell).
Your past experiences should match the tone and style of your Summary – it should sound conversational, be written in full sentences and include keywords and phrases.
Describe your role in terms that would not be considered internal jargon. Use words and phrases that people outside of your organization would easily understand.
Remember to consider SEO when writing your Experience section.
Provide the most detail for your current role and your role before this one (if applicable). It will be more important for recruiters and hiring managers to see what you're currently doing or have recently done, more than what you did ten years ago.
If you are a student or a recent grad, include internships, project work and volunteer experience if relevant to your professional brand and career goals.
Type this up outside of LinkedIn and run a spelling and grammar check. It may help if someone else reviews it before you save it on LinkedIn.
Include your key skills in this section to boost your profile's SEO and paint a more holistic picture of your professional brand.
Your connections can endorse you for the skills you have selected.
You can rearrange the order of the skills whenever you'd like.
A recommendation is written by a LinkedIn member to recognize or praise a colleague, business partner or student. Viewers of your profile often view the recommendations you've received on your profile to see what others think about you and your work.
Recommendations are critical to your LinkedIn profile because they offer social proof (a fascinating topic – but one for another blog article).
Ask for recommendations from past or present colleagues, managers, clients, etc. If you are a student or recent grad, ask for recommendations from your professors, supervisors, mentors and your peers.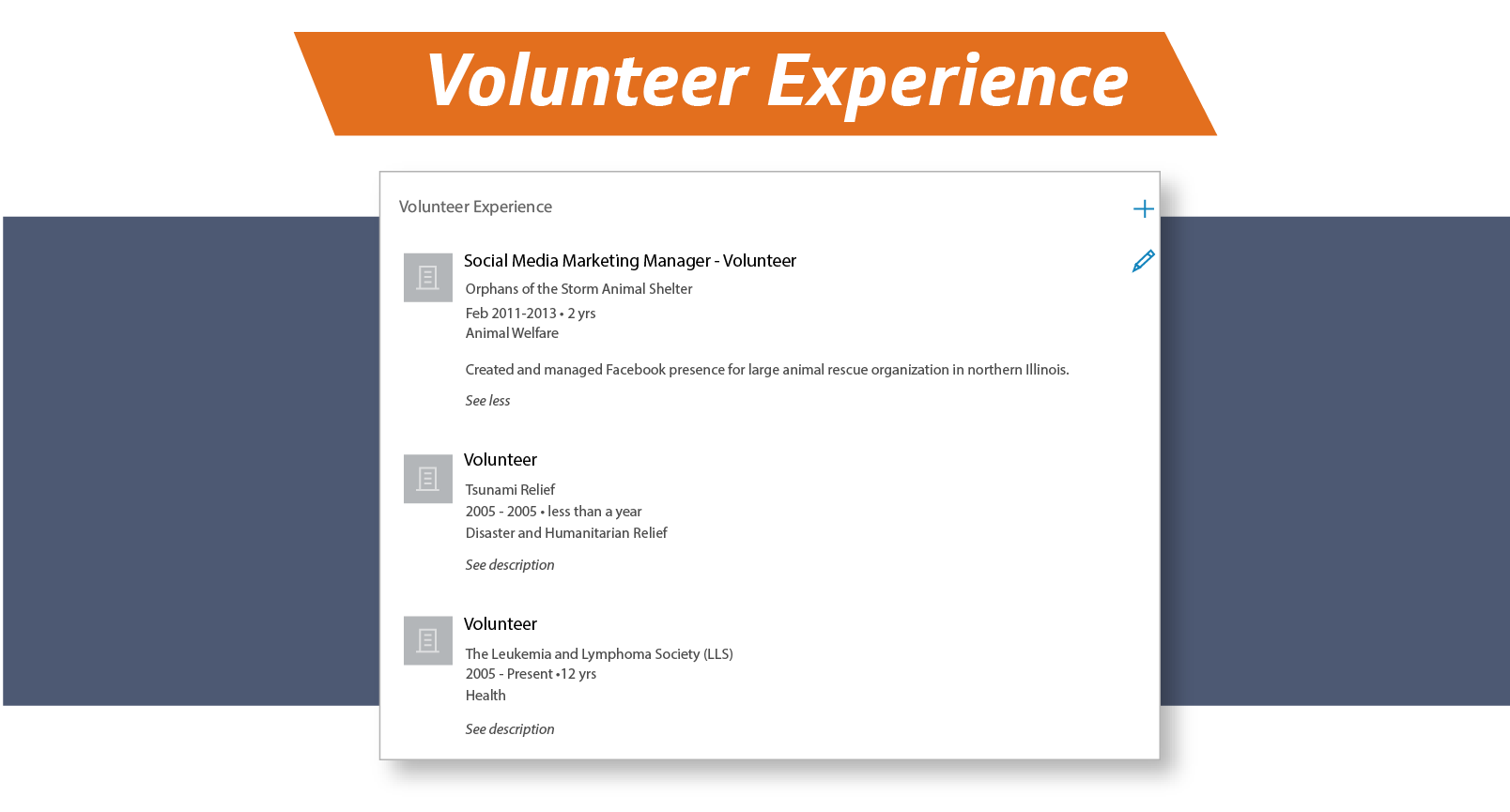 Including volunteer experiences is another way to tell your story and promote your professional brand. Your LinkedIn profile is what "humanizes" you to others online, and this section is another opportunity share more of yourself on LinkedIn.
If you are just starting off in your career, this section is a good spot to share the activities and skills you've picked up outside of a paid job.
Including volunteer experiences also can be an excellent conversation starter during job interviews. I have had my experiences brought up during job interviews and it has helped me build rapport with my interviewer.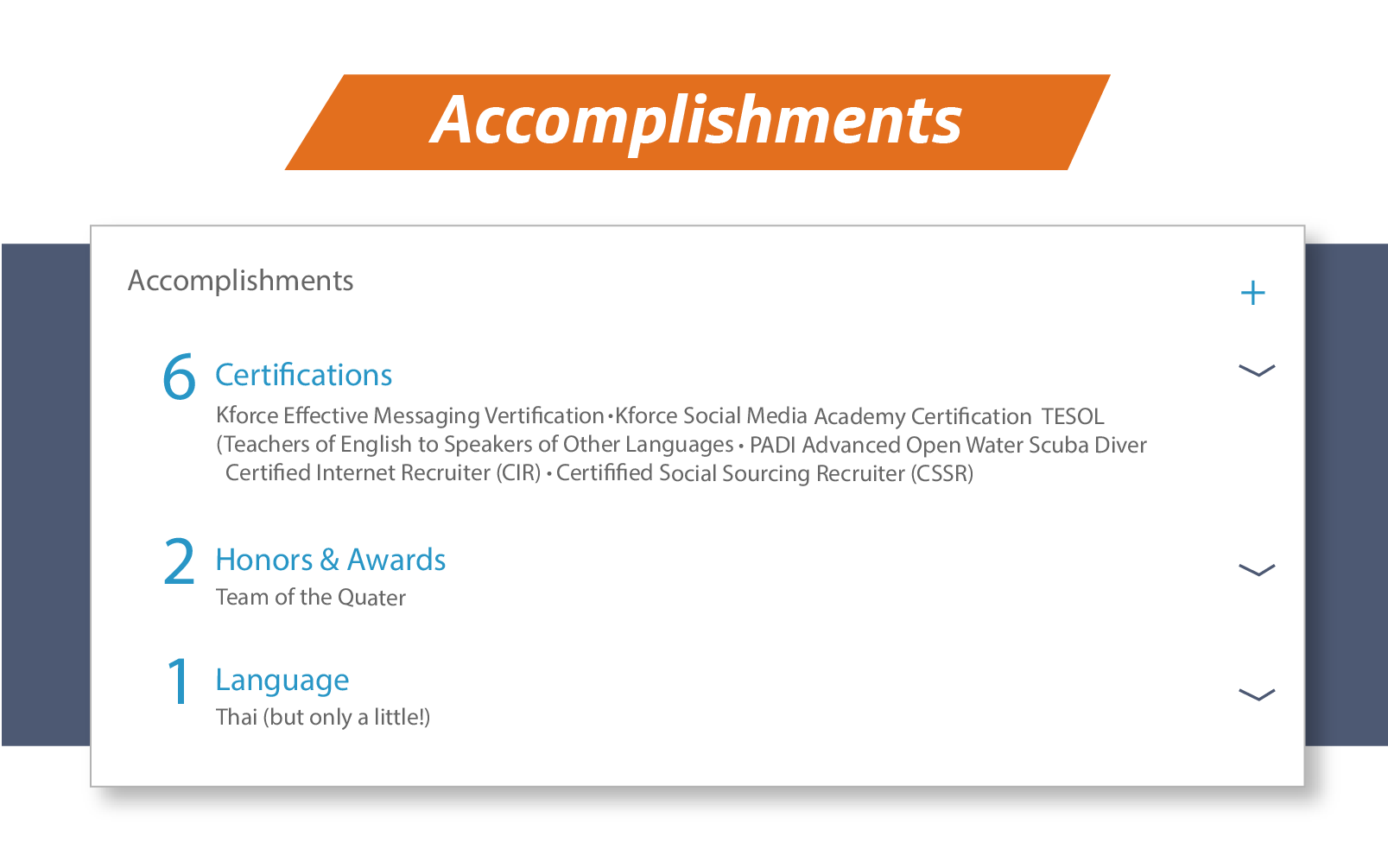 Click here to download our printable LinkedIn Profile Optimization Checklist to enhance your profile for potential employers. Whether you're actively or passively looking for a job, it's important to optimize your professional brand on LinkedIn and keep it up to date. You never know who is looking. 
A mentor and former boss once told me: "No one will ever care about your career as much as you do." I have taken that to heart and encourage you to do the same. Stand out from the crowd. Invest in yourself and ensure your brand shines online.