Complement Your Professional Brand with Your LinkedIn Profile
You've probably heard the term "professional brand," but what exactly does it mean? Simply put, it's the way you present yourself to colleagues, employers and everyone else in your network.
Nowadays, this is mostly online.
Establishing a strong professional brand is an imperative first step in building a fulfilling career.
LinkedIn remains one of the most popular tools for professional networking. Did you know that 72% of recruiters use LinkedIn to search for candidates? This makes LinkedIn one of the most important social platforms to improve your professional brand.
LinkedIn is a valuable professional branding tool—if your profile is reaching its full potential. In this article, you will learn how to build and demonstrate your professional brand on LinkedIn with these actionable tips:
Understand the importance of optimizing your LinkedIn profile

Tailor your LinkedIn presence to your target audience

Optimize each section of your LinkedIn profile

Leverage your LinkedIn profile to your competitive advantage
Let's get started!
Why optimizing your LinkedIn profile is important
LinkedIn offers a far-reaching professional community, with over 722 million members and 50 million companies. It's a valuable tool for networking, job searching and lead generation; especially in our increasingly digital working world. Optimizing your LinkedIn profile will help you stand out among your peers and connect with your target audience more effectively.
How to tailor your LinkedIn presence to your target audience
Think about how you want your LinkedIn audience to see you – as an ideal candidate? An industry thought leader? No matter your goals, tailoring your LinkedIn presence to your target audience is an essential step toward achieving them. You can do this by:
Paying attention to who you follow: Following organizations and leaders within your industry will give you a greater understanding of the trends and topics related to your desired audience. The LinkedIn News Page is a great place to start.
Leveraging common language: Make note of the language used in job descriptions or posts you find interesting. What are some of the common descriptors, phrases or key ideas? Use that information to tailor your profile details to appeal to your audience.
Engaging with relevant content: Become part of the conversation by sharing and commenting on content relevant to your audience. People in your network will be able to see your activity in their feed, establishing you as an insightful, engaged connection.
How to optimize each section of your LinkedIn profile
Your personal LinkedIn profile is often the first place people in your network go to get a better sense of who you are professionally. Use it to communicate your interests, areas of strength, accomplishments and career goals.
Here's a step-by-step guide on how to make the most of each section of your profile.
Step 1: Choose a meaningful cover photo and profile photo
Start your virtual introduction off on the right foot with a strong profile and cover photo. While it's important to select images that are appropriate for a professional platform, you can still use them to inject some personality into your page. This will help the people viewing your profile get a better sense of who you are not just as a candidate, but also as a person. Remember these tips:
Cover photo: This is the perfect place to share something that represents your interests, passions or hobbies. If you're an avid baker, a marathon runner or a community volunteer, this is the place to share a picture of you in action.
Profile photo: Adding a profile photo is an easy way to stand out - members with profile photos receive up to 21 times more profile views. You can use a headshot for your profile photo, but if you don't have one, choose a professional-looking, high quality image. This would be a great spot for a photo that conveys an achievement, like speaking at a conference or receiving an award.
Injecting your personality into your cover and profile photos can help you get more profile views and inspire new connections to reach out and start conversation with you.
Step 2: Optimize your LinkedIn "Intro" section

Consider this section the business card of your profile. You'll share general information like your name, industry and current title. 
Basic info: Use your full name and leave out personal information, like email addresses and phone numbers.
Job title: If you don't have a current job title, you can use a succinct career-related description (i.e., Cybersecurity Professional).
Headline: Choose a strong job descriptor to elaborate beyond your title. Think about search engine optimization (SEO) – what words might recruiters use to search for people like you?
Step 3: Be strategic with your "About" section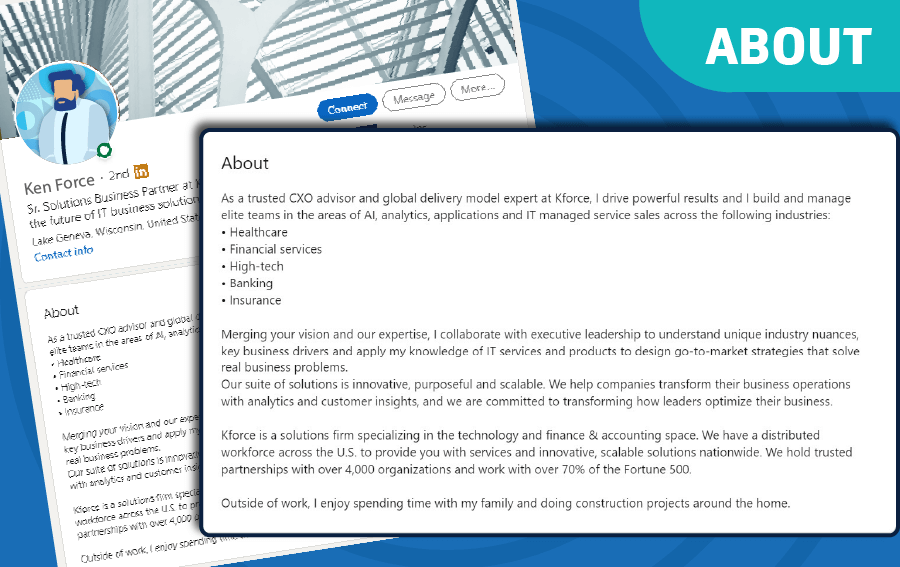 According to LinkedIn, about 40 percent of professionals admit that it's difficult to describe their job. Having a strong, well-written career summary will set you apart from the competition by demonstrating confidence, experience and personality.
Your "About" section is prime real estate, as it sits at the top of your profile. Look at this section like the description on a book jacket – you want to sell yourself here, because what you say in this section will determine whether someone continues to view the rest of your profile.
Make sure you:
Describe what you currently do, your past work experiences, and your career goals

Keep language free of jargon and use SEO keywords

Keep the content to no longer than a couple paragraphs

Tell your "professional story" – make it engaging, informative and avoid overused words
You can also mention your interests and hobbies outside of work to paint a broader picture of who you are.
Step 4: Show off your work samples via featured content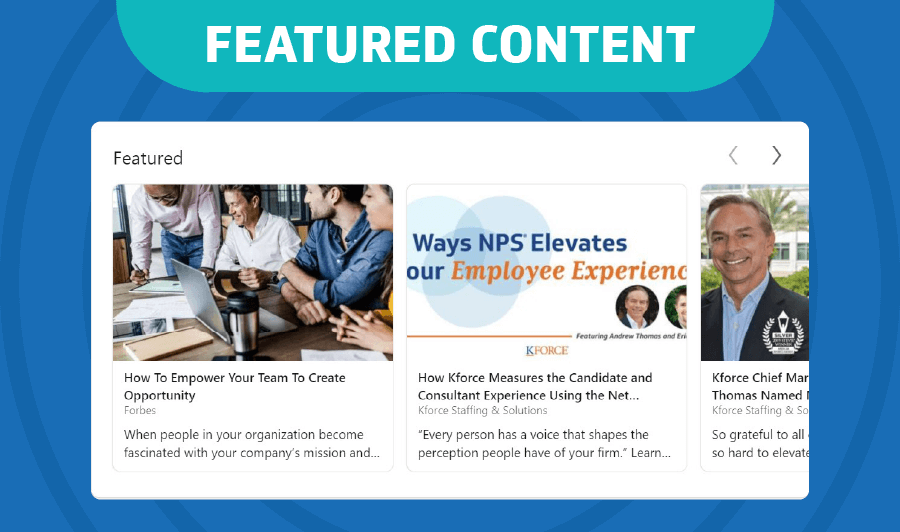 Use this section to upload multimedia files or links of your work samples. Try to show the range of your skillset by including a variety of examples. This can include articles you've written, graphic design work, video reels and more. Think of this space as a digital portfolio to demonstrate your experience and capabilities.
Step 5: Go into detail with your background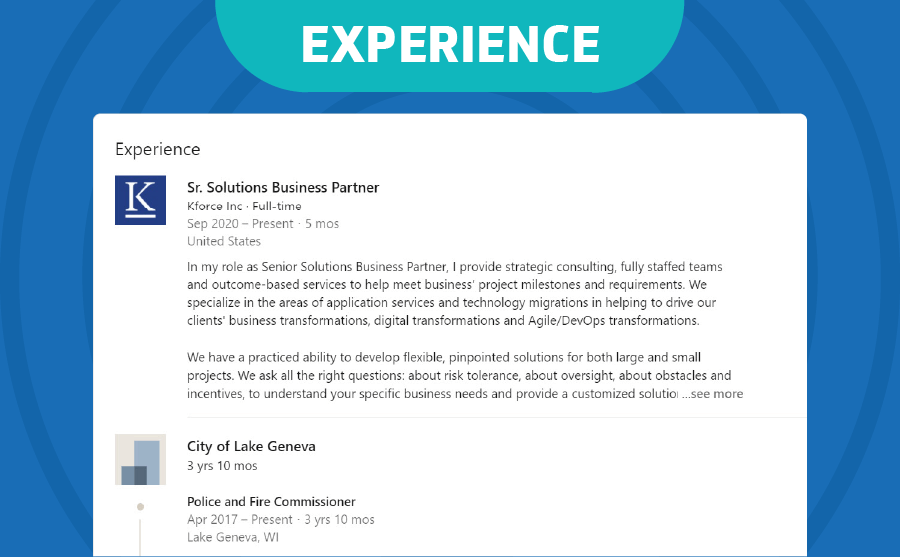 In this category, share your education and work experience, as well as volunteer roles and any licensures or certifications you have earned. This section should match the tone and style of your summary – make it conversational, use full sentences and include SEO keywords and phrases.
LinkedIn reports that most professionals view three experiences as ideal - one current and two previous (if applicable). Provide the most detail in the descriptions of your current role and the role that preceded it. Recruiters and hiring managers are most interested in what you're currently doing or have recently done, rather than a role from 10 years ago.  
If you're a recent grad or student, your experience can include internships, project work and volunteering.
Step 6: Customize your vanity URL

Make it easier for connections to find you by customizing your page's URL to include your first and last name. If the URL you want to use is already taken, consider including your middle name or initial or a descriptor related to your title or field of work. For SEO purposes, it's ideal to use your first and last name and use hyphens rather than underscores. For example:
www.linkedin.com/in/luke-skywalker or www.linkedin.com/in/luke-skywalker-jedi
Step 7: Demonstrate your skills
 In a 2019 study by the Society for Human Resource Management, 83 percent of respondents reported difficulty recruiting quality candidates, and 75 percent of those respondents attributed that difficulty to a skills shortage. Now more than ever, finding highly and diversely skilled employees is a top priority for employers.
List your key skills to boost your profile's SEO and paint a holistic picture of your professional abilities. This is also a great opportunity to include skills you didn't have room to highlight on your resume. LinkedIn allows you to share up to 50 skills, and recommends listing at least five, but don't go overboard. Only display skills you can demonstrate with confidence when asked.
Consider using LinkedIn's Skills Assessments feature; this tool allows you to showcase your knowledge of the skills on your profile by completing assessments specific to those skills. You can also ask your peers for skill endorsements, which helps strengthen your credibility. And, if you're job searching, it's helpful to look for commonalities of required/preferred skills in job postings and display those in your profile.
Step 8: Share your Accomplishments
According to LinkedIn, only 35% of professionals feel confident describing their professional achievements. This section gives you the perfect place to show them off! LinkedIn Accomplishments fall under the following categories:
Publications: this could include academic articles, professional or industry media or articles in which you've been interviewed as a subject matter expert.
Patents: showcase your innovative achievements by including any patents you've obtained.
Courses: this includes anything from continuous education courses to professional certification classes.
Projects: share projects that demonstrate desirable skills, problem solving abilities or implementation of new technologies and strategies.
Honors & Awards: any academic or professional award or recognition you've received throughout your career.
Languages: as a best practice, only list languages you speak fluently.
Organizations: share any professional organizations you belong to, especially if you serve in a leadership role.
Step 9: Ask for Recommendations
 Other LinkedIn members write recommendations to recognize or praise a colleague, business partner or student. Viewers of your profile often look to your recommendations to see what others think about you and your work. You may ask for recommendations from past or present colleagues, managers, or clients; if you are a student or recent grad, ask your professors, supervisors, mentors or peers.
Advanced tips to leverage your LinkedIn profile to your competitive advantage
Use hashtags: Using hashtags will make the content you post more visible and can connect you with others with similar interests and goals.
Join LinkedIn Groups: LinkedIn Groups are spaces in which professionals in the same field or with common interests can share content, discuss industry news and insights and view and post open positions.
Ready to get started?
Click here to download our printable LinkedIn Profile Optimization Checklist to make sure you're on the right track.