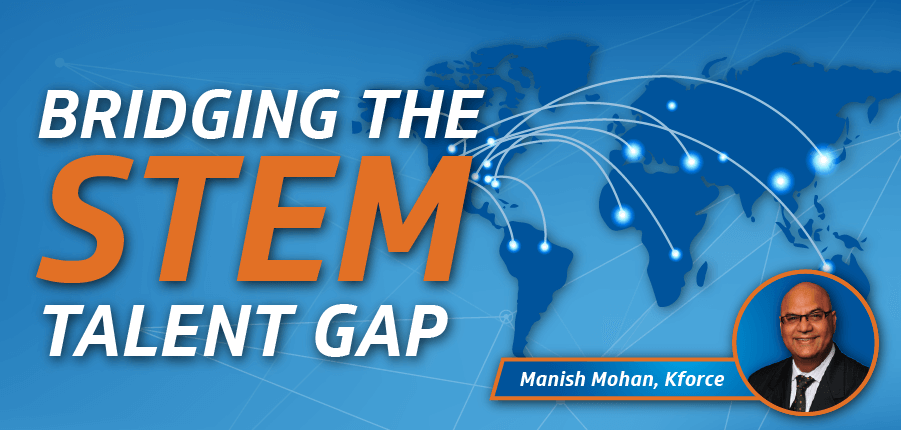 PUBLISHED AUGUST 14, 2017
How International Talent Solutions Can Fix the Growing STEM Talent Gap
By the year 2025, there will be 3.5 million STEM jobs, according to the National Association of Manufacturing and Deloitte. Despite future projections, there is a vast talent gap, which may cause as many as 2 million of these jobs to go unfilled.
 

It appears the need for STEM talent has never been more critical. There are more STEM jobs today than there are applicants. Our country isn't producing enough talent to fill these positions.

— Manish Mohan, Kforce Chief Global Talent Officer
According to Mohan, companies on the hunt for domestic STEM workers are often challenged with talent scarcity. Even when the right resource is found, retaining these professionals for more than two years is rare. With the demand for these skills rising exponentially, there is an increasing need for hiring international talent in America.
Fueling innovation
The current high-tech unemployment rate is negative with emerging skills such as artificial intelligence and machine learning in high demand. As these technological advancements continue to improve our lives, there is a growing, insatiable desire for innovation. In this globalized, on-demand economy, consumers want technology and convenience at their fingertips.
"Leveraging foreign talent is helping run the technology engine of this country," Mohan added. Foreign workers are fueling the economy and innovation in significant ways. International talent is making waves in the high-tech space, with 50 out of 91 startups having at least one foreign founder, according to a National Foundation for American Policy study.

Among foreign workers who have migrated to the U.S., many familiar names have transformed the STEM space, including Elon Musk (PayPal, Tesla, Space X), Jerry Yang (Yahoo), Sergey Brin (Google) and Garrett Camp (Uber).
Foreign talent also brings an influx of diverse knowledge and brilliant ideas to American shores, according to Mohan. "In every country, there are innovations that fix local problems. When foreign workers come here, they bring those solutions that also apply to American problems."
Closing the STEM gap
Companies have already embraced the idea of hiring international talent as a fix to the widening STEM talent gap. For many businesses, it's not just about hiring across borders to fill a void. It's about finding the best skills for the job.
 

The talent that comes here is highly qualified and highly entrepreneurial. They are motivated to work hard and prove themselves. That's the advantage.

— Manish Mohan
Foreign workers represent a goldmine of available talent waiting to be unearthed. In fact, international students are one of the country's top resources for STEM talent. Students with temporary visas enrolled at American institutions make up a significant portion of advanced degrees in science and engineering—disciplines renowned for furthering innovation and economic prosperity.
These graduates add tremendous value to companies throughout the United States with their contributions. "When asked, firms with a significant number of foreign workers stated that the value add is immense. It's not just providing a competitive advantage; it's also developing innovations that are a source of value creation for America," Mohan described.
In 2018, 419,637 foreign nationals from India, China, Philippines and other countries were working alongside American workers under the H1B visa, according to the USCIS.

"If you visit the campuses of major technology companies, they're like a mini United Nations. It's very interesting to see how these successful firms have approached the problem of talent shortages," Mohan continued.
Emerging challenges in hiring global talent
While hiring international talent appears to be a quick solution to shrinking the STEM talent gap, there is a unique set of challenges in recruiting this promising demographic. Complex federal regulations and government red tape often add long timelines and additional cost to this talent acquisition.
Employers sometimes have trouble when complying with government regulations. "Some companies may be unequipped to handle the rigors of the H1B visa application process. When clients work with reputable staffing and consulting firms, they are guaranteed quality work backed by years of experience," Mohan said.
According to Envoy Global's 2019 Immigration Trends Report, nearly half of employers report the visa process has become more difficult over the past five years.

"Our clients come to us because they cannot find resources on their own. However, we have access to the best STEM talent across the globe," Mohan explained.
 A brand leader in International Talent Solutions
Kforce is one of the top companies for visa sponsorship and approvals, and continues to lead the way in the foreign talent landscape. According to a Staffing Industry Analysts article by Mohan, "Because Kforce follows a very thorough and compliant application process—dotting every i and crossing every t—we have a near-perfect visa approval rate. This data point is even more significant in an industry where 30% of visa denials are the norm!"
Established in 2000, we became one of the first staffing firms to create a value proposition for the underserved demographic of foreign talent, earning the trust of STEM professionals throughout the nation. Since then, our foreign-born workforce has increased multifold, with consultants representing more than 30 countries.
Over the past 18 years, our firm has also successfully sponsored over 20,000 visas enabling our customers to achieve their business goals and meet the increasing demand for STEM talent.
 

I was very impressed by the tenacity and long hours that Kforce put into this assignment. They gave us a comfort level in knowing that we would meet our targets, and we did! They were easy to work with, friendly and kept us updated each step of the way.

— Vice President of HR, Kforce Client
Leveraging Kforce for your business needs
As the STEM shortage persists, companies can continue to drive innovation by accessing untapped talent pools of highly-skilled workers. Whether it's implementing a software project, engineering a prototype or developing a new application, international talent complements American resources.
If you're looking for foreign talent to meet your workforce needs, keep your projects on track and diversify your talent acquisition strategy, contact our International Talent Solutions team today. With over 20 years of experience in executing international talent acquisition, we can help your business find quality STEM experts, securing your competitive edge.