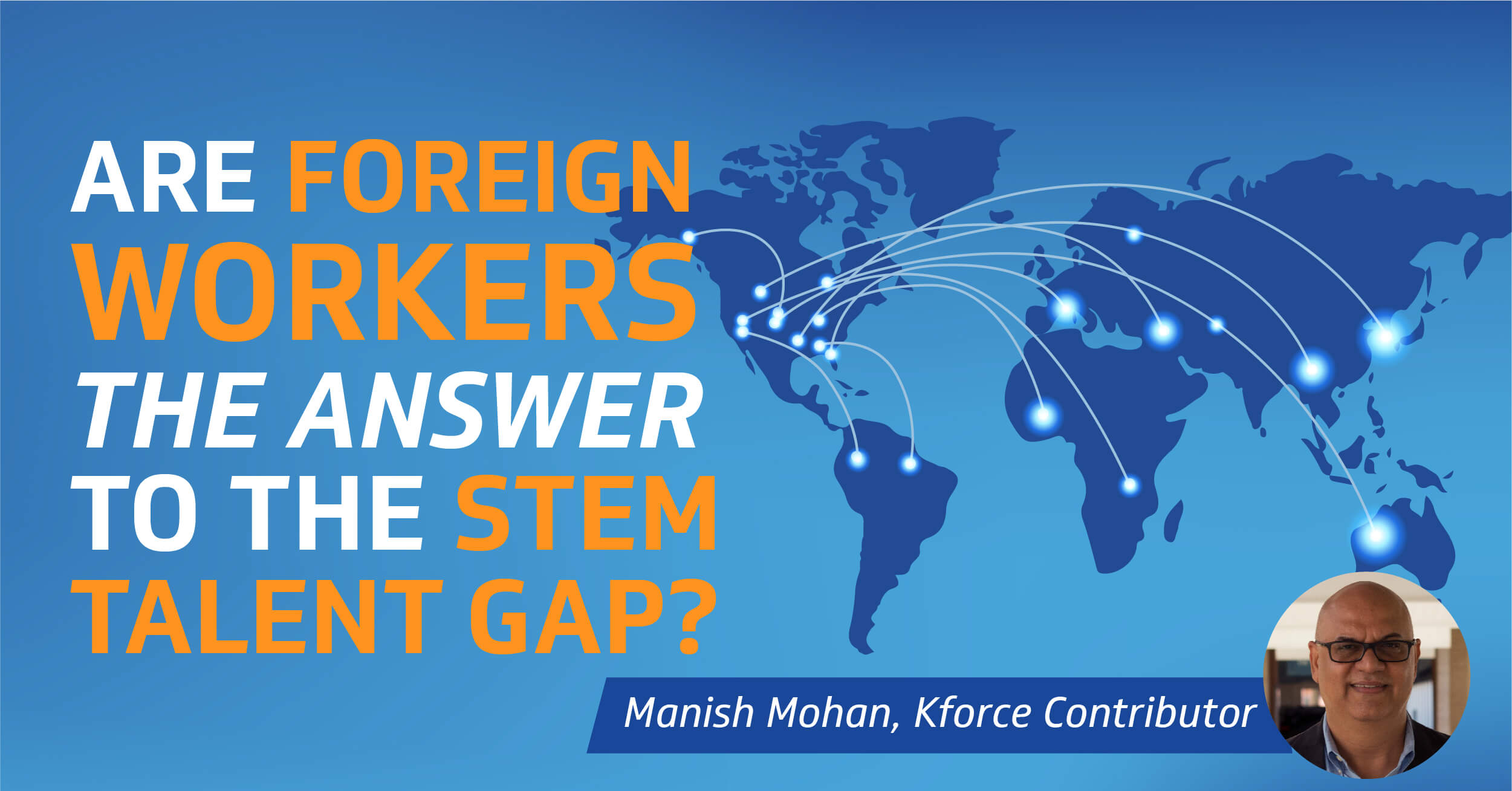 How International Talent Can Fix the Growing STEM Talent Gap
As technological advancements continue to improve our lives, there is a growing, insatiable demand for innovation. In this globalized, on-demand economy, consumers want technology and convenience at their fingertips.
As a result, the need for STEM workers is increasing with no signs of slowing down anytime soon.
STEM jobs are projected to grow by 12.5 percent from 2014 to 2024, according to the Bureau of Labor and Statistics. Despite future projections, there is a huge talent gap occurring in the science and engineering space within the U.S.
 "It appears the need for STEM talent has never been more critical," says Manish Mohan, Kforce Group President of International Talent Solutions. "In certain cities, this scarcity is imposing limitations on economic growth."
Nearly 1 out of 4 science and engineering firms report difficulty in hiring, per the New American Economy.

While STEM enrollment steadily increases in universities, American employers are still struggling to satisfy the demand in this space. Although the U.S. added 230,246 STEM jobs during 2014 and 2015, only 30,835 STEM graduates entered the workforce, the 2016 U.S. News/Raytheon STEM Index reports.

Surprisingly, there is a simple solution. "To fill this immediate gap, we should consider recruiting international talent," Mohan said.
Foreign workers may represent a goldmine of available talent waiting to be unearthed. In fact, students with temporary visas enrolled at American institutions make up a significant portion of advanced degrees in science and engineering, disciplines renowned for furthering innovation and economic prosperity.
International students are one of the country's top resources for STEM talent. The National Science Foundation states that approximately 50 percent of all STEM graduates at U.S. colleges are international students. When employed in the U.S, these graduates add tremendous value to the workplace through their contributions.
"When asked, firms with a significant number of foreign workers stated that the value add is immense," said Mohan. "It's not just providing a competitive advantage; it's also developing innovations that are a source of value creation for America." 

Companies have already embraced the idea of hiring international talent as a fix to the widening STEM talent gap. For many businesses, it's not just about hiring across borders to fill a void. It's about finding the best skill sets, regardless of nationality.
"If you visit the campuses of major technology companies, they're like a mini United Nations," said Mohan. "You will see people from India, China, Philippines and other countries working alongside American workers. It's very interesting to see how these successful firms have approached the problem of talent shortages."
Recent studies report that highly skilled foreign workers are fueling the economy and innovation in significant ways. For every international student who graduates from a U.S. university with an advanced degree, that stays and works in the U.S, there is an average creation of 2.62 American jobs.
Foreign workers are also making waves in the high-tech space, according to a Kauffman study. They have co-founded 1 out of 4 tech startups across the U.S and over 50 percent of the startups in Silicon Valley.

Among foreign workers who have migrated to the U.S, many familiar names have transformed the STEM space, including Elon Musk (PayPal, Tesla, Space X), Jerry Yang (Yahoo) and Sergey Brin (Google).
"The talent that comes here is highly qualified and highly entrepreneurial," Mohan said. "They are motivated to work hard and prove themselves...That's the advantage."
Foreign talent also brings an influx of diverse knowledge and brilliant ideas to American shores, according to Mohan.
"In every country, there are innovations that fix local problems. When these people come here, they bring solutions that also apply to American problems."

While hiring this talent appears to be a quick solution to shrinking the STEM talent gap, there is a unique set of challenges in recruiting this promising demographic. Complex federal regulations and navigating through the government red tape, often adds long timelines and cost to this talent acquisition.
Employers sometimes have trouble when complying with the government regulations. "Some companies either don't know what to do, or they cut corners," Mohan said. "When clients work with reputable staffing and consulting firms, they are guaranteed quality work backed by years of experience."
Employers in a 2016 Immigration Metrics Survey conducted by the Council for Global Immigration highlighted challenges when accessing foreign talent. Seventy-four percent of respondents stated the "ability to obtain work visas in a timely, predictable and flexible manner is critical to their organization's business objectives." 

"Speed is critical," Mohan said. "Our clients come to us because they cannot find resources on their own. They need resources ASAP."
When hiring international talent, it's critical for organizations to have access to a trusted partner and a global network prepared to assist with a variety of solutions to drive their bottom line, ensuring scalability, flexibility and employee retention.
As the STEM shortage persists, companies can continue to drive innovation by accessing untapped talent pools of highly-skilled workers. Whether it's implementing a software project, engineering a prototype or developing a new application - international talent complements American resources.
 *DISCLAIMER: Opinions of Kforce contributors are their own.