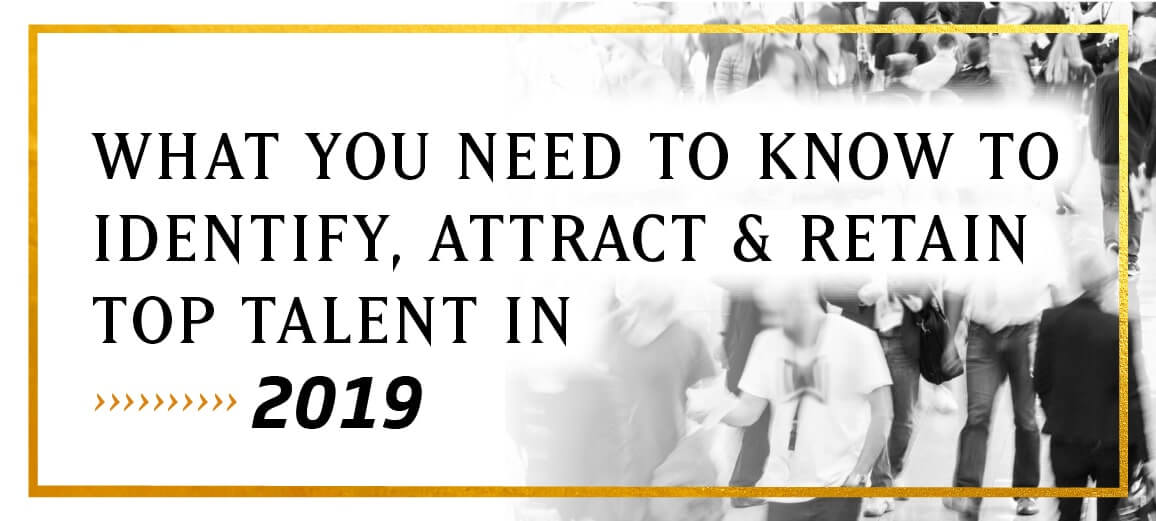 Recruiting Trends to Implement in 2019
Effective talent acquisition and retention strategies can make or break an organization's ability to innovate and stay ahead of their competition. It's essential that organizations stay on top of the latest trends and technologies impacting recruiting, talent management and employee retention.
In 2018, we covered the top IT talent market drivers transforming the talent landscape, from cybersecurity to autonomous vehicles and more. As 2019 approaches, it's that time once again to start building out talent acquisition strategies for the new year.
The race for talent continues, and that's why we've compiled the best recruitment tips and words of wisdom from Kforce talent experts on how to identify, attract and retain employees in 2019.

In a sea of countless resumes and thousands of promising candidates, finding the perfect candidate for your role can often feel like finding a needle in a haystack.
Reeling in the ideal candidate from a vast ocean of applicants requires great thought, recruitment strategies and effort. A prospective employee's abilities, experience and impact must be weighed cautiously and critically to ensure the right candidate selection. If not, a bad hire can result in negative consequences including project delays, decreased morale and costly employee turnover.
To make the ultimate catch when figuring out how to find the right employees for your business, consider the following steps:
Know what skills you need
Before seeking out candidates, it's critical to establish the essential skills necessary for your position. When creating your skill requirements, think of what experiences—alongside hard and soft skill sets—an individual might need to be successful in your role.
For hard skills, consider what technology proficiencies and quantifiable abilities will make an impact on your team or initiative. Will a senior project manager help you effectively plan and execute your timely multi-department project across your company? Could an additional software engineer take your online business and customer experience to the next level?
Hard skills: specific, learned abilities that can be quantified, such as typing, writing, math, reading and the ability to use technology.
While hard skills are the foundation of many roles, hiring managers shouldn't forget that soft skills also define a candidate. Things like interpersonal communication and grit aren't taught in school, but skills like these are increasingly important to employers wanting to remain competitive both inside and outside the workplace.
Soft skills: intangible and harder to quantify abilities, such as emotional intelligence, organization, attitude and communication.
"When you think of in-demand soft skills, words like critical thinking, relationship building, innovation, creativity, storytelling, executive presence, emotional intelligence, empathy, leadership, mentorship and the ability to impact change come to mind," said Sandy Merein, Kforce Business Partner Vice President.

Now more than ever, the presence of soft skills enables effective leadership and high performance across companies.
"These skills aren't simply nice to have but are critical to driving success and strategy within an organization," Merein added.
Assess culture fit
The right set of hard and soft skills is not the only determining factor on whether your candidate will make a long-term contribution to your organization. Your new hire should be a good fit for both the role he or she will take and also for your company's culture.  
"Culture fit is about more than just getting along with your new colleagues in the office," said Jessica Schwaller, Kforce Director of Human Resources. "At the interview stage, we encourage leaders to be transparent about roles, teams and office culture. Providing open and honest insight into what candidates can expect allows them to assess if an opportunity is a good fit for them." 
Companies should remember that while they're conducting interviews, candidates are also interviewing them as a potential employer.
Consequently, hiring managers should solicit examples and true stories from candidates about how they have worked with peers and management in prior roles. Understanding how they problem solve through challenging situations, persevere through change and prefer to interact with others will give you great insight into their overall style and cultural fit.
Once you've established what a candidate's potential impact would be on your team, employers should additionally ensure prospective employees can support objectives within an organization.
Align with your industry and initiatives
Kforce Solutions Director Tyson Simon reports that alongside culture fit and skill sets, employers should also consider how a candidate's collective potential aligns with a company's industry and initiatives.
"Candidates in today's market must demonstrate characteristics that align with the technology trends and business conditions impacting the employer," said Simon. "The major trends sweeping all industries are focused on market disruption, innovation, Agile, DevOps and digital transformation."
Placing more emphasis on initiatives like digital transformation requires a myriad of skill sets to bring down barriers between the front, middle and back offices within organizations.
"This level of transformation requires a spectrum of expertise and strategic talent acquisition to plan, execute and optimize the overall objectives," Simon said.
Here are a few positions that can help an organization achieve their goals:
Strategists
Innovation leaders
User experience experts
Change managers
Technologists
Efficiency experts
Data and analysts and scientists
Marketers
Identifying the right talent is the essential first step of a successful talent acquisition strategy. The second step? Implementing innovative strategies for attracting your target candidates.

Today's candidates have high expectations for how prospective employers should interact with them. To win the hearts of today's job seeker, talent acquisition teams must implement innovative digital strategies, such as content marketing, email marketing, SEO, pay-per-click advertising, social media and employee advocacy.
"The line between recruiting and marketing will continue to blur in the foreseeable future as the digital and talent acquisition landscapes evolve," said Karissa Sachs, Kforce Vice President of Digital Strategy. "A one-size-fits-all recruitment marketing approach will no longer be sufficient as the talent acquisition space becomes increasingly more sophisticated and competitive."
Talent expects a personalized candidate experience
We are used to a personalized shopping experience and interaction from brands in real-time. From custom product suggestions on Amazon to immediate customer service on social media, we expect to get what we want, when we want it. This expectation is no different for job candidates and potential employers.
"In-demand candidates are beginning to expect a unique and personalized recruiting approach," explained Sachs. "This means that recruitment will have to evolve from a transaction-driven activity to a relationship-building process with an emphasis on providing a highly customized candidate experience." 
Solicit feedback on your candidate experience
Companies that understand the value of soliciting feedback about their candidate experience, know how to quantify and measure it—and perhaps most importantly, to frame their strategy around those insights—will beat their competition in the war for talent.
To inspire continued loyalty and elevate your employer brand reputation, Kforce Director of Consultant Care Shari Locascio reports that it's critical to proactively and frequently solicit feedback.
"Kforce receives quantifiable metrics via our partnership with Inavero that shape our candidate experience. To ensure we are providing world-class service and attracting top talent, we know how important it is to capture the voice of our people—especially our consultants," said Locascio. "The feedback we collect through our survey program provides us real-time data that is measurable and actionable."
Using tools that produce valuable feedback enables organizations to identify areas of improvement throughout the candidate experience, allowing them to strategize a plan to become an employer of choice.
Persona-based recruitment is becoming the norm
So, you've gathered feedback on your candidate experience. Now, it's time to attract your ideal candidate by understanding their employer needs, decision drivers, role essentials and desired career path.
Similar to how marketers use buyer personas as a representation of a business' ideal customers, recruiters and talent acquisition professionals can create candidate personas to develop a strategy focused on exactly who you need to hire.

"From there, a highly targeted recruiting strategy can be developed to identify, recruit and motivate these individuals," Sachs explained. "What type of content will best resonate with them? How can the job description be optimized to increase application conversion rate? What does their digital footprint look like so that you know where to advertise?"
Technology is becoming the differentiator
"If you're not leveraging technology and innovation in your talent acquisition strategy, you risk being at a competitive disadvantage," Sachs said. "Pixels, chatbots, AI—oh my! In theory, it's quite simple; how can you get in front of the right candidates, at the right time, with the right message and make it easy for them to apply? Technology will continue to answer this question."
Content: your competitive advantage
At the heart of any successful recruitment marketing strategy is content that resonates with your candidate personas.
"Content has the power to help potential candidates decide whether or not they are a fit for your company," said Allison Kruse, Kforce Director of Content and Social Media. "Candidates are savvy internet researchers and use a number of sources when searching for jobs and evaluating potential employers."
"By strategically creating and curating content that maps to every stage of the candidate journey, you can answer their questions, provide an inside view into your organization, tell true stories and more."
"Companies with a competitive advantage are sharing compelling content (not just posting jobs) that adds value—including why working at their organization is different than working at similar companies, which helps guide a candidate's decision to apply or accept an offer," Kruse explained. "Content can make or break your talent attraction strategy."
Employee advocacy empowers everyone to recruit
Gone are the days when companies could solely rely on their marketing and PR teams to build brand awareness, generate leads and attract and engage with candidates. The most impactful way to get your content in front of target candidates is by empowering and mobilizing your employees to serve as brand ambassadors.
"To expand your social footprint and get your employer brand in front of talent, you need to mobilize your employees into an army of brand ambassadors," said Kruse. Employee advocacy programs make it easy for employees to be brand ambassadors by consistently delivering content to them in a format that is easy for them to share with their networks. "When your employees share content with their networks, they are shaping the perception others have about you as an employer. Plus, not only does a successful employee advocacy program exponentially increase your company's digital footprint, the content itself will perform better because people tend to trust their peers over brands."

Companies that can get potential candidates to know, like and ultimately trust them will beat their competition when recruiting top talent.
"Employee advocacy programs give all employees at your company a voice, empowering them to become 'recruiters' as they share their stories about working at your company," added Kruse.
Attracting talent with technology, content, personas, employee advocacy and an exceptional candidate experience can make a tremendous difference in your recruitment strategy. However, to make a long-term impact within your organization, companies should also focus on what it takes to retain top talent.
Once you've hired your target candidate, don't just stop there. Effective employee retention strategies involve supporting the entirety of the candidate journey through the areas of focus outlined below.
Training and development
Making training and development a priority is one of the top ways to not only enhance the knowledge and production of employees but also reduce overall employee turnover. Ninety-four percent of employees would stay at a company longer if it invested in their careers, according to LinkedIn's 2018 Workforce Learning Report.
Kforce Director of Training and Development Ashley Ehlinger stressed the importance of investing in your employees both personally and professionally.
"Managers must ensure that there is an investment strategy aligned to training and development priorities. This can come through resources such as enhanced learning management and enablement tools, data analytics, surveys and more," described Ehlinger.

Leadership involvement is also a vital component in the candidate journey for employees. It is critical that managers have conversations with their employees regularly to assist them in creating a personalized development experience that is aligned with their interests and goals.
"A career progression path should include areas that leaders identify for growth. The path should be properly guided with structured milestones and resources to support their development path," continued Ehlinger.
Learning new skills
Presenting opportunities for learning new skills is also an effective employee retention strategy that allows employees to thrive in their careers and grow within a company.
"Candidates are chosen because of their inquisitive minds and ability to embrace learning. With the current technology landscape changing so rapidly, it is crucial that employees use this mindset to continue to adapt, change and evolve" said Brandon Prideaux, Kforce Vice President of Client Development.
Many experts believe that the primary reason employees are held back from learning is because they don't have time. To minimize employee turnover, it is critical that leadership provides an atmosphere for learning. This can be achieved by sharing learning activities and incorporating skill development into an employee's daily role.

In fact, for 86 percent of millennials, offering career training and development would keep them from leaving their current position, according to Bridge survey data.
"Highlight what an employee has completed in terms of training and certification, but more importantly, allow them to share their experiences, key takeaways and next steps to encourage the behavior for themselves and others," Ehlinger recommended.
Embracing AI to eliminate mundane tasks          
With 84 percent of U.S. office workers saying technology frees them up from administrative activities, the rise of artificial intelligence is helping companies become more productive.
Artificial intelligence gives employees the opportunity to work on more value-added tasks that require emotional intelligence, cognitive flexibility and creativity. 
In the talent acquisition industry, AI is empowering recruiters to focus on improving the candidate experience. Predictive AI tools help retain employees by facilitating effective retention strategies centered on human intuition and meaningful relationships.
"AI will never replace human recruiters in our industry, but it will enable recruiters to spend more 'human' time with candidates," said Denis Edwards, Kforce Chief Information Officer.
Companies must evolve alongside the current demands of candidates and trending technologies to remain competitive in today's industry. In this day and age, redefining talent management strategies will be critical to organizational success.
Employers leading the race for talent in 2019 will create value throughout the candidate journey to effectively identify, attract and retain top talent.