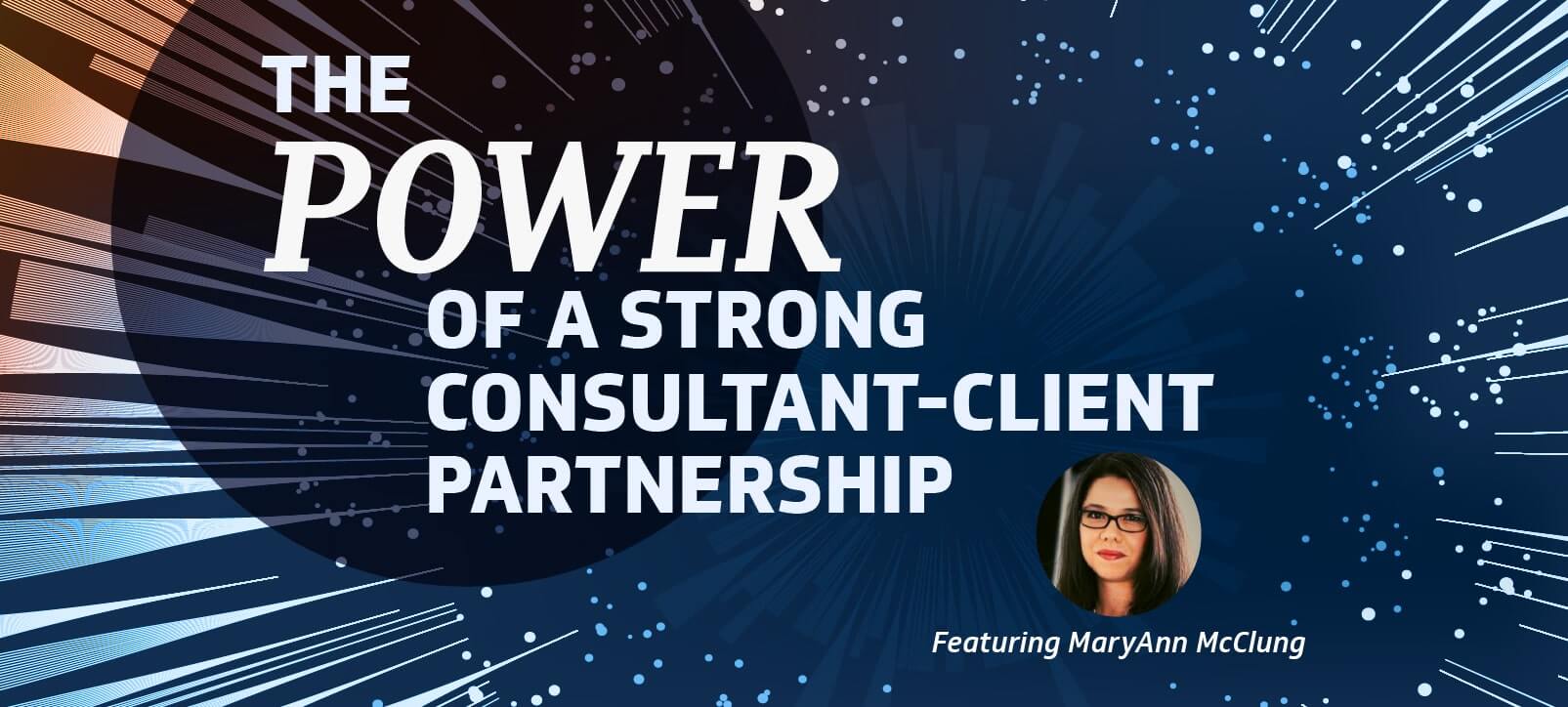 Bridging the Gap Between Clients and Consultants
Many people choose not to take on gig work because they fear they will be treated as an outsider.
You may worry that since internal employees will know you are there for a set amount of time, they may not share as much information with you. You fear you'll be left out of the inner circle, ignored and alone on a deserted island. Your only hope for interaction on this lonely island is finding a volleyball, painting a face on it and giving it a name.
For many firms, this may be true. However, when MaryAnn McClung started working with Kforce, she cast away that myth.
After working for Kforce for nearly 2 years, MaryAnn feels the strength of a consultant-client relationship builds on the strength of the Kforce-client relationship. "As consultants, we are not removed or treated as outsiders. We work closely within the client space in partnership with client teams. I identify equally with both Kforce and the client I am working with and feel a sense of belonging to both."
She explains that Kforce proactively encourages consultants to embed themselves in the client's culture while still supporting consultants through strong account management teams and a growing consultant culture.

"It's easy to become a lone ranger when you don't join as part of a consultant team," says MaryAnn. "But as a Kforce business partner, you are encouraged to be a part of both the client and consulting culture."
MaryAnn was first introduced to Kforce while working on the digital transformation team of a multinational conglomerate where Kforce was a primary partner in the consulting space. When her former firm's client relationship struggled, she chose to pursue consulting elsewhere until her non-compete ended. This allowed her to return to the same client with what she felt was the stronger partner—Kforce.
"I chose Kforce as my consulting firm because of their presence as a great consulting partner and their reputation for being so closely engaged with their client's long-term needs. It's been incredible returning to Kforce where I play a consultative role in the larger strategy and make a significant impact on the culture here," says MaryAnn.
RELATED: Why I love Being a Kforce Consultant
As a Kforce business partner, MaryAnn is encouraged to collaborate across the entire organization, not just within her team.
"You might be hired for a very specific role—but the client exposure you get extends well beyond that organization and that function."

Because of Kforce, MaryAnn has had the opportunity to present innovative ideas to leadership and turn them into a reality. "That's not the kind of support you typically get with an employer," describes MaryAnn.
"Kforce is so committed to their clients," MaryAnn continues. "You really feel like it's a strong, long-term relationship there, not only in day-to-day activities."
To MaryAnn, her connection with Kforce extends beyond business and truly embodies Kforce's mission of Uniting Professionals To Achieve Success Through Lasting Personal Relationships℠.
For instance, when she started a client team for the American Heart Association's Heart Walk, the very first donor was Kforce Client Relations Partner Rob Cornwell.
"He wasn't there because he was trying to turn it into a business development opportunity," explains MaryAnn. "He was there because he was very interested and heavily engaged. That mentality is visible throughout the entire Kforce team."

In addition, Kforce further supported MaryAnn in her business partner journey after learning about her discussion with her client's chairman and CEO about Think Weekends—a personal retreat to reflect on your well-being and make a series of decisions for the upcoming year. MaryAnn immediately fell in love with the concept and decided to give it a try.
After embarking on a series of Think Weekends for the past 3 years, MaryAnn was asked by the client to present the concept across multiple internal groups and leaders. At the same time, Kforce leadership expressed an interest, so Rob Cornwell encouraged MaryAnn to publish a LinkedIn article featuring the concept and the inspiration behind the trip to reach a broader audience. "The reason the article is published is because of our Kforce leadership and their support of the concept."
Now, MaryAnn takes any opportunity she can to inspire consultants to try new things and find the direction they want to go in.
"At the end of the day, it's fascinating to see how many different Kforce consultants we have within our account team who really enjoy what they've done and have been so excited to go all in," says MaryAnn. "If there's anything I can do to help to inspire that and bring more people to the table, I would be happy to do that."
And to Kforce consultants, MaryAnn has the following words of wisdom to share.
1. Take the path less traveled.
"Don't always follow the path ahead. Be willing to take the path less traveled with an open mind. Taking risks often lead you to new experiences that can broaden your perspective, whether its opening your eyes to new possibilities or gaining a higher-level understanding of how the business runs."
2. Remember that you are not alone.
"As business partners, we are often brought in to provide external best practices and ideas, but change can be difficult when imposed externally. Get heavily engaged within your company's culture and approach change from an insider's perspective."
3. Be comfortable being uncomfortable.
"Push yourself. Being able to have good relationships with leaders at your client site is invaluable. Find a great mentor with whom you can identify to help guide you in the next part of your career."
4. Plan checkpoints along the way to monitor progress.
"As a business partner, we tend to dive in head first, but you need checkpoints along the way to determine if you're going down the right path or if you need to reset. Take a step back to think about what's important to your client, your career or you personally."
5. Take time to reflect.
"Remember to pause for a moment to reflect on how far you've come and consider what you want to do next. See if there's a gap in your role or the way that you interact with others that needs to be filled."