Crafting a Great Virtual Onboarding Program that Excites New Hires & Increases Retention
The onset of the global coronavirus pandemic forced many employers around the world to rethink the way business gets done. With millions of people settling into new routines of remote work, long-held norms relating to where and how we work began to change. Now, many employers are encountering a new challenge – creating an engaging and effective virtual onboarding program for new employees starting in either a completely remote or hybrid work environment. 
When Kforce made the decision to move to a fully remote workforce at the start of the pandemic, we needed an immediate solution that would enable us to complete the entire onboarding process remotely. "We were told on March 17th we would be working from home and wouldn't have access to the office. I had an orientation scheduled to occur the next day," remembered Kforce Internal Staffing Operations Specialist Addie Ervin, "so we had no choice but to complete the process virtually." 
"We were fortunate that Kforce was ahead of the game," Ervin said. She went on to explain that they were already working from a remote setting when it came to certain aspects of the onboarding process. "HR paperwork, background checks and communications with new hires were all already being handled virtually, but we were completing I9 forms and orientations in office." Kforce was also already using Microsoft Teams prior to the pandemic, so it was "really important to ensure we were leveraging technology in the right way," she added. 
We learned a lot through our own journey of creating and optimizing our virtual onboarding program. Here, we share those lessons with you.
Why is the onboarding process important? 
A well-designed onboarding process is important to the long-term success of every organization, regardless of whether the process takes place virtually or in-office. Your onboarding process "is the first impression your company gets to make with its new hires," Ervin says, "if that impression is bad, that's going to be the lens from which they perceive every other interaction." 
If you're not providing a great on-boarding experience, it's impacting retention regardless of how great everything else is. That first impression is lasting.

- Addie Ervin, Internal Staffing Operations Specialist, Kforce
Ervin says, "if you're not creating great experiences for new hires, particularly in a competitive market like we have now, you're most likely going to lose that candidate to someone else." Research agrees. A survey conducted by Glassdoor found that a great employee onboarding experience improves retention by 82% and increases productivity by over 70%. 
Virtual onboarding challenges 
There are several unique challenges associated with creating an engaging and effective virtual onboarding program. To begin with, you will need to find a solution that allows you to complete new-hire forms, such as the I9, without compromising compliance with legal and regulatory requirements.  
You will also need to ensure employees have access to the tools, technology and resources they need to be successful. Avoiding new hire attrition can be a challenge even in the traditional onboarding process. The last thing you want is to lose new talent before they even have a chance to start adding value to your company. With a virtual onboarding process, you need to find solutions that enable remote workers to perform their work as efficiently as those who work in the office. 
"Inclusion of remote workers is a significant challenge that needs to be taken into consideration," says Jay Astell, Kforce Technology Architect. "People who are remote must feel no different than people who work in the office. Technology tools should be utilized or developed that allow all team members to participate equally, whether they are in person or remote." 
When asked about their previous onboarding experiences in a recent Kforce survey, job seekers who had gone through the onboarding process in a virtual environment identified the following components as the most challenging part of the process: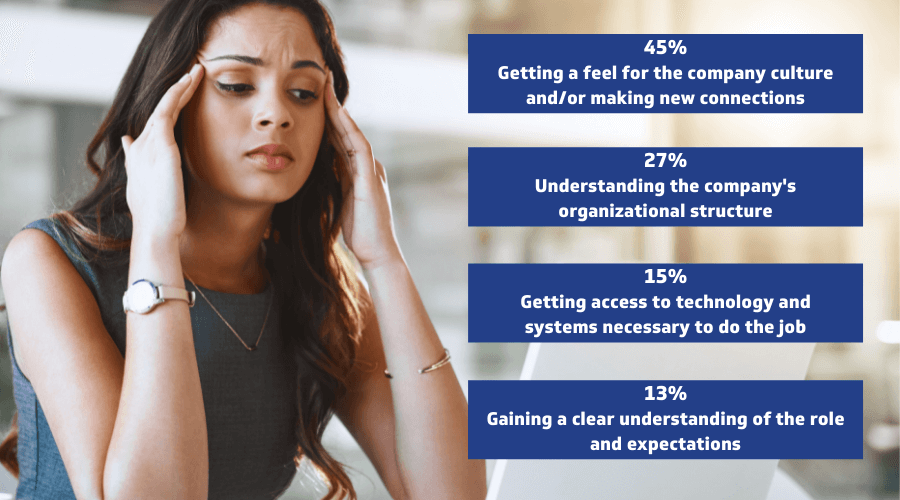 Virtual onboarding best practices 
Here are six steps you can take to create a better virtual onboarding process for new remote - and even hybrid - employees: 
1. Create an easy to navigate pre-hire process
"After a candidate has accepted an offer to start their new position, it's critically important that they understand the employer's expectations for all pre-hire requirements," says Jennifer Cirrito, Senior Vice President of Business Operations at Kforce. This sets your new hires up to successfully onboard and complete all pre-hire requirements before their start of employment. 
"Pre-hire training and compliance requirements should also be easy to navigate and available electronically through a secure platform," she says. Automated solutions and virtual collection methods can help you overcome many of the challenges with securely collecting documentation. Some companies use third-party document collection and eSignature software such as Docusign or PDFfiller, while others use more comprehensive mobile onboarding apps.  
Your company will need to be innovative and creative when it comes to collecting documentation from new hires in a remote setting. All required paperwork should be available electronically to review and sign to make the process for both employer and employee more convenient.

- Jennifer Cirrito, Senior Vice President of Business Operations, Kforce 
"There are many platforms that allow you to present your new hires with a fully automated workflow of all paperwork and documentation that needs to be completed during the onboarding process," says Astell. "These platforms enable a self-service aspect allowing the new hire to complete all paperwork on their own. At Kforce, we use eStaff365, but others in this space include Gusto, BambooHR, Sapling and Zenefits." 
Astell also says "onboarding platforms are not just for enterprise business, as they can support small to enterprise class businesses and readily integrate with Enterprise Resource Planning (ERP) and Applicant Tracking Systems (ATS)". "There are many background check, I9 and training service platforms available online to ensure compliance and reduce employer risk," adds Cirrito. "Having a new hire checklist, so employees can track and monitor progress along the way ensures there are no surprises, an on-time start and compliance with company policies and procedures."
Pro Tip: Use Videoconferences for Authentication Requirements

2. Prepare new hires with the right technology
Ensuring new hires have access to the right tools, software and technology for a remote work setting is a challenge for many employers. You want to "setup for success," says Astell. "All businesses should be using collaboration software, such as Microsoft Teams, Slack and Zoom," he says, adding that there are many other technologies to consider as well.
While some employers expect their new hires to have their own equipment to work with, many organizations are now choosing to provide equipment to their employees. According to Gartner, 70% of businesses are allowing employees to bring home equipment, and 58% have supplied new hardware.
Make sure you are providing the basic equipment you would in an office environment. If docking stations and extra monitors are provided in the office, also provide them to the remote worker, so they can work with the same efficiency.

- Jay Astell, Technology Architect, Kforce
Here are a few additional technologies Astell suggests you consider offering your remote employees:
Mesh Wi-Fi networks: Remote workers may struggle to maintain consistent network conditions throughout their home. It can be refreshing for remote workers to switch their work location, such as taking a meeting from their patio, and installing a mesh Wi-Fi network in their home will improve the consistency of their coverage throughout the house.
USB speakers: It is hard to look natural on a video conference call when wearing a headset. If your employees are going to be on conference calls all day, you can overcome this issue with a USB speaker that includes a microphone. Make sure your choice is compatible with the Universal Communication Format to ensure it will work with various video conferencing providers.
LED based video conferencing lighting kits: If your employees will be on video conferences frequently, having a proper light source to illuminate their face is critical. Dark work areas or light sources placed behind them will cast shadows that make it difficult for people to see their facial expressions. There are many different and very affordable LED based video conferencing lighting kits available on the market that can clamp on to a monitor, work with a cell phone or sit on a desktop that will do the trick.
Virtual whiteboards: Working in a virtual environment has taken away the ease of collaborating on a centralized whiteboard in the office, but there are several different whiteboard apps available to help you overcome this hurdle.
Digital tablets and stylus pens: The virtual whiteboard software does not solve the solution completely, as drawing on whiteboards can be challenging when using a mouse. If your employees will regularly rely on virtual whiteboards for collaboration, a digital tablet and stylus will help make drawing easier.
Once your employees have the right equipment and technology, the challenge becomes ensuring it is set up and configured for the user. One way to overcome this challenge is to create a series of short video tutorials that walk them through step-by-step instructions for setting up, configuring, accessing and using their equipment and software. While video tutorials will help automate some of the process, you should still ensure your employees have someone they can contact for personalized assistance if they encounter problems.
Pro Tip: Send a New Hire Welcome Package

3. Update your approach to orientation and training
You will likely need to adjust your approach to orientation and training to make your processes more interactive and engaging in a virtual workplace. "The pandemic gave us an opportunity to reinvent the orientation process and streamline our approach to create a more individualized experience, Ervin said. Here are a few things you can consider when making changes to your approach:
Break up tasks: Consider allowing more time for administrative onboarding tasks by dividing them up in-between orientation and training sessions. Use short sessions whenever possible and build breaks into the schedule to avoid video fatigue.
Get creative with content delivery: There are several new and emerging technology platforms available to help you evolve your onboarding program into a world-class eLearning experience. Leverage various platforms such as videoconferences, online and mobile learning portals, pre-recorded video tutorials, webinars and online collaboration software to customize content and deliver personalized learning experiences designed to reach more diverse audiences.
Leverage advanced features: Many videoconferencing and collaboration software programs offer advanced features that make sessions more interactive and engaging. For example, Microsoft Teams offers several advanced features such as chat, together mode, reactions, whiteboard, screensharing, breakout rooms, polls, praise, to-do lists and more.
Use prompts: Trainers and speakers can keep their virtual audience engaged by using prompts throughout their sessions. For example, at the beginning of a training session you can use a prompt such as "tell me in the chat what you're most interested in learning about during this session."
Incorporate game-based elements: A great way to make your onboarding experience more engaging is to incorporate game-based elements such as competitions, quizzes, scavenger hunts, icebreakers and other games. Offer rewards, points or badges to keep your new hires excited.
Create a virtual playbook: Your virtual playbook is an online resource center to help employees navigate their remote workplace. Kforce's virtual playbook provides information about working at Kforce and best practices for remote workers.
Kforce's Virtual Playbook includes a section to help new hires get started – from helping get their computers and access set up to providing information about pay, direct deposit, benefits, vacation and time off, creating a new hire workflow in the virtual playbook helps significantly with the onboarding process.

 - Jay Astell, Technology Architect, Kforce
Pro Tip: Create a Virtual Recognition Program

4. Set clear expectations
Put yourself in the place of your new hire and think about the nerves that come with starting a new position. Now imagine facing those unknowns alone and from home. While some companies and employees worked remotely prior to the pandemic, many are experiencing this fully virtual process for the first time. This is particularly true when working with Generation Z who are not only likely experiencing their first remote work experience, but also may be entering the workforce for their first time.
Setting and communicating clear expectations for both the onboarding process and the responsibilities of the role is critical to achieving success in a remote work environment. Begin by creating a structured agenda that tells your new hire what they need to do, establishes deadlines and provides information they need to complete each task (such as links to where they should go and instructions for log-in/access). Plan for downtime by providing self-study items such as essential articles, competitor information, websites and documents.
Pro Tip: Send a New Hire Tip Sheet Before the First Day

5. Make communication a priority
Clear and consistent communication is crucial to helping new hires through the onboarding process and ensuring they are confident and effective in their role. "It's important to ensure you are connecting with them and providing all the information they need to be successful," says Ervin, adding "I always tell my candidates I know it's a lot of information all at once, but I want them to feel comfortable reaching out to me if they have any questions.
It's important that they know your preferred method of communication and have clear expectations about when they should expect a response from you. This way, you can find an appropriate balance between communications and your other daily responsibilities.

- Addie Ervin, Internal Staffing Operations Specialist, Kforce
In an office setting, managers can check-in with new hires simply by stopping by their desk. You can replicate this experience in a virtual workplace by staying connected through videoconferences, email and chat. Recurring one-on-one meetings are great for establishing a clear time to review progress, identify upcoming priorities and offer coaching. But remember to ensure employees know who to contact and how to reach them to address immediate concerns that arise in between these sessions.
Learn More: 6 Ways to Stay Connected with Your Team
Pro Tip: Don't Forget the Social Element

6. Build engagement and connection
Being in a remote workplace can make it difficult to build connections and easily lead to feelings of isolation. Because of this, it is even more important to ensure you are helping your employees build strong connections and maintain engagement.
45% of job seekers who had previously gone through the onboarding experience in a remote environment said getting a feel for company culture and/or making new connections was the most challenging part of the process.
Here are a few ways to help new hires build engagement and connection:
Send new hire welcome emails: Prior to their first day, send an email to the team your new hire will be on to introduce the team to the new member joining them. Ask your new hire to provide you with a few fun facts or to create a video introducing themselves to include in the email. You should also send an email to the new hire welcoming them to the company and their new team. This email can include a welcome message from their manager, team or a company executive.
Help new hires establish strong cross-functional connections: It's equally important to introduce new hires to existing employees who are not on their direct team. This can include employees who work within the same department on different teams or employees who work in different departments that the new hires may need to collaborate with in the future. You can help these connections begin to form by including small-group introduction sessions in your onboarding program schedule.
Assign a cultural ambassador: Assigning an ambassador or buddy program is a great way to help speed up new hire proficiency. However, in a recent Kforce survey 83% of respondents said their current or most recent employer did not offer a buddy or ambassador program. A cultural ambassador or new hire buddy can improve the time it takes for new employees to reach their full potential by helping them find and understand information about benefits, policies, procedures, employee resource groups, volunteer and social activities and more. They can also help new hires connect and engage with other coworkers.
Learn More: Your Guide to Establishing a Successful Virtual Work Environment
Pro Tip: Turn Your Onboarding Experience into an Employer Branding Driver

Closing Thoughts
Creating a great onboarding experience for your new hires has a major impact on keeping them engaged and helping them reach their full potential. Providing your new hires with a memorable hiring and onboarding experience will help you build a strong employer brand, develop and retain top talent and turn your employees into brand ambassadors. Learn from the best practices of others as you build out your company's virtual onboarding program.