PUBLISHED JUNE 26, 2018
Let User Experience be Your Guide When it Comes to Digital Transformation
More and more, we conduct our daily business interactions online. It's never been more critical to offer our customers a seamless digital experience that aligns with their daily lives. 
It's also not surprising that most customers' basic requirement is an optimized user experience across all platforms and devices. User experience is an essential requirement for businesses to survive, especially in the age of the fourth Industrial Revolution. Technology, industry, commerce and communication woven together to drive innovation globally was unimaginable a few years ago.
Today, the business landscape is transforming right before our eyes. Empowered to evaluate their customers' needs, decision makers align their business strategy and their technical capabilities to their customers' desires—crossing the threshold of a digital transformation.
However, some companies struggle to adapt.
How to navigate a digital transformation
I work with many clients that are undergoing a digital transformation. They know what they want, but they have no idea how to get there.
The answer is to hire the right talent, innovate faster, deliver better service and execute an overall strategy that delights the customer so much that they need to share their experience.
This is achieved by intersecting business goals, technology and user needs.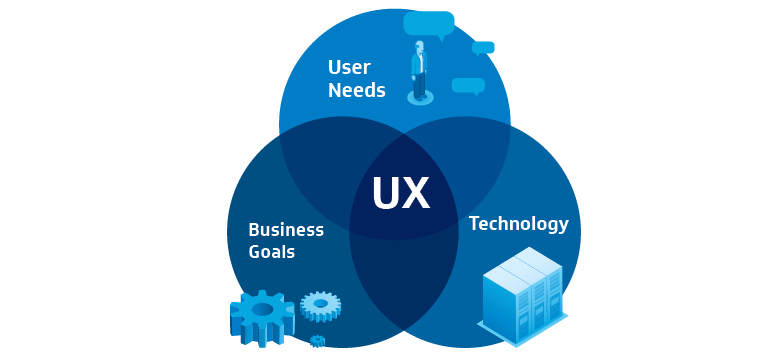 In 10 years, a $10,000 investment in design-centric companies would have yielded returns 228 percent greater than the same investment in the S&P. A study by the Design Management Institute finds that customer-centric companies outperform their competition year after year. It's evident that the design-centric companies have identified viability (business goals), feasibility (technology) and desirability (user needs).
It is my job to identify my client's UX pillar.

Successful outcomes start with the foundation of customer empathy. Today's customer-centric focus is developed by dedicated UX professionals who have the skills and expertise to collect raw data, translate research into impactful use cases and innovate. Some brands have been very successful and make it look easy and fun.
It's challenging to get everyone on the same page when solving problems.
Kforce UX consultants conduct design thinking workshops that drive ideation from the most senior executive to the newest member of the production team. It is a sight to see just how fun and powerful these interactions become, and the innovation is incredible.
Why companies fail at customer experience
So, why do companies struggle to evolve their brand? If I had a penny for every project I've worked on that was impacted by budget, scope creep or arbitrary timelines, I could buy myself a double venti nonfat organic iced vanilla double-shot gingerbread Frappuccino with foam whipped cream double blended from the local coffee shop. That's approximately 520 pennies and a lot of calories.
Most companies understand their technical capabilities, business requirements and customer needs. How they blend these assets to innovate best-in-class products and services is where companies fall short. Too often, UX professionals are handed a laundry list of business and technical requirements and assumptions of what the customer needs. "Make this look pretty for the user. We launch in 2 weeks." This is not an exaggeration. I have 520 pennies to prove it.
The most common misstep is when to get UX involved in the process.

How can technology be scoped and business requirements drafted if the true customer voice has not been heard? How many times have you dined at a restaurant and before you can sit down at the table, your meal is already prepared and waiting for you? Was it customized exactly how you like it? How did the waiter and chef know what you wanted? If you've experienced this, did you like what was prepared? Chances are you did not.
Using design thinking methodology
Companies can transform into an innovation machine by leading by design. Design thinking is a process that uses design principles for solving complex problems. It helps organizations identify opportunities, unlock innovation and improve their businesses. 
Although the name and number of its fundamental principles may vary depending on how you apply them, the essential elements of design thinking always include some variation on the following: researching, defining the problem, ideating, prototyping and iterating.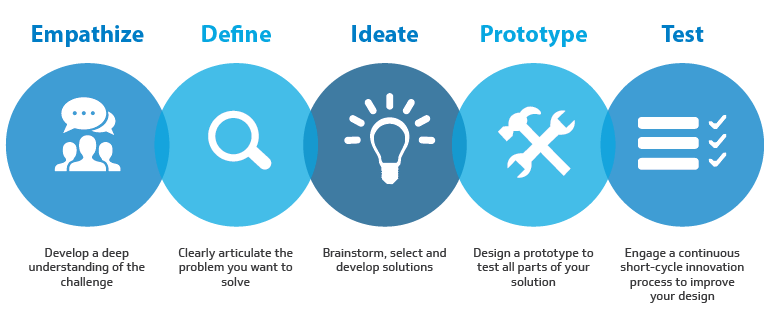 Through quick iterative innovation and design, winning ideas are tested and outcomes are developed. A process that generally takes 6 to 10 months in a waterfall environment is completed in weeks. In this methodology, organizations fail quickly and pivot.
To better understand the benefits, costs and risks associated with design thinking methodologies, check out the figures below from a Forrester survey of 60 executives who have employed design thinking at their organizations to address a variety of challenges:
Product Creation Impact
2x faster time-to-market
75% reduced design time
33% reduced development time
Enterprise Industry Impact
Projects were more successful in meeting user needs, thereby reducing design defects and subsequent rework to save on average $77K per minor project and $153K per major project
Faster time-to-market enabled increased profits from new customers and the higher present value of expected profits
How to get started with design thinking
To jumpstart the design thinking mindset, many companies facilitate design thinking workshops that teach the methods to innovate ideas and concepts. But, it doesn't stop there.
The key to long-term impact is continuing the same framework of innovation no matter the project, digital user experience or business strategy. The only way a company sees a positive outcome is when its culture supports and understands the creative process. Organizations need to know how to apply the tools of design thinking and the different roles required in the innovation process. Most importantly, they should share a compelling vision and build trust.
Glenn Reid who worked with Steve Jobs at NeXT and Apple said, "(Steve) told me once that part of the reason he wanted to be CEO was so that nobody could tell him that he wasn't allowed to participate in the nitty-gritty of product design. He was right there in the middle of it. All of it."
I love what I do, and I love who I serve.