2021 was a year of innovation, unity and unparalleled success. We continued to endure the challenges of the pandemic, but our Kforce family came together and found ways to thrive in this unique setting.
The result was a record year for our company, delivering a firm high of nearly $1.6 billion in revenue. Much of this is attributed to the best-in-class growth of our technology business, where we increased revenue 22% from the previous year. And our earnings per share saw an impressive 35% increase over the same time. These numbers tell a powerful story: our teams are excelling as we focus our efforts on technology and solutions, which allows us to deliver great results to our clients, consultants and investors.
Kforce is eager to build upon this success in 2022 and beyond. We've sharpened our strategic vision over the past decade, divesting lines of business so we can focus on our areas of expertise. Technology talent solutions now account for roughly 85% of our business. Moving forward into 2022, we expect to grow our technology business at least 15% year-over-year while placing an increased focus on higher-skilled positions in all our offerings and enhanced profitability levels. We will continue to refine and elevate our offerings so we can remain a valued strategic partner for the world-class companies and consultants we serve.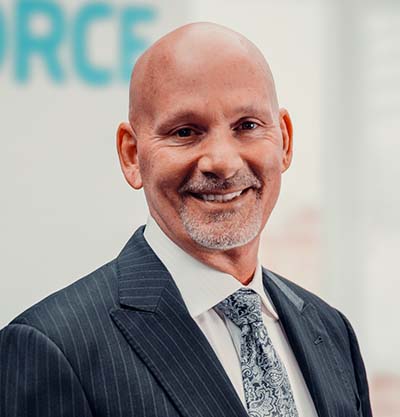 After two years of remote work, we are excited to open our reimagined offices this year. Our office-occasionalSM work model provides our teams with a balance of remote and in-person work that enables their work and personal lives to thrive. The lease on our new headquarters in Midtown Tampa begins in October, and we look forward to making this a model for our 35 other offices nationwide. Our reimagined offices will use cutting-edge technology and state-of-the-art designs to ensure our people are seamlessly connected, regardless of where they log on. We are committed to offering our teams flexibility and choice empowered by trust and technologySM. We believe this will further our ability to capture market share while also positioning Kforce as a destination for top talent.
We look forward to accelerating our progress with diversity, equity and inclusion. In 2021, we further diversified our employee population and our supplier base while enlisting third-party analysis to help identify any potential barrier to equity. We launched a firmwide learning journey with employees participating in  trainings on unconscious bias and emotional intelligence. Moving forward, we will roll out other key programs, such as inclusive leadership training and listening sessions. And our recently formed Diversity Council will provide accountability and diversity of thought for governance and oversight. There is no finish line here. We promise to keep seeking opportunities for growth and investing in an inclusive workforce for all. This mission extends to our external partners, as well, as we further develop our supplier diversity initiatives, increase our spending with diverse partners and expand our network of professionals.
On Jan. 1, I was honored to start my newest role as chief executive officer of Kforce as Dave Dunkel transitioned to chairman. I have been blessed to work side-by-side with Dave for the past 34 years. His leadership established Kforce as a best-in-class staffing and solutions firm, and we are fortunate to have his continued involvement in the strategic aspects of our business. It is now my duty to shepherd our firm through what is sure to be a transformative era. The world is changing rapidly, and we are ready to adapt and grow with it. Relationships remain the heart of what we do. We will continue to put people first, build upon our success and create a bold path forward. The future of Kforce has never been brighter. I look forward to the opportunities that await us.
Sincerely,
Joe Liberatore, President and CEO
About Kforce
Kforce Inc. is a solutions firm that specializes in technology and other professional staffing services. Each year, we provide meaningful opportunities for over 30,000 highly skilled professionals who work with approximately 3,000 clients, including a significant majority of the Fortune 500. At Kforce, our promise is to deliver great results through strategic partnership and knowledge sharing. For more information, please visit our website at kforce.com.
Media Contact
Alexa Rodriguez
Public Relations Supervisor
813.552.1817 | arodriguez3@Kforce.com