92 percent of firm employees say people care about each other at Kforce
Tampa, FL, April 26, 2019 – Kforce has been recognized by Great Place to Work® and Fortune as one of the 2019 Best Workplaces in Consulting and Professional Services. The ranking considered feedback representing over 339,000 employees working at Great Place to Work-Certified organizations in this highly competitive industry.
Rankings are based on employee feedback and recognize companies who best include all employees. Of Kforce employees surveyed, 95 percent say when you join the company you are made to feel welcome.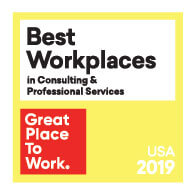 Additionally, 92 percent agree that "people care about each other here."
One employee said, "Kforce cares about the quality of its employees and the quality of the service they provide to customers. They don't operate on the model of a lot of staffing firms where people are disposable—everyone is treated as a valuable member of the team."
"Creating a workplace where our employees love what they do is a top priority," said Kforce Senior Vice President of Human Resources Greg Glass. "To achieve this, we are constantly evaluating the best ways to welcome, support and recognize our people."
"Consulting and Professional Services companies operate in some of the most competitive spaces and endure the challenges of unpredictable and rapidly changing markets," said Michael Bush, CEO of Great Place to Work. "The Best Workplaces on this list have invested in the professional development and personal care of their employees; which have become crucial parts of their value proposition that separate them from the competition in recruiting and retaining talent."
The Best Workplaces in Consulting and Professional Services is one of a series of rankings by Great Place to Work and Fortune based on employee feedback from Great Place to Work-Certified™ organizations. Kforce was also ranked as a Best Workplace in Texas 2019.
About Great Place to Work
Great Place to Work® is a global people analytics and consulting firm that helps companies produce better business results by focusing on workplace culture. Powered by more than 30 years of research, Emprising®, its SaaS-enabled survey and analytics platform, gives companies access to the assessments, data, and reporting needed to build a high-trust, high-performance culture. 
About Kforce
Kforce (Nasdaq: KFRC) is a professional staffing services and solutions firm that specializes in the areas of Technology and Finance & Accounting. Each year, our network of over 50 offices and two national recruiting centers provides opportunities for 36,000 highly skilled professionals who work with over 4,000 clients, including 70% of the Fortune 100.
Founded in 1962, our name stands for KNOWLEDGEforce®, which describes the customer-centric Kforce Knowledge Process that delivers high-touch, relationship-driven results backed by progressive technologies. At Kforce, our promise is to deliver great results through strategic partnership and knowledge sharing®. Visit our Newsroom for the latest Kforce news and media resources.
Media Contact
Alexa Rodriguez
Public Relations Supervisor
813.552.1817 | arodriguez3@Kforce.com