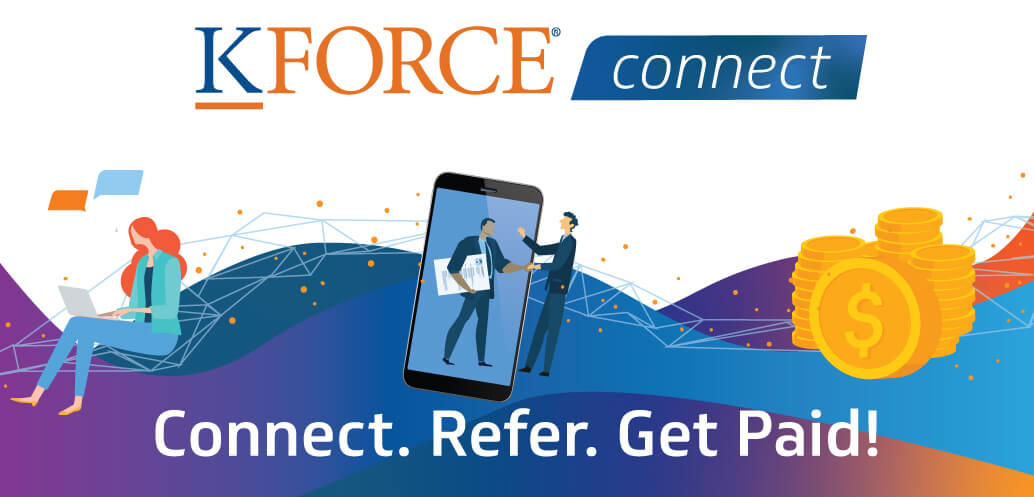 KFORCEconnect Provides a Platform for Users to Connect, Refer and Get Paid
Tampa, FL – May 8, 2019 – Kforce has partnered with WorkLLama, a talent acquisition and workforce management platform, to launch an app-based referral program called KFORCEconnect. The app allows users to easily refer their contacts to open positions and get paid up to $1,000 for successful hires.
"With increasing demand for top talent, we need to meet candidates where they're conducting their job search, which is often on a mobile device and through their professional network. Thanks to our partners at WorkLLama, KFORCEconnect addresses these challenges by making it easy to refer and apply to new positions," said Andrew Thomas, Kforce Chief Marketing Officer.
Since the app's launch in March, over 1,200 referrals have been made resulting in multiple hires. In addition to reducing time-to-fill, KFORCEconnect matches highly skilled professionals with the right opportunity. Recently, a successful hire was made for a data engineer position which was referred by Mahesh Perumal.
Perumal said, "The KFORCEconnect app is an easy one-step process to refer the appropriate candidate. The role and location are self-explanatory, and it has the helpful option to post a resume. Love this app."
"We are excited to see the impact of combining our advanced platform with Kforce's vast experience in the staffing industry. I'm confident the program will deliver on the promise of a holistic SaaS Referral and Candidate engagement platform that drives business efficiencies and offers an unparalleled candidate experience," said Sudhakar Maruvada, CEO and Founder of WorkLLama.
To connect, refer and get paid, new users can download KFORCEconnect from the App Store or Google Play.
About Kforce
Kforce (Nasdaq: KFRC) is a professional staffing services and solutions firm that specializes in the areas of Technology and Finance & Accounting. Each year, our network of over 50 offices and two national recruiting centers provides opportunities for 36,000 highly skilled professionals who work with over 4,000 clients, including 70% of the Fortune 100.
Founded in 1962, our name stands for KNOWLEDGEforce® which describes the customer-centric Kforce Knowledge Process that delivers high-touch, relationship-driven results backed by progressive technologies. At Kforce, our promise is to deliver great results through strategic partnership and knowledge sharing®. Visit our Newsroom for the latest Kforce news and media resources.
About WorkLLama
WorkLLama is a leading staffing industry solution provider that offers the market's only multi-level, multi-dimensional referral management and unified candidate engagement solution. The company's SaaS platform expands staffing agencies' recruiting capacity and reduces cost and time to hire. WorkLLama's candidate engagements include event-driven, scheduled and manual notifications, and they support multi-mode communications, such as voice, text, chat, push, email, video and bot. WorkLLama integrates seamlessly with applicant tracking systems, delivering a holistic mobile experience to job seekers and associates with or without an app.
Media Contact
Alexa Rodriguez
Public Relations Supervisor
813.552.1817 | arodriguez3@Kforce.com