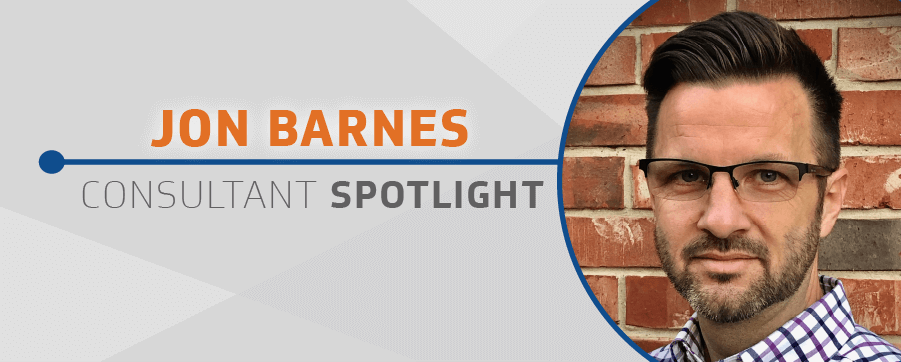 Consultant Spotlight: Jon Barnes
Looking for the key to adapting to a remote lifestyle? Get advice from Kforce Consultant Jon Barnes. Learn about his transition to a fully remote contractor, tips for navigating this new world of work and approach to problem-solving in our consultant spotlight.
Can you describe your current role as a Senior ServiceNow Consultant?
I spend most of my time very close to the code. I am also acting as a Service Portal architect/leader and create cool apps on the ServiceNow platform. Most of our work is helping our government clients move away from old Excel-driven processes to new toolsets that simplify their lives.
I love delivering content for a client that is doing important things throughout the world.
ServiceNow recognized you at their annual conference. Can you tell me about what this accolade meant to you?
In 2019, I was the recipient of a ServiceNow Community MVP award. This accolade was a culmination of a year spending a great deal of my free time helping others in the ServiceNow community. One of my goals at the beginning of the previous year was to help raise my profile in the community. I was extremely honored to be recognized and achieve this award.
What inspired you to transition from a permanent role to working as a consultant?
The transition was a massive jump for me. I was working my way up the "corporate ladder." I had been at my previous company for 17 years and was going to be promoted to SVP within six months.
However, I wasn't happy with the direction my career was taking since I was moving more into a management role. I wanted to continue creating content and solving complex problems on the ServiceNow platform. Becoming a consultant at Kforce enabled me to do exactly that.
For those currently finding themselves in need of a job and considering becoming a consultant, what message do you have for them?
I was very hesitant to make the jump from a full-time role to consulting, but once I did, I never looked back. Becoming a consultant allowed me to reduce my time in meetings so I could focus on creating content and staying close to the code. I have been here for four years and am not even considering other opportunities at this point.
It may be frightening to make the leap to consulting. But, if you have the flexibility, be bold and go for it.
As a fully remote consultant, how do you achieve a healthy work-life balance while working from your home office? 
When possible, I allow myself work flexibility. I often leave in the middle of the day for an hour to go to my workouts. Having breaks is very important to me, so I schedule time away from my desk on my calendar daily. Also, I will often leave in the middle of the day to run other errands. On those days, I will usually work after hours to make sure I am meeting my deadlines.
What is your secret for achieving success as a consultant in this remote environment?
Consultants need to be self-motivated. In my current assignment, because we get a lot of focus time throughout the day to build apps, it could be easy to get distracted. Ensure you have practices in place to remain productive throughout the day, especially in this current climate.
I also understand that working remotely is challenging for some people. Use platforms like Microsoft Teams to quickly reach out to your team and stay connected. Collaboration tools like this are invaluable for making yourself available and getting help when you need it.
What attracted you to a remote lifestyle?
I am a little more introverted, so working remotely has been a dream for me. I was also working remotely for five years before I started as a consultant. At this point, I don't think I could take a job that isn't at least 90% remote.
One of the great things about being a remote consultant is that my role has not changed at all due to COVID-19. We continue to work remotely as we did before and have had no interruptions to our projects so far.
Can you describe your relationship with Kforce?
My relationship with Kforce has been fantastic. They let me focus on my priorities at work, pay me on time and don't bog me down with red tape. At Kforce, I get paid for the hours I work, so I get immediate gratification for my efforts. That was one of the biggest selling points for me.
I have the freedom to work when and where I want and the ongoing support of the Kforce staff.
What insights do you have for problem-solving, especially during difficult times like COVID-19?
Through my four years of studying mathematics, I learned a lot about problem-solving. Here are a few insights that I follow when trying to solve problems in my personal and professional life:
Split the problem into more manageable chunks. Don't get too hung up on the size of the problem. It is easy to get so focused on the enormity of the issue. Don't let yourself go there. If you find yourself doing that, refocus yourself on breaking the problem into smaller chunks.
Deal with the low-hanging fruit. Confidence is essential when overcoming a problem. After you've broken down the problem into smaller chunks, address the ones you can quickly solve. This mindset gives you the confidence to take on more complicated issues.
If you are stuck, take a break and come back to it. When I can't find the solution, I focus on a completely different effort, especially ones that I know how to solve. I can't say enough about the effects of building confidence, so solve another problem and come back to it.