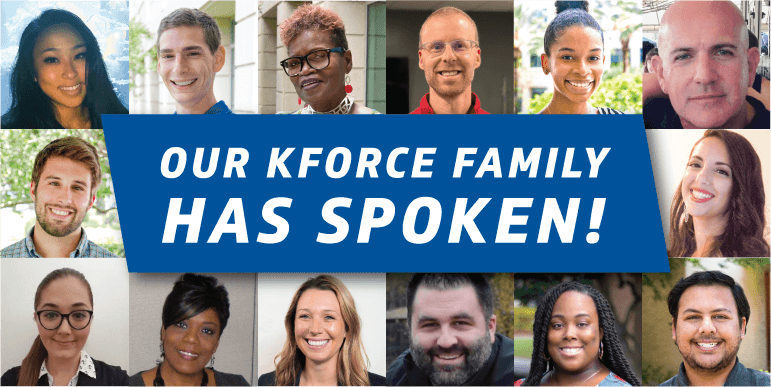 Kforce: An Employer of Choice
Our people have spoken! We are honored to be recognized by Great Place to Work® and Fortune as one of the 2019 Best Workplaces in Consulting and Professional Services. This accolade is one of a series of rankings based on employee feedback from Great Place to Work-Certified™ organizations.
"Creating a workplace where our employees love what they do is a top priority," says Kforce Senior Vice President of Human Resources Greg Glass. "To achieve this, we are constantly evaluating the best ways to welcome, support and recognize our people."
"Consulting and Professional Services companies operate in some of the most competitive spaces and endure the challenges of unpredictable and rapidly changing markets," says Michael Bush, CEO of Great Place to Work. "The Best Workplaces on this list have invested in the professional development and personal care of their employees; which have become crucial parts of their value proposition that separate them from the competition in recruiting and retaining talent."
Hear what our Kforce employees across the nation have to say as they share their stories and perspectives on why they consider Kforce an employer of choice.

It's no secret: first impressions matter. From the initial moment our employees walk into our offices across the nation, they become a valued member of our Kforce family.
 "From the moment you step in the door, you're greeted with smiling faces," says Proposal Analyst Josh Hendricks in Tampa, Florida. "Everyone is happy that you're a part of the family and excited to see what you bring to the team. There's a buzz in the air from all of the positive vibes."
Digital Reporting Specialist Brian Engh in Tampa agrees.
"I knew that I made the right choice on my first day after meeting the team. Their warm and open welcome made me feel like I was accepted to join the family. When you feel welcomed, it just sets the stage right."
"There were two things that quickly stood out that helped me realize I made the right choice," says Region Senior Vice President James Casey in Boston, Massachusetts. "First, the team I joined was welcoming. They spent time training me and sharing the best practices. Secondly, I quickly realized the more effort I applied, the more successful I could be. There is no limit to what you can accomplish at Kforce."
And according to our associates, the grand welcome doesn't end after the first day on the job.
Once settled into the Kforce family, our associates continue to have a positive experience in their day-to-day roles through industry-leading training, a sense of community and a shared purpose.

Eighty-eight percent of our people say that Kforce is a great place to work. We asked our employees what they enjoy most about working at our company and the response was unanimous. Our culture is unparalleled.
"I enjoy the culture that Kforce provides," says Consultant Care Coordinator Kaysha Alvarez at our Tampa headquarters. "I'm able to participate in work that promotes my growth while also finding time for my passions like stewardship."
While some of our Kforce family appreciate our internal opportunities, others enjoy our team fellowship.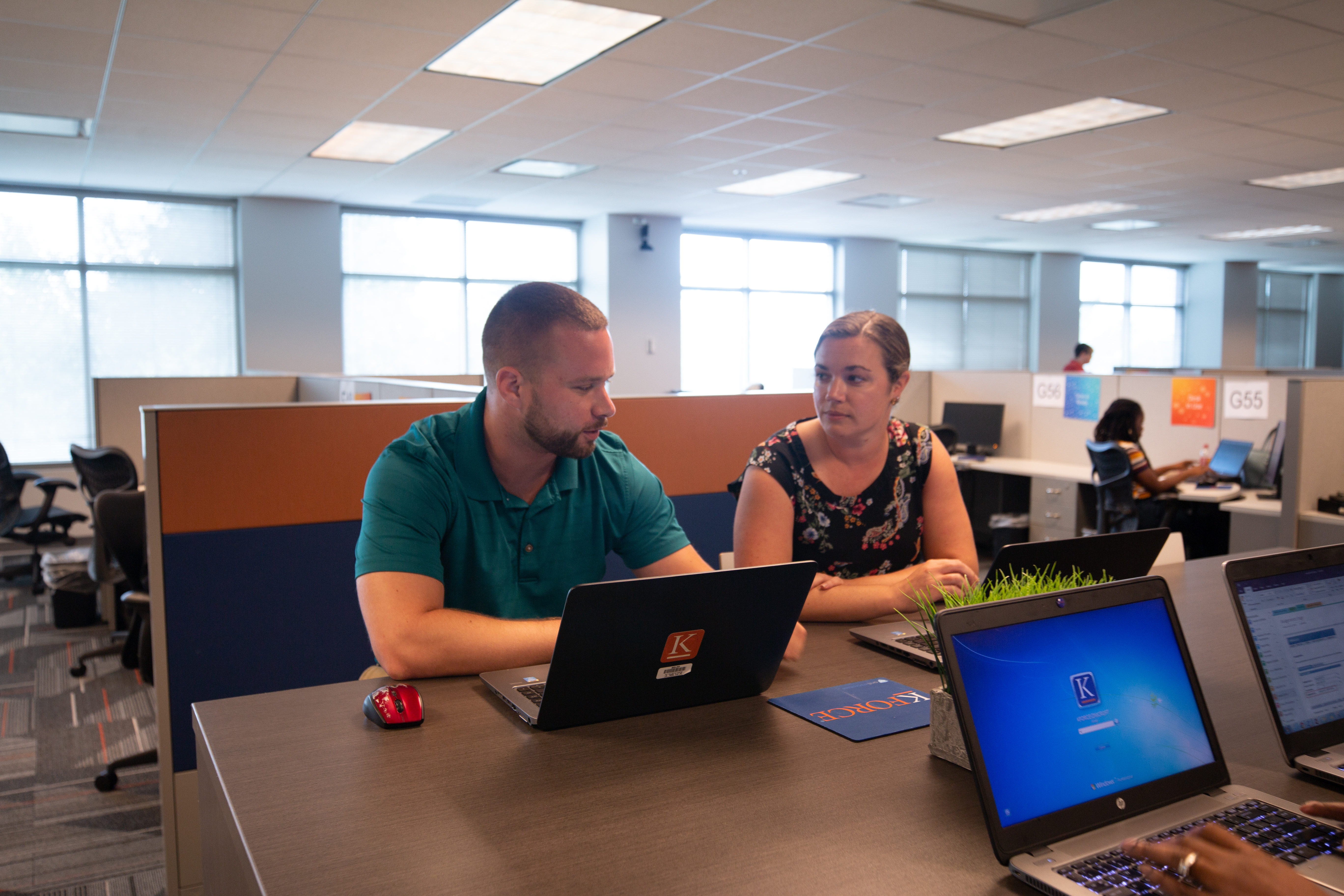 "I enjoy watching my team reach their personal and professional goals and knowing I've positively impacted them," says Senior Director Ryan Langley in Chicago, Illinois. "The best days in the office are when we celebrate someone getting promoted, buying a house, getting married, having a baby or doing something in their personal lives that we get to be a part of. I'm very lucky to be surrounded by so many wonderful people every day."
The relationships cultivated at our organization, and our shared vision To Have a Meaningful Impact on the Lives We Serve®, are driving forces that help create our energetic work environment.
"The people and the relationships I've developed are the best part of working at Kforce," says Manager of Recognition and Consultant Care Crystal Early in Tampa. "Every day, I work alongside others who truly care about making an impact on the lives of our consultants and clients and in our communities."
At Kforce, our great people are the foundation of our award-winning culture. The relationships built within our firm create an atmosphere where associates feel not only supported, but inspired to leave a lasting impression in the workplace.

Not only do we strive To Have a Meaningful Impact On All The Lives We Serve®, but we also strive to make a difference in the lives of our peers.  Ninety-two percent of our employees say people care about people here. It's clear – we're one big family. We care and motivate each other.
"My boss Matthew Reitter isn't just my boss. He's also my mentor," says Managing Director Michael Pirone in our New York office. "Having someone who's invested in helping you grow, without regard for themselves, is invaluable."
We aren't afraid to lend support or a hand to someone in need at Kforce. Colleagues show acts of kindness to one another every day.

"I recently went on vacation, fell down the side of a mountain trail and tore all the ligaments in my foot," adds Time Entry Coordinator Stacy Prevost in Tampa. "While I'm in my cast, my coworker Heydi Acuna has been driving my car to the front of the building after work, so I don't have to climb the stairs in the parking garage."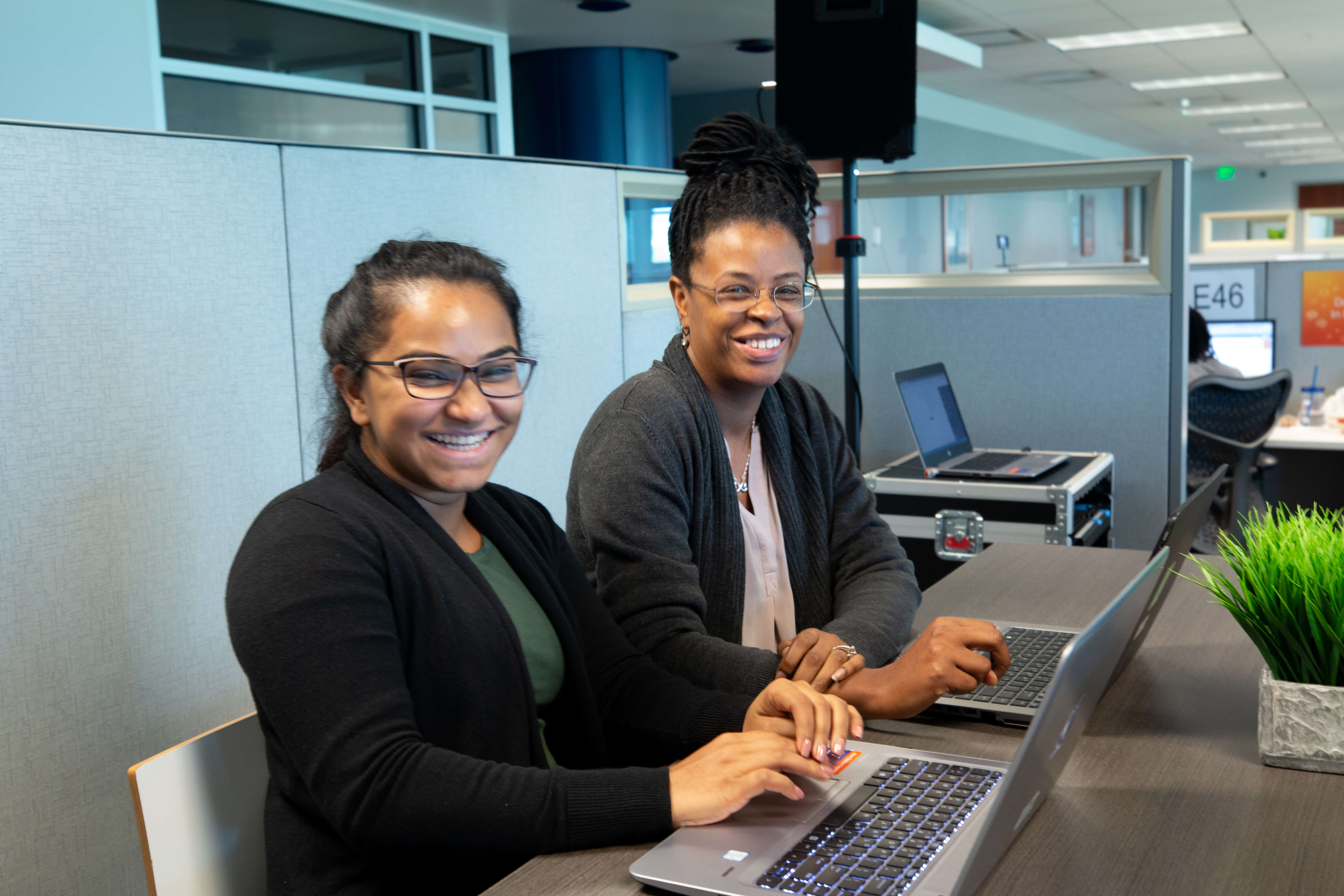 Working with colleagues who are mutually passionate about achieving success additionally creates an energetic, infectious atmosphere across our offices.
"If you hold yourself and your work to a high standard, it becomes a source of fulfillment to work alongside others who bring the same level of intensity and ability," says Manager of Learning and Development Marcus Baum in Tampa. "I feel fortunate to be surrounded by people who are not only incredibly talented but also great people to be around." 

A positive work environment isn't possible without features and accommodations that encourage it. From low cubicles to fun office furniture and more, our employees are enabled to enjoy their time at work. As a result, ninety-one percent of our employees say our facilities contribute to a good working environment.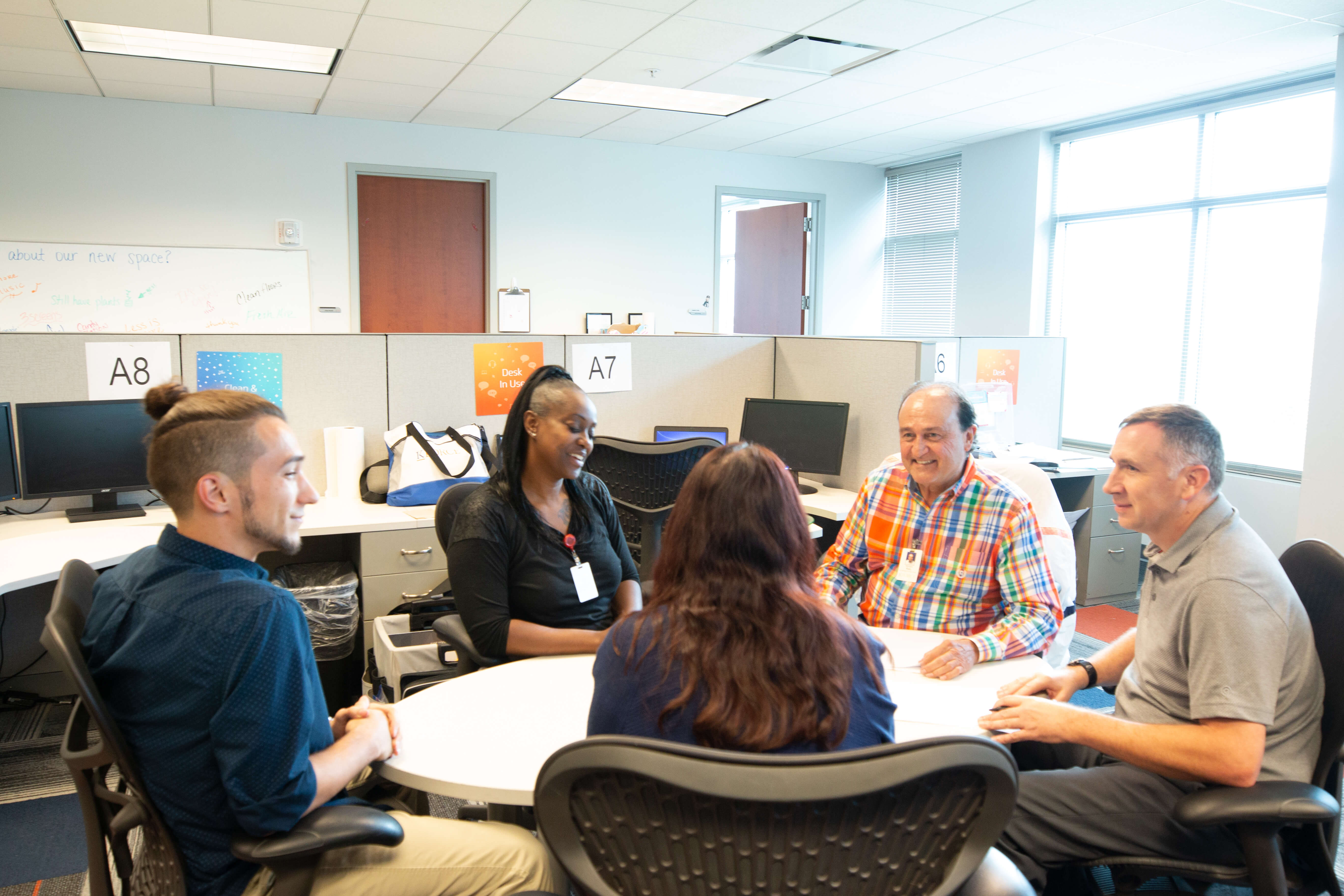 Recognition and Incentives Coordinator Sierra Martinez-Williams in Tampa says her favorite part about Kforce facilities is the fostering of a healthy, active lifestyle at work.
"We have an amazing gym," says Martinez-Williams. "We are always encouraged to find ways that make us healthier, even in small ways, like taking the stairs."
For many associates, the physical design of workspaces facilitates our close working relationships and team comradery.

From open, collaborative work areas to private meeting rooms our employees thrive in a wide range of environments that suit their individual needs.
"The work environment gives me the opportunities to have seclusion when working on high priority items and openness by being close to my teammates, making it easier for collaboration and dialogue," Brian Engh says.
Physical amenities aren't the only perks of working at Kforce. A majority of Kforcers enjoy the ability to operate within their own schedules if needed.

One of the most notable opportunities at Kforce among our employees is job flexibility. In fact, ninety-four percent of employees say they're able to take time off from work when necessary. Our associates are empowered to achieve work-life balance, whether it's making time for family or tending to unexpected life events.
Family is a priority at Kforce, and many of our associates value the ability to create a work-life balance that addresses both firm and personal needs.

As a new mom, Crystal Early appreciates the ability to create a schedule that works for her family and team.
"I arrive early in the morning, so I can leave a little earlier in the afternoon to spend time at home with my son," says Early. "The time I have with him is valuable, and the flexibility made my transition to a working mom so much easier."
Alongside having the flexibility to share precious moments with family, Client Relationship Senior Manager Terri Harper in San Antonio, Texas, says that her Kforce family gave her the understanding she needed when caring for a loved one.
"Before I started with Kforce, I was very upfront that I was the sole caregiver for my mother, and I would need the ability to attend her doctor appointments, physical therapy, and be there for her in any way," says Harper. "My Kforce leadership team understood and provided the opportunity to work remotely as needed."
Benefits like job flexibility and work-life balance wouldn't be possible without the conscientious attention of our Kforce management. Our leaders work hard to create an open space where employees feel cared for and valued.
The positive, caring environment at Kforce extends to our leadership team. Ninety-one percent of our employees report management is honest and ethical in its business practices. Our leaders take an active role in showing interest in employees, from personal well-being to professional development.
Talent Representative Alanna Leong in San Francisco, California confirms our leadership style.
"My manager noticed I was having a hard time adjusting when our team had a major project with a short deadline," says Leong. "With her calm energy, she put things into perspective. We worked on a plan that put less pressure, while empowering me to grow into my role. She cares about me, and I feel essential to the team."
Our management team works diligently to navigate employees through their unique career paths and professional goals by providing consistent guidance and support.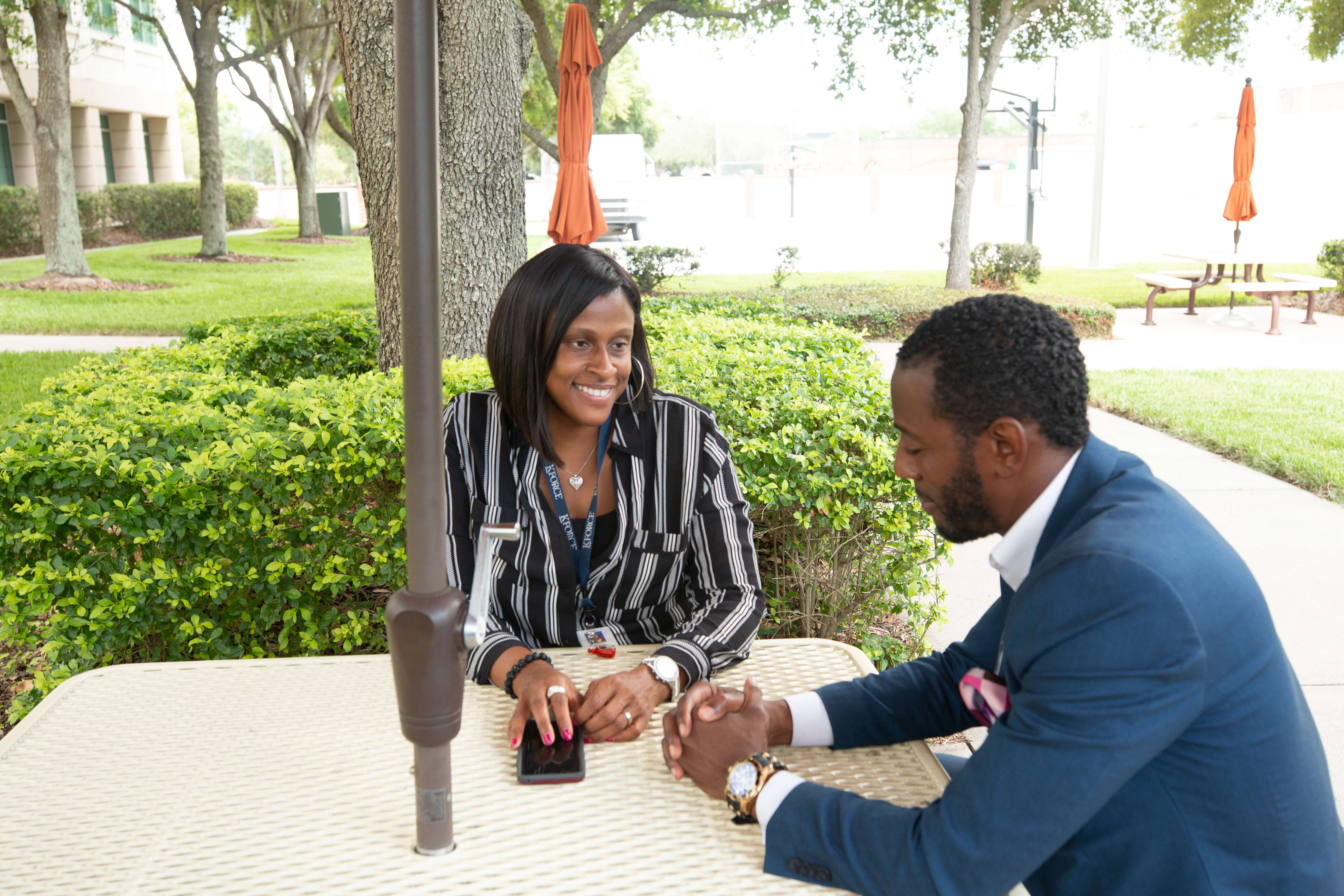 "Leaders care about me and my professional goals," says Digital Reporting Coordinator Ankit Pandey in Tampa. "I'm provided with learning opportunities to grow in my professional field. They are always understanding and willing to provide any support I need."
Management also invests in the development of our leaders and associates by providing high-level communication, the opportunity to be heard and additional mentorship.
"Skip-level meetings have been critical in my growth as a person and as a leader," Marcus Baum added. "I value the genuine interest and mentorship provided to me and consider this experience to be one of the biggest contributors to my career."
An Employer of Choice
Undeniably, the employee experience at Kforce is unique. We've built our dynamic work culture for more than 55 years, and it's engrained within our daily work lives. Regardless of role or location, we foster a fun, friendly and positive work environment to create a space where all can feel at home even when at work.
You've heard what our employees think. If you're ready to find out why eighty-eight percent of our employees said we're a great place to work, join our Kforce family.
This article was last updated on July 8, 2019.