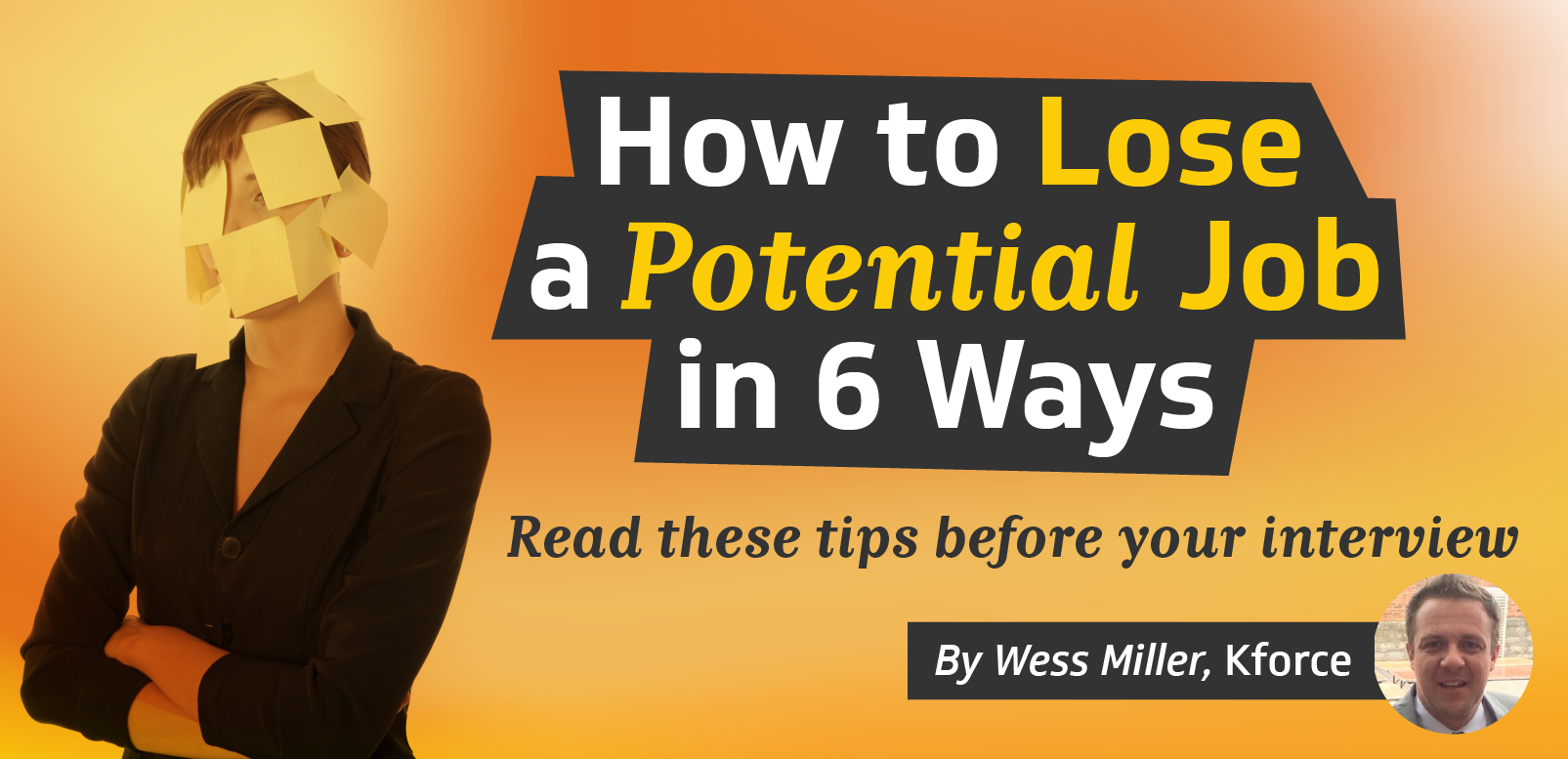 Things to Avoid During Your Next Job Interview
We've all read them: the countless advice articles describing tips and tricks for nailing your next job interview. However, people continue to make the following mistakes when landing a job interview.
Avoid these blunders before, during and after your interview to set yourself apart from the competition!
A strong resume helps you earn an interview, and looking sharp of course doesn't hurt, but putting 100 percent attention on these items can be detrimental. It could cause you to lose focus on other matters of importance. People often forget about the simple things like pleasantries and asking the interviewer, "How are you today?" because they are more concerned with what color tie to wear.
Practice before an interview. Do research on the company and the position you're targeting, but don't stay up the night before doing so. Nervousness before an interview is natural, so don't make it worse by being drowsy, too. Get adequate sleep the night before your interview to be alert and at your best.
Before an interview, brainstorm the types of questions your interviewer may ask and formulate key points that highlight your accomplishments. Additionally, never go into an interview blind without doing proper research. It has never been easier to access information, so why not use it? Leverage the internet to learn more about the company, your interviewer and tips from others who have interviewed before you. However, don't over-rehearse and come across robotic. Be yourself! Instead of repeating memorized answers, show your personality and exude confidence.
Although it's critical to convey your expertise during an interview, it's equally as important to illustrate that you're open-minded and eager to learn. Don't forget to ask questions!
After all, you're interviewing them, too. The interview is not just an opportunity to showcase your strengths, but it's also a chance to position your weaknesses as skills that you would like to develop, if hired.
Check out this article by Muse for more suggestions on what to ask during an interview.
Sending a thank-you note may appear as an outdated practice, but I can personally attest that the smallest gesture, sometimes, has the biggest impact. Last year, I interviewed 415 people and only received three thank-you notes. I still have them and think about those three candidates all the time. Differentiation is key! Instead of an email, send a handwritten thank-you card. A pack of thank-you cards is probably the cheapest investment for the highest return. View examples of how to write a thank-you note here.
It is imperative to think through what you post on social media and realize it can have a lasting impact. Employers today are regularly checking the digital footprints of candidates, so ensure yours is telling the story you want to project. A great place to convey your professional brand online is LinkedIn. Optimize your LinkedIn profile using this checklist to communicate things like your achievements and values. Utilize your additional social media channels to convey the online brand you feel best represents yourself. While a poor online brand can hurt you in the job hunting and interview process, a positive footprint can prove to be extremely beneficial.
You don't get a job just from submitting a resume. Think of yourself as a lion on the hunt, and the job is your prey. Be ready to tell someone who you are and what you do, and remain confident in yourself. Avoid these common mistakes listed above to stay in the running for your dream job.