PUBLISHED MARCH 26, 2020
Social Distancing? Here are 6 Ways to Stay Connected with Your Team
Are you working from home today? Many jobs have transitioned to 100% virtual as a measure to stop the spread of COVID-19. This sudden change can be quite stressful for people, especially those who aren't used to telecommuting.
The requirement to work from home forces us to figure out the logistics ASAP. Will we work from a kitchen table, or are we fortunate enough to have an actual desk in a designated workspace? Do we have the capability to shut out distractions? Is the right technology at our disposal to ensure we remain productive? And, what does all of this mean for our work-life balance and our sanity?
Layered on top of figuring out the logistics is our innate desire to stay connected with others during this unprecedented crisis. People are stressed out, and social distancing can make us feel, well…distant.
To get through this together, we need to find ways to have meaningful connections virtually. We've tapped some of our "WFH veterans" to share their advice on staying connected with your team amid social distancing.
1. Leverage Technology to Connect
Video Conferencing
Kforce Talent Director Amanda Haddad works from her home in Florida and manages a team in Northern California. "We have been using the video function on Microsoft Teams for our morning whiteboard. It's been fun for everyone to see each other and our home offices."
Her group regularly uses the chat feature in addition to Teams' web conferencing platform. "Our Delivery team has our own chat on Teams, and we talk throughout the day about job orders, new candidates who we are working with, updates, etc. Even when we get stressed about this challenging time we are in, someone always chimes in with a funny story, positive perspective or a win we had as a team."
Betsey DiSanza, Kforce Senior Marketing Specialist, encourages the use of technology to connect on personal levels with coworkers. "Checking in on each other and knowing the names of our kids creates such a great culture. I've never had the opportunity to work with most of my teammates in an office—yet they know the name of my dog, a goofy big Goldendoodle named Beau, and my son, Gabe, who enjoys making cameos on our video calls."
A webcam is a powerful tool for us right now as it allows us to look into each other's eyes and read body language. We can't underestimate the importance of video during this time to take away some of the "distancing" that comes with social distancing.
Instant Messaging and Communication Channels
"We love the collaboration function we get from using Microsoft Teams software," says Jen Siler, Kforce Director of Proposal Services. Jen is an internal champion of Microsoft Teams and often helps other teams optimize their use with the platform. "We use it to manage all our projects, and we have a private MS Team channel created just for our team to use. We have several channels to track various topics. Considering the current environment, one of our favorite channels is our 'Fun Topics and Photos' channel where our team can post pictures of their two- and four-legged children, articles and funny things from outside of work. We also post a 'Question of the Week' for everyone to contribute to."
Outside of virtual meetings, leverage your company's instant messaging tool if available. Kforce Senior Recruiter Heidi Louden says Jabber enables people to easily share their screens with each other. "Jabber helps keep us focused and is so helpful, especially if we need assistance on a project."
"We have a group chat on Microsoft Teams where we'll ask questions and check in periodically," says Kforce Executive Search Recruiter Lawrence Wilde. "It's easy to keep things light in the office, and people are always joking around. You feel that camaraderie in the building. When you're sitting in your own isolated office for eight hours a day with no contact it can be really hard. Use technology to maintain that same kind of levity."
Email
In addition to instant messaging and video meetings, reimagine ways to use email to connect. Senior HR Business Partner Michael Goodman's team is circulating an email of 15 "Rapid Fire" getting-to-know-you questions. 
"A team member completes the questions and includes a fun/funny picture of themselves and nominates the next employee to complete the questions and provide a picture," says Michael. "It's been a ton of fun during a stressful time and is helping build our bond.  Kudos to Christy Jarvis for coming up with our Rapid-Fire Question activity!"
Memes can really brighten someone's day. "Whenever someone on the team gets a hire, they send an email out to the entire team and a funny picture or meme to go with it," says Internal Staffing and Leadership Recruiter Manager Stephanie Osceola.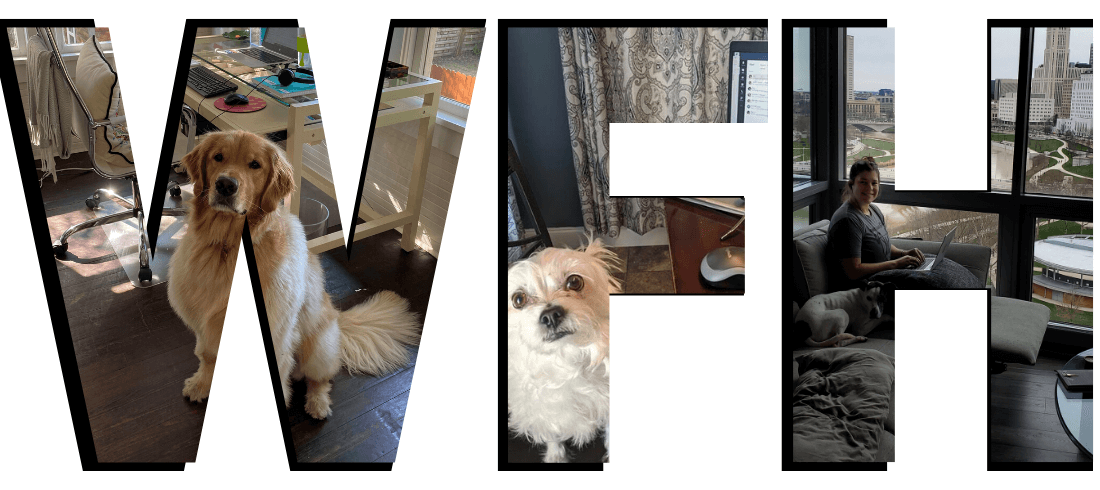 2. Adapt your Leadership Style
To those of us managing teams, we may need to adjust our leadership style to adapt to our new work environment.
At the request of some of her new hires, Amanda hosted a "best practices on how to work from home" training last week. She explains: "Our new hires had really never worked remote before, so this is all new territory for them. They need to quickly learn how to plan and manage their day and make sure they're taking care of themselves. My senior recruiters were super interactive, and all shared what works for us—and I think it was really impactful! It's brought us closer together to get everyone involved and feel less alone since we are all in this together."
It's important to stay aligned with your team and maintain clear communication. "Now more than ever it's OK for a leader to say 'I don't have an answer to that right now. I will follow-up.' And then of course the leader has to follow-up." says Recruiting Leader Sean Anthony.
Sean adds that it's important for leaders to take advantage of additional pockets of time for professional development. "If and when business slows down slightly, we'll have a rare opportunity to check back in with our personal and professional goals, evaluate progress and make adjustments."
Leaders have a lot on their plates right now. From doing what they can to support business continuity to leading with empathy, confidence and an agile mindset, it's easy to get overwhelmed. It's OK to ask for help and lean on the support of others, including your HR team. Senior Organizational Development Specialist Tawanda Norton says her team is "checking in with leaders to ensure they are practicing self-care so they're leading from a healthy place."
It's like that analogy we've all heard from flight attendants: if the oxygen mask drops from the ceiling, put yours on first before assisting others.
3. Increase Communication
A positive company culture is always a good thing, but it may be even more important for a virtual workforce.
"Maintaining culture is super important and can be challenging when we are all working at home," says Heidi. She has increased her level of communication with her team and has seen it bring her team closer together. "I am reaching out to a few team members a day to check on them and make sure that they are doing well and keeping positive!" Heidi's also been sending notes in the mail. "It is always nice to get things in the mail and my letters hopefully make people smile."
Many teams have increased the number of meetings during this time. "While virtual, we are moving 1 on 1's and team meetings weekly (versus every other week) so that we can stay close to one another and to what our client and candidates' needs are," says Stephanie. "I check in with my immediate team daily to see how they are doing, how are their spirits, and show appreciation for their efforts."
"The Kforce Internal Staffing (KIS) will continue to be a positive light to our new hires and candidates," adds Stephanie. "We are devoted to sharing the message that Kforce is strong and we will keep moving forward. We are all in this together and will make it through!" 
A simple way for leaders to demonstrate their care for people is to call them for no other reason than to see how they are doing.
"I received a call from my former manager yesterday evening with the only purpose being to check-in and say hello and ask how I was doing. That is great leadership, especially in times like this," describes Sean.
Talent Executive Jennifer Dunlap says group texts and chats are great ways to stay aligned with your team and ensure everyone has the most up-to-date information. "A challenge about working remote is that team members might feel like they're missing out on the latest updates. Group chats ensure that everyone gets the same message at the same time, without taking time out of their day for a formal meeting."

4. Be Intentional About Connecting in Every Meeting
"To maintain a strong, positive culture in a remote work environment, we need to be intentional," explains Michael. "Culture can be a part of every meeting and every phone call. It is important in a remote environment that a portion of every touchpoint is committed to chit-chat." 
Tawanda agrees, saying "During these times it's important to be intentional with connections and maintain normalcy. Demonstrate Emotional Intelligence by allowing space for individuals to express concerns or fears and not feel the pressure of having an answer. Communication and emotional expression are very important right now."
Laughing together is an effective way to bond with our coworkers. "When we don't have the opportunity to make eye contact or see a smile, we need to demonstrate connection verbally," says Michael. "It's always great if you can laugh together before getting down to business."
When's the last time you played Bingo? Stephanie's team is playing Bingo virtually, and winners receive PTO. "We're constantly coming up with different ways our team can embrace some fun and keep our spirits up. We have fun themes for our video team meetings. Last week it was 'show us your crazy hair or hat'!"
During a crisis, it may be tempting to skip the small talk and get right down to business. But connecting with your team on a personal level is paramount right now. "We all experience stress in different ways, and it's important we check in with each other regularly," says Allison Kruse, Kforce Director of Content and Social Media. "It's also important to have some fun together. At the beginning of our Digital Strategy team meetings, we talk about which Netflix shows we are watching. We love sharing recommendations on what to watch next."
"Working remotely can put a damper on the social aspect of being in the office," says Sierra Martinez-Williams, Kforce Recognition and Incentives Coordinator.

"We have a tight-knit team, so staying close is a priority for us. One of our Core Values is having fun, and we have learned to leverage social media games to add that to our days. This week, we recreated a 'This or That' template to send out to the team. This game listed twelve categories where each person had to pick one of two choices in each. We learned a few fun things about each other. Taylor Swift is a strong favorite over Kanye, some people actually like the snow and given the choice between Uber and eating out, we do not discriminate against food no matter how it's presented to us! Community is so significant in times like these. We feel it's important to capitalize on the good we have and continue to surround ourselves with people we love—and these games are a great way to do that! Being apart can bring you together, you just have to get a little creative and sprinkle that with some fun!"
5. Face New Challenges Together
COVID-19 has disrupted the world of work, and teams are facing new obstacles. Jen explains the challenge her team is facing navigating the already busy schedules of their own team, Kforce partners and now their families since everyone is cooped up at home.
"It's important to allow employees to flex their schedule where necessary and for teams to work together to pitch in to help our teammates during these crazy times. Our teammates are very good about shouting out when they need assistance and the rest of us are scrambling to help each other out where we have bandwidth," Jen explains.
Teams can either let these obstacles disrupt their way of work or use it as an opportunity to persevere and come out even stronger.
Lawrence shares his perspective on overcoming challenges. "There's always two ways you can look at situations anytime a barrier comes up. It's either an opportunity for improvement to do something new or it is an excuse to quit. It's important to embrace change and struggles to learn from them."
6. Leverage Remote Work to Make an Impact
Some teams are seeking the silver lining in all this and using remote work as an opportunity to make an impact.
"Remote work has allowed our team to stretch our ability to make personal connections without face-to-face contact, to demonstrate compassion without having the resource of eye contact, and to express urgency without the ability to walk up to someone's desk," describes Michael. "It has helped enhance our communication styles and skills as well as help bond the entire firm as we all learn how to navigate our new work environment and strategies."
This new virtual work environment presents new challenges that many are not accustomed to. We hope these tips will help you connect with your team while working from home.