Future of Work
How to Find Success in the New World of Work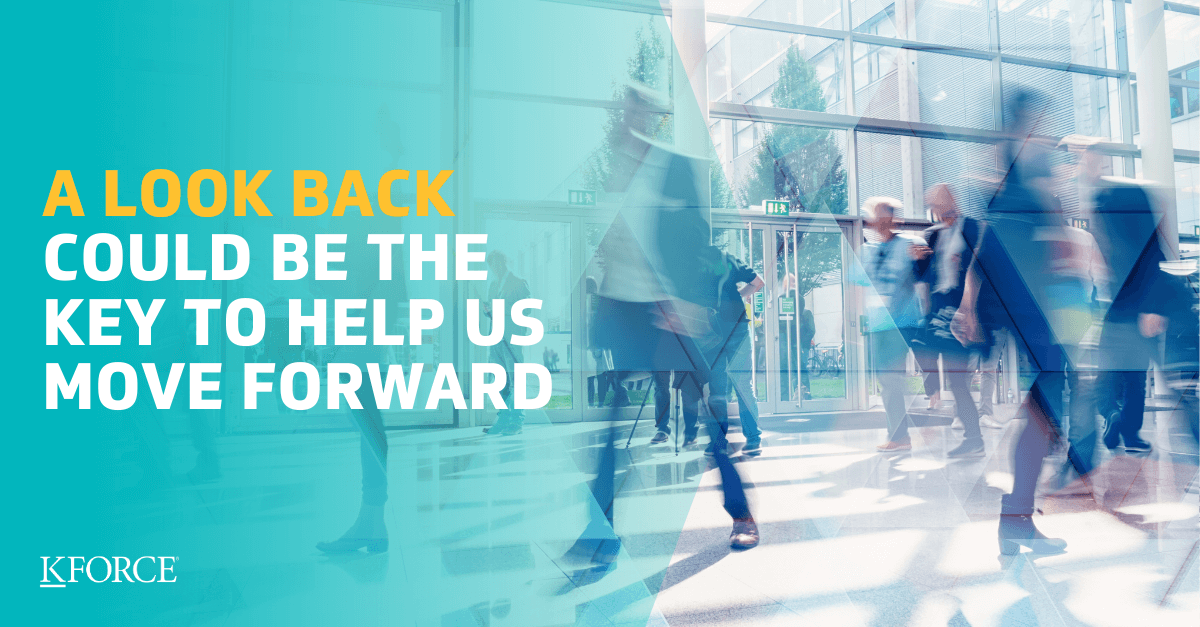 Past Lessons for Success in the Future
If you're wondering how changes made in response to COVID-19 will continue to impact the workplace after the effects of the virus have eased, you're not alone. As many US workers come to terms with remote work extending until at least the first quarter of 2021, employees, job seekers and businesses are now thinking about what lasting impacts the pandemic will have on the workplace and what they can do now to adjust and prepare for success in the future.
With the number of open jobs slowly rising, new unemployment claims falling below pandemic-highs and jobseekers gaining more traction with their applications, we are moving closer to truly defining what the "new normal" will look like in both our personal and professional lives.
Our team of experts, backed by over 50 years of experience within talent acquisition and business solutions, have successfully guided our firm through varying market conditions and economic downturns. Now, they are ready to weigh-in on what we can expect to see in the future of work, as well as what both employers and employees can do now, as we all move together toward tomorrow®.
But before we can analyze the talent market of today and make data-driven predictions for tomorrow, Kforce has compiled survey data from before COVID-19 (Jun. 2019) with new data we recently gathered (Oct. 2020) to understand how our view of the workplace and workforce has changed amid the pandemic.


Understanding the Numbers
The most glaring, but unsurprising, difference between the pre-and-post-COVID-19 data is that 65% of job seekers reported leaving their last position due to COVID-19 related circumstances. Considering such a disturbance in the market, it's no wonder why our views of the workplace and workforce has changed. With a 10% increase of job seekers looking for a better work-life balance and a 17% increase of employees reporting they would be "up for anything," even an opportunity outside of their current industry or role, both job seekers and employees are redefining what the future of work looks like.
However, not everything has changed. Over 58% of employees still consider the opportunity for growth as the most important factor when looking at a new job, and less than 20% of employees report compensation as their main motivator for accepting a job offer. With a majority of job seekers looking for better growth opportunities instead of higher compensation, employers will still need to focus on internal development in our new digital workspace to attract and retain top talent.
While we continue to work through defining our current and future digital workforce amid the pandemic, our experts at Kforce are here to help you – whether that is assisting with your current job search or talent search now, or helping you better prepare for the future of work – as we move together toward tomorrow®.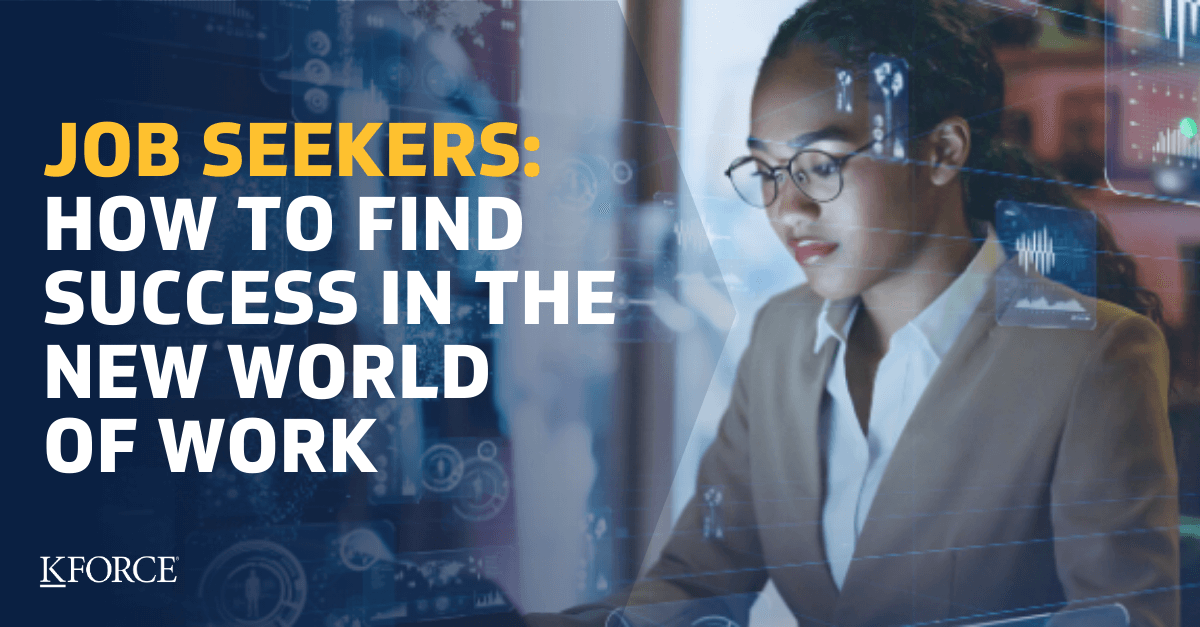 Building a Career by Embracing Change
While there's no denying our current situation has brought unprecedented challenges, we are also experiencing an exciting, historic shift to the working world—one full of innovation and opportunity. At the onset of the pandemic, the percentage of people working from home five days or more per week more than doubled. A study by McKinsey found that we vaulted five years forward in consumer and business digital adoption in just eight weeks. While much remains unknown about the future, one thing is becoming increasingly clear: staying agile and embracing technology will be our greatest assets in this growing virtual world.
Meeting the challenges of this moment with the willingness to explore new ways of working, learning and connecting will lead us successfully into the future. Whether you're seeking a new opportunity or looking to grow in your current role, here's what you need to know to thrive in this new world of work.

Evaluating Our Shifting Priorities and Practices
With meetings now taking place from kitchen tables rather than conference rooms and phone calls juggled in between sessions of virtual learning, we have had to modify many of the professional norms we once knew. As our work practices have shifted, so have our priorities.
According to Letitia Murray, Vice President of Delivery at Kforce, one of the most significant changes in employee and job seeker needs as we adapt to a largely remote workforce has been the transition away from the typical nine-to-five schedule.
"People are prioritizing flexibility more than ever before," says Murray. "So many of us have suddenly become educators for our children or caregivers for relatives – we need those open scheduling options to continue to function successfully in our roles."
---
53 percent of remote workers in the United States named flexible scheduling as the primary benefit of the work-from-home environment. 
— A 2020 survey conducted by Statista
---
As a result of this shift, we're seeing work/life balance morph into work/life fluidity. "Personal life and professional life are colliding right now," says Jessica Schwaller, Senior Director of Associate Performance and Development at Kforce. "People may call it "the new normal," but let's be honest – nothing about this feels normal."
Going forward, organizations should be cognizant of this rising need for flexibility and prepare to adapt their practices, whether that's normalizing non-traditional hours, reinforcing protected breaks, or implementing mobile collaboration tools to keep employees connected.
Another major influence on job seekers' motivations has been the disruption to the job market, as the economic impacts of the pandemic have resulted in widespread layoffs and hiring freezes. A survey conducted by Kforce found that 65% of current job seekers left their previous roles due to circumstances related to COVID-19. Schwaller notes that as a result of this phenomenon, job security is becoming increasingly important to today's workforce: "In this climate, people are likely to value stability over other factors they previously prioritized."
The market's current unpredictability has not only impacted what qualities job seekers look for in a role, but also their overall career trajectory. Data collected by CareerUp program Remote Internships suggests that 30 percent of college students plan to change their career path due to the impacts of the COVID-19 pandemic, and a Kforce survey found that 38% of job seekers reported being open to any type of role, regardless of industry/position, in comparison to 21% of responses making the same claim in 2019. However, Murray acknowledges that while people may be choosing roles based on factors like financial security rather than passion or industry experience, there will still be plenty of opportunities to pursue meaningful careers.
"We are all undergoing a collective human experience right now," says Murray. "Hiring managers will understand and respect demonstrated efforts to continue professional growth, even if your career path deviates from what you originally imagined."
Schwaller agrees, remarking that we are seeing greater emotional competency in the workforce as a result of our current circumstances: "Factors like empathy and compassion are coming to the forefront. In this socially distanced environment, that sense of connection is proving more valuable than ever."
Coping With a Rapidly Changing World
Change is an important element of a dynamic, thriving working world. But what happens when change is no longer a choice, but a necessity?
"These circumstances forced our hand in gaining efficiency and taught us that we can adapt and move in more agile ways," says Schwaller. "We saw nearly every industry accelerate automation, digitization and innovation in a very short period."
Even positive change can be difficult to cope with, especially when it happens at an expedited pace. While it will take time to find our footing in this new world of work, Schwaller offers her advice on how we can find balance and stay connected.
Maintaining successful communication is key. Staying aligned on goals and objectives is always valuable, but even more so now when we need to remain connected from a distance.
 "A lot of times, we assume that our leaders are making sure they've defined clear expectations, but it goes both ways," says Schwaller. "Being united in your vision and needs will remove the barriers of miscommunication and reduce unnecessary stress.
Try this: Establish regular check-ins to discuss cross-functional items, provide project updates and eliminate roadblocks. 
Avoid burnout by setting a routine. Personal and professional lives are colliding right now, says Schwaller, which is bound to magnify stress. You can combat this by establishing a routine that fosters personal wellness.
Try this: Schedule blocks of time in your calendar for mental health breaks or exercise, so you always have a consistent reminder to refresh and recharge.
Self-advocate. "Be brave and be willing to speak to the frustrations you are having," says Schwaller.
By establishing a dialogue, employers and their employees can pave the way for more open communication and unite through common challenges.
Try this: Research the resources available to you and come to the discussion with solutions prepared. By arming yourself with knowledge and having a plan in place, you can approach stressful conversations with confidence.
As our environment evolves to meet the needs of today's workforce, we must work together and stay adaptable so we can emerge even more resilient and prepared to take on the challenges of tomorrow.

Looking to the Workplace of the Future
By now, you're probably more than familiar with the phrase, "when things go back to normal." However, Jerry Gates, Senior Director of Emerging Technologies at Kforce, has a phrase of his own: "Focus more on looking forward than on how to return."
It's clear that the world as we knew it has irrevocably changed; what matters now is our ability to adapt to what lies ahead. To help us prepare, Gates shares what we can expect for the future of work.

The expedited adoption of new technologies has been a key asset in getting us through the COVID-19 pandemic, and Gates envisions it continuing far into the future: "Everything that is currently being amplified – like touchless technology, teleworking, increased reliance on machine learning and artificial intelligence – will only continue to grow rapidly."
Statista reports that worldwide spending on digital transformation technologies and services is expected to increase by 10.4 percent by the end of 2020. According to Gates, technological advancement is not a temporary measure for our current circumstances; it is, and will continue to be, the driving force of our evolution into new ways of working, learning and communicating.

Along with the rise in technology comes growth in STEM career opportunities, particularly in industries like development, data science, AI/ML, cybersecurity and even virtual reality, says Gates. The Bureau of Labor Statistics estimates that 9 million STEM jobs will be created by 2022.
But it's not just STEM roles that will increase in the years ahead. Gates predicts that, as our overall work culture continues to evolve into a primarily virtual space, roles in employee engagement and workforce learning and training will be in high demand.

Widespread remote work has had significant impacts on our way of life, one of which Gates predicts we will be observing for years to come: an "urban exodus" of people moving out of high cost of living cities, now that remote work frees them from an office and commute. "You're going to see people that will flock to cheaper places to live, knowing that they claim their same salary and benefits," says Gates.
While there's still plenty we can't predict, we know we are heading toward a future that will require us to be faster and more agile than ever. Let's take these unprecedented times as an opportunity to expand our skills, advance our strategic capabilities and find new routes to success.

Strategies for Success in the Digital Age Job Market
While job seeking and hiring trends change often, we've never seen such a dramatic shift as the one we are experiencing right now. As remote work becomes an increasingly consistent fixture of the working world, job seekers may no longer need to limit their search geographically, resulting in a wider applicant pool than ever before. The prospect of standing out in this incredibly competitive environment may seem daunting, but it is possible. Here's how to navigate the digital landscape and come out a top-tier candidate.
Optimize Your Professional Brand
Karissa Sachs, Vice President of Digital Strategy at Kforce, notes that today's job seekers will need far more than a resume to stand out to hiring managers: "Professional branding – the complete package of your skills and expertise, professional values and online behavior – is more important now than ever."
One of the most effective strategies to grow your brand is to take time to build your virtual network. Maintaining active professional social media accounts on sites like LinkedIn and Twitter can give hiring managers a better sense of who you are as a candidate, no matter the distance.
Sachs also recommends not only following your target employers on social media but engaging with their content as well. Sharing thoughtful comments or asking questions will increase your visibility among hiring managers and help you build knowledge of relevant trends in your field.
According to Sachs, soft skills are increasing in value, particularly in today's virtual workforce.
Our need for connection and communication across physical distance, as well as the need to stay agile in a swiftly changing world, makes skills like:

more valuable than ever. For example, say an organization adopts a video conferencing program to improve communication among their remote workforce. Most employees will be able to adapt to using the program with ease, but it takes problem solving and critical thinking to find ways to maximize connection and collaboration through that technology – and that's where the value of soft skills shines.
"Soft skills are more than resume fillers like "excellent written and verbal communication skills" or "great time management skills," says Sachs. "Sophisticated soft skills showcase how you can truly add value to a dynamic organization."
---
LinkedIn's Global Talent Trends reported that 80% of companies struggle to find better soft skills in the candidate market.
---
While technical skills are teachable, soft skills are self-learned, and those who demonstrate them will have a competitive advantage with hiring managers.
"The days of keyword searches and matching resumes to specific job descriptions is over," says Sachs. "Hiring managers are making decisions based on aptitude, potential, commitment to self-study and transferable skills."
Prioritize Continuous Learning
A 2019 study by the Society for Human Resource Management found that 83 percent of respondents reported difficulty recruiting quality candidates, and that 75 percent of those respondents attributed that difficulty to a skills shortage. Exploring different learning and training opportunities can give you a greater advantage over others in the candidate pool. Ashley Ehlinger, Director of Learning and Development at Kforce, offers her tips for optimizing your learning journey:
Research your sources. Use good judgement when navigating the variety of learning material available to you, says Ehlinger: "There's so many avenues to learn now than there were 10 or 15 years ago. You can jump on Google and learn anything, whether from an article or YouTube video. Make sure the resources you're using are reputable – those are the ones that will matter most to a hiring manager."
Build a learning roadmap. Ehlinger recommends being strategic about the trainings, certifications and other opportunities you decide to pursue: "Understand where you want to develop, commit to what you want the outcome to be and search for opportunities that provide that. Whether that's finding a mentor, taking a class, or a combination of different resources, think critically not only about the path you're taking, but the end result."
Be able to leverage what you've learned. "It's one thing to have a certification on your resume, it's another to actually demonstrate that knowledge," says Ehlinger. Set yourself apart from other candidates by being able to show measurable results.
Empowering yourself with knowledge is the best decision you can make in our rapidly accelerating digital environment. Taking advantage of new technologies and resources available now could be the difference in setting yourself apart as a competitive candidate not only in our current climate, but as we move together toward tomorrow's workforce.
---
Job Seeker Resource Center
Competitive Strategies for Business Leaders Looking Toward the Future
There has been a lot of talk about how the impacts of COVID-19 will affect the future of work. The pandemic presented many unprecedented challenges demanding immediate action and response. While this forced some businesses to let go of certain long-held workplace norms, the changes it brought to the world of work were certainly predictable.
Even before COVID-19 disrupted the workplace, most businesses already viewed transformations in digitization, automation, agility and remote work as top priorities. The impacts of the virus haven't changed what the future of work looks like. It has, however, accelerated the arrival of the future.
Leaders who embrace opportunities to lock-in, scale and continuously improve upon crisis-era changes will have a clear advantage as we settle into the "new normal". These organizations will lead the way in their industries and in creating workplaces that make them an employer-of-choice.
Businesses that want to survive and thrive beyond the pandemic must be willing to reimagine how work gets done. Here, we share key predictions for the future of work followed by insights, advice and competitive strategies to guide your business in the creation of the new normal workplace.


Predictions for the Future of Work
The pandemic has forever changed the world of work in unprecedented ways. As many people wait for a new sense of normalcy to settle in, the following five key trends are redefining what normal will look like in the future of work:
The Digital Transformation is Accelerating
According to Jerry Gates, Kforce's Senior Director of Emerging Technologies, "the priorities of our clients and consultants are clearly changing. The question is how do we digitize our business processes, removing avoidable delays, while improving our services and creating a better customer experience without compromising quality or cybersecurity? But also making them more efficient at the same time?" He says the answer is for companies to focus on increasing speed and maximizing their digital maturity.
The Physical Workplace is Evolving
The definition of "workplace" is rapidly evolving amid the COVID-19 pandemic. Widespread public health and safety measures have driven some of the most significant workplace changes in the last 100 years – in both physical workspaces and remote work environments.
After several months of adapting to a primarily remote workforce, businesses are beginning to realize employee productivity is not directly correlated to working in a physical office, as many previously believed. In a recent survey conducted by Mercer of 800 employers, 94% said productivity was either the same or higher than it was prior to the pandemic. Business leaders are realizing that the ability to offer remote work and flexible schedules enables them to meet the unique needs of individual employees more effectively.
A recent Gartner survey revealed 82% of company leaders plan to allow employees to work remotely at least some of the time; and nearly half (47%) said they plan to allow employees to work remotely full time. The survey also found 43% of leaders will allow employees to work flex days and 42% will offer flex hours.
And business leaders aren't the only ones with shifting attitudes related to remote work – employee preferences are also changing. A recent Gallup poll of remote worker preferences for returning to the office found about 25% would rather work from home strictly because of concerns about the coronavirus and another 50% would prefer to continue to work from home if it were up to them (of which 27% cite concerns about the coronavirus in addition to personal preference).
While remote work is increasing, it is important to remember that certain industries will still require a more significant on-site presence to be done properly. The physical workplace may be changing, but it's not disappearing altogether.
Businesses that plan to have their employees return to the office are adjusting their office spaces to allow for social distancing and to better promote the health and safety of their employees. Some companies are planning to reduce the number of workers that are present in the office at the same time, while others are using this as an opportunity to reimagine how they will use their office space going forward.
Increasing Operational Agility & Adaptability for Resilience
Crisis response measures forced organizations to implement digital and agile processes at previously unheard-of speeds. Decisions that once took months of analysis and planning were implemented in a matter of days. Business leaders are now looking to lock-in and scale successful crisis-era changes to increase their operational agility and create a more resilient company for the future.
Attracting & Retaining the Talent You Need for the Future
Now that we've proven employees don't need to be tied to a physical office to be productive and effective at their jobs, hiring managers are realizing they have an opportunity to unlock an exponentially larger talent pool of potential candidates by expanding their recruitment efforts across the country.
This is leading to the emergence of a new trend known as the Urban Exodus in which large numbers of people are leaving big cities and moving all over the country. As a result, many business leaders are now taking a closer look at their existing talent acquisition strategies and thinking about ways to adjust them to be more competitive at attaining talent on a national level.
Another major trend in talent acquisition is a shift from focusing more on traditional qualifications like years of experience toward looking at each candidate as a whole. Recruiters and hiring managers are now increasing their focus on a candidate's skillsets, with a strong emphasis on soft skills, and their aptitude and potential because these characteristics are crucial for success in the dynamic and rapidly changing work environments of today's world. This means learning & development trends like upskilling and reskilling will also be crucial to developing the talent you need to succeed in a post-pandemic world.
Workplace Culture Changes
According to Gartner, workplace culture challenges are one of the greatest concerns among business leaders managing a hybrid or remote workforce – with 30% reporting concerns about maintaining corporate culture, 13% reporting concerns about creating parity between the remote and in-office experience and another 13% reporting concerns about providing a seamless employee experience.
Many companies have invested significant time over the last decade to cultivating a strong corporate culture that attracts top-quality talent and encourages employee engagement and retention. But with changes like the digital transformation, increasing remote workforce, a larger talent pool of candidates and changing employee needs all impacting the world of work at the same time, workplace culture is bound to see impacts as well.

Competitive Strategies for Future-Proofing the Workplace
Most companies have business continuity plans to address events like power outages and natural disasters, but these plans typically don't account for a global pandemic. While the coronavirus outbreak initially brought unprecedented challenges to the world of work, businesses across the country were also able to respond and adapt at unprecedented speeds. Savvy business leaders are now using the lessons learned from the crisis to create competitive strategies that will enable them to emerge from the crisis stronger and more resilient than before.