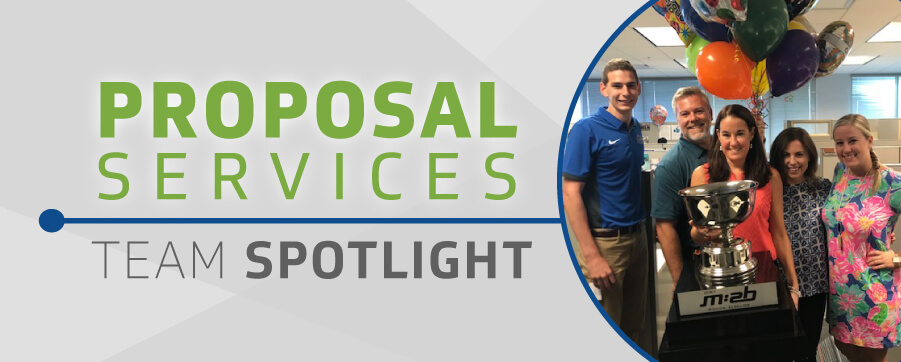 Team Spotlight: Proposal Services
Are you skilled in storytelling, puzzle-solving and managing projects? Proposal Services may be the field for you. Our award-winning team shares the responsibilities of this profession, what attributed to their success and how you too can excel in this space.
The inner workings of Proposal Services
What are the responsibilities of the Proposal Services team?
Amy Rodriguez: The role of Proposal Services is to collaborate with our field partners in response to a competitive request for proposal (RFP).
We manage the entire proposal process from start to finish. This helps us ensure Kforce is putting our best foot forward while meeting and exceeding the goals and requirements of our valued customers.
Our team develops compelling and visually appealing proposals in a timely and consistent manner. We also assist with preparing presentations, creating sell sheets, maintaining a content library and more.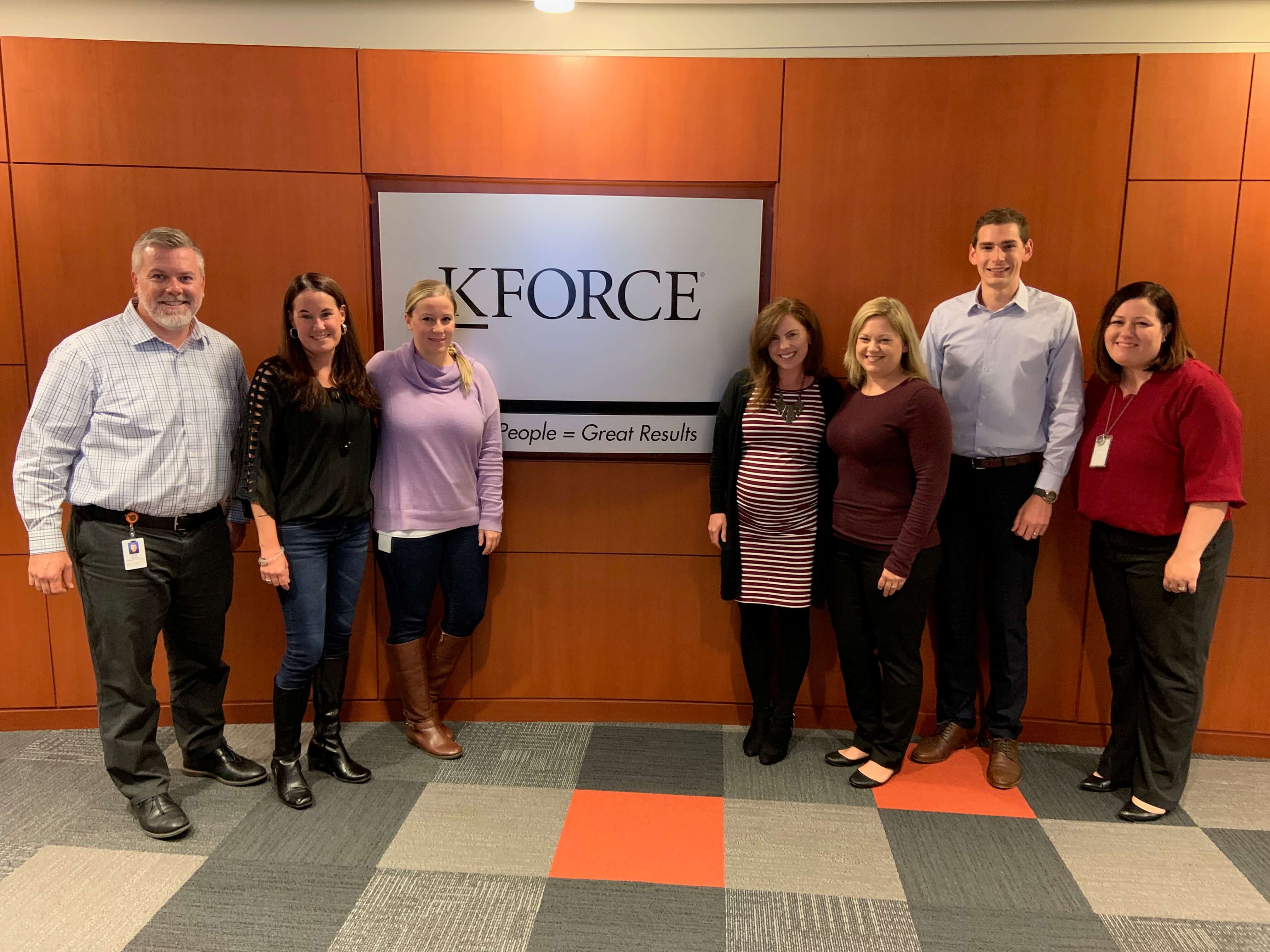 From left to right: Dan Lyons, Jen Siler, Kasey Roberts, Kristen McMullen, Amy Rodriguez, Josh Hendricks and Katie Murillo
How does Kforce empower your team to build a center of excellence in competitive bidding?
Dan Lyons: Building a proposal center of excellence requires understanding industry best practices and viewing how other organizations run their proposal efforts. Kforce has invested in our team to make sure we all have a membership with the Association of Proposal Management Professionals (APMP).
Most of our team has earned either the Foundation or Practitioner-Level Certification through APMP. These certifications ensure we are well-versed in how to manage a proposal effort and maintain continuing education on the topic.
It's also empowering to know that our senior leaders trust that their important RFP and proposal efforts are in the best hands when working with our team. I'm proud to work for an organization that understands the importance of our role and confides in us to manage some of Kforce's most important customer bids.
Jen, you posted on LinkedIn that "Most of us found our way into this profession quite by accident based on a mixed bag of skills and a whole lot of patience." Can you share the variety of backgrounds on your team and why patience is so critical?
Jen Siler: Every proposal manager fell into the position by accident. We must be project managers, writers, coordinators, time management experts, business development experts, diplomatic negotiators, graphic designers, desktop publishers, puzzle solvers, interpreters, data analysts, diplomats, storytellers and strategic partners to our sales organization.
There are no college courses or majors for proposal management, which is why our APMP memberships and certifications are so critical. Patience is required because a proposal manager's job is out of our ultimate control. We rely on so many other contributors who have their own scheduling challenges and competing priorities.
What value does your team bring to the firm?
Dan Lyons:
 

We have a unique ability to merge the science and art of proposal management.
We use our systematic proposal process (the science) to gather the creative thoughts, ideas, feedback and guidance from the various teams who participate in a proposal or RFP effort.
Then, we aggregate all the information into a compelling, customer-centric, graphics-rich proposal (the art). By accomplishing this, we put the voice and identity of Kforce on paper and help our customers understand why we are the right partner for their service needs.
Getting to know the team
Can you describe the Proposal Services team culture?
Vincent Overmyer: Our team is very fun and flexible, which is especially unique since all of our team is remote. We mesh well because we share so many of the same interests and hobbies outside of work. It's not uncommon to start team discussions with updates on our kids, pets, travel adventures and favorite sports teams. There is even a big UF/FSU rivalry within our group!
One of the best aspects of the job is the flexibility that we as writers have with each bid we work on. We appreciate the opportunity to be creative in articulating Kforce's strengths and differentiators through compelling graphics, photos and case studies. No RFP is ever the same, so we continuously bounce fresh ideas and best practices off each other for support and insight. 
With all of your team being remote, how do you stay connected virtually and collaborate so efficiently?
Vincent Overmyer: Technology plays a significant role in our ability to stay connected constantly since we have eight members on our team. From text messages to group chats, we ensure full transparency and communication with each other and our valued field partners. 
Internal bonds are strengthened through our weekly touch base calls. These open discussions are key to sharing new artistic content, ideas for response tracking and improvement and any bid complexities we may be experiencing.
Your team recently volunteered for the Flights of Hope: Bahamas helping pack supplies for the victims of Hurricane Dorian. What was it like working alongside your Kforce family for such an incredible cause?
Kasey Roberts: It was such a fulfilling experience. In just a few hours, the supplies we packed, organized and loaded were delivered directly to those who desperately needed it. Volunteering at stewardship events like this allows us to make a huge difference in the community and grow closer to our Kforce family in the process.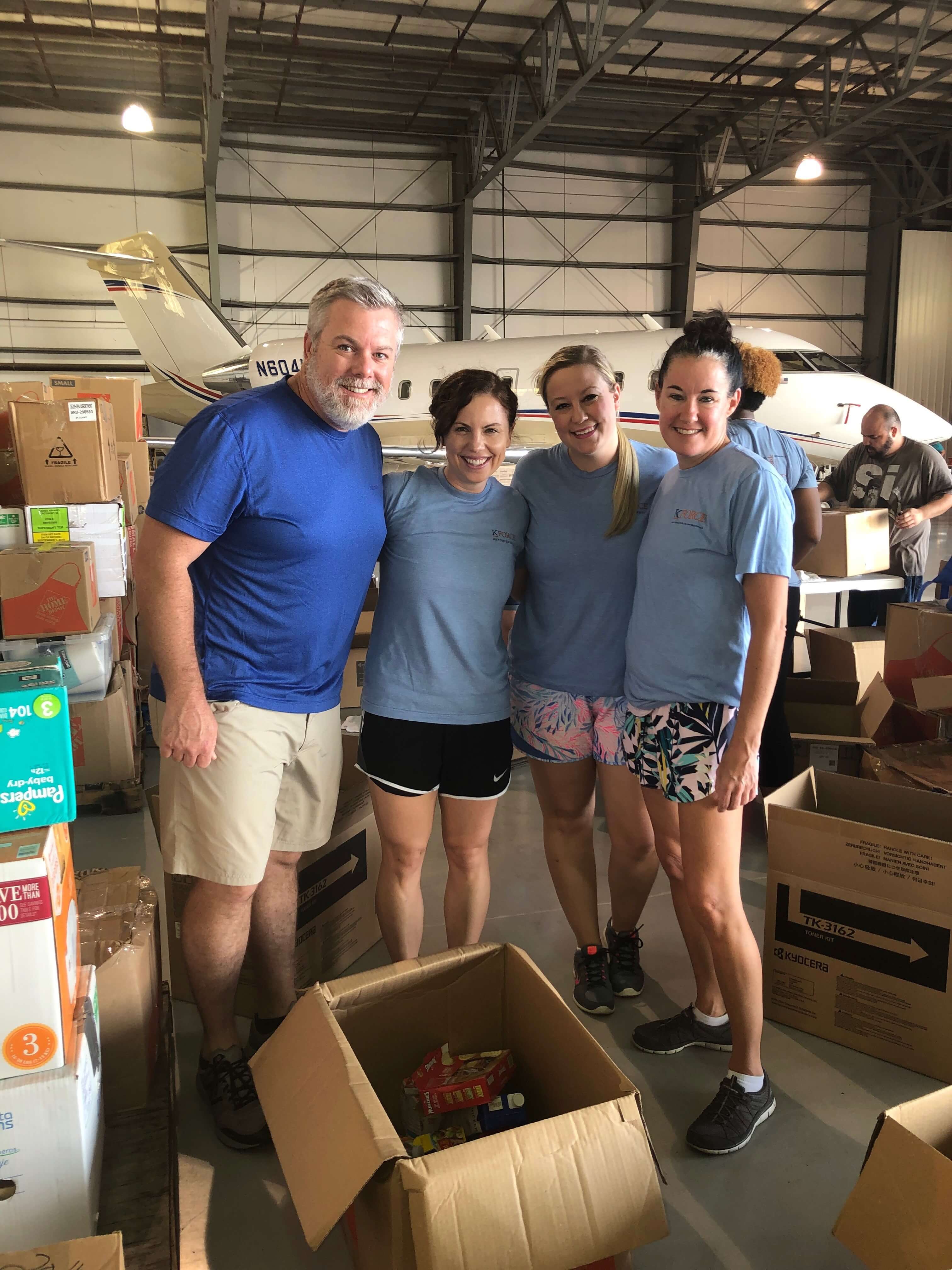 From left to right: Dan Lyons, Kristen McMullen, Kasey Roberts and Jen Siler
What does your team do when they're not creating world-class, customer-centric proposals?
Kristen McMullen: Most of us are local to the Tampa Bay and Central Florida area. We spend our weekends with our family, children and friends enjoying the outdoors—whether going to the beach, Disney World or college football games.
A group of rock stars
Since November of 2018, three members of Proposal Services became published authors for APMP's publication "Winning the Business." How has this helped the team become thought leaders in their space?
Katie Murillo: It's an honor to be chosen by APMP, as only a few article ideas and authors are selected. As published authors in "Winning the Business," we give insight and mentor fellow proposal professionals on best practices.
Our three articles present relatable and valuable topics to the proposal industry. The overall goal is to share lessons learned and help others in our industry tackle objectives. By publishing these stories, we're able to help enhance both our careers and the careers of our peers.
Can you describe some successes on your team, and what led to those achievements?
Josh Hendricks: Internally, we've won Team of the Quarter. Multiple team members have also been recognized as Employee of the Quarter as well as annual rewards trip winners.
Externally, the APMP has awarded our leadership for their outstanding mentorship, recognized one of our team members with a "40 Under 40" award and provided a scholarship for APMP certification.
We're given the trust and autonomy to get our jobs done which allows us to thrive. We all have different strengths, and the more we collaborate, the more successful we've become.
 

Our success is possible because of our selfless team and the leadership that supports us.
What plans does your team have to evolve even further?
Amy Rodriguez: We've been looking into several new technologies to streamline our processes, make our proposals more impactful and ensure our team and field partners have access to the most up-to-date market data and industry trends.
This includes a more user-friendly content library, new templates and the addition of videos and graphics in proposals. We're constantly on the lookout for new research tools to evolve.
Over the past few years, your team has earned a reputation as one of the top non-sales teams contributing to Kforce's overall success. What do you attribute this achievement to?
Kasey Roberts: Our team is extremely passionate about what we do. We're always researching how to improve our offerings and learning from our partners on how we can better serve them. It is innate in all of us to be the best we can be.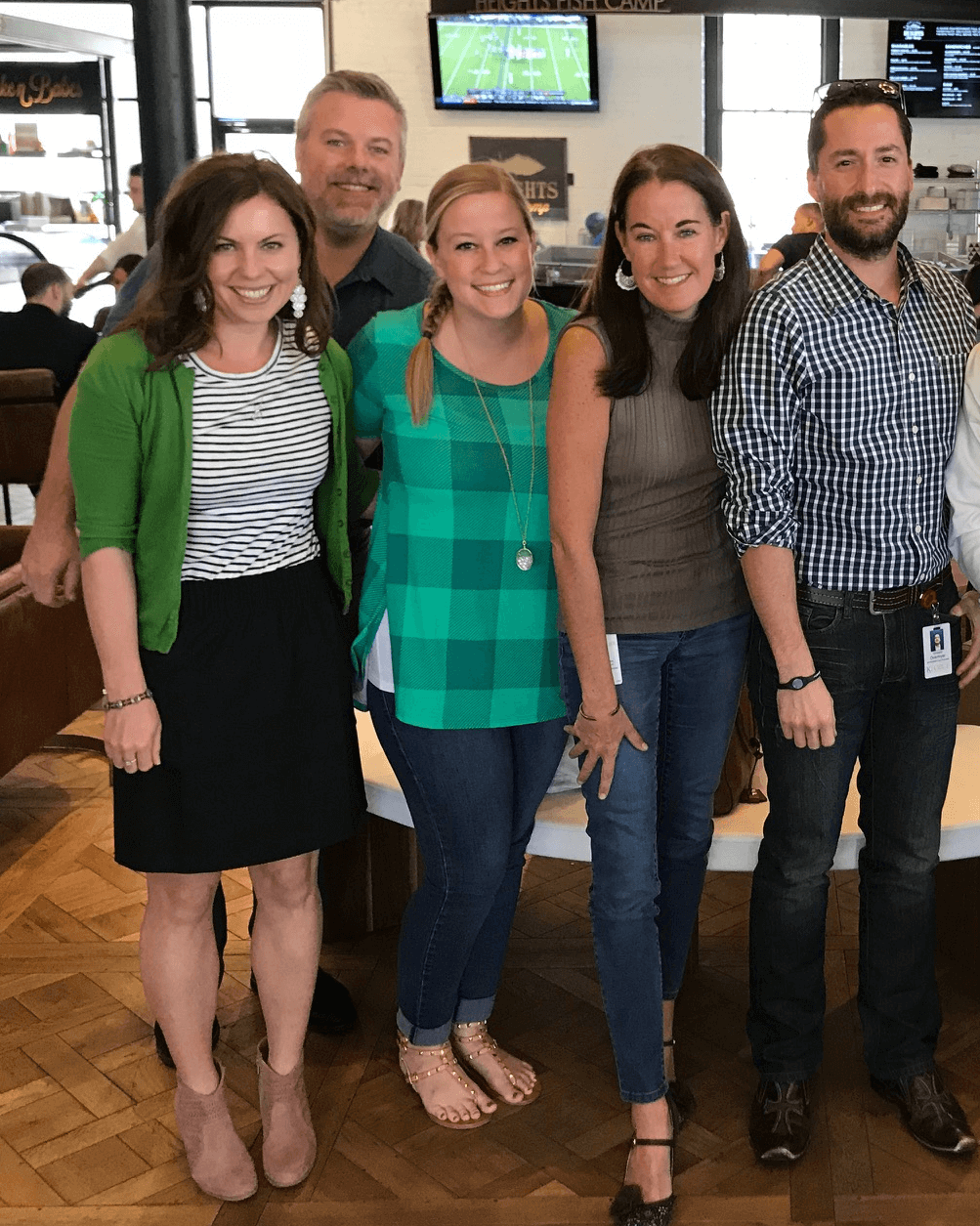 From left to right: Kristen McMullen, Dan Lyons, Kasey Roberts, Jen Siler and Vincent Overmyer
Sharing their professional expertise
Katie, you recently joined three other members on the team becoming APMP practitioner-level certified. Can you describe the power of the certification program and how it impacts the firm?
Katie Murillo: The practitioner certification contains 35 skills assessment questions, which test the applicant's mastery in proposals. By receiving the practitioner certification, it shows that you have mastered and achieved expertise in various proposal skill sets.
Since there are four team members with this certification, it gives the firm a leg up in proposal expertise and allows our customers to receive qualified and informed proposals.
Can you describe the steps your team takes to form new relationships with field partners?
Jen Siler: We work extensively with our field partners and form strong bonds with several revenue enabling teams within our organization who are a vital part of our success. Each RFP is different and requires input from various teams, depending on the questions our customers are asking us.
Our most frequent partners who are involved in almost every RFP response are the finance and contracts management teams. We always make sure to engage these teams early on to discuss workflows, responsibilities and opportunities for efficiency.
Since RFPs are not the main priority within their daily job functions, having face-to-face meetings with these teams has helped us share the challenges we all have with schedules, workload, resource availability and competing priorities. The better we empathize with each other's challenges, the better we collaborate when it comes time for a competitive RFP. 
What advice do you have for someone looking to break into Proposal Services?
Kristen McMullen:
 

Leverage any and all mentorship provided.
Being in a Proposal Services role can present challenges that even the most thorough training plan doesn't account for, like the flexibility it requires to remain compliant with the customer's request. Take every opportunity to shadow more tenured proposal managers to learn from their style and knowledge.
A proposal manager can teach you the project management, attention to detail and collaboration skills needed to succeed in the role. By leveraging a strong mentor, you can prepare yourself to pull together the pieces of the RFP puzzle, so you can one day lead the team to successful project delivery.
What are three traits for success in the proposal services field and why? 
Josh Hendricks:
Continue learning and improving

. Don't wait for information to be fed to you, ask questions and be proactive. You should establish a culture of learning within your industry and profession. Also, exceed your customer's expectations by delivering exceptional products or services.

Obtain industry certification

. Our entire team is certified or in the process of acquiring their APMP certifications. Obtaining certifications from a global organization give our peers and colleagues the confidence that we're established experts in bid and proposal management.

Have a vested interest in each other's success

. Our teammates have each other's backs and want to see one another be successful. We regularly work as a team and support each other in any way we can.