Design Your Best Life with Flexibility & Choice
Through trust, technology and opportunity, we empower each associate to create their own Kforce. Our President, Joe Liberatore, shares what our flexible culture means to him and why he's more excited about Kforce's future than ever before. Hear him describe how our innovative environment enables our people to truly capture irreplaceable life moments, while continuing to reach high levels of success.
If you're looking for the best career opportunities with optimal balance based on your unique needs, we invite you to learn more about what we're doing at Kforce.
Below, Kforcers share firsthand how they leverage our culture of flexibility and choice to design their best lives. This is their Kforce. What will yours look like? 
Why You Should Work at Kforce →
Patrick Oyeku: Do What You Love and Enjoy Quality Time with the People You Love
"I'm building my world and my world is expanding in all the right ways," says Kforce Vice President of Strategic Accounts, Patrick Oyeku. He shares how a fluid schedule, today's technology and a hybrid work model enable him to blend all parts of life together seamlessly and foster success both personally and professionally.
Lillian Wagner: Experiencing the Impact of a Relationship-Driven Culture
When Client Relation Associate, Lillian Wagner, accepted a role outside of Kforce, she soon realized she couldn't stop telling her new coworkers about her Kforce experience. Hear about her decision to rejoin the firm, her bond with her Kforce team and how our remote culture gives her the flexibility and support she needs to both grow in her career and explore her passions outside of work.
Becky Zill: Bringing the Office on the Road
"One of my favorite things about working for Kforce is the flexibility," says Kforce Project Specialist, Becky Zill, "it gives me more time to do the things I love." By simply connecting to a hotspot, she can finish her work on the road and get a head start on weekend adventures with her family. See how Becky leverages this freedom to transition straight to relaxing at the end of her workday.
Justin Foster: Time to Explore Your Creative Side
"I decided I was going to go downtown anyway, even if the office wasn't open, just to get myself on the ground and feel inspired," says Kforce Operations Supervisor, Justin Foster. Thanks to Kforce's remote technology, he has the ability to interact with and support his team from anywhere. Hear how Justin leverages this freedom to incorporate his passions of art, photography, exercise and exploration into his workday.
Krystle Trankito: Freedom to Do the Things You Love
"It's amazing being part of a team that encourages me to design my best life and maintain a healthy life-work balance," says Senior Manager of Operations, Krystle Trankito. Kforce's culture of flexibility gives her the freedom to do the things she loves, like working from coffee shops, attending her daughter's golf and swim lessons and being present for her new furry family member.
Jillian Burnett: Keeping the Human Factor Alive
"I'm able to slow down in order to speed up," says Senior Talent Manager, Jillian Burnett. Working remotely makes it easier for her to balance her mornings by connecting with family. Jillian shares how working remotely enables her to produce award-winning work without sacrificing time with her family.
Sam Chimato: Time is No Longer A Problem
"Being able to work from home has been so rewarding and beneficial in so many different ways, says Senior Operations Specialist, Sam Chimato. "I'm not only a better employee, but I'm a better mom and wife." Sam shares the various ways working from home enables her to be more present in her young sons' everyday lives and why she wouldn't trade this new normal for the world.
Love Where You Work
"What makes us different and sets us apart is that we're a true family. Our core values are important because they set the foundation for how we approach all things, which rolls into our culture. I love that unity and courage are a part of our values because we really do approach everything as one team, one fight. I truly don't feel like I come to work every day, but rather come to support a shared vision with my family."
Audra Woods, Director of Diversity, Equity & Inclusion
Toni Helton: Be Present for Life's Important Moments
Senior Tech Recruiter, Toni Helton, says she has "never been prouder to work for a company" because of the way Kforce took action to step in and provide their employees with the support and resources that were needed. She shares how not having to stress about long daily commutes has given her the ability to be more present with her son and more productive at work.
Sean Anthony: Balance the Needs of Work & Family in Harmony
"I spend a lot of time with my wife and our son, Noah, who is the center of our universe. In many ways, he influences my work and my work influences him, so it's important that my responsibilities for both co-exist in harmony," says Advanced Services Resource Leader, Sean Anthony. Read his story to learn why he says Kforce's remote culture really brings our values to light.
Kitty Gray: Choice and Flexibility Breed Ownership and Accountability
"The flexibility and technology allow me to work around the consultants' needs as well as take care of very important things in my life," says Kforce Senior Talent Manager, Teresita "Kitty" Cruz-Gray. Learn how she leverages our culture to create a life-work balance to achieve greater success both personally and professionally.
Nick Carr: Do More Than a Job. Build a Career.
"I've been in this industry for over 10 years, and none of my prior experiences have compared to my experience at Kforce," says Kforce Senior Talent Manager, Nick Carr. See the difference a career powered by trust and technology has made and hear how Nick knows he's found the perfect fit.   
Amanda Fontaine: Achieving Success through Strong Virtual Connections
"You can't be successful in this environment if you don't trust your team, like where you work and have strong internal relationships," says Kforce Client Relations Associate, Amanda Fontaine. For many employees, starting a new role fully remote can be challenging. However, for Amanda, the support of her new sales team helped her quickly find success. Hear how leveraging her training, resources and leadership support has helped her become a top performer and build lasting relationships with her clients.
Scott Wallin: Plan for Success Both Personally and Professionally
Imagine having the time, support and tools needed to grow your career without missing out on life's most important moments. "Focus on routines from a personal perspective, and then translate that into your work so you have the ability to do the things you would like," says Kforce Senior Director, Scott Wallin. Hear how working remotely has helped him spend more time sharing his passions with his family while leading a best-in-class, remote team.
Kirsten Ellingson: Achieve Your Ideal Vision of Success
At Kforce, we know success looks different for everyone, which is why we give you the tools and support you need to thrive. From trading her commute for family time to having an award-winning quarter with her fully remote team, Talent Director, Kirsten Ellingson leverages technology and Kforce's flexible culture to achieve her greatest potential.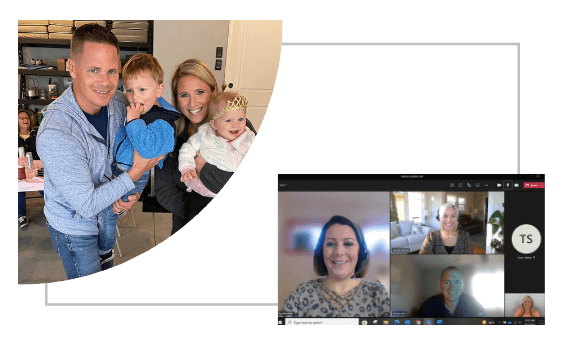 Michael Krimmel: Growing Through Personal and Professional Milestones
At Kforce, you don't have to choose between professional success and life's most important moments. Thanks to support from his leader and team, Client Relation Partner, Michael Krimmel, exceeded his annual goals without sacrificing priceless time with his newborn daughter.
Letitia Murray: Grow Your Career With an Innovative Firm
I feel very fortunate to work with a Firm that is able to change with me," says Kforce VP of Delivery, Letitia Murray. She describes the importance Kforce's culture of listening to feedback and implementing innovative change has had throughout her 24 year career with the Firm. "Kforce did an amazing job of giving us all the tools we needed to transition successfully, and we did it very quickly." Hear Letitia share how our company's transition to a hybrid, remote culture has impacted her both personally and professionally.
Casey Birdsall: Leaning on A Strong Remote Culture
Working fully remote doesn't have to mean losing culture and collaboration. Talent Representative, Casey Birdsall, says "working remotely and connecting with my teammates is easy and I've grown to have close relationships with them all." Casey says she loves working for Kforce because they have built a great culture while fully embracing our new remote world.
Tim Mackessy: Building A Successful Career Outside of A Traditional Office
From a streamlined virtual onboarding process to the support of a fully remote team, Recruiting Manager, Tim Mackessy has been able to successfully build his book of business outside of the traditional office. See how access to the right tools and the support of a strong, remote culture helps Tim make an impact in both his professional and personal life every day.
Jamie Johnson: Blend Work and Life Seamlessly with Next-Generation Technology
What role does technology play in your career success? For Senior Talent Manager, Jamie Johnson, Kforce's team collaboration and video conferencing technology allows her to blend work and life seamlessly. Combining the power of next-generation technology with the freedom of choice, she can stay connected with her team – even in the carpool line.